Balancing Health and Performance Benefits through Natural Lighting
Understanding how to specify glazing systems that balance access to natural light with thermal performance and building code requirements
Sponsored by Oldcastle BuildingEnvelope®
This test is no longer available for credit
Point-Supported or Structural Glass
As the term implies, structural glass is designed to withstand loads. One common example of structural glass is point-supported glass, named such because the glass is supported at points where high stress concentrations develop, rather than along a continuous edge. Structural glass systems can utilize structural silicone and embedded laminated elements for the connection of the glass to glass or metal support members. Structural glass systems typically utilize tempered glass. Tempered monolithic, laminated, and/or insulating glass can be used in entrances, building facades, and overhead applications. Structural glass can be described as virtually frameless, as traditional aluminum mullion supports are not used.
There are two typical connection configurations for point-supported structural glass: through bolted and edge clamped. Through-bolted point-supported structural glass utilizes fittings that are attached through holes that are drilled in the glass. Edge-clamped point supported glass utilizes fittings that are clamped to the edges of the glass. Point-supported canopies and facades often utilize stainless-steel "spider" fittings with tempered glass to resist wind and snow loads. The spider fittings attach to the steel structure or glass fins and are typically designed to flex under load.
Structural glass systems require careful and early planning. Engineering is required to ensure that the systems will be able to withstand the complex stresses to which they will be subjected. It's best to work with a system manufacturer that offers comprehensive services and experts who can work with architects to help translate a vision to reality.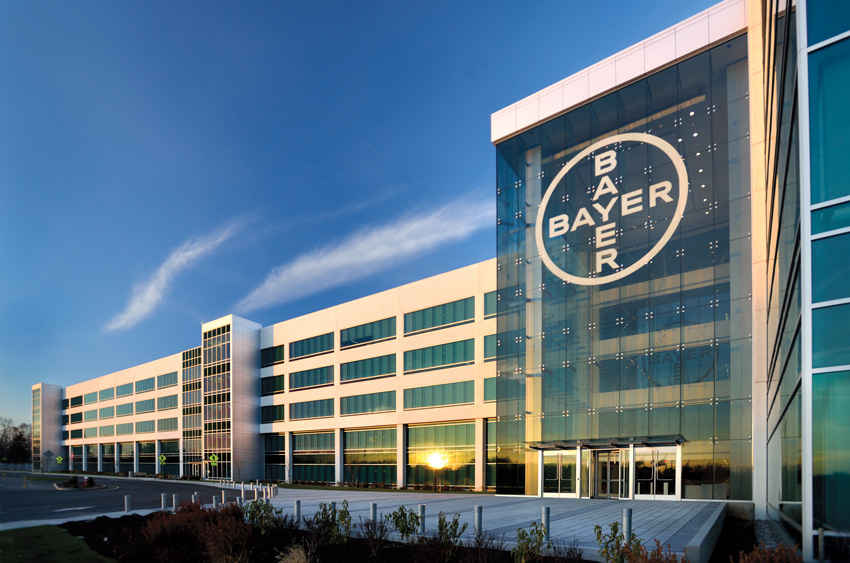 Shown is a structural glass application comprised of point-supported face glass connected with vertical glass fin supports at the Bayer Corporation North American Headquarters in New Jersey.
Decorative Glass
Decorative glass enables interesting aesthetic expressions while maintaining performance. It is often used in spandrel applications when non-vision glass is desired. Spandrel glass has many applications. It is often used between floors to hide construction elements such as duct work, or to achieve a desired aesthetic in curtain and window walls. Decorative glass can also be used for solar control.
Decorative glass can be classified according to the type of treatment used to achieve the desired aesthetic effect. Common treatments include ceramic enamel frit, painted coatings, digitally printed glass, and etched and frosted glass.
Ceramic Enamel Frit
Ceramic enamel frit consists of finely ground glass particles mixed with pigments. The frit is applied to the glass surface in a horizontal roller coating process, where heat is used to fuse the frit to the glass surface and create a hard, durable coating.
Painted or Back-Painted Glass
Water-based, elastomeric coatings can be applied to glass by rolling or spraying. Painted glass is opaque; thus, it may block light and views, making it appropriate for spandrel glass. Silicone paint creates a rubber film on the glass, which will help the glass shards stay together if breakage occurs and keep the glass within the framing system.
Digitally Printed Glass
Digital printing technology enables designers to create custom graphics that are applied directly to the glass surface. Images can be applied via decal transfer or direct printing. In decal transfer, digital art is transferred to a ceramic decal and fused to the glass surface using heat. With direct digital printing, ink heads deposit ink directly on the glass, which is then cured using UV light or the tempering process. Multiple colors can be applied simultaneously, opening up nearly endless design possibilities.
The new Parkland Hospital, located in Dallas and designed by HDR, uses digitally printed architectural glass supplied to achieve an interesting graphic effect at the hospital's entrance. From a distance, the image transforms from a dense summer canopy on the western facade to a delicate branch pattern that covers the south-facing lobby. A closer inspection reveals that the "tree" is formed by the names of donors who contributed to this public building.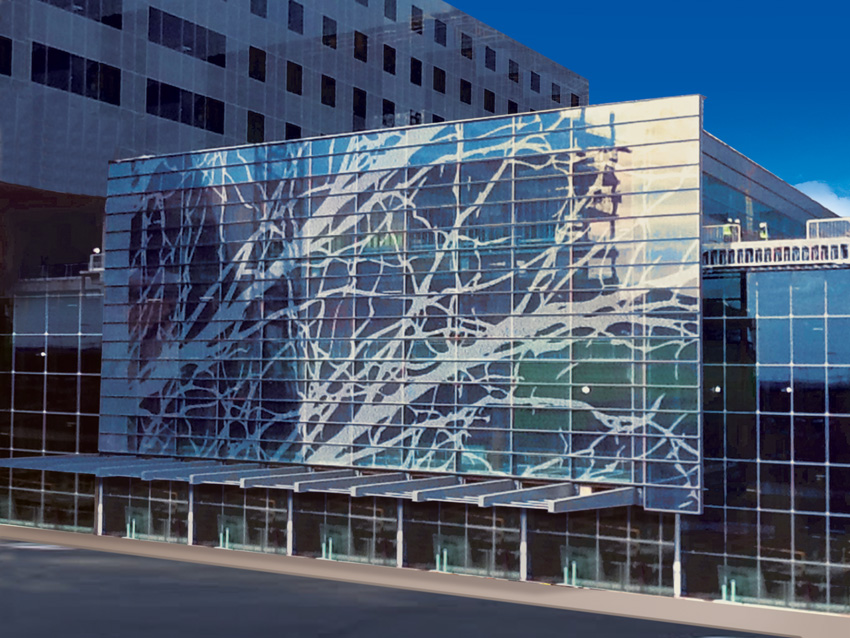 A digital printing process was used to apply ceramic inks in varying levels of opacity to create the intricate tree design at the entrance of Parkland Hospital in Dallas.
Silk-Screened Glass
Ceramic frits can be applied to glass through a screen-printing process. Silk screening can be applied to monolithic, IGUs, and laminated. Colors, patterns, and transparencies can be used for different effects. Light colors and open patterns enhance brightness, while dark colors reduce glare. Silk-screened glass is often used in indoor applications, such as interior partitions, doors, glass ceilings, and enclosures.
Etched and Frosted Glass
Etched glass is either acid-etched using hydrofluoric acid or sandblasted with a machine. The opacity of the glass is determined by the depth of the etching: a deeper sandblasting yields a less translucent and more opaque product. Frosted glass simply refers to etched glass with a translucent, cloudy aesthetic. Stencils, sometimes called masks, can be placed on the glass to produce patterns, and the finished glass can also be back painted. Applications for etched and frosted glass include interior partitions, doors, and balustrades.
Originally published in Architectural Record
Originally published in June 2019
Notice