Sustainable, Cost-Effective Renovations Using Terrazzo
Minimize demolition and optimize durability
Sponsored by National Terrazzo & Mosaic Association (NTMA)
Managing Cost
All building projects involve a discussion of costs, so it is important to understand that the cost of terrazzo is manageable and controllable by recognizing some of the influencing factors.
Design: Cost is often controlled by design—a simple pattern in one or two colors costs less than multiple colors throughout or fully custom designs. Therefore, it is a common tactic to keep designs simple in corridors, walkways, etc. and put a feature or custom image in a lobby or other central area.
First cost: The first cost of terrazzo is generally comparable to other commercial flooring options.
Installation time: Epoxy terrazzo has the quickest installation time between pouring and grinding. While cement systems take a week or more for curing, epoxy is usually about half that time. It cures in 24 hours or less and can be walked on by other trades, etc. at room temperature. Finish work (i.e., grinding and polishing) follows the curing.
Aggregate choice: Stone aggregates are standard, but glass and other decorative aggregates can increase costs.
Maintenance costs: The maintenance costs of epoxy terrazzo are typically the lowest compared to other flooring due to its nonabsorbency. The smooth, polished surfaces allow for use of simplified cleaning, including automated or robotic cleaning. Further, mold is not supported, thus removing this otherwise common maintenance concern.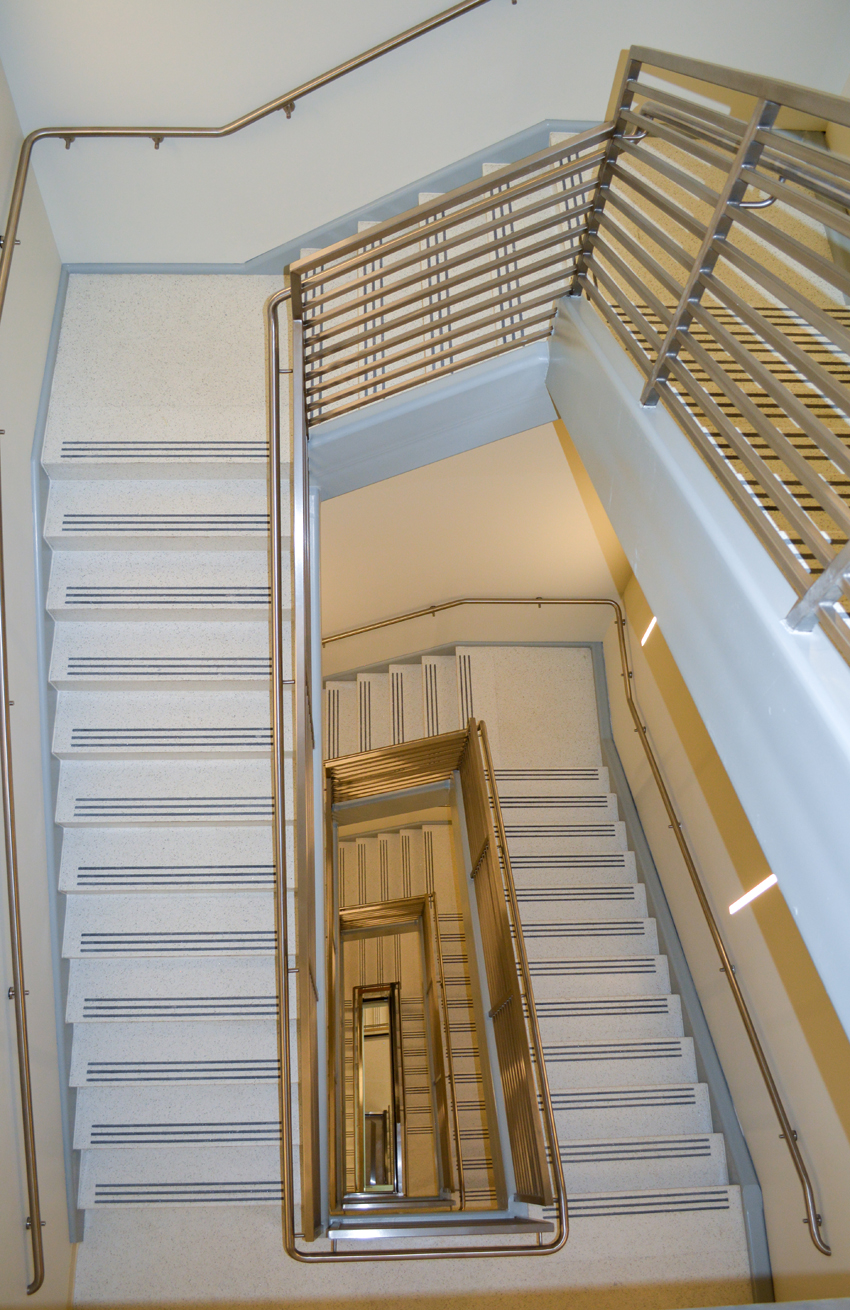 Using terrazzo in appropriately selected patterns and locations, such as these stairs at Penn State University, helps to manage costs.
Renovation Design with Terrazzo
Terrazzo is appealing for new construction and readily incorporated, but there are many existing buildings that can benefit from renovation with terrazzo too. Keep in mind that renovation can mean renovating the entire building or renovating the existing terrazzo too.
Renovating Existing Terrazzo
Properly maintained existing terrazzo will likely last the life of the building. However, sometimes it needs some refreshing, perhaps due to neglected maintenance, changes in building use, or new interior designs or layouts. In these cases, it is fairly simple to make existing terrazzo flooring look like new for very little cost. Fundamentally, the process involves the repair and repolishing of the existing surface. This can restore the shine, bring back the original colors, and make it easier to maintain going forward.

The 2017 renovation of the 1939 Gardner W. Spring Auditorium at Chaffey High School in Ontario, California, included geometrically patterned terrazzo in a wide array of aggregates and colors.
Renovating Buildings with New Terrazzo
Existing buildings are a prime candidate for cost-effective flooring upgrades using terrazzo. Contrary to what some design professionals may think though, new installations over existing flooring do not always require the existing flooring to be demolished or removed. In some cases, with a proper assessment, the existing flooring can be determined to be sound and secure enough to remain in place, perhaps requiring only spot repairs where needed. As such, it can serve as the substrate for a terrazzo installation, thus saving dramatically on project costs. Demolition, removal, and disposal of the existing floor may be avoided, saving considerable time and expense.
What types of flooring are appropriate? NTMA has provided guidance for very successful installations over quarry tile, polished concrete, ordinary concrete, and even hardwood flooring. It certain cases, it can also be used over properly installed and prepared plywood. Of course, it is not suitable to go over soft goods, such as vinyl tile, sheet goods, carpet, etc. Note that some porcelain tile is too smooth to create a bond with the terrazzo, and the prep work will likely damage the tile and break it, so it may need to be removed.
Regardless of the type of existing flooring, the prep work is very important before installation. The substrate needs to be clean and solid with a profiled surface so an adequate bond can happen between the terrazzo and the existing floor. The floor needs to be fully assessed to be sure it is free of damage and is still structurally sound. If not, it will need to be repaired, removed, or replaced as required.
As with all flooring, moisture needs to be addressed, particularly on a concrete slab. There is typically no problem with moisture if cement terrazzo is being used. Epoxy terrazzo can be a concern since it can trap moisture or compromise the bond between the terrazzo and substrate. Therefore, some mitigation is required. The best solution is to provide a low-permeability moisture-control layer as a first coat over the existing substrate. This step helps to control vapor transmission so there is no loss of bond between the terrazzo and the existing flooring.
Green Building Contributions of Terrazzo
When terrazzo is incorporated into a building design or renovation, there are several contributions that may be made using LEED v.4 criteria due to its inherent properties and characteristics. These include the following.
Optimizing Energy Use
Energy performance in a building is often enhanced by adding thermal mass within the building envelope. Terrazzo over concrete can provide some additional thermal mass inside a building. As such, it may help with heating and cooling optimization and energy-usage calculations.
Materials and Resources
When looking at a life cycle-assessment (LCA) for a building, several traits of terrazzo help produce very favorable results. First, is its basic material makeup. The epoxy resin is based on 100 percent solid materials that do not contain portland cement. Avoiding the embodied energy in lime-rich cements is a direct strategy to reduce the environmental impact of materials. Regarding the aggregates, we have noted that they can be natural stone or recycled glass, both of which can have reduced environmental impacts, particularly if they are sourced local to the project site. Finally, the longevity and durability of the material means that it will likely not need to be replaced during the life of the building in contrast to other flooring materials that would likely need to be replaced repeatedly.
Indoor Environmental Quality
As a natural and tested material, terrazzo exhibits very favorable traits for indoor environments. There is little to no outgassing before, during, or after installation. No formaldehyde is present in the formulations, and VOCs are little to none. No paints, coatings, adhesives, or harmful sealants are needed. Perhaps most telling in terms of minimal indoor impacts, terrazzo installations often occur when buildings are still occupied with no adverse effects on occupants.
Overall, terrazzo is an excellent choice with documented capabilities to be able to contribute to LEED certifications.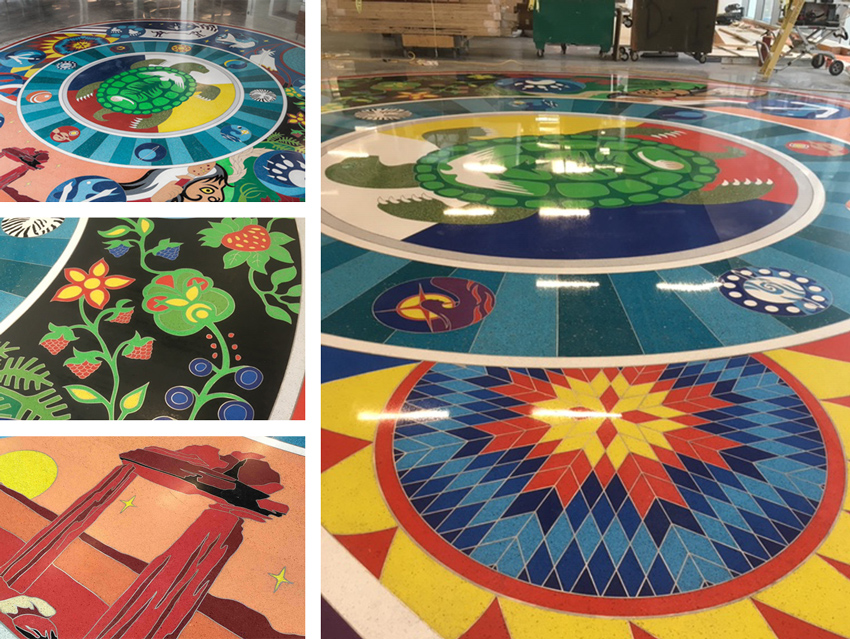 The Seneca College of Applied Arts and Technology in Toronto, Ontario, Canada, engaged local indigenous artist Joseph Sagi to create a terrazzo design that reflect the art of their culture based on natural themes.
Originally published in Architectural Record
Originally published in June 2021
Notice