Resilient and Sustainable Terrazzo Flooring
A closer look at how this material survives floods and supports green design
Sponsored by The National Terrazzo & Mosaic Association
Learning Objectives:
Explain why terrazzo floors throughout New Orleans were able to be restored after Hurricane Katrina, while almost every other kind of flooring was destroyed and needed to be replaced.
Summarize how terrazzo flooring helps design teams to reduce waste produced during construction and demolition, reducing the amount of waste ultimately sent to landfills.
Identify buildings throughout the United States where terrazzo floors remain in use and are more than 100 years old.
Describe the various qualities of terrazzo that enable this material to support the creation and maintenance of healthy interiors.
Credits:
This course can be self-reported to the AIBC, as per their CE Guidelines.
This course is approved as a Structured Course
This course can be self-reported to the AANB, as per their CE Guidelines
Approved for structured learning
Approved for Core Learning
This course can be self-reported to the NLAA
Course may qualify for Learning Hours with NWTAA
Course eligible for OAA Learning Hours
This course is approved as a core course
This course can be self-reported for Learning Units to the Architectural Institute of British Columbia
This test is no longer available for credit
Resiliency is a hot topic in design and construction today, motivated, in part, by the seemingly constant barrage of extreme weather events occurring across the country and around the world. And, sadly, these events seem as if they are happening more regularly—because they are. The Fourth National Climate Assessment (NCA4), released in November 2018, is a report mandated by Congress that "analyzes the effects of global change on the natural environment, agriculture, energy production and use, land and water resources, transportation, human health and welfare, human social systems, and biological diversity." One of the key findings of NCA4 was that "the number of heat waves, heavy downpours, and major hurricanes has increased in the United States, and the strength of these events has increased too." In addition, the report found the number of billion-dollar disasters, the term used for weather and climate-related disasters where overall damages or costs have reached or exceeded $1 billion, is on the rise as well.
From a design perspective, knowing that the occurrence of extreme weather events is on the rise gives designers good reason to look for ways to enhance the ability of a building, or a wider community, to prevent damage or recover from it more easily. This is the very idea of resilience.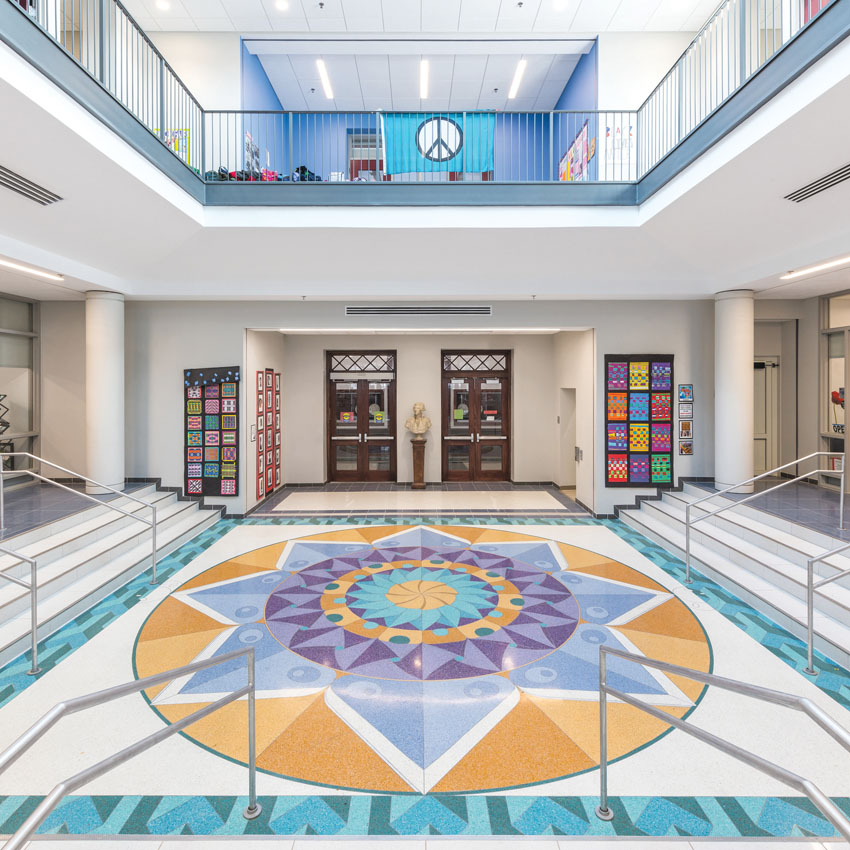 All images courtesy of The National Terrazzo & Mosaic Association
Terrazzo is a poured-in-place flooring material that offers a unique blend of resilient and sustainable qualities.
As a strategy, resilience requires looking at almost every design decision through an extra lens. Resilience can be affected by building siting and layout. It requires extra levels of redundancy to reduce the potential single points of failure, and it increases the scrutiny under which various building systems and materials are selected. It may also create a greater demand for using materials that are inherently resilient and able to withstand exposure to the elements and be restored to like-new conditions. One example of a truly resilient material is terrazzo.
Introducing Terrazzo
Terrazzo is a poured-in-place or precast composite material that can be used as flooring or for wall treatments. While each installation is custom and distinct, terrazzo contains a blend of marble chips, quartz, granite, glass, and other types of aggregate, which is poured with a binder that is cementitious, epoxy, or a combination of both. In general, a terrazzo blend is roughly 75 percent aggregate (marble, granite, glass, pebble, porcelain, mother of pearl, sand, etc.) and 25 percent binder.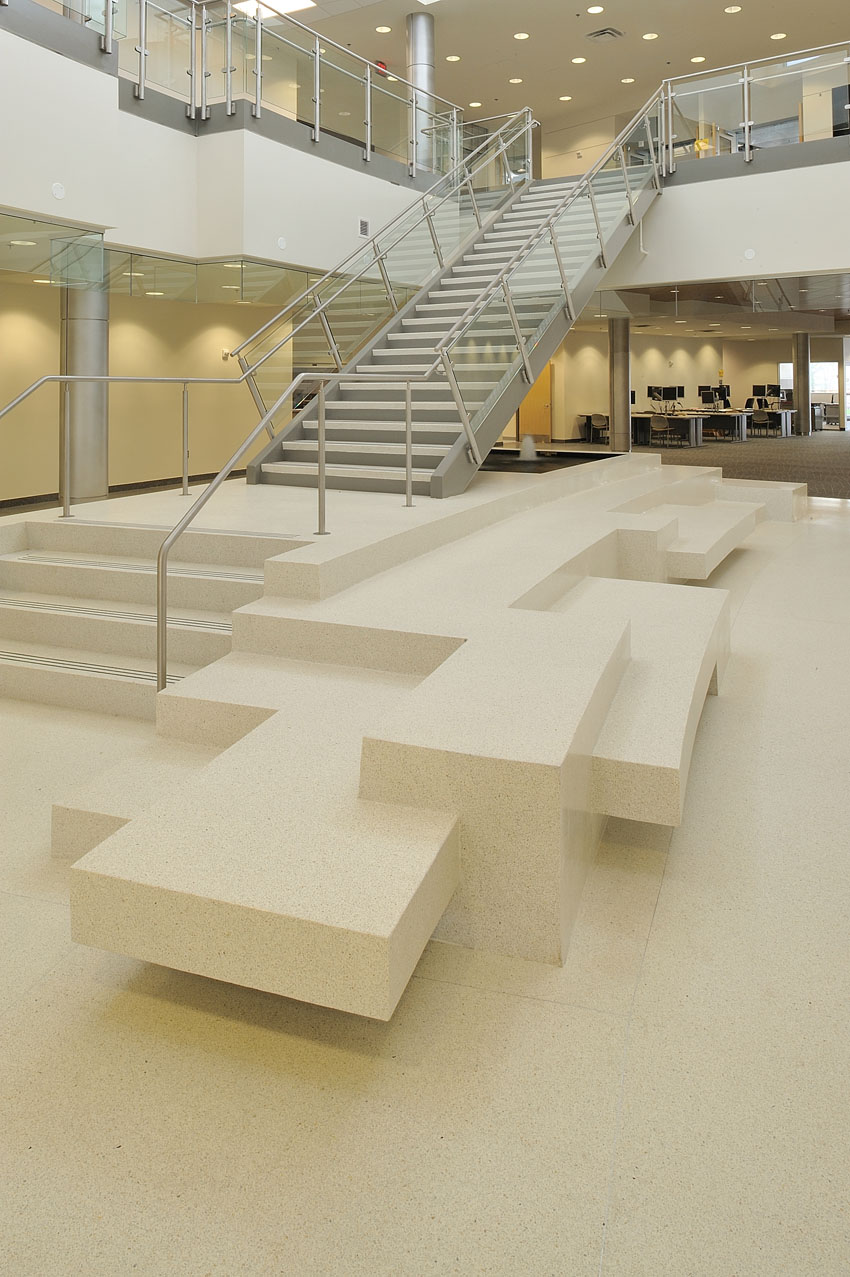 Terrazzo is difficult to damage, easy to repair, and available in an almost limitless number of colors and forms.
Divider strips are also part of every terrazzo surface. They are commonly used to separate different colors in the pattern and need to be placed at termination points (threshold of a door or where the flooring material changes) and at joints with excessive movement. The specific requirements for where the divider strips must be placed depend upon the type of terrazzo system being installed. The standard practice for cement-based terrazzo is to coordinate the placement of the divider strips with the joints found every 4 feet by 4 feet. This helps to counter the shrinkage and movement that can lead to cracking. Epoxy requires fewer strips and only true joints in the concrete must be honored. Divider strips can be selected in a variety of different material, including brass, plastic, zinc, and aluminum. The use of divider strips enables a terrazzo surface to contain ornate and intricate patterns, drawings, and designs.
If the binder is cementitious, the matrix is referred to as a cement matrix. If the binder is epoxy, the matrix is called an epoxy matrix. After the terrazzo is poured into place, it is cured. Then it is ground and polished smooth or otherwise finished to produce a uniformly textured surface.
Originally published in Architectural Record
Originally published in November 2019
Notice