Resilient and Sustainable Terrazzo Flooring
A closer look at how this material survives floods and supports green design
Sponsored by The National Terrazzo & Mosaic Association
This test is no longer available for credit
Minimal Waste on the Construction Site
Another sustainable design goal is to reduce the amount of waste that is generated from construction or demolition activities. Nonhazardous construction and demolition debris can be recycled or salvaged. This leads to less waste being disposed of in landfills or incinerated.
Where a project requires the demolition of an existing structure with terrazzo flooring, terrazzo components may be salvaged for reuse or recycled. A qualified terrazzo contractor can assist with component recovery.
It should be noted that the process through which terrazzo is installed on a project also minimizes post-commercial waste and transportation costs. The flooring is manufactured on-site, which means that it is not shipped to the job site in multiple pallets or wrapped in lots of packaging. New techniques for grinding the terrazzo also produce less waste and require less water.
Long Life Cycle
The life of a product is an important consideration in sustainable design because the longer a product's useful life, the longer it can be used and remain out of the landfill. Terrazzo floors have an outstanding record of durability and performance. This has been showcased in some of the projects discussed in this article that boast terrazzo floors that have been in use for more than a century. The floors typically last as long as the structure.
Low-Emitting Material
One of the biggest themes of green or sustainable design is that the design of a structure can be accomplished in a way that is good for the environment, good for the people occupying the building, and good for the business conducted inside the building. That is why creating a healthy interior is a key goal of this movement.
Chemical contaminants can damage the air quality and negatively affect human health, so many sustainable design building programs have established thresholds for volatile organic compound (VOC) emissions in the indoor air and the VOC content of materials. Selecting materials that satisfy these low emitting standards is one important aspect of achieving sustainable design.
Terrazzo is composed of naturally occurring aggregates, recycled glass or plastic, and processed cement or epoxy binders. Cement-based terrazzo systems use inorganic binders that contain no VOCs. The manufacturers of thin-set epoxy terrazzo systems have moved to formulas that have extremely low VOCs. The terrazzo systems can be installed with sealers that do not contain VOCs in excess of certain limits. Terrazzo exhibits little or no off-gassing over the life of the cured floor.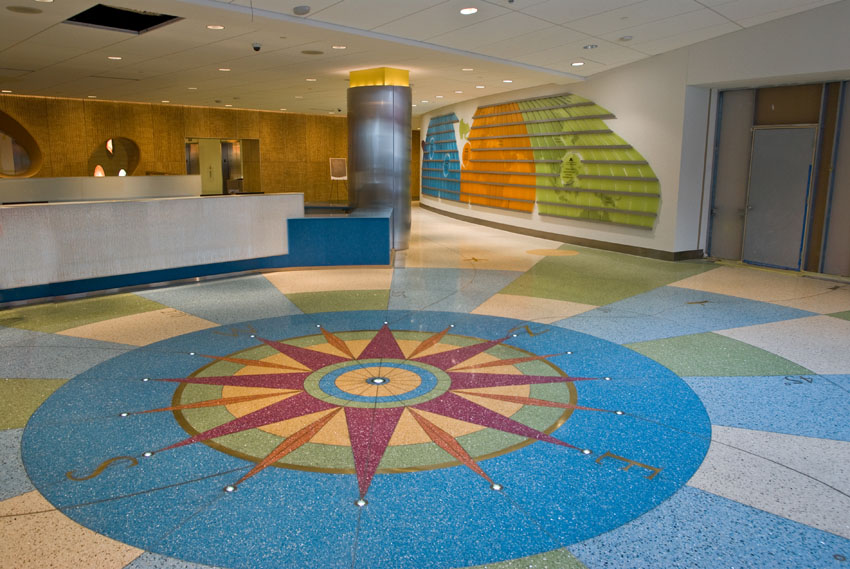 Designers for The University of Minnesota Amplatz Children's Hospital selected terrazzo flooring to create the "Passport to Discovery" theme that is featured prominently throughout the facility.
For an example of terrazzo being used in a project designed with sustainability in mind, look no further than The University of Minnesota Amplatz Children's Hospital. Designed to be Minnesota's first green children's hospital, the six-story, 231,500-square-foot building features a prominent and welcoming "Passport to Discovery" theme that guides children and adults through the building and encourages exploration. Each floor of the hospital is designed to reflect a specific ecosystem, enabling patients to travel through oceans, grasslands, lakes, rainforests, and deserts.
Terrazzo flooring was an important element that allowed this theme to be as engaging and pervasive as it is. "We were able to create a crisp, complex design," explains interior designer Jennifer Mango, IIDA, ASID, of Tsoi/Kobus & Associates in Cambridge, Massachusetts. "The ability to customize with terrazzo is unparalleled."
In addition to the design flexibility, the terrazzo material has many qualities that make it well-suited for a sustainably designed project. Terrazzo does not support microbial growth, absorb moisture, or grow mold. This is an especially important consideration in a children's hospital, where patients may be more sensitive to these elements in the environment.
It also does not emit chemical contaminants into the air and is low maintenance. "Terrazzo requires far less maintenance than VCT and is maintained in a much healthier way, without chemicals and off gassing," Mango continues. "This product was the best choice for return on investment. When you compare its life cycle with VCT, terrazzo will still be in use when the other surface is headed to the landfill."
Originally published in Architectural Record
Originally published in November 2019
Notice