A very old material is getting renewed architectural respect.
Architectural Record
This test is no longer available for credit
SOM chose a red-stained Douglas fir for the mass-customization of prefabricated components, with most of the wood coming from Oregon and the rest from Washington state. (A hardwood scientist assisted with the complex process of fabrication, delivery, and installation.) By using wood and the existing foundation, the architects estimate they cut the embodied carbon by 61 percent, compared with erecting a new parking garage and a conventional concrete building.
But not everything here is wood. To resist lateral seismic movement, the team installed V-shaped steel supports, aided by a grid of square steel columns filled with concrete. In addition, on the west facade, where there is no overhang, the architects cut the solar load by making the curtain wall more opaque by virtue of an aluminum vertical plank system, alternating with strips of glass. The overall result is a library where you feel as if you are in an expansive pavilion, with views opening up through the interiors and soft illumination permeating the reading rooms, studios, and stacks.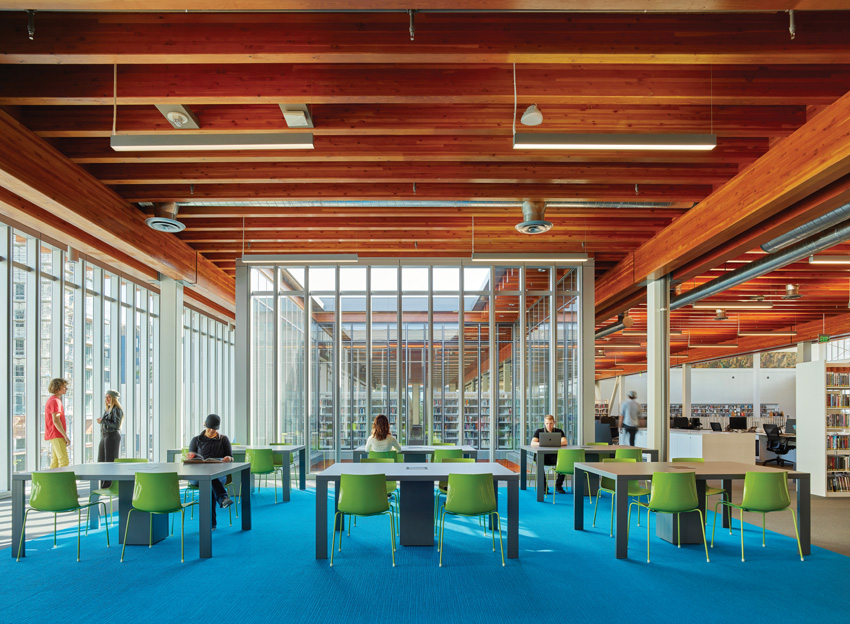 LIGHT BOX A two-story light well near the north entrance admits daylight to both the main floor (top) and the second level (bottom, left). To protect the special collections room on the main floor from daylight, SOM enclosed it in ash wood paneling (bottom, right).
The library is part of a 22-acre civic-center redevelopment, which SOM master-planned in 2014. (The firm recently completed the City Hall and Port Headquarters.) A few gangly, mediocre buildings—by other architects—still remain, awaiting their fate.
In Long Beach and beyond, SOM is keeping its signature vocabulary of modernist modular structures of steel, concrete, and glass intact. At the same time, it is working to address climate change—and giving wood a prominent role in its architecture, already anticipated by its Timber Tower Research Project, first announced in 2013. Its goal has been to use mass timber as a main structural material to reduce a tower's embodied carbon footprint. The Billie Jean King library's bold muscular framework, with its preponderance of wood, continues the firm's legacy while introducing a renewed vibrancy to the general conversation. An inviting new beacon for the downtown, the library proves a building needn't be a tower to be noticed.
CREDITS
ARCHITECT: Skidmore, Owings & Merrill — Paul Danna, design partner; José Palacios, design director; Jed Zimmerman, managing director/project manager; Michael Mann, managing director; Masis Mesropian, senior designer; M. Zarmine Nigohos, project architect; Steve Zimmerman, senior technical designer; Roshanak Mostaghim, technical designer; David Renken, interior designer
ENGINEERS: Skidmore, Owings & Merrill (structural); KPFF Consulting Engineers (civil); Syska Hennessy Group (m/e/p)
CONSULTANTS: Skidmore, Owings & Merrill (sustainability/environmental graphics); Gustafson Guthrie Nichol (landscape); Ron Anthony (wood scientist); Newson Brown Acoustics (acoustics); HLB Lighting Design (lighting)
GENERAL CONTRACTOR: Clark Construction Group
CLIENT: City of Long Beach
OWNER: Plenary-Edgemoor Civic Partners
SIZE: 93,500 square feet
CONSTRUCTION COST: $48 million
COMPLETION DATE: September 2019
SOURCES
METAL PANELS: VNSM
METAL/GLASS CURTAIN WALL: Benson Industries
GLASS: Viracon (exterior curtain wall); Vitro (interior)
PAINTS, STAINS, COATINGS: Sherwin-Williams, PPG, Tnemec
ACOUSTICAL CEILINGS: Armstrong, USG
BUILT-UP ROOFING: Sika Sarnafil
View Course Libraries for:
Originally published in Architectural Record
Originally published in March 2020
Notice