Standing on Green Principles: Sustainable Flooring Choices and Life Cycle Assessment
Innovative technologies, as well as tried-and-true materials, contribute to sustainable flooring from
This course is no longer active
Sponsored by Amorim Flooring North America, Forbo Flooring Systems and Teragren® Fine Bamboo Flooring, Panels & Veneer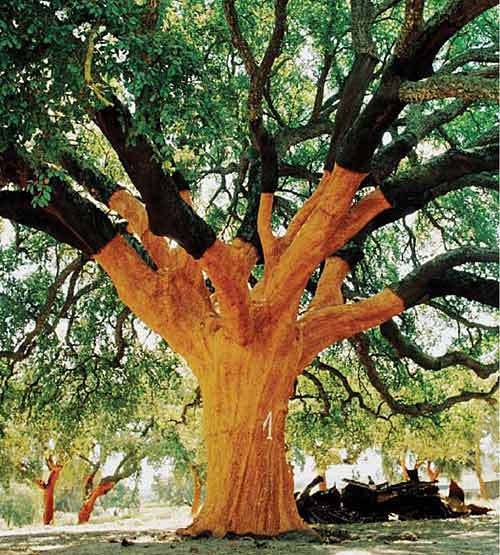 In the extraction phase, cork is harvested from the bark of trees like the "Whistler Tree" in Portugal (named for its resident songbirds), among the oldest and largest productive specimens in the world. First harvested in 1820, in 1991 the tree produced 1,200 kilograms of bark.


Photo courtesy of Wicanders® Cork Flooring
 
The Athena Institute and other experts in LCA provide guidance on which aspects of the product should bemeasured. These should include, but are not limited to: carbon output; primary energy consumed; toxicity of component materials; emission of volatile organic compounds (VOCs); waste associated with production and installation; recycled and recyclable content; renewable resource content; and the impact of required or prevailing maintenance measures over the period of use.
Hard flooring products can demonstrate the best practices of LCA, though the vast range of materials, finishes, applications, and end-use requirements make flooring choice a particularly thorny decision. Base materials alone demonstrate the breadth of this universe, from resilient sheet and tile products, linoleum, and rubber, to natural materials such as wood, bamboo, and cork to stone and tile options, such as ceramics and marble slab. Not only are there a multitude of choices, but every project type requires at least some hard flooring (often in large quantities) and it will be used every day by the building's occupants and need regular maintenance. In each stage, cradle-to-cradle flooring will have a significant impact on a project's level of sustainability in design.
In general, resilient and hard flooring products can provide good life cycle performance because they tend to be durable and require less replacement than, for example, carpeting. Yet building project teams and product specifiers are in the best position to determine a suitable LCA methodology to resolve the contradictions and complexities of a particular project, making sustainable practice as integral as possible while considering and managing budget, client expectations, construction realities, project goals, and more.
The role of the flooring manufacturer is also important, say architects like John Beck, LEED A.P., with Carrier Johnson's Costa Mesa office. "Manufacturers who use a 'cradle-to-cradle' approach continue to reduce their negative impact on our environment," says Beck, whose design for Pitzer College's Residential Life Project, completed late last year, is tracking for a LEED Gold rating. "They do so by reducing the energy and water required for manufacturing, by increasing recycled content, specifically post-consumer, by eliminating dangerous chemicals from the manufacturing process and ultimately improving our indoor air quality and by making sure their products can be recycled in their entirety."
LCA STAGE ONE: EXTRACTION
Obtaining raw materials can be a significant factor in a product's life and, for that reason, a key stage for proper LCA. Gate-to-gate studies, for example, disregard the energy-intensive and potentially destructive nature of material sourcing, cultivation, and extraction-at the peril of the earth. Practitioners of sustainable design know this statement is hardly hyperbolic, but rather reflects a rock-solid basis in logic and science.
Wood flooring is a perfect example. While there are many species and product applications of wood, almost all of them require the harvesting of the entire plant. (Cork, a noteworthy exception, is covered below.) With the loss of habitats for birds, insects, and the like, as well as the nourishment and stability to the soil, harvesting even a single tree asks the surrounding ecosystem to adapt. This raises questions of what constitutes renewability and responsible lumber harvesting. Replanting, which gives the ecology a chance to catch up, is an important precept in certified sustainable forestry management.
For that reason, when wood flooring is chosen for a project, an LCA should include some measure of the harvesting method. Apart from being beautiful and adding warmth to an interior's aesthetic, wood is a traditional and common flooring choice that can also be symbolic of environmental thinking. When clients request it, or when it seems the most appropriate design choice, it may also present a dilemma for certain green building projects. As it happens, however, there are alternatives to conventionally built and engineered wood flooring that may be desirable even when compared to sustainably harvested, renewable lumber.
Originally published in GreenSource
Notice