Standing on Green Principles: Sustainable Flooring Choices and Life Cycle Assessment
Innovative technologies, as well as tried-and-true materials, contribute to sustainable flooring from
This course is no longer active
Sponsored by Amorim Flooring North America, Forbo Flooring Systems and Teragren® Fine Bamboo Flooring, Panels & Veneer
Learning Objectives:
Discuss life cycle assessment (LCA) as it applies to finishing flooring materials and products, and general construction projects.
Describe trends and industry standards in sustainable flooring options.
List general criteria for evaluating LCA of flooring materials.
Apply what you have learned in the contexts of LEED© and product sustainability standards.
Credits:
It is not only in the building industry, but also in our culture at large, that the word "green" has become ubiquitous to the point where it often lacks substance. Just as many companies in the food industry apply the label "organic" to every product possible, so has nearly every industry applied the word "green" to their practices, products, offices, and even their employees. But as the savvy professional knows, buzzwords are for marketing, not affecting real change in responsible, sustainable practice.
In the building sector, green-labeled flooring products abound, yet the overall sustainability challenge still looms large. According to the U.S. Environmental Protection Agency (EPA), the building sector uses more primary energy than the automotive sector, and nearly as much as the industrial sector-in fact, the corresponding shares of total carbon output are comparable. That's one reason responsible building professionals are asking, "What share of the industrial output is represented by the materials going into my project?"
This motivation has, in large measure, driven interest in product life cycle as a part of the true definition of "green." Life cycle assessment (LCA) gives A/E/C professionals and owner/end-user groups an accounting of the total environmental footprint represented by a particular product, material, or technology as used in a building project. In fact, this method is being adopted into the U.S. Green Building Council's LEED rating systems.
But as LCA becomes more important, it also runs the risk of becoming a mere catch-phrase. There are a number of ways to assess product life cycle, and they are not all created equal. For example, determining the environmental footprint of a product on the project site represents a gate-to-gate assessment, while starting from raw material extraction and going to end-use provides a cradle-to-gate measure of impact. Cradle-to-grave LCA has been widely adopted as a rigorous assessment strategy for building materials and systems, considering every phase of the product life cycle through building decommissioning and disposal.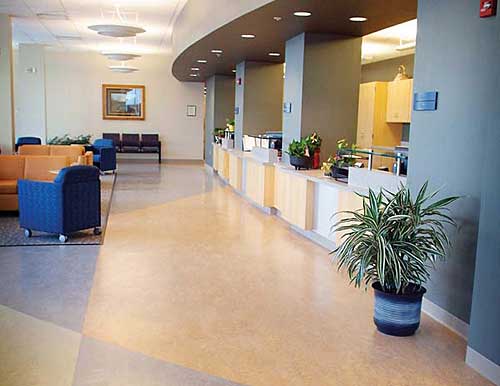 Photograph by Nicole Dixon
Courtesy of Forbo Flooring Systems
 
"CRADLE-TO-CRADLE" LCA
The architect and author William McDonough challenged the predominance of "cradle-to-grave" LCA beginning in the late 1990s. Unsatisfied with a linear, finite building paradigm, McDonough wrote in his seminalCradle to Cradle: Remaking the Way We Make Things(2002) that the way products are designed and buildings are constructed must change fundamentally in order to truly consider life cycle. For example, where materials and products can be recycled, a demolished building is itself a cradle-in other words, a source from which materials can be extracted for new end uses. While it is still relatively new, this cyclical, holistic and long-term thinking has inspired many building teams to focus on cradle-to-cradle LCA.
There are varied definitions for cradle-to-cradle LCA. According to the Athena Sustainable Materials Institute, a Canadian nonprofit group based in Merrickville, Ontario, a complete life cycle analysis will address:
Resource extraction and product/materials transport.
Material processing and product manufacturing.
Onsite building construction requirements.
Occupancy and maintenance considerations.
Building decommissioning and demolition.
Material disposal, reuse, and recycling.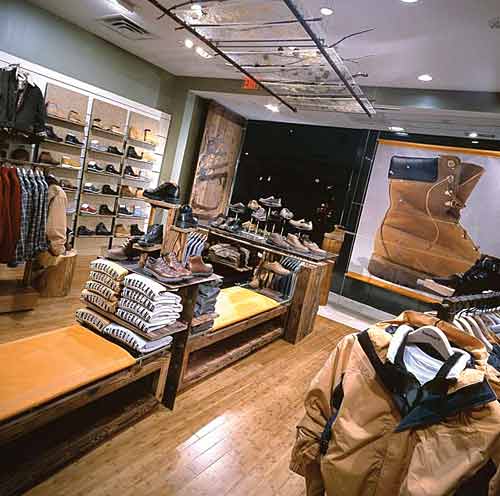 At this Timberland store, a bamboo floor with a flat-grain, caramelized finish suggests a traditional, random-length hardwood appearance.

Photo © 2003 Teragren LLC
Originally published in GreenSource
Notice