Snake Charmer: A trio of buildings for a watchmaking company reveals new possibilities for wood
Architectural Record
Learning Objectives:
Outline some of the environmental and logistical benefits to building with prefabricated timber.
Explain the difference between mass timber construction and traditional heavy timber construction.
Explain how timber can be combined with other materials to create composite structures.
Discuss the challenges involved in building free-form mass timber structures.
Credits:
This course can be self-reported to the AIBC, as per their CE Guidelines.
This course is approved as a Structured Course
This course can be self-reported to the AANB, as per their CE Guidelines
Approved for structured learning
Approved for Core Learning
This course can be self-reported to the NLAA
Course may qualify for Learning Hours with NWTAA
Course eligible for OAA Learning Hours
This course is approved as a core course
This course can be self-reported for Learning Units to the Architectural Institute of British Columbia
This test is no longer available for credit
View course on architecturalrecord.com »
Japanese architect Shigeru Ban likes to test the limits of materials. The Pritzker Prize–winner is perhaps best known for his work with cardboard tubes, using them to quickly and inventively shelter victims of disasters. But wood is another favorite. With timber serving as the primary structural material, he has created wildly sculptural buildings, such as the Centre Pomipidou's branch in Metz, France (architectural record, July 2010), with a swoopy, tentlike wood gridshell roof said to be inspired by woven bamboo hats. He has also designed more sedate wood buildings, including a headquarters for the Swiss media company Tamedia in Zurich (architectural record, July 2014)—a glass curtain wall–enclosed box that has a meticulously detailed timber post-and-beam framed structure exposed on the interior.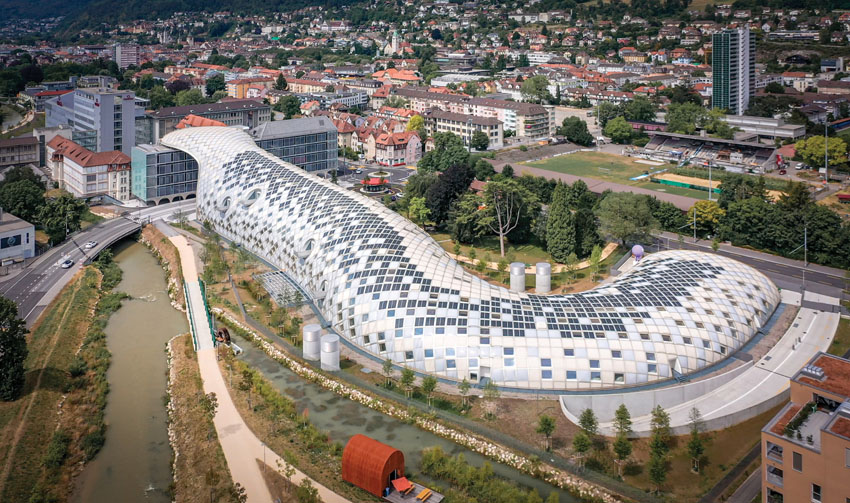 PHOTOGRAPHY: © NICOLAS GROSMOND
SWATCH HEADQUARTERS The office building's serpentine form slinks along the River Schüss and connects to the Omega campus, literally embracing the complex's museum.
One can find a little of both the Pompidou and Tamedia at Biel/Bienne, a watchmaking center that sits at the foot of the Jura Mountains on the border of the German- and French-speaking parts of Switzerland (hence its dual name). Here, after winning a 2011 competition, Ban has created a trio of buildings for the conglomerate Swatch Group—all with timber structures—set amid existing buildings on the campus of Omega, one of the many Swatch subsidiaries. Two of the buildings are rectilinear glazed volumes: a five-story Omega production facility and a 174,000-square-foot museum, devoted to both watch brands, that is topped with a 400-seat elliptical conference hall, which protrudes, bowl-like, from the top floor of the otherwise linear volume. But the most astonishing element of the assemblage is the new Swatch headquarters. This comprises three levels of open offices within a reptilian timber gridshell. The continuous, more than 100,000-square-foot surface, snakes—almost oozes—along the River Schüss and extends to shelter the entrance plaza and span a roadway, ultimately transforming into the roof of the adjacent conference hall. Ban explains the outlandish form of the headquarters as the product of its L-shaped site, but also as an expression of the colorful and playful Swatch brand.
The architect is often quoted saying that wood is the only truly renewable construction material. These three structures are made almost entirely of Swiss spruce, using 6,000 cubic yards of timber—an amount that is grown in the country's forests every 10 hours, according to the project team's calculations. But there are other reasons that make wood so attractive, says Ban. Especially when fabrication is done off-site, building with timber is quiet, fast, and precise. It can make finish materials unnecessary—and it has a pleasant smell, he adds.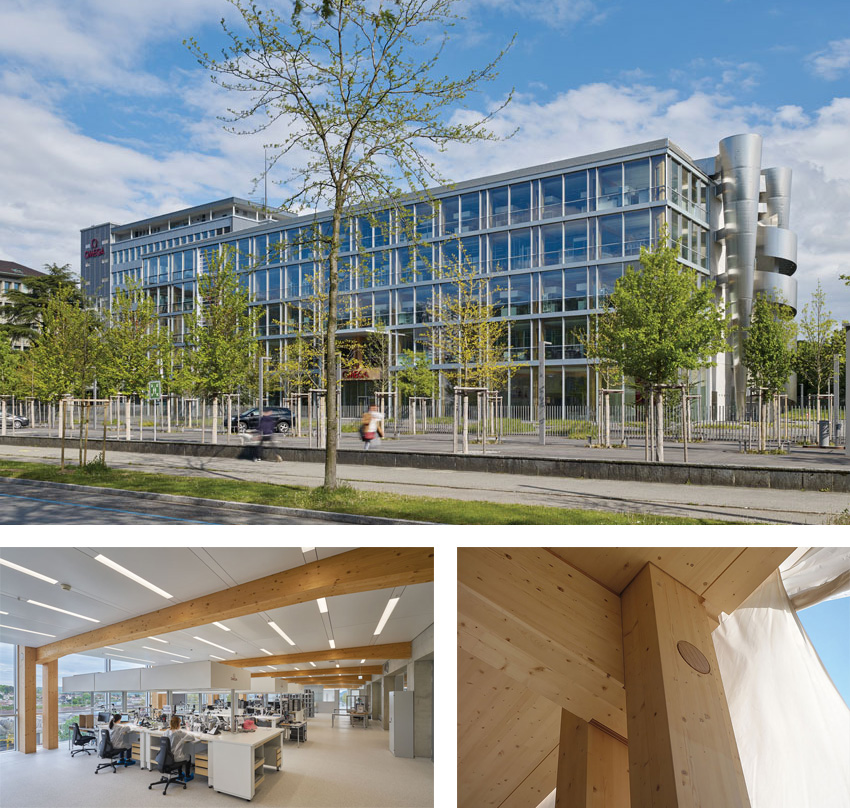 PHOTOGRAPHY: © DIDIER BOY DE LA TOUR (TOP AND BOTTOM LEFT); SHIGERU BAN ARCHITECTS (BOTTOM RIGHT)
OMEGA FACTORY Inside the curtain wall–enclosed rectilinear volume (top) are timber-framed work spaces for assembling watches (bottom left). The columns and beams are spruce with beech dowels (bottom right).
The timber components at Biel/Bienne are put together almost entirely without metal connectors, so it can be tempting to liken them to Japanese carpentry. But the buildings are much more the outcome of advanced technology than they are the product of traditional craft. The parts were not fashioned from large, old-growth trees but were fabricated from engineered-wood elements, including cross laminated timber (CLT) slabs and glulam columns and beams—elements made by bonding small wood units together under pressure with high-performance adhesives. These pieces, many of them with compound curves, have been shaped and cut by CNC machines and other computer-controlled equipment. And the structures, especially the roof of the Swatch headquarters, are highly dependent on parametric design and computation. The resulting buildings are exact and have predictable behavior. Hermann Blumer, founder of structural engineering firm Création Holz and a frequent collaborator with Ban on his timber projects, points out that over the 800-foot-length of the curving gridshell, the construction tolerance is only ±¾ inch.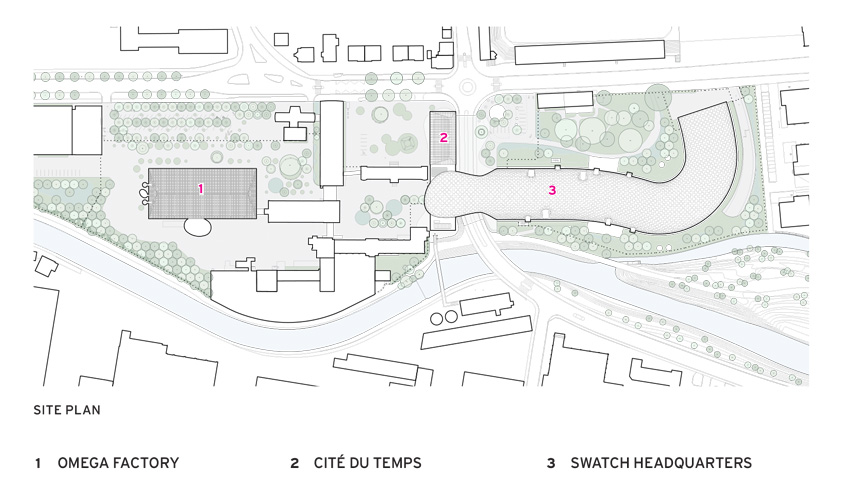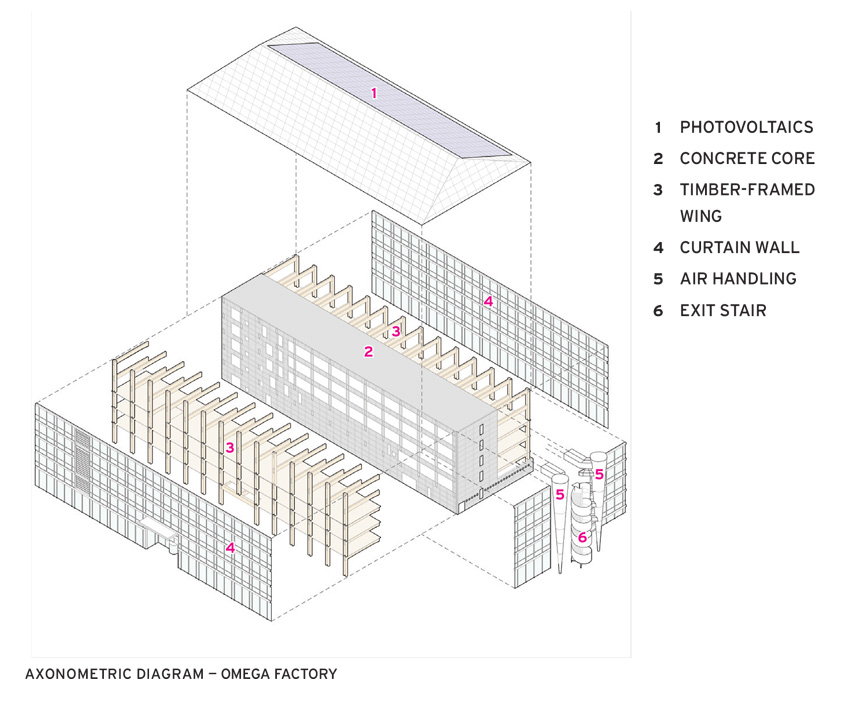 Originally published in Architectural Record
Originally published in December 2019
Notice