Snake Charmer: A trio of buildings for a watchmaking company reveals new possibilities for wood
Architectural Record
To resolve the problem, the architects redesigned the enclosure, more tightly assimilating the mechanical services within the timber beams. And to avoid a coordination nightmare, they turned to a 3-D specialist, who helped define the interfaces among the structural components, the cladding elements, and the extensive infrastructure (see sidebar page 81). The new approach slimmed the depth of the assembly to just over 3 feet, and the results—especially inside—are quite successful. In particular, in the triple-story lobby and at the far end of the offices, where the floor slabs step down like mezzanines, the full 72-foot height of the lofty, vaulted interior is revealed. The roof structure appears as a honeycombed grid, and the distribution of its transparent, translucent, and opaque infill panels has an undeniable logic.
The exterior of the headquarters building, however, is less satisfying. Here the variety of cladding types create an unwelcome busyness, while other elements, including projecting balconies and necessities like snow fences (which prevent ice from dangerously sliding off the sloped facade) further add to the visual noise. In addition, after spanning the entry plaza and roadway, the roof awkwardly latches on to the smaller and much more restrained museum, nearly overpowering it.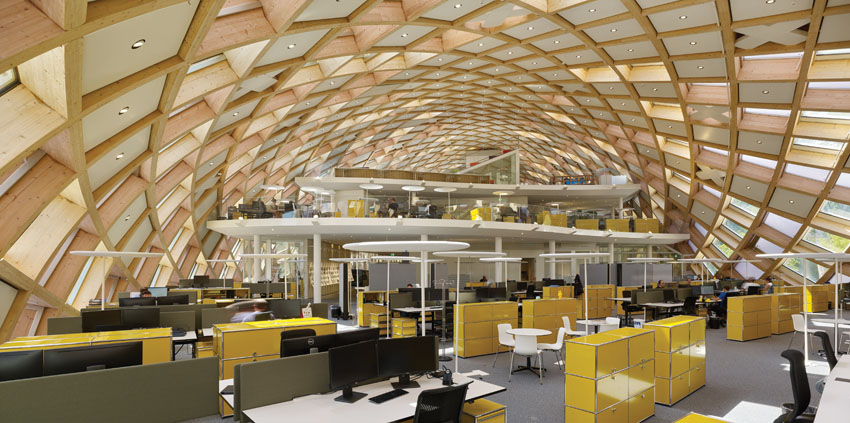 PHOTOGRAPHY: © DIDIER BOY DE LA TOUR
SWATCH HEADQUARTERS The open office floors step down like mezzanines through the tubelike volume.
The true strength of the headquarters, and Ban's entire Biel/Bienne ensemble, is revealed inside—it is here that the wood's warmth shines. Within the buildings, where Ban's skillful handling of timber connections, his exploitation of technology, and manipulation of structure are on full display, he has created lively and powerful spaces for Omega and Swatch.
Credits (Swatch Headquarters only)*
Architect: Shigeru Ban Architects Europe — Shigeru Ban, principal; Taro Okabe, project chief; Jonas Epper, deputy project chief; Matthieu Gabay, Takeshi Mitsuda, Takayuki Ishikawa, Maya Utsunomiya, Veronica Arianna, Emilie Bonzi, Michela Falcone, Alessandro Boldrini, Chika Tatsuta, Clotilde Varinot, assistant architects; Marc Ferrand, interior and product designer
Architect of Record: Itten+Brechbühl
Consultants: Création Holz, SJB Kempter Fitze, Schnetzer Puskas Ingenieure (structural); Transsolar Energietechnik (energy); CSD Ingenieure (building physics); Gruner Gruneko, ISP und Partner (HVAC, building automation); HKG Engineering (electrical); Hügli, BDS Security (security, fire); Leicht (facades); Design-to-Production (3-D specialist); Reflexion (lighting); Fontana Landschaftarchitektur (landscape)
Project Management: Hayek Engineering
Client: Swatch Limited
Size: 270,000 square feet
Cost: withheld
Completion Date: October 2019
SOURCES
Timber: Blumer-Lehmann
Glass Shutters: Bothe-Hild
Elevators: AS Aufüge, EMCH
Raised Foor: AGB, Cosentino
Resin Floor: Nocita
Interior Glass Walls: Glas Trösch
* See architecturalrecord.com for complete specs for the Omega and Swatch Headquarters buildings.
Supplemental Materials
Centre Pompidou Metz, by Rowan Moore
Quick Take: Shigeru Ban's cardboard Cathedral, by Naomi Pollock, FAIA
Tamedia Headquarters Expansion by Shigeru Ban, by David Cohn
Aspen Art Museum, by David Hill
Fujisan World Heritage Center by Shigeru Ban Architects, by Naomi Pollock, FAIA
View Course Libraries for:
Originally published in Architectural Record
Originally published in December 2019
Notice