Landscape Architecture: Creating Exterior Spaces
Materials and strategies for enriching the outdoor experience
Sponsored by Bison Innovative Products, Endicott Clay Products Company, Pioneer Landscape Centers, Skyco Shading Systems, and Thermory USA
Learning Objectives:
Identify the key sustainability criteria (both LEED and SITES) that apply to materials used in outdoor environments.
Discuss some of the products and systems that are available for designing exterior plazas, gardens, decks, and roof terraces.
Explain the product compliances that meet sustainability criteria for both LEED and SITES.
Describe the ways in which outdoor spaces can be designed to benefit human health and wellness.
Credits:
This course can be self-reported to the AIBC, as per their CE Guidelines.
This course is approved as a Structured Course
This course can be self-reported to the AANB, as per their CE Guidelines
Approved for structured learning
Approved for Core Learning
This course can be self-reported to the NLAA
Course may qualify for Learning Hours with NWTAA
Course eligible for OAA Learning Hours
This course is approved as a core course
This course can be self-reported for Learning Units to the Architectural Institute of British Columbia
This test is no longer available for credit
Landscape architecture by definition is the practice of designing the outdoor environment. The American Society of Landscape Architects (ASLA) provides a detailed explanation of this term, stating that landscape architects have a significant impact on both the natural environment and the people who live in the surrounding communities.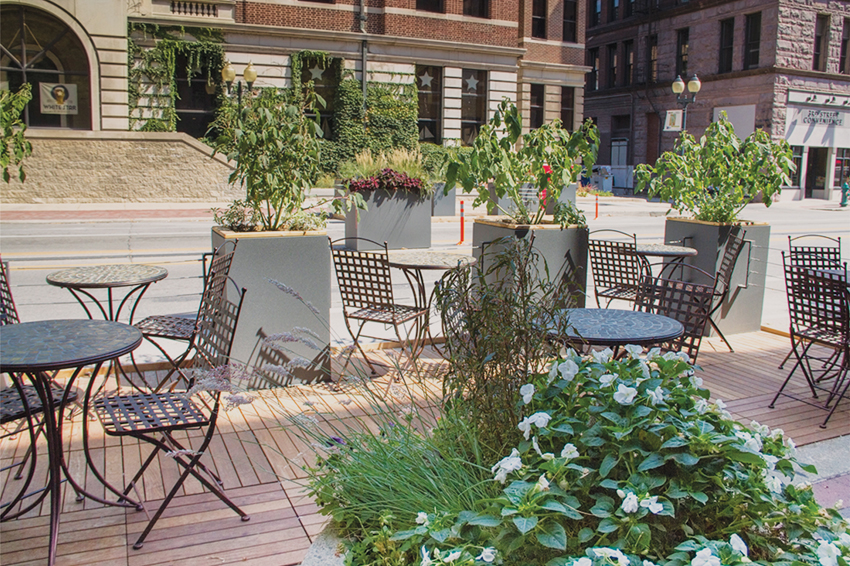 Photo courtesy of Bison Innovative Products
Pop-up plazas, such as this one in Cedar Rapids, Iowa, designed by Seth Gunnerson, provide flexible design options for creating outdoor spaces in urban areas.
In designing outdoor spaces, landscape architects can play a vital role in contributing to the development of the health and well-being of communities. This is accomplished by:
Improving and regenerating the environmental conditions;
Providing outdoor environments that are beneficial to people's health; and
Planning and designing outdoor spaces that generate significant social and economic benefits to communities.
The Sustainable SITES Initiative, which was developed in 2008 through a collaborative, interdisciplinary effort of the ASLA, the Lady Bird Johnson Wildflower Center at The University of Texas at Austin, and the United States Botanic Garden, now provides voluntary guidelines and a rating system for designers to assess the sustainable design, construction, and maintenance of landscapes. The U.S. Green Building Council (USGBC) has incorporated certain SITES credit content into iterations of its LEED green building rating system, and SITES has also adapted LEED credits as part of its latest (v2) rating system.
Key design criteria of both SITES and LEED that are focused on sustainability in the design of outdoor spaces include Materials Selection, Environmental Quality, Human Health and Well-Being, and Energy and Optimization. This course will explore the ways in which designers can create attractive and sustainable outdoor environments that meet LEED and SITES criteria while also providing both social and economic benefits for the projects and their surrounding communities.
Materials for Designing Outdoor Spaces
There are a number of products that provide designers with flexibility in the design of outdoor spaces. Modular decking and pavement systems provide landscape architects with a variety of surface options for creatively designing outdoor spaces both on the ground and on rooftops. Modular cubes and outdoor structures, such as pergolas, provide opportunities for creating privacy and separation by presenting options for vertically defining outdoor spaces.
On the ground level, modular pavers can be used to define entrances, pathways, parking spaces, sitting spaces, and large open areas. Modular wood elements can be mixed with pavers or used by themselves to create unique aesthetics. Modular cubes provide spaces for plantings in rooftop gardens, decks, or parklets. Modular pergola structures provide opportunities to create outdoor rooms for shade and privacy. And all of these modular systems can be utilized in the design of rooftop gardens and decks.
Surfaces for rooftop and ground-level spaces can be designed using wood, stone, structural porcelain, crushed rock, artificial turf, grating, or concrete to create unique custom looks. All of these materials can be applied either on a rooftop when utilizing a pedestal support system or over a prepared ground-level subgrade.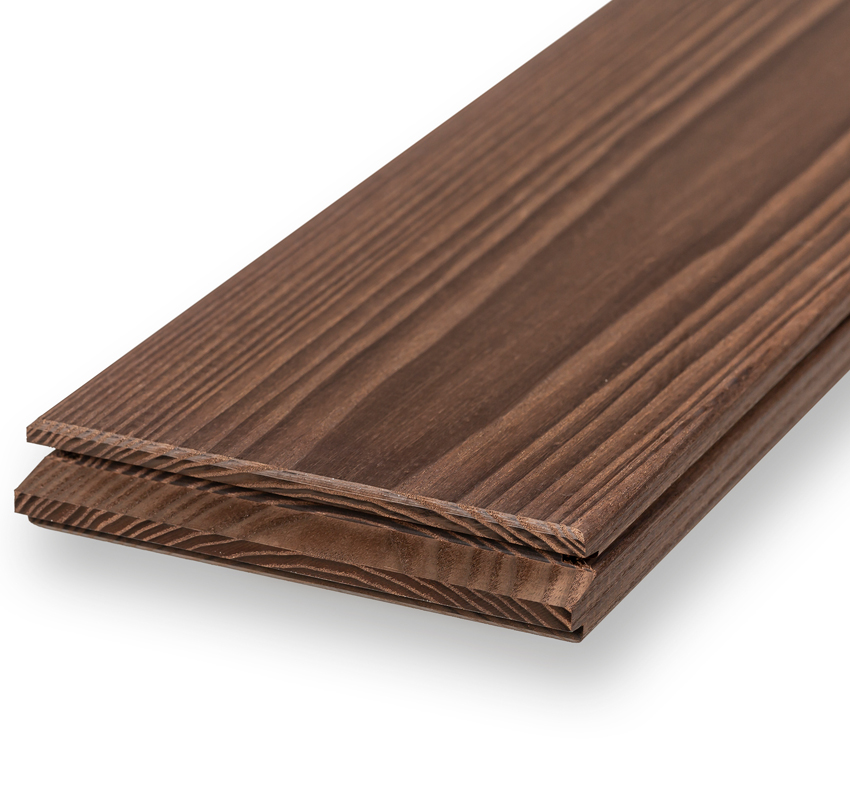 Photo courtesy of Thermory USA
Thermally modified wood was used in the design of this pool deck for a private residence.
Thermally Modified Woodfor Durability, Aesthetics, And Sustainability
Thermally modified white ash, scots pine, and spruce woods are sustainable alternatives to tropical woods or composite products. The wood is harvested responsibly in Northern Europe and the United States from naturally renewable forests, making it a long-lasting alternative to tropical woods without sacrificing durability or dimensional stability. The wood is responsibly harvested by sourcing from a number of different locations around the world, thus leaving each forest healthy and thriving. This wood is also shipped via water, which is a more fuel-efficient mode of transportation than freight train and nearly 10 times as efficient as trucking.
White ash, scots pine, and spruce woods are chosen as most suitable for the thermal modification process for the following reasons:
These are fast-growing species and thus more replaceable. This makes them a more sustainable wood species because they can be harvested responsibly, thus helping to appreciate the existing logging infrastructure as well as reduce carbon footprint.
These wood species yield the best results via the thermal modification process, achieving a Class 1 Durability rating.
The thermal modification process uses only heat and steam, creating cellular alterations that occur on both a chemical and cellular level in the wood. The sugar content and water-absorption capacity of the wood are altered in the thermal medication process, thus modifying both cellulose and hemicellulose cells.1 Cellulose is made up of smaller units of glucose, and hemicellulose is made up of shorter carbohydrate structure, monosaccharides.2 Hemicellulose has the higher oxygen content so the cells of this cellular group can be altered by slightly burning these specific cells within the wood before burning the other cellular groups. This sequential burning process causes a reaction that creates additional heat within the wood. This thermal modification process uses the steam to control the burning process. This produces wood boards that are rot resistant for 25-plus years. It also produces wood with greater structural integrity of the fibers and dimensional stability. Aesthetically, it provides a simple, beautiful, timeless wood product that gets better with age.
Thermally modified wood goes through an extensive testing process for rot resistance, dimensional stability, termite resistance, strength, formaldehyde content, and fire spread. This testing ensures wood boards that are durable, and moisture and rot resistant. The process takes anywhere from a week to several months depending on the test. This thermal modification process is very detailed and computer controlled to ensure the same result literally every single time the wood is processed through the testing chamber
Only select northern hardwoods from U.S. and European forests, which are renowned for their well-documented sustainable forestry practices, are used to produce thermally modified woods. This fact normally satisfies the customer's desire for an eco-friendly product, and FSC certification becomes unnecessary. However, FSC certification is offered on a case-by-case basis. This is done on a special-order basis and depends on the product needed and the size of the order and whether the FSC material is available. The FSC woods require a 25 percent price premium and an extra 12–14 week lead time to source the raw material especially for the order.
Some softwoods used in the thermal modification process are certified by the Program for the Endorsement of Forest Certification (PEFC), a European-based certification system that is not widely known in the U.S. market. These softwoods are sourced from Scandinavian forests, which are closely managed and extremely sustainable, but they are not FSC certified.
Design Applications for Modular Wood Materials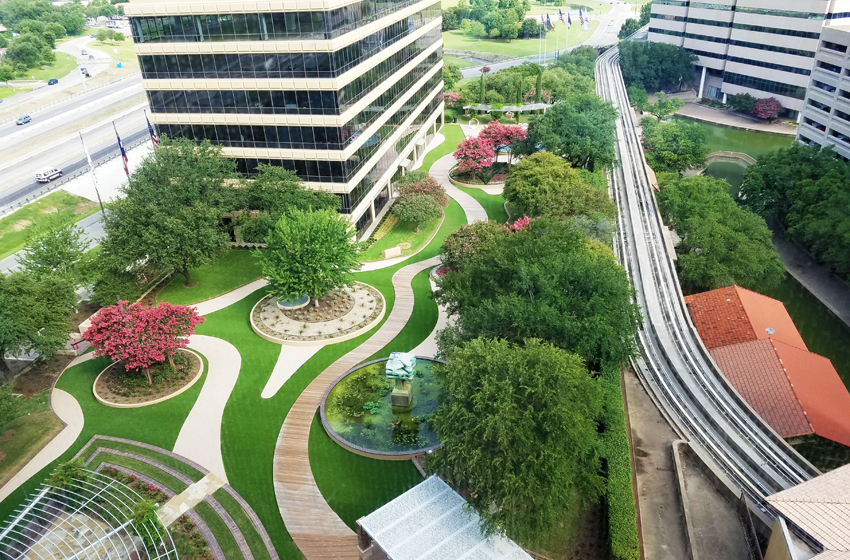 Photo courtesy of Thermory USA
The walkway decking at Gardens by the Mandalay in Irving, Texas, was designed by Complete Landsculpture and constructed of thermally modified ash.
Thermally modified white ash, spruce, and scots pine decking, cladding, and porch flooring offer great versatility to landscape architects. Because of its high durability and low maintenance requirements, thermally modified wood offers great versatility for the design of exterior surfaces whether for porches, outdoor decks, or roof patios, as thermally modified wood can withstand foot traffic as well as harsh weather conditions and still retain its aesthetic character and smooth finish.
Each fiber of the board is modified using the thermal modification process of heat and steam to achieve rot resistance to the core of the board. This provides decking, flooring, and cladding with a Class 1 durability rating. Class 1 durability is a European rating system that rates exterior wood products and their expected lifetime use. Class 1 is the highest possible rating, and it means that without any additional maintenance and with proper installation, the wood would remain resistant of rot for a minimum of 25 years or more. White ash and spruce are classified as Class 1 durability. Class 2 durability ratings indicate that the wood is resistant to rot for 20 years or more. The scots pine wood is classified as Class 2.
As a comparison with other wood species, ipê from Brazil and old-growth Burmese teak have Class 1 ratings, while most other tropical rainforest species attain Class 2 ratings or less. Domestic old-growth cedar can be classified as Class 2, although currently harvested cedar is mostly tertiary growth and meets a Class 3 standard, which indicates resistance to rot for 15 years or more.
In addition to durability, thermally modified wood provides a product with a rich, natural color that is not the result of a stain. Left untreated with UV-protectant oil, the boards will slowly age to a platinum grey finish. In addition, each board goes through a milling process that produces an extremely smooth finish, thus eliminating roughness and splinters.
Originally published in Architectural Record
Originally published in September 2020
Notice