Landscape Architecture: Creating Exterior Spaces
Materials and strategies for enriching the outdoor experience
Sponsored by Bison Innovative Products, Endicott Clay Products Company, Pioneer Landscape Centers, Skyco Shading Systems, and Thermory USA
Clay Pavers: An Environmentally Friendly Material Option
Clay pavers provide the landscape architect with both quality material performance and design flexibility. Clay is an environmentally friendly raw material that has been used to fabricate bricks and clay pavers for hundreds of years. Clay pavers are fired at temperatures exceeding 2,000 degrees Fahrenheit. This process of firing provides designers with pavers that are non-fading and resilient to wear and staining. Because of this high-heat firing process, the pavers never need sealing to retain their color. And because there are no dyes used in the fabrication process, the cost of clay pavers is less than pavers that are comprised of other materials, such as concrete.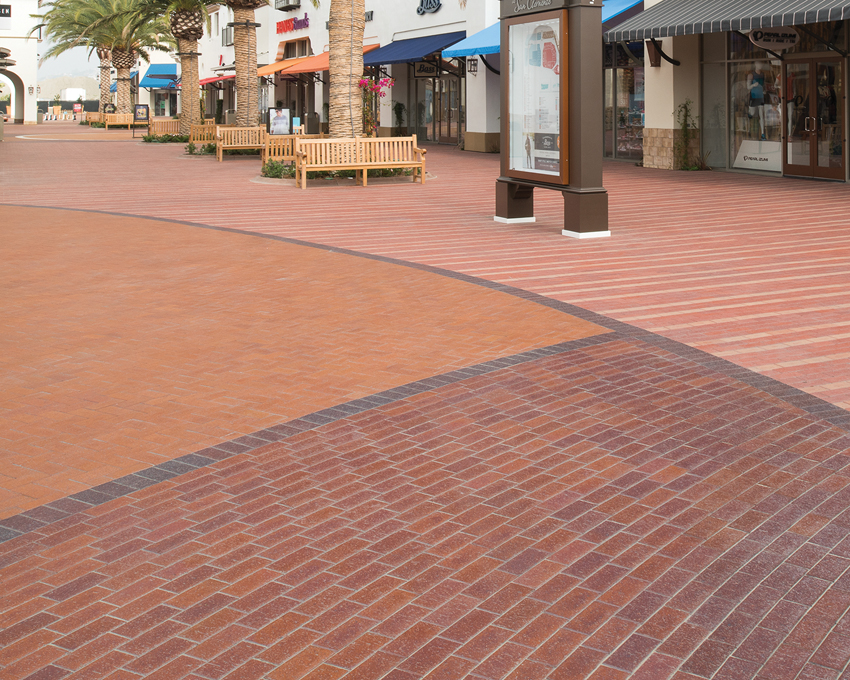 Photo courtesy of Endicott Clay Products Company
Multiple colors and patterns can help to humanize pavement scales, as seen at this plaza located in San Clemente, California.
Design Flexibility of Clay Pavers
Clay pavers come in a variety of sizes and types, including permeable pavers, relieved edge lugged pavers, pool coping pavers, Danish hand-molded pavers, bullnose paver threads for stairs, and ADA-approved detectible warning pavers. Clay pavers are used in both pedestrian and vehicular applications, including patios, pool decks and pool copings, large outdoor plazas, walkways, and driveways. Their relatively small size creates a pavement surface with a human scale. The small size also allows for the nuances of different colors, textures, and patterns to be clearly seen when standing from one vantage point within a pavement field.
Clay pavers are available in a wider range of colors. Due to the natural color of clay, the most common colors are the reds and browns of earth tones, but clay pavers are also available in buff, black, and gray. The color is typically consistent through the body of the paver, as it is fired in through the entire paver. Clay pavers are also highly resistant to weathering and fading due to their vitrified composition. As clay pavers are made from natural materials, there may be inherent color variations in pavers due to different production runs. For designers, the color variations can be addressed in a field panel and designing patterns from different production lots. Using different colors helps to break down the scale of the very large pavement areas. Borders can be laid in a different color from the field, thus adding interest to the design. Patterns that flow, repeat, and intertwine can also be added.
The texture for pavers and paver treads is wire cut. Wire-cut brick pavers are formed by slicing a brick-sized piece with a wire tool from a larger bulk- length of clay. The clay is formed and fired as a large rectangular piece, and it is then sliced into several small brick-sized pieces by pushing the wire-cutting tool through the clay. This slicing process by the wire cutter leaves a rough surface on the brick as it is pushed through the larger piece of clay. The wire-cut rough surface texture provides more secure footing for pedestrians during rain events. Some clay pavers can also be manufactured with raised bumps on the surface to serve as tactile and detectable warning strips, which are required for ADA compliance at crosswalks.
Pavement texture can be created not only by the surface texture but also by the treatment of the edges. Clay paver edges can be square, round, beveled, or relieved. Edge treatments can be uniform along the entire paver edge or variable, such as with pavers that are made to look historic. Fired pavers can also be tumbled to create "distressed" edges.
Due to their size and color variation, clay pavers can provide designers with great flexibility in the creation of outdoor spaces. Varied pavement patterns can be achieved using herringbone bond, running bond, stack bond, and basket-weave patterns. Pavement patterns should be selected based on the horizontal loads to be received and the proposed setting bed. Setting beds of bituminous sand are the most prone to horizontal movement or paver creep, so a herringbone bond pattern would be more appropriate for these types of setting beds, as this pattern best distributes horizontal forces, thus reducing the potential for paver creep. Patterns with continuous joints (running bond) do not distribute horizontal loads as well, and when using these patterns, they should be oriented perpendicular to the direction of traffic to reduce the possibility of paver creep.
Permeable clay pavers have quarter-inch lugs around the edges. These lugs maintain the joint spacing between the pavers. The joints as well as the subbase under the pavers are filled with crushed stone. Rainwater will run off the paver surface into the joints and percolate down into the subbase of crushed stone, eventually permeating down through the subgrade into the groundwater table.
In segmental paving applications, chippage can occur when pavers move against each other. This is usually due to improper installation techniques. When paver spacers are used along the edges of clay pavers, the chippage issue is eliminated. The paver spacers create and ensure the needed spacing between each paver to accommodate jointing sand while providing the crisp appearance of square edge pavers. Paver spacers come in both cross and T configurations. Each side of the spacer measures 13⁄4 inches high by 1 inch wide by 3⁄32 inch thick. There are four sides or segments to the cross-style paver spacer and three sides or segments to the T-style paver.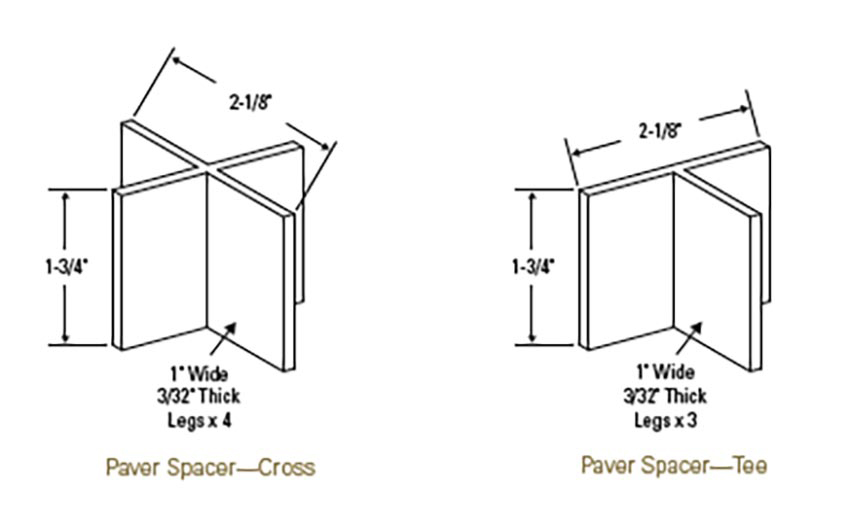 Images courtesy of Endicott Clay Products Company
Shown are two styles of paver spacers.
Construction and Design Standards for Clay Pavers
When designing an outdoor space using clay pavers, the designer must consider the intended use of the space, and select the appropriate type of paver and detail the appropriate construction application and setting bed. ASTM provides standards for pavers depending on the intended use. Pavers manufactured in the United States must comply with consensus standards published by ASTM International. Two ASTM standards provide the requirements for clay pavers for exterior use. They are ASTM C902: Standard Specification for Pedestrian and Light Traffic Paving Brick and ASTM C1272: Standard Specification for Heavy Vehicular Paving Brick.
The pavers meeting ASTM C902 are suitable for patios, walkways, interior floors, plazas, residential driveways, and commercial driveways. Pavers meeting ASTM C1272 are used in areas that will receive heavy vehicular traffic, such as streets, commercial driveways, and industrial applications.
The intended use of the area designed for clay pavers will dictate the appropriate setting bed. Setting beds provide a means of adjusting paver heights, as there can be slight dimensional variations in pavers. Setting beds can be of sand, bituminous, or mortar depending on whether the area is intended for pedestrian and light vehicular use or heavy vehicular use.4 The setting bed supports the pavers and distributes the load to the base material. Bases can be of aggregate, asphalt, cement-treated aggregate, or concrete, again depending on the intended use and application of the clay pavers.
Winter Maintenance Considerations
For maintenance in cold climate areas, snow removal and deicing applications should be evaluated for areas designed with clay pavers. Blades on snow equipment should be set high enough so as not to scrape the pavement surface in a manner that causes chipping. Rubber or urethane blade edges can also be used. If snow is intended to be stockpiled onto areas with clay pavers, the load capacity of the pavement must be adequately designed. There are a number of chemical products available for preventing and removing ice from pavements. Calcium magnesium acetate and urea are products that perform well and reduce potential staining of the pavement surface. Calcium magnesium acetate performs more effectively at lower temperatures. Rock salt is not recommended as it contains calcium chloride, which may cause efflorescence on the pavers.
Clay pavers can be laid over hydronic snow-melt systems, which eliminates the need for ice melt applications and in some cases can eliminate the need for plowing or snow clearing. Hydronic snow-melt systems consist of plastic tubing networks that are laid below the pavers, usually cast into a concrete slab. Sometimes the tubing is incorporated into the bedding material underneath the pavers. A heated liquid is pumped around the tubing system during near and subfreezing conditions to maintain a pavement temperature that is slightly above freezing. This prevents the accumulation of snow and ice.
Clay Pavers for Special Applications and Conditions
Clay pavers can be used to cover suspended decks and as permeable paving systems. When used as a pavement surface on a suspended deck, the designer must consider the prevention of water penetration into the structure and deal with elastic deflections. A waterproof membrane should be designed into the structural slab to prevent water penetration. Horizontal drainage mats with a 2 percent slope will help with water drainage. If the structural slab is located over a habitable space, insulation may be required to prevent heat loss in the building. Both foamed concrete and extruded polystyrene have been used for insulation layers depending on the application and intended use of the structural slab.
Clay pavers used as permeable pavement will reduce or delay rainwater runoff into drainage systems. The permeability in the surface is achieved by creating wider joints that are filled with permeable aggregate in place of sand. The pavers are also laid over a permeable setting bed and base of aggregate and stone. The water can thus penetrate through the joints into the base layer and be stored in the base layer until it infiltrates into the subgrade.
Clay pavers can be used in a wide variety of applications, and with the variety of textures and colors, they provide designers with a number of options for creating inviting and durable pavement surfaces. As clay is a natural material, it meets LEED and SITES criteria that provide points for regional materials. Those clay pavers that are used for rainwater management help to meet LEED criteria 6.1 and 6.2 for Stormwater Design. And using clay pavers in creating plazas, walkways, patios around building exteriors, and streetscapes will provide designers with possible points for LEED Pilot Credit 14: Walkable Project Site, LEED Pilot Credit 78: Design for Active Occupants, and SITES criteria 6.4, 6.5, and 6.6 under Human Health and Well-Being.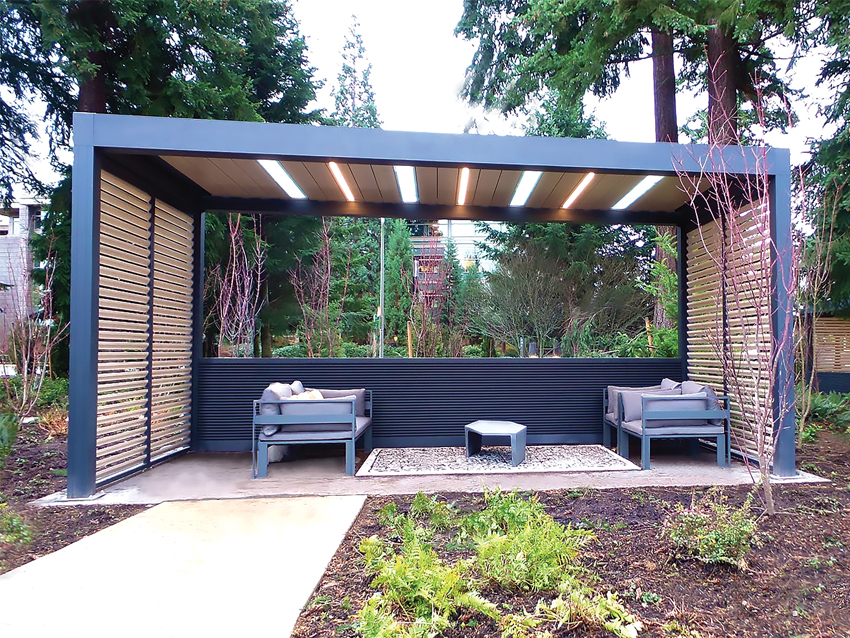 Photo: John Shaw
An outdoor structure can extends design opportunities within the landscape as well as provide health benefits to users.
Originally published in Architectural Record
Originally published in September 2020
Notice