Creating a circular economy in residential construction
Sponsored by Bison Innovative Products, CRL, and Propane Energy for Everyone
You are not currently logged in to your CE Center account.
Log in
to view and complete the quiz questions that are embedded in this article.
These innovative modular and versatile deck systems provide architects the design flexibility to create unique and beautiful rooftop environments and outdoor spaces. Architects can include a mix of pavers and surface materials including wood, stone, structural porcelain, crushed rock, grating, artificial turf, and concrete, and planter cubes and benches, to create unique, custom looks that allow for a maximum diversity of material use. Versatile, adjustable pedestal deck systems can be created over any structural surface, including bare structural decks, rooftop decks, roof membranes, green roofs, terraces, compacted grade, pavement, pool surrounds, or water features. This flexibility allows capture of unused space in the city, or for upgrades to a porch or backyard in the suburbs, creating a low- or zero-waste renovating solution for a variety of applications while creating valuable outdoor space.
Made from recycled content and fully recyclable at their end of life, sustainable decking products are manufactured in an environmentally sensitive and efficient manner. These systems can help to achieve prerequisites and accumulate points in the following categories of LEED, including under Materials and Resources Credit 4, 6, and 7, in Material Content with Recycled Content, and contributions to LEED | SITES points.
Outdoor decks connect residents to the natural environment through the use of natural materials, such as wood and stone, and incorporate vegetation and greenery into an individual's regular routine through the use of planter cubes and pots. Regular interactions with the outdoors are proven to lower blood pressure, reduce stress, expedite healing, and improve a person's mood and focus.
Opening The Door To Circularity: Viewing Doors As Reusable Materials
Results show that, in most cases, the reuse and recycling of construction and demolition waste at the end-of-life of a building, as well as the production of recycled products, provide environmental and economic benefits.13 The concept of CE promises an alternative to the current linear economy of "take-make-use-dispose." In CE resource use, waste, and emissions are minimized by narrowing (efficient resource use), slowing (temporally extended use), and closing (cycling) material loops.14
Single-family homes can be significant contributors to a circular economy by utilizing an ever-expanding array of opportunities through materials and products. One often overlooked avenue is to employ recyclable or reusable glass and glazing systems. Expansive views are a sought-after feature in modern residential housing developments. This has given rise to incorporating large-scale, movable wall systems such as sliding and bi-folding doors that can reach heights of 12 feet or more. What makes these systems sustainable, as well as stylish, are their materials. Certain sliding and bi-fold doors are primarily built from demountable aluminum extrusions which can be deconstructed and recycled. The glass panels can also be recycled.
Glass is 100% recyclable and can be recycled endlessly without loss in quality or purity, according to the Glass Packaging Institute. Glass is made from readily available domestic materials, such as sand, soda ash, limestone, and "cullet," the industry term for furnace-ready recycled glass. The only material used in greater volumes than the cullet is sand. These materials are mixed, or "batched," heated to a temperature of 2600 to 2800 degrees Fahrenheit, and molded into the desired shape.
Recycled glass can be substituted for up to 95% of raw materials. The Glass Packaging Institute outlines a number of benefits from using recycled glass: recycled glass is always part of the recipe for glass, and the more that is used, the greater the decrease in energy used in the furnace. Energy costs drop about 2-3% for every 10% cullet used in the manufacturing process. One ton of carbon dioxide is reduced for every six tons of recycled container glass used in the manufacturing process. Over a ton of natural resources are saved for every ton of glass recycled.
Leading door and glass manufacturers are offering sliding door and bi-folding door series that create innovative solutions to enhancing sustainability, energy efficiency, and occupant welfare in contemporary single-family housing. Because of their minimal frames, these door systems allow for ample daylight to enter the interior space, so that the use of artificial lighting is reduced, thus further lowering energy consumption. Slim, minimal frames maximize views and, when opened, provide seamless transitions to the exterior. These benefits combined serve to improve the health and welfare of occupants.
The most innovative sliding and bi-folding doors are demountable systems, which allows for the recycling of aluminum extrusions. These demountable products feature distinctly slim frames and panels that produce the expansive views that occupants look for. At the same time, they offer exceptional thermal performance by using thermally broken frames and 1-inch insulating glass units which, together, can produce U-factors as low as 0.36. This effectively reduces dependency on air conditioning systems, improving the energy efficiency of single-family homes. To maintain a target on sustainable design, when architects specify demountable movable wall systems, whether sliding or bi-folding doors, specifying thermally broken frames and 1" insulating glass effectively mitigates heat transfer. Reducing heat transfer helps to keep interior temperatures cool during the summer and warm during the winter. This places less strain on HVAC systems throughout the year, which reduces energy consumption, and enhances comfort for occupants.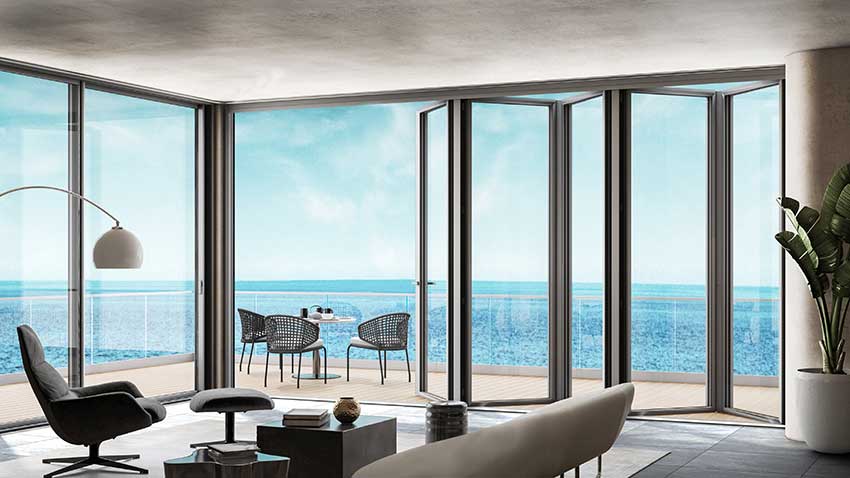 Photo courtesy of CRL
The glass and aluminum in movable wall systems offer an exceptional example of closed loop materials.
Using A CE Approach For Certification
In both the United States and Europe, the driving focus of sustainability and energy programs has been to reduce operational energy consumption of buildings in order to minimize the environmental impacts they induce. However, as buildings are becoming more energy efficient, the embodied environmental impacts stemming from production, construction, maintenance, and disposal of building materials represent an increasing share of a building's total environmental burden.15 Embracing CE as an approach to materials, therefore, becomes an important step towards continuing efforts to reduce buildings' environmental burdens.
Construction should not be seen as an environmental evil. Construction and buildings play an important positive role in society and the economy. The construction sector is a key area that has significant impacts on the economy and environment.16 Construction contributes to the economy, creates millions of direct and indirect job opportunities, and satisfies the need for buildings and facilities. According to the U.S. Bureau of Economic Analysis, GDP from construction in the U.S. was $649.10 Billion in the fourth quarter of 2021.
CE does not spell the end of building and design. Rather, by applying CE to the construction supply chain, the focus turns on the integration of environmental considerations, including material flow reduction and the minimization of inadvertent negative consequences of the production and consumption processes . According to S. Balasubramanian, creating green supply chain management in construction is based on three dimensions: environmental, economic, and operational performance.
Addressing the processes involved in construction from an operational perspective, green supply chain management includes "green purchasing, green manufacturing, green distribution (marketing) and reverse logistics." Smart material and product selection play a key role in the homes of the future.
CE and LEED
Building performance rating and certification programs are also increasingly turning their attention to addressing the diverse, alternative ways that buildings can benefit the environment, beyond simply reducing energy usage.
The U.S. Green Building Council's (USGBC) Leadership in Energy and Environmental Design (LEED) rating system offers Circular Products credit. Under LEED v4.1, project teams are rewarded for selecting products that support the CE. This includes products that are manufactured with zero waste, are designed to be cycled multiple times through repair or remanufacturing, or products that are recovered at the end of their useful life to be remade into new products.
To earn a Circular Products credit, the project must use at least five permanently installed products from three manufacturers that demonstrate achievement of at least one of the circular product reports: Supply Chain Circularity, Zero Waste Manufacturing, Designed for Circularity, or Closed Loop Products. No more than four products can come from one category of criteria below.
Originally published in Architectural Record
Originally published in August 2022
Notice