Five Manhattan West | New York | REX
Bright Shiny Object: A Brutalist building is reinvented as prime office space with a glossy new skin.
Architectural Record
The old facade was stripped down to the columns while the building was still occupied. (A temporary construction wall was erected.) Rather than anchoring brackets into the old concrete, the design team put steel collars around the columns and attached new steel tubes to the collars just above each floor, knowing that facade attachments could be fabricated in the shop and adjusted with tailored precision.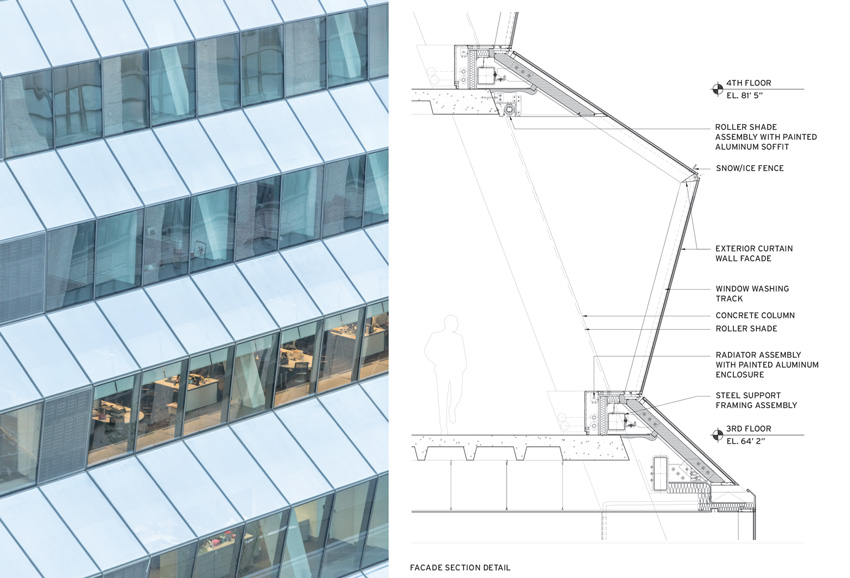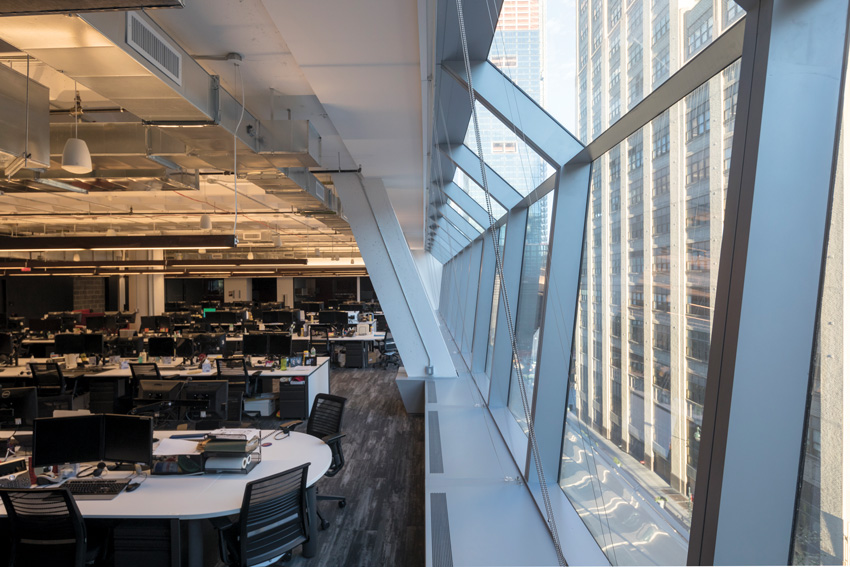 FOLD UP
The new pleated glass facade (top) offers office space with abundant daylight (bottom).
This "spreader bar" system, spanning column to column, is more flexible and reliable than attaching to the edge of the slab, and is sized to carry the dead load and wind load of the facade so the slab does not have to do any work. (Some of the larger pleated assemblies measure almost 17 feet tall and weigh over 2,000 pounds.) The spreader bars also allowed for easier installation of the unitized curtain wall that comprises two hinged panels, connected via a very stiff, continuous steel plate, to create the horizontal fold. "The utilization of the pleated panels as a typical unitized panel was pretty innovative," says Anthony Kantzas, senior associate at Front. "Most of the contractors that were bidding the project didn't want to do it that way."
Because the angle on the canted bottom portion of glass was kept under 15 degrees, the team was able to use standard vision glass there. The double-glazed IGUs include a ⅜-inch-­thick outer lite with a 5/16-inch-thick inner one. (The thicknesses were deliberately varied for better acoustic performance.) The upper panel, because it is considered a skylight by code, uses glass lites of the same thickness, but it is laminated. The pleated geometry improves both energy performance and visual comfort compared to that of a planar facade. Because the original building was intended to accommodate both offices and industrial space, the floors were designed with different ceiling heights. Each of the pleats is therefore slightly different. The upper panels, which feature a selective frit over what would be the spandrel portion on a typical facade, reduce direct solar gain and glare, and self shade the lower panels. The insulation value of the new glazing assembly is significantly higher than that of the original glass.
Reskinning old buildings in glass is nothing new. Often it involves updating nondescript, even unattractive, masonry buildings. That is the case with a former Verizon equipment tower near the Brooklyn Bridge, generally agreed to be one of the ugliest buildings in Manhattan: its upper floors were recently glazed over for use as offices. But sometimes controversy ensues. Preservationists have decried a recent design by Snøhetta to replace the pink granite front facade of Philip Johnson and John Bur­gee's AT&T tower in New York at the lower levels with a diaphanous glass curtain wall. In a recent commentary (RECORD, January 2018), architecture critic Mark Lamster called it "unacceptable." As a counterpoint, architect and writer Robert Kahn, contributing to architecturalrecord.com, said, "Those who believe [the building] important do injustice to serious architecture."
So what do we make of transforming buildings that are not landmarks, but whose status as significant or even good architecture is up for debate? Westyard was arguably a good building, but hardly an icon. "It's never appealed to me as a significant piece of architecture," says Theodore Prudon, an architect and adjunct professor of preservation at Columbia Graduate School of Architecture, Planning and Preservation. Prudon worked on the restoration of a similar Brutalist structure, the low-rise Hubert H. Humphrey Building in Washington, D.C., completed in the early 1970s and one of Marcel Breuer's last designs. He could never have imagined reskinning that building in glass. Instead, it retains its precast-concrete panels, with much of it finished with a thin granite veneer. "That's where the value judgment comes in," says Prudon. "In Breuer's portfolio, it probably wouldn't be the top building, but in my mind, from an architectural point of view, it's far more sophisticated than Westyard in its materiality."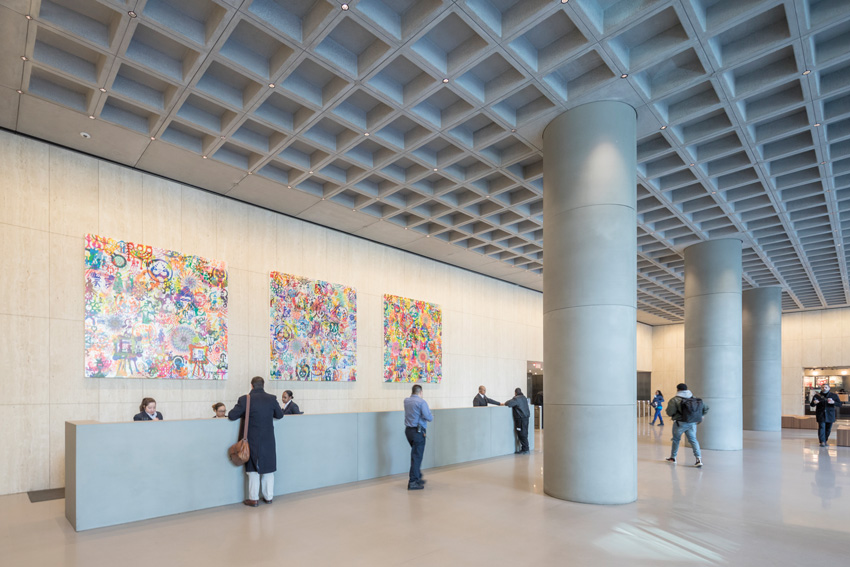 COME INSIDE
The sloping ground-floor entrance (top, left) leads to a refurbished lobby (bottom). On the second level, REX opened a portion of the facade to create a breezeway (top, right).
Prudon is also the founding president of DOCOMOMO US, whose mission is to increase public awareness and appreciation of Modern-movement architecture. "Recladding for the purposes of simply recladding for any kind of structure that deserves attention is not something we would ever recommend," he explains, "but I'm also a pragmatic realist." Buildings from the 1960s and '70s are in a gray zone. "If they were older, they'd get more respect."
Davis Brody Bond, Westyard's original ­architect, currently working with REX on the Ronald O. Perelman Performing Arts Center at the World Trade Center site in Lower Manhat­tan, declined to comment for this article. Ramus points out that REX's design did not overhaul the Brutalist exterior but a later, butchered version of it. Brookfield admits it never considered restoring the original facade.
Since completion of the recladding and interior renovation, which includes a dramatically improved and expanded lobby, rents at Five Man­hat­tan West have increased threefold, to over $90 per square foot (by comparison, office space went for $14.75 in today's dollars when the building opened), attracting such tenants as Amazon, which signed a 15-year, 360,000-­square-­foot lease last September. J.P. Morgan Chase announced plans to triple its space at the building. It is now full, according to Brookfield, including retail space for a Whole Foods, which plans to open on the second floor at the end of 2019.
According to the 2016 AIA Firm Survey Re­port, renovation projects are nearly on a par with new construction. As our building stock ages and systems become outdated, a growing share of design activity will consist of modernizing existing buildings. And it's mostly true that rehabbing old buildings—especially giant ones like Westyard, which could not be built at that scale today under current zoning—is more economical and sustainable. "It's going to become the vast majority of commissions," says Ramus. "The profession must start looking at the adaptive reuse of existing structures as 'Capital-A Architecture' and embrace it with the same excitement, vigor, commitment, enthusiasm, and ingenuity as a new build—because we need to."
Originally published in Architectural Record
Originally published in March 2018
Notice