Effective Fenestration for Wellness and Energy Conservation
Strategies to connect to the outdoors, control energy flow, and maintain comfortable interiors
Sponsored by Marvin, NanaWall Systems, and Saint-Gobain SageGlass
Opening Glass Walls
In some building situations, there is a design intent or a user need to provide dramatic flexibility in the use of fenestration. The fullest extent of this approach is being able to open or close large sections of wall areas completely. A product that does just that is identified as an opening glass wall that uses large, door-sized glass panels that can be readily opened or closed on demand. Like any other type of building fenestration, this system does not carry any structural load from the building but is reliant on being appropriately attached to the building and operates within a structurally supported opening.
This type of flexible fenestration has been popularly used in a wide range of building types, including restaurants, retail, hospitality, education, sports venues, office buildings, and even residential projects, both single and multifamily. In retail settings, for example, opening up the entrance makes the entire street front a welcoming door by eliminating barriers. This creates a seamless transition between the street or mall and the store, helping to attract customers inside and increasing sales. When it is time to close up for the day, the glass wall continues to showcase the interior and provides a secure, energy-efficient, transparent facade that seals tight as a dust-control measure after hours. Restaurant owners like operable glass walls because additional seating space can be readily accessible by opening up the inside to the outside. This type of system can also provide comfortable and attractive four-season outdoor dining by enclosing a covered patio.
In hotels and other hospitality projects, similar benefits exist in using an opening glass wall when a large inviting entrance into the lobby area is created, producing a memorable first impression. It is also possible to incorporate beautiful views, hotel landscaping, natural daylight, and fresh air into the registration, dining, and guest room areas when the walls are open. They can even be used as interior divisions in hotels and restaurants to allow personnel to quickly and easily incorporate or close off adjacent retail space, dining areas, bars, terraces, or meeting rooms. Similarly, office buildings may include common entry or gathering areas that seek copious amounts of natural daylight and connectivity to the outdoors. Opening glass walls are an ideal product to use in those cases since they allow unfettered connections between indoors and outdoors when opened.
While many benefits of light, air, and connectivity can come about by using opening glass walls, the true measure of performance and quality is how they perform when closed. There are a number of different manufacturers of opening glass walls, and they do not all perform the same, so it is necessary to pay attention to the details of their fabrication and request independent test results. The first key performance attribute to look at is the energy-conservation capability of a product. When the opening glass wall is closed, the overall R-value or U-factor of the unit should be known based on verified testing. The unit should also be tested for air infiltration with the capability of using built-in seals and gaskets to assure that air leakage is reduced to meet standards for energy-efficient design. All of this will not only help improve the energy performance of the building, but it will also help the occupants be more comfortable by keeping the cold on the outside while maintaining warmth inside—even right up against the glass and frames.
In addition to energy performance, weather resistance is needed, as in all fenestration products, to seal out wind, rain, and other weather conditions. Manufacturers use a variety of specialized seals and panel designs to provide humidity and moisture control, with some reaching a very high level of performance in this regard. A key component is the design of the sill that the opening glass wall rests on to assure that it completely resists wind-driven water from entering the building. In some cases, the design needs account for extreme weather, such as hurricanes, tornadoes, or other similar extreme weather events. In that regard, at least one manufacturer uses moving structural posts to provide unparalleled strength in units that are approved by Miami-Dade County with AAMA hurricane ratings.
In addition to these factors, a performance review should include attention to details such as multipoint locking entry doors that may be equipped with tamper-resistant locking rods between panels to ensure they meet or exceed forced-entry testing for commercial-grade door panels. It may also include built-in adjustment and compensation points to ensure continued ease of operation if any building settling occurs. When closed, the opening glass walls should dampen sound transmission for the desired acoustical performance needed in the building.
Matt Thomas is the marketing manager of NanaWall Systems and says, "Large openings are easy to design, but it's the performance when closed that matters most. Glass walls must perform during all seasons of the year—especially opening glass walls. Their performance is critical." Since virtually all of these products involve some sort of custom design at the direction of the architect, Thomas goes on to say, "For us as a manufacturer, it's important to supply a product that enables the architect to fulfill their vision but also to provide a product that lasts. These performance points are usually as important to the architect as the aesthetic appearance since we provide the product they are specifying on behalf of their client." In the end, it is the building owner and users that benefit most from these opening glass wall systems in terms of design, connectivity, light, ventilation, and performance.

Photos courtesy of NanaWall Sytems
Opening glass walls provide the opportunity for large, controllable fenestration that can open up directly to the outdoors or be closed up tight to provide an energy-conserving enclosure.
Originally published in Architectural Record
Notice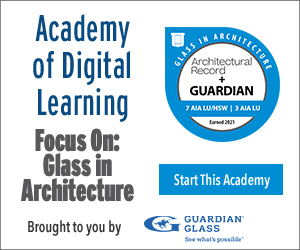 Effective Fenestration for Wellness and Energy Conservation
Buyer's Guide
Marvin® Modern Multi-Slide Door and Direct Glaze Window

Every Marvin Modern product works together as part of a visual system to help you design and configure with ease and confidence. Consistent profiles across all products—along with special innovations like our integrated mull channel—maintain the narrow and clean sightlines central to modern design.
NanaWall Opening Glass Wall Systems

NanaWall redefined the category of opening glass walls. By combining precision engineering and hundreds of options, we offer design possibilities beyond the conventional for almost any space.
SageGlass HarmonyTM

SageGlass Harmony
TM
is a unique glazing solution for designers seeking to enhance the occupant experience by maximizing visual and thermal comfort. While traditional solar management solutions compromise aesthetics and impede views, Harmony dynamic glass provides daylight, heat, and glare management while maintaining a natural and seamless connection to the outdoors.