Communities on the front lines of the climate crisis take a "soft" approach to flood protection.
Architectural Record
Indeed, when Hurricane Harvey flooded the vast oil, gas, and petrochemical-processing infrastructure that lines the shipping canal at the head of Galveston Bay east of Houston in 2017, a $30 billion protection project, long in planning by the U.S. Army Corps of Engineers but short on Congressional commitment, began to look far too expensive, despite the storm's devastating effects.
Now New York–based Rogers Partners Architects, collaborating with Rice University's Severe Storm Prediction, Education and Evacuation from Disasters Center and Walter P. Moore, a local infrastructure-engineering firm, have devised Galveston Bay Park, a -conceptual plan that claims to be a more economical solution. Some 12 miles of 25-foot-tall rock revetments are proposed to line an existing channel dredged through the shallow bay. Nine gates would close to seal the shipping-canal entrance and protect industrial areas on the east side of the bay during severe weather.
Soils dredged in doubling of the width of the channel would be placed behind the revetments to build up parkland and natural-habitat edges, creating some 10,000 acres of new destination parkland for the metro area. The plan is "building allies" among business, civic, and environmental groups, says principal Rob Rogers. Besides all the auxiliary benefits, the project is estimated to cost far less than the earlier plan, at $2.3 billion. "The era of single-purpose infrastructure is over," says Rogers. "Everything we build now needs to be multifunctional."
Galveston Bay Park would expand on a soft infrastructure that already helps manage flooding in Houston. Upstream of downtown and the shipping canal is the slow-moving Buffalo Bayou, a 2.3-mile stretch of which was upgraded in 2015 with a widely admired park along its banks that includes bike and walking trails as well as performance venues, and an obsolete waterworks converted for art display. The design for the Buffalo Bayou Partnership, by the SWA Group, included enhancing the degraded ecology of the waterway and configuring the watercourse to control storm runoff that raises the bayou level by as much as 20 feet, several times a year. Natural meanders were restored to slow eroding flows, and the channel topography was shaped to capture silt. Architectural elements resist flood pressures and collisions from floating debris.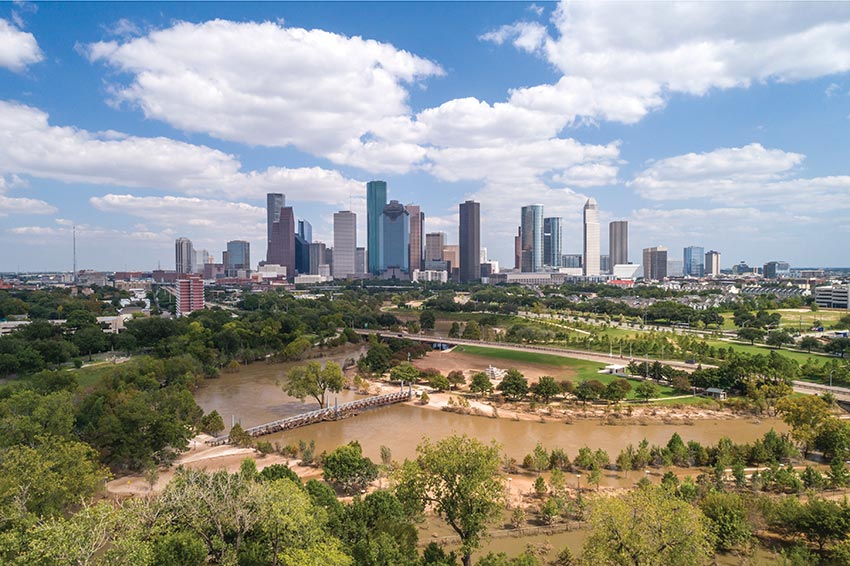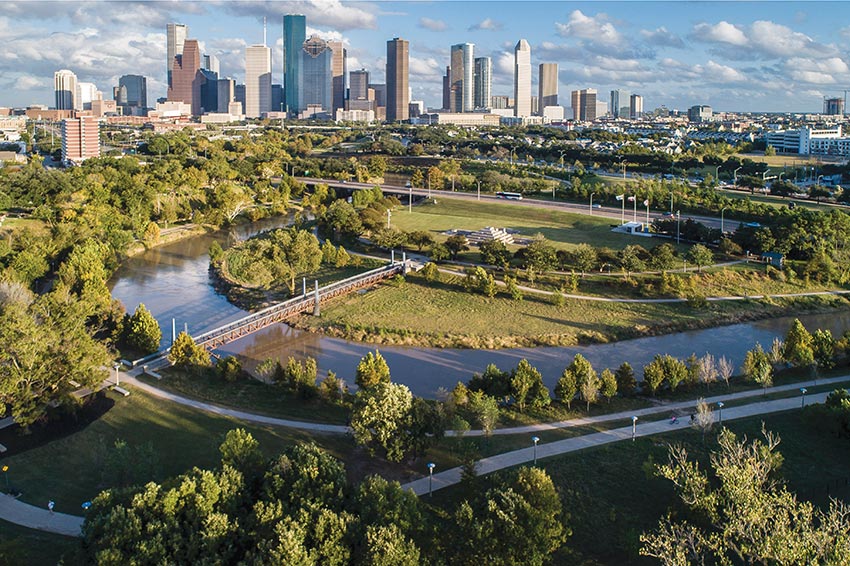 AFTER THE STORM SWA Group's Buffalo Bayou Park in Houston, completed in 2015, included reconfiguring the watercourse to control runoff. Though inundated during Hurricane Harvey in 2017 (top), the landscape proved resilient and was quickly restored (above, one year after the hurricane).
The design was subjected to Hurricane Harvey's record-breaking torrents and survived with little damage. Impressed, voters soon approved funding to move ahead with a Bayou Greenway plan to create trail corridors, new parks, and flood-mitigation facilities along 300 miles of bayou stream beds. Though the Buffalo Bayou project enhanced an existing stream, most cities possess -under-utilized low-lying land that can host natural-system improvements and increase drainage capacity, slow flows, clean storm-water, and offer amenity.
While soft-path techniques can be more adaptable than fixed barriers, some places find neither approach is likely to defend their communities from the almost inevitable ravages of rapid climate change. In New Bern, this is becoming a hard reality. Since the city occupies a vast coastal plain that is barely higher than sea level now, not enough levees and walls can be built to be effective. Nor will low-impact development provide appropriate protections. "Green infrastructure is probably not relevant" for the coastal plain, says Western Carolina University's Young.
New Bern residents—at least those who can afford to or who qualify for government grants—are adapting to the presence of water by raising their homes. Buyouts are offered property by property in North Carolina, which could mean a slow but steady loss of population for New Bern and other high-risk cities. With more shorelines suffering greater damage, and less money for civil-engineering megaprojects, the next frontier in disaster risk may be the managing of such retreat at a larger scale. After all, within decades, the lowest-lying shoreline and barrier islands could well be permanently inundated by -rising seas.
James S. Russell, FAIA, a journalist and consultant, served as director, Design Strategic Initiatives at the New York City Department of Design and Construction.
Originally published in Architectural Record
Notice