Advances in Fenestration Design and Functionality
Innovative products and strategies bring fenestration solutions to the next level
Sponsored by CornellCookson, C.R. Laurence – U.S. Aluminum, Graham Architectural Products, Guardian Glass, Marvin Windows and Doors, Milgard® Windows & Doors, NanaWall Systems, Vetrotech Saint-Gobain North America, and Vitrocsa USA
This test is no longer available for credit
Opening Glass Wall Systems
For manufacturers, it's important to supply products that enable the architect to fulfill their vision while also providing a product that lasts. These points are as important to the architect as the aesthetic—as well as the product being recommended to the client. In other words, you want to be able to trust the product within your design to fulfill the objective but to also not let you down. An example of such a product is opening glass wall systems, which can be customizable.
Design and Performance
According to Matt Thomas, marketing manager for NanaWall Systems Inc., "Large openings are easy to design, but it's the performance when closed that matters most. Glass walls must perform during all seasons of the year—especially glass walls that open. Their performance is critical." In fact, the true measure of quality is how an opening glass wall performs when closed. This is the most important attribute, as it's potentially the weakest link if not designed correctly. Performance attributes to look for may include:
Energy efficient: When the opening glass wall system is closed, the energy-efficient design should keep the cold on the outside while maintaining warmth inside—even right up against the glass and frames.
Seals out wind and rain: Specialized seals and panel design can provide superior humidity and moisture control, while sill designs can resist wind-driven water from entering the home.
Extreme weather resistance: When closed, the glass walls should form a refuge against extreme weather, keeping occupants comfortable and secure. Some manufacturers' products include moving structural posts that provide unparalleled strength in a Miami-Dade County and AAMA hurricane approved (NOA 15-0226.05 and 15-226.06) system.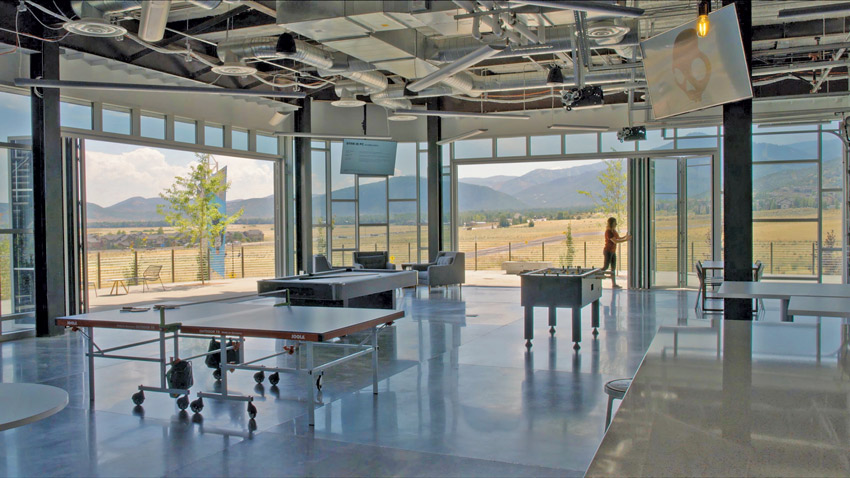 Photo courtesy of Nanawall Systems
Opening glass wall systems provide both beauty and function for a variety of applications. Shown here is Skullcandy headquarters in Salt Lake City.
Watch the video clip below to see an opening glass wall system in action.
Slim Glass Systems
Structurally glazed, operable walls with minimal sightlines is a growing trend in the industry. More and more people are becoming aware of the benefits from both aesthetic and performance perspectives.
Architects tend to question how the profiles of this type of system are so thin (less than 1 inch), but manufacturers rely on the structural glazing rather than the frame for support. This also allows for the panels to be larger, so that occupants can enjoy an expansive, uninterrupted view.
"Twenty-five years ago, Swiss engineers at a leading fenestration manufacturing company modified the function of glazing to invent a sliding system with ultra slim sightlines," explains Jessica Kim, senior technical marketing manager at Vitrocsa USA. "In its traditional role, glass fills the frame and performs virtually no static function. It was found that glass can be used as a structural element that itself supports the window, resulting in a minimal frame that serves simply as the guide along which the glass can slide. The invisible sliding glass wall was invented."
Features of Slim Glass Systems
Sliding systems are available with both horizontal and vertical profiles, but slim glass systems can also be fixed, or there can be pivoting systems with the same slim and matching profiles. Regardless, stainless-steel roller bearings are in the tracks, which allows for the panels to span from the floor to the ceiling. Some of these systems are even self-draining, meaning water and debris can flow through the tracks without interrupting the operation of the system.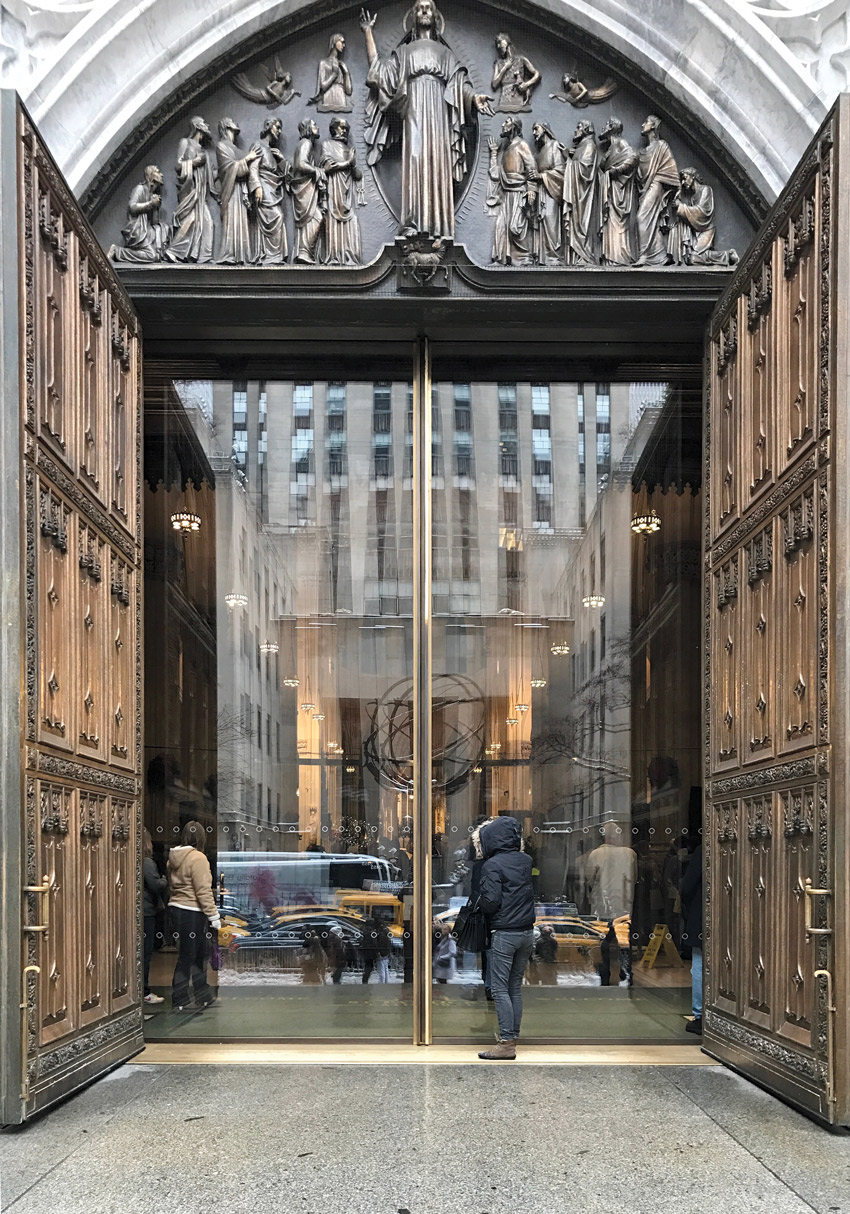 Photo courtesy of Vitrocsa USA
Eighteen-foot oversized sliders have been installed at St. Patrick's Cathedral. The aluminum is clad in bronze to match the surroundings.
Design Features
Maintain consistent slim sightline throughout all product offerings
Slim profile allows zero visual boundaries between the inside and outside of building; brings the outdoors in
Performance
The units are generally dual glazed or triple glazed
Thermally broken
NFRC rated
Air and water tightness tested
Acoustic rated
Able to withstand harsh climates
Historic Renovations
Specialty manufacturers can play a key role in helping owners and developers meet stringent historic renovation requirements with innovative solutions, including replication windows. Architects frequently seek a design that has not previously been manufactured. Architectural product manufacturers that specialize in custom solutions will work closely with them to create a new design to meet their exact needs.
Product options may include not only custom designs to satisfy project needs but also creation of an entirely new product, such as a new steel replication window for the Starrett Lehigh Building in New York City.
Benefits of Using Modern Materials and Designs
Retrofitting older buildings with modern materials and designs provides higher structural performance and thermal efficiency. Historic window products can offer a wide range of aesthetic options that transform historic buildings into modern performing buildings while retaining their original appearance.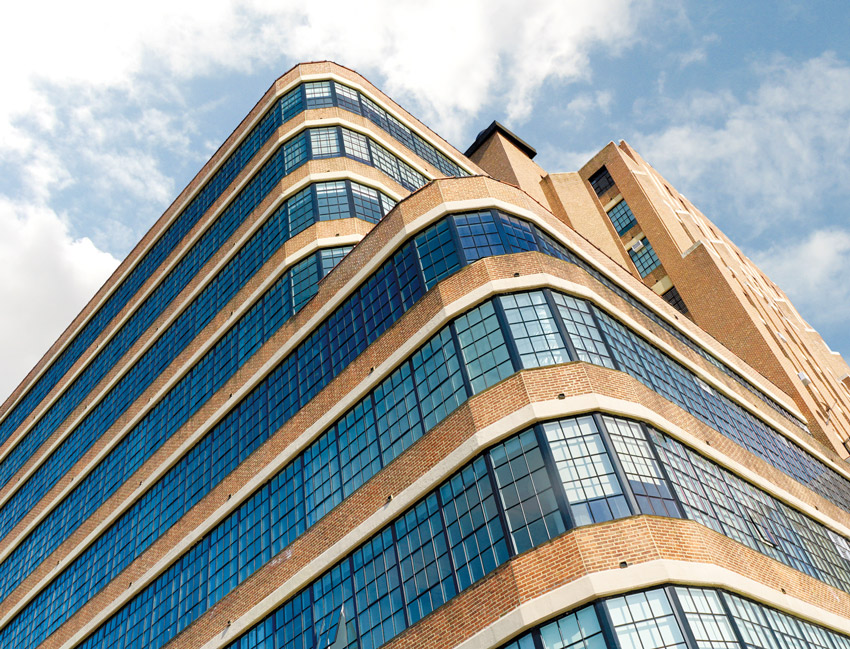 Photo courtesy of Graham Architectural Products
The Starrett Lehigh Building retrofit in New York City features a new steel replication window for the landmark structure.
Originally published in Architectural Record
Notice