Advances in Fenestration Design and Functionality
Innovative products and strategies bring fenestration solutions to the next level
Sponsored by CornellCookson, C.R. Laurence – U.S. Aluminum, Graham Architectural Products, Guardian Glass, Marvin Windows and Doors, Milgard® Windows & Doors, NanaWall Systems, Vetrotech Saint-Gobain North America, and Vitrocsa USA
Learning Objectives:
Discuss a variety of materials used in the design and manufacture of fenestration products, including wood, extruded aluminum, and thermoset composites.
Explain the use of fire-rated safety glass for windows and doors.
Describe advances in fenestration hardware, accessories, and glazing options to support aesthetics, accessibility, safety, energy efficiency, and performance.
Identify the design and performance benefits of opening glass wall systems.
Define features and benefits of slim glass systems.
Credits:
This course is approved as a Structured Course
Approved for structured learning
Approved for Core Learning
This course is approved as a Core Course
Course may qualify for Learning Hours with NWTAA
Course eligible for OAA Learning Hours
This course is approved as a core course
This test is no longer available for credit
The eyes may be the window to the soul, but doors and windows are often the heart of a building, providing everything from daylight to access and functionality. Whether it's aesthetics or performance, fenestration options can have a profound and transformative impact on building design. In order to make the wisest decisions, architects need to stay informed about the latest trends, innovations, and performance requirements as well as understand how to maximize efficiencies in their next project.
This course will look at a wide variety of innovative fenestration products, systems, solutions, and trends that affect the design, functionality, and overall long-term success of today's built environment—everything from material selection to code compliance.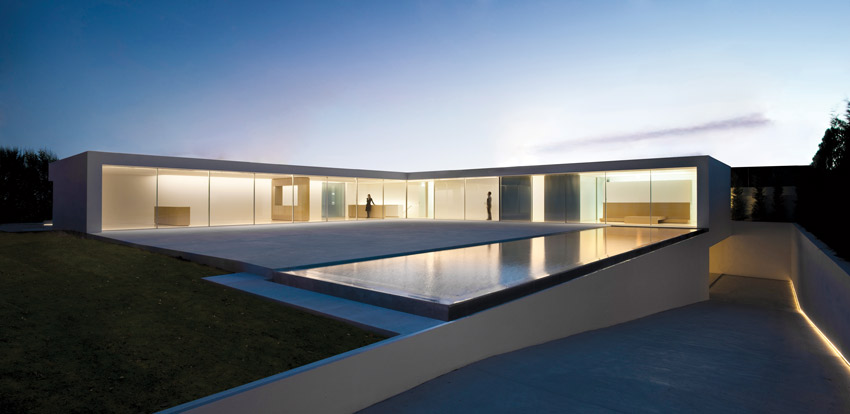 © Fernando Alda
Fixed and sliding units bring beauty and function to this spacious, minimal residence, located in Spain.
Design and Performance Trends
Meeting Codes for Minimal Framing and All-Glass Aesthetics
A prominent trend in architecture today focuses on facades and fenestration systems that feature minimal hardware and all-glass aesthetics. When specifying these types of systems, however, architects are faced with the challenge of meeting energy codes. Codes are also becoming more stringent nationwide, as is exemplified in California Title 24.
"Understanding the fenestration code compliance process and the documentation required can be a challenge," says CRL – U.S. Aluminum FenestrationMaster® and Director of Product Testing and Certification Ron Wooten. He advises, "Check with the local code authorities to determine the requirements as early as possible in order to avoid complications down the road."
Advances in fenestration thermal performance are helping to alleviate the situation. Some new thermal entrance systems, for instance, offer sought-after all-glass aesthetics using ultra-narrow (as thin as 11/8-inch) vertical stiles and a low overall system depth (some only 2½ inches). In addition, select systems have the unique ability to support handle hardware on 1-inch insulating glass using proprietary through-glass fittings. This produces a streamlined "floating on air" visual. Despite its all-glass aesthetics, such a system can deliver U-factors as low as 0.43 using thermally broken framing and cladding, allowing it to comply with strict energy codes.
Butt-glazed curtain wall systems with no exposed exterior vertical mullions or joint fasteners can also provide uninterrupted horizontal glass spans that produce clean, all-glass visuals. Some have a double thermal system with 1-inch insulating glass, allowing them to deliver exceptional thermal performance to meet code. One manufacturer's product features a polyurethane thermal break and a unique injection-molded thermoplastic connector that produces superior thermal isolation. This type of butt-glazed curtain wall system is ideal for retrofit applications because its clean sightlines can achieve an all-glass aesthetic while simultaneously meeting energy codes. Systems should be tested using standardized performance tests to ensure strength and durability.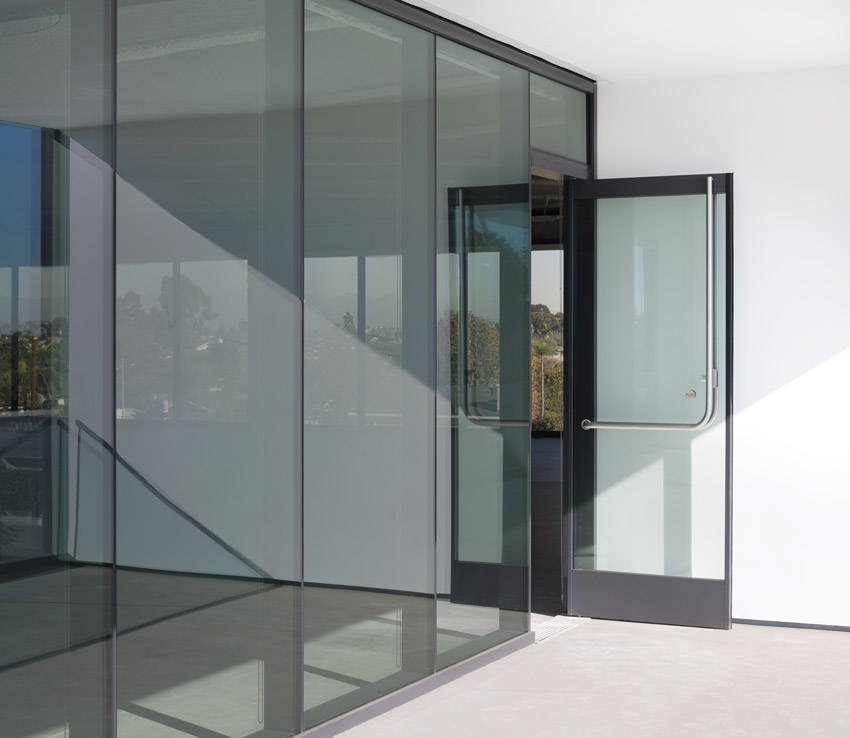 © Geoff Captain
This thermal entrance produces all-glass aesthetics via ultra-narrow (as thin as 11/8-inch) vertical stiles and the unique ability to support handle hardware—including panic devices—on 1-inch insulating glass.
Codes and Energy Performance
Achieving the desired aesthetic is just one piece of the puzzle. With any project that involves fenestration—whether it's new construction or a retrofit application—architects must be aware of the local codes that specify energy performance requirements and understand the NFRC's role in complying with these codes. They should only work with fenestration system manufacturers that can supply the necessary documentation, such as NFRC Bid Reports and Label Certificates. Some manufacturers will also provide State Energy Commission Document Coordination and hardware consultations. Partnering with local code authorities in the early stages of the design process is also advised.
In retrofit applications, architects should know that although performance requirements for existing fenestration components can sometimes be grandfathered in, new systems must comply with the energy codes of local jurisdictions.
Fire-Rated Safety Glass
Another performance feature manufacturers may offer is superior fire-resistant and fire-protective safety glass, including fire-rated doors, systems, and curtain walls; intruder-, impact-, bullet-, and hurricane-resistant glass; and other clear fire-rated glazing products that protect from 20 to 180 minutes. Often, these products combine a minimalistic appearance with maximum safety and performance.
Wireless Alternatives
Why fire-rated glass? Because of Building Code Requirements. But today, you have a choice of products that offer higher performance and human safety while still meeting building code requirements. You can achieve a better design aesthetic with larger sizes that allow you to specify a passive rather than active system, such as sprinklers. Clear glass also allows you to bring light into your spaces.

Photos courtesy of Olaf Rohl, 2015 (left); Robert Steve, 2017 (right)
Fire-rated glass offers high performance and design flexibility while maintaining strict building code requirements. Shown here, The Fairmont Hotel in Vancouver, British Columbia, Canada (left); CCU I-study corridor, Coastal Carolina University in Conway, South Carolina (right).
Features and Benefits of Fire-Rated Glass
Innovations in glazing technology and materials have dramatically changed the industry, bringing several benefits to architects, designers, and building owners:
Expanded Fields of Use
Longer fire ratings and larger-sized glass
Higher degrees of fire resistance/protection
Application-adapted performance
Accidental human impact solutions
Multifunctional Features
Visual clarity
Sound reduction
Decorative and privacy treatments
Solar and thermal insulation
Explosion resistance
Bullet resistance
Hurricane resistance
Seismic rating
Daylighting for Energy Efficiency
Using fire-rated glass is also an excellent way to harness natural daylight in open-plan building designs while ensuring fire safety and energy savings, reducing the need for artificial light, reducing carbon footprint, and cutting heating and cooling costs. In exterior applications, these products may be incorporated into double and triple glazing with solar control and low emissivity features, which allows for the most amount of light while maintaining the energy performance of a building.
With the number of new glazing products available and the advancement of production technologies, the design possibilities continue to grow. Products now exist to accommodate virtually every condition, thus allowing the architect/designer to satisfy cost and performance objectives without sacrificing design or code compliance.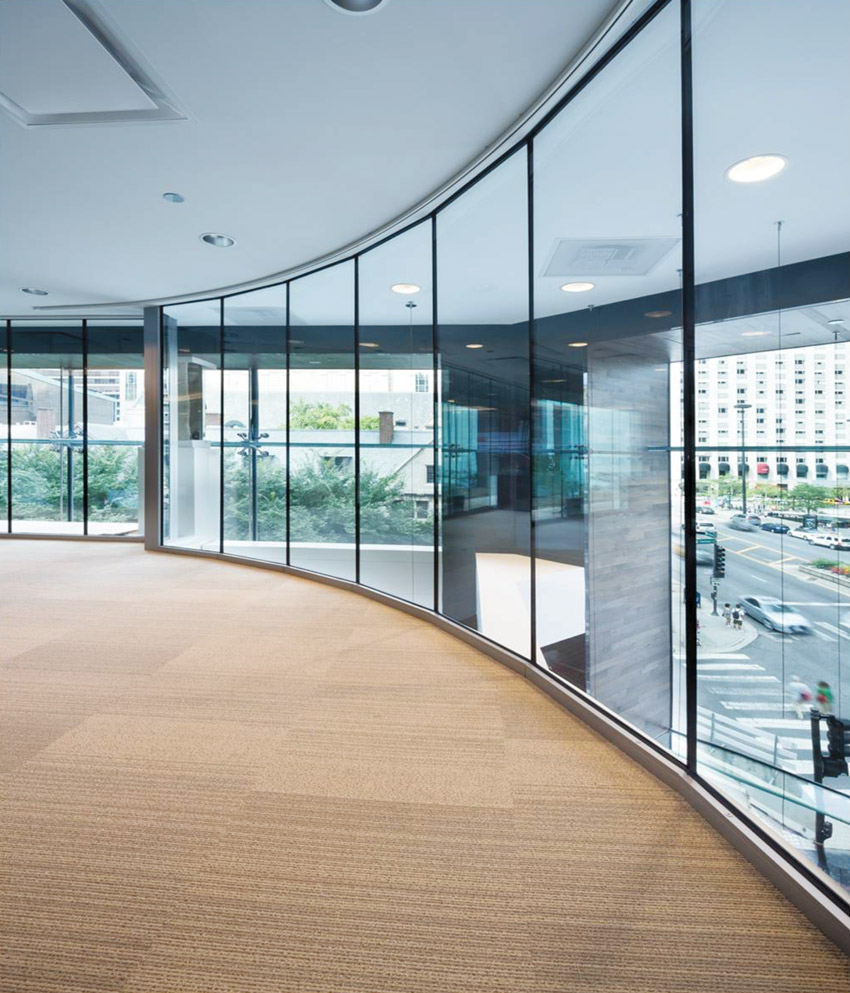 Photo courtesy of Olaf Rohl
Fire-rated glass can be used to harness natural daylight while ensuring fire safety, minimizing the need for artificial light, and cutting heating and cooling costs. Shown here is the Verizon Flagship Store, Chicago.
Originally published in Architectural Record
Notice