The ABCs of LCAs and EPDs
Recognizing the importance of comprehensive life-cycle analysis studies for roofing and cladding systems, the metal industry has invested substantial resources and effort to provide building teams with key product information to help design and build truly sustainable buildings
Sponsored by Metal Construction Association
Learning Objectives:
Explore the sustainability and durability benefits of metal roofing and wall systems.
List the information provided in product category rules (PCRs), life-cycle assessments (LCAs), and environmental product declarations (EPDs), and describe how the sustainable building market is driving the need to continue developing them.
Review extensive metal roof and cladding industry efforts to perform these LCA studies and make this information freely available to the industry.
Discuss how metal roofing and cladding systems compare to other systems in terms of LCA.
Identify shortcomings with current LCAs and subsequent EPDs and how they are being addressed.
Credits:
This course can be self-reported to the AIBC, as per their CE Guidelines.
As an IACET Accredited Provider, BNP Media offers IACET CEUs for its learning events that comply with the ANSI/IACET Continuing Education and Training Standard.
This course is approved as a Structured Course
This course can be self-reported to the AANB, as per their CE Guidelines
Approved for structured learning
Approved for Core Learning
This course can be self-reported to the NLAA
Course may qualify for Learning Hours with NWTAA
Course eligible for OAA Learning Hours
This course is approved as a core course
This course can be self-reported for Learning Units to the Architectural Institute of British Columbia
This test is no longer available for credit
Sustainable building design is arguably one of the biggest trends in the building and construction industry and is an important consideration in just about any building project going on today.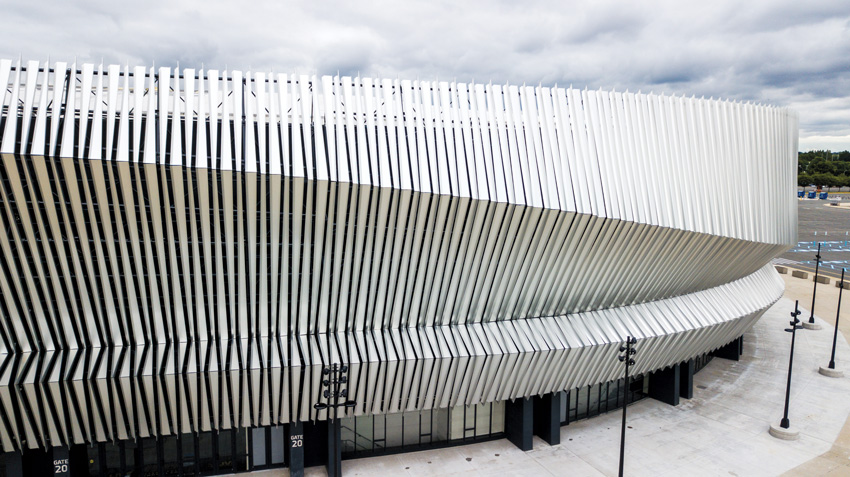 Photo courtesy of 3A Composites USA/Jamey Price Photography
In order to sustainably retain the strong architectural massing of Uniondale, New York's Nassau Veteran's Memorial Coliseum, while giving its facade an entirely new look, an intricate metal design system wraps the 416,000-square-foot coliseum with approximately 4,700 unique aluminum "fins" created with recyclable aluminum composite material.
In fact, Market Research Future predicts the green building market will continue growing at a rate of 17 percent annually through the year 2022, and within the next four years, the market's collective value will surpass a valuation of $245 billion, up from $158 billion in 2015.
To really appreciate this rate of growth, a look at U.S. Green Building Council statistics reveals a dramatic increase from 296 LEED project certifications back in 2006 to 92,000 registered and certified commercial projects totaling more than 1.8 billion square meters (19.4 billion square feet) in 2017.
Now that green building is fully established, the industry is experiencing an important shift toward incorporating health and well-being into today's sustainable criteria.
In line with this market demand for building product transparency, building product manufacturers have been busy analyzing the full life-cycle assessment (LCA) of their products, from raw material extraction to recycling/landfill to help building teams make more informed decisions when seeking green products.
Metal Walls and Roofing
Under LCA criteria, the characteristics of metal wall and roofing systems fare quite well with high recycled content, recyclability, durability, and longevity characteristics.
"From a product perspective, metal buildings are good for the environment because they are made from recycled steel, are 100 percent recyclable, and produce a low carbon footprint," states John Cross, P.E., vice president, American Institute of Steel Construction (AISC), Chicago. "From a performance perspective, metal building panels promote energy efficiency because they are designed to incorporate fiberglass or rigid insulation of varying thicknesses, thus enhancing insulation values. From a construction perspective, offsite fabrication reduces excess material required and construction equipment emissions, and faster cleanup is achieved because metal buildings generate over 50 percent less job site waste than other construction materials."
Take metal roofs, for example. Their average service life can reach 60 years, which is considerably more than roofing alternatives. In fact, BOMA International reports that the expected life-cycle cost of metal roofs is 30 cents per square foot per year, as compared to 37 cents per square foot for asphalt and 57 cents per square foot for single-ply roofing per year.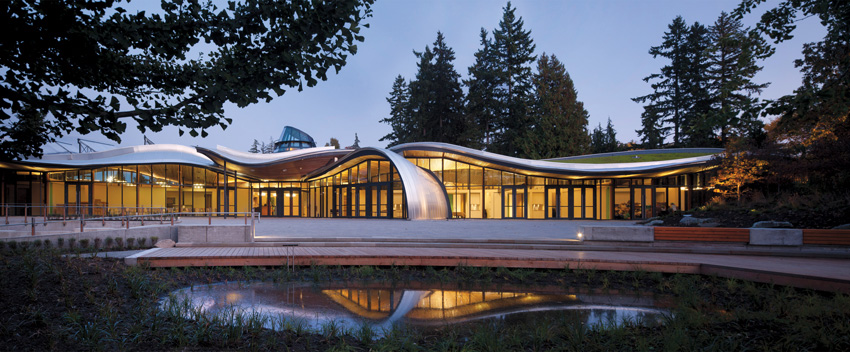 Photo courtesy of 3A Composites USA, Inc.
Meeting International Future Living Institute Living Building Challenge standards, the net-zero VanDusen Botanical Gardens Visitor Centre in Vancouver, British Columbia, features a living roof blending striking aluminum composite panels with traditional wood.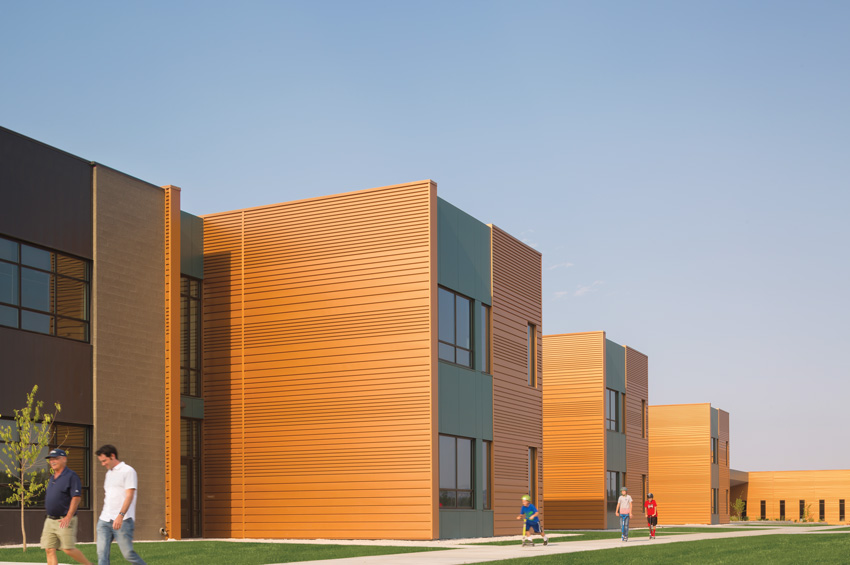 Photo courtesy of Metal Sales/Lara Swimmer
When designing the Medicine Crow Middle School in Billings, Montana, the community was interested in a resilient space that could provide a minimum lifespan of at least 50 years. Sustainable metal wall panels were designed as a durable and aesthetically interesting solution while meeting sustainability and energy goals for the exterior envelope.
Significantly factoring into this are maintenance costs, with owners spending 3.5 percent of total installed costs on maintenance versus 28.5 percent for asphalt roofs and 19 percent for single-ply, according to BOMA.
Furthermore, metal roofs and panels are light weight for easier installation and reduce the structural load on the building, resulting in a lower environmental footprint and building costs.
In an Environmental Building News article, "Cladding: More than Just a Pretty Facade," Brent Ehrlich, LEED AP BD+C, product and materials specialist, BuildingGreen, points out that metal panels can be anodized to improve corrosion resistance and coated, which enhances durability and resistance to dirt accumulation. "Because metal claddings are lightweight, rainscreen systems that employ them can use smaller clips, resulting in less thermal bridging and better overall thermal performance for the building," he writes.
As a highly recyclable material, end-of-life metal roofs rarely go to the landfill, as compared to an Environmental Production Agency estimation of 11 million tons of asphalt shingles ending up in landfills every year.
Incidentally, steel can be "multi-cycled" with no loss of material attributes, which makes steel the first and only true cradle-to-cradle building cladding, roofing, and framing material. Furthermore, steel enjoys superior water resource management with a 95 percent water recycling rate—with no external discharges—producing a net consumption of 70 gallons per ton.
Another important point is that metal roof and wall cladding systems are custom-engineered and produced for each building project to exact specifications, which means that the metal and other building details are fully optimized (i.e., not wasted) during fabrication and construction.
Furthermore, metal building providers typically have multiple production facilities around the country, making regionally sourced materials frequently available.
Originally published in Architectural Record
Originally published in June 2018
Notice