Show Your Mettle
Designing with metal brings durability, energy savings, and cost efficiency together
Sponsored by Metal Construction Association

1 AIA LU/Elective; 0.1 IACET CEU*; 1 AIBD P-CE; This course can be self-reported to the AIBC, as per their CE Guidelines.; MAA 1 Structured Learning Hour; This course can be self-reported to the NLAA.; This course can be self-reported to the NSAA; NWTAA 1 Structured Learning Hour; OAA 1 Learning Hour; SAA 1 Hour of Core Learning
Learning Objectives:
Apply principles of building-related costs and life-cycle cost analysis (LCCA) to make the best material selections for durability and cost effectiveness.
Discuss the versatility of metal as a building material and how its attributes contribute to sustainability and resilience.
Compare and contrast advantages of building materials, both during initial construction and through a building's life cycle.
Describe the impact that metal's disaster resistance has for the building's durability.
This course is part of the Metal Architecture Academy
Weighing the Cost of Metal: Long-Term Advantages
Not only does metal deliver cost efficiencies and advantages when first on the job site, but those benefits also extend throughout the building's life. As a highly durable, long-lasting material, metal roofs and panels deliver an excellent return on investment.
In a whole building LCA study by Houston-based Walter P. Moore Associates on behalf of the Metal Building Manufacturers Association, the environmental impact of metal buildings was found to be lower in case studies comparing structural and envelope materials to load-bearing concrete, masonry, tilt-up, and steel-framed construction within the same basic building footprint. The study concluded that in buildings where metal is typically most economical, LCA performance is also better, with the least embodied building material impact.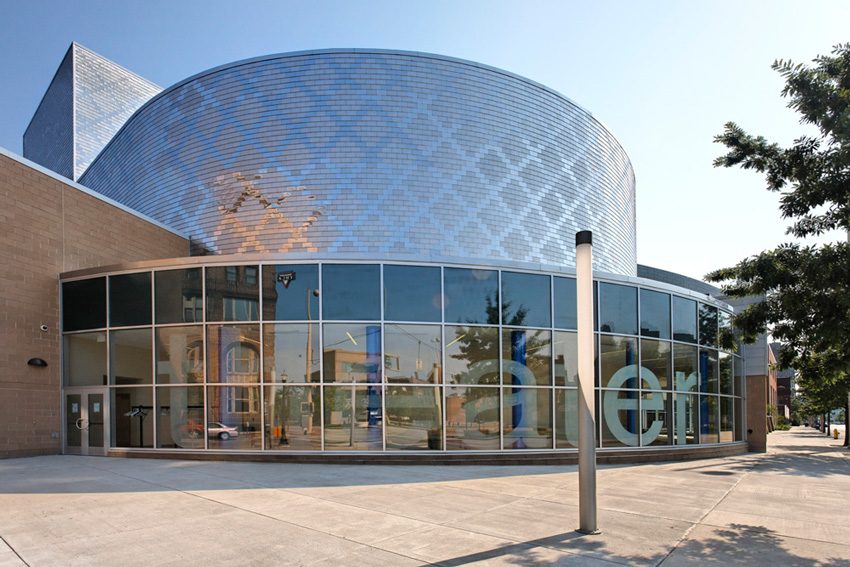 Photo courtesy of RHEINZINK America Inc.
The zinc used here at this Cincinnati Public Schools building offers extreme durability, with an exceptionally long service life and minimal maintenance.
Durability
Metal earns a favorable LCA due to a variety of attributes. First, metal roofs and walls are extremely durable, with long service lives. This lowers demand for raw materials to produce replacement systems. The Environmental Protection Agency (EPA) ranks metal roofing as one of the most eco-friendly roofing solutions in terms of waste reduction.2 Average expected service life for a metal roof is 60 years versus 23 years for a built-up and 20 years for single-ply. Expected LCCs run around 30 cents per square foot per year for commercial metal roofs; built-ups tally 37 cents per square foot per year, and single-ply comes in at 57 cents annually. Analyzed in a different way, percent of total installed cost spent on maintenance was 3.5 percent for metal, 19 percent for built up and 28.5 percent for single-ply. Therefore, metal roofs are a highly cost-effective roofing system. More recently, field inspections of 14 low-slope standing-seam roofs in place in the United States with up to 35 years of service have shown that the product continues to perform well in a wide range of environments, and that the current 25-year warranty period clearly underestimates the actual service life of a 55 percent Al-Zn alloy-coated steel-standing seam roof.3
Beyond its natural durability, metal keeps maintenance to a minimum. Where unpainted natural metals are used, the product is virtually maintenance free. Patinas protect the surface. Where high-performance paints and coatings are applied to protect metal panels or for aesthetics, the finishes are formulated to last up to 25 years or more, helping panels to retain their original appearance while ensuring the building maintains its visual appeal.
Operating Costs
Minimal maintenance leads to minimized operating costs. Where IMPs are selected, the building experiences lower energy costs and more uniform performance. Insulation thickness is maintained between metal panels, and there are no points at which it is compressed. Not only does this preserve R-values across the panel, but tongue and groove joinery also ensures that the entire wall area is covered, with no thermal gaps.
Benefits of minimizing operating costs spill into environmental stewardship and sustainability. Reducing energy consumption and improving air quality and thermal comfort not only support a building's bottom line, but they also help the structure comply with energy codes, reduce environmental impacts, and can contribute to LEED points.
Sustainability
Sustainability starts on-site. Shop-fabricated metal components reduce on-site labor, cycle time, and construction waste. A 2,000-square-foot residence framed in steel produces less than 2 percent leftover material, all of which can be recycled, compared to wood framing with 20 percent of its waste going to a landfill. Since metal is extremely durable with a long service life, this lowers demand for raw materials to produce replacement systems.
Metal buildings offer effective insulation, reduced air leakage, and support high-performance windows and doors. A metal roof can also be the ideal base to support solar panels. All of these factors can be used to earn LEED points.
Metal roof and wall systems are an environmentally responsible and sustainable choice for commercial buildings of all types.
Examining metal's sustainability can start at the top. Often, the roof is the least energy-efficient building envelope component. Energy-efficient roofing makes environmental and economic sense, as heating and cooling represent major expenses in building operation. Roofs that are highly reflective and highly emissive, such as pre-painted metal, offer a roof system that significantly reduces heat gain into the building. This "cool roofing" is gaining in popularity because it can reduce cooling energy usage, help reduce peak demand during summer, and help mitigate the urban heat island effect. Cool metal roofs combine the enhanced aesthetics and durability of a metal roof with energy savings across the entire enclosure. Not only do lower roof temperatures increase the color stability of the metal roof, but they also decrease thermal expansion and contraction. For every 10 percent increase in roof reflectance, heating and cooling costs drop $0.02/square foot per year, depending on location and utility rates, according to Lawrence Berkeley National Laboratory. Additionally, metal roofs can be installed over old flat roofs, which eliminates the need to remove old roofing and conserves landfill space. Metal roofs also can be designed to create a ventilation cavity that further reduces peak heat gain. Furthermore, metal roofs are excellent rainwater catchment surfaces. Captured rainwater can be used for building or irrigation use and can contribute up to seven LEED points under Water Efficiency Credits 1, 2, and 3.
LCA
In an LCA, metal conforms to "cradle-to-cradle" standards. This term refers to design standards for creating products that model the view of natural materials as nutrients circulating in healthy, safe metabolisms. Metal meets these requirements and garners excellent environmental ratings because of its recyclability. Metal is the only known construction material that can be recycled and repurposed indefinitely. Any excess or scrap metals, particularly steel and aluminum, are readily and easily recyclable. Metal roof and wall panels are made with the highest recycled content from the most recyclable materials on earth, making them a great choice, not only for today but also for future generations to use. The high recycled content and recyclability of metals like steel, aluminum, copper, and zinc allow for metal construction products to be routinely included on listings for "green" or sustainable building materials.
The federal government and some states are mandating energy-saving requirements for buildings, or giving tax breaks or other incentives for energy-efficient and energy-saving construction products. Because recycling decreases the amount of energy required to produce metal products, recycled content is also being recognized and rewarded, making recycling an economic as well as environmental benefit.
One-hundred percent recyclable, metal walls and roofs can also be manufactured with 40 percent recycled steel. This figure is especially impressive in light of the estimated 11 million tons of asphalt shingles that end up in landfills. Metal used in typical roof and wall installations generally contains at least 25 percent recycled content.
Given this recyclability, metal can contribute to points in LEED v4 in the categories of Energy & Atmosphere, Sustainable Sites, Materials & Resources, and Construction Waste Management.
Indoor Environmental Quality
Metal components with an applied finish are shop painted, limiting any volatile organic compounds (VOCs) to the controlled environment of the factory. Metal roofs and walls are inert, with no off-gassing and no VOCs.
Daylighting and exterior views can also be easily incorporated into a metal building design to earn LEED credits.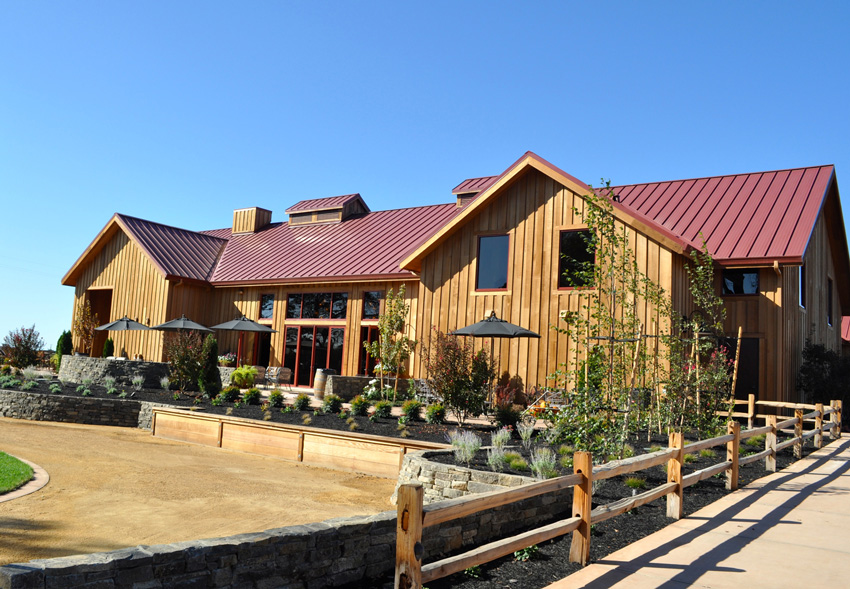 Photo courtesy of Drexel Metals Inc.
The cool roof at this Napa winery reduces cooling energy usage, helping to reduce peak demand during summer and mitigate the urban heat island effect. Cool metal roofs combine the enhanced aesthetics and durability of a metal roof with energy savings across the entire enclosure.
Cool Roofs and Walls
Cool roofs and walls are an emerging trend in codes. Roofs and walls with heat-reducing finishes can lower building energy consumption by reducing cooling loads. When effectively designed, not only does the individual building reap benefits, but it also helps to mitigate the urban heat island effect and reduce smog production.
The effectiveness of the material selected for a cool wall or roof depends on its solar reflectance and thermal emittance. The use of dark building materials in urban areas creates ambient temperatures higher than surrounding areas. Roofs with high reflectance have lower surface temperatures, which helps to reduce ambient temperatures and improve air quality. Cool metal roofing can achieve reflectance of more than 70 percent. Cool metal roofs lower energy costs by reducing cooling loads up to 40 percent, according to Oak Ridge National Laboratory.
Cool metal roofs and walls can contribute to LEED v4 points in the Energy & Atmosphere category, Optimize Energy Performance credit and Sustainable Sites category, Heat Island Reduction credit.
The benefits of selecting metal for cool roofs and walls are as durable as the material itself. A study conducted by Oak Ridge National Laboratory shows that metal roofing maintains 95 percent of its solar reflectance over its service life. This longevity is important because some codes assume that reflectivity of all roof materials degrade at the same rate. Since metal roofs shed dirt readily, its reflective performance tends to be less compromised than that of other materials. Some membrane products lost 40 percent of their solar reflectance after only three years due to dirt retention.
As more codes and standards include building envelope energy-efficiency requirements, and more labeling and rating systems are being developed for energy-efficient building-envelope products, more incentives exist to install cool metal roofs and walls to reduce energy consumption. Among the programs and certifications promoting cool walls and roofs are LEED, California Title 24, California Energy Commission, Florida White Roof Credit, Georgia Energy Code, New York Tax Incentive, Chicago Urban Island Code, Federal Energy Bill, LBNL Urban Island Group, the ORNL Building Technology Center, ASTM Committees, ASHRAE Committees, the Cool Roofing Rating Council, and Millennium Star.
Originally published in Architectural Record
Originally published in September 2019
Notice