The Benefits of Metal Building Systems From a Whole Building Perspective
An integrated design approach offers flexibility, economy, and sustainability
Sponsored by Metal Building Manufacturers Association
Learning Objectives:
Describe the top 10 advantages of metal building systems design and fabrication.
Examine the benefits to building owners and occupants of the IAS AC472 program, Accreditation Criteria for Inspection Programs for Manufacturers of Metal Building Systems, offered by the International Accreditation Service (IAS).
Identify metal building structural components and their corresponding applications.
Explain how the Athena Impact Estimator can be used to quickly determine the sustainable benefits of metal building designs. Compare and contrast today's metal buildings to the metal building systems of the past with regard to design options and construction processes, and what they offer in terms of quality, versatility, sustainability, and constructability.
Credits:
This test is no longer available for credit
Metal building systems are engineered steel-framed buildings that use a combination of cold-formed steel and welded plate sections to form their structure. These elements are part of a carefully designed system where the steel used is highly optimized, such that there is virtually no wasted material in the final structure. Each system is unique—custom-designed and engineered, produced by the manufacturer, and then assembled on the construction site. Interface with Computer-Aided Design (CAD), along with the ability to clad the buildings in brick, precast concrete, stone, wood, architectural metal, or glass, allows great flexibility in design aesthetics. A metal building model is unique because it is a design-build-type model that is based on process and critical path.
Current uses of metal building systems include shopping malls, retail centers, offices, manufacturing plants, warehouses, recreational centers, and many other low-rise building end-uses. What distinguishes this type of construction today is its surprising aesthetic variety, due to the flexibility allowed through different combinations of the system's basic elements, as well as the ability to clad the buildings in various materials, including brick, precast concrete, stone, wood, aluminum, or glass.
Many architects report that designing with metal building systems has revolutionized the way they think about low-rise building structures. To understand how this perception has come about requires an understanding of the elements and options available in the market today.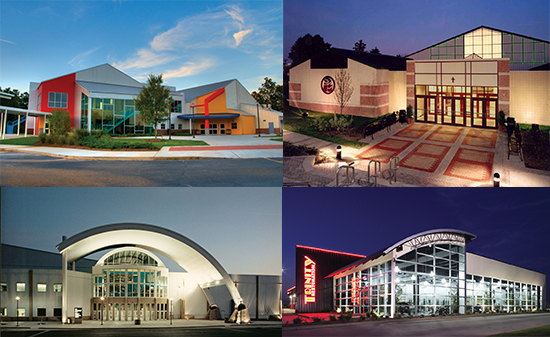 Photos courtesy of MBMA
Metal Building Systems
The metal building systems industry came about to fulfill an urgent need to house troops during World War II. The most famous example, the Quonset Hut, was a half-round structure that was easily constructed by unskilled labor using only hand tools, and easily disassembled and transported to new locations as needed. After the war, the first standard metal buildings were mostly utilized for industrial and agricultural purposes. By the late 1960s, the industry had gained a reputation for its economy, speed of production, and delivery. The buildings were being utilized in more applications, such as public facilities, warehouses, and storage structures. Because they were initially simple catalog buildings, they lacked design flexibility. As demand grew from architects, engineers, and building owners for greater design options, manufacturers of metal building systems retooled their factories and began custom engineering buildings for specific end-use applications. The evolution of the metal building systems market paralleled the rise of technology and the use of CAD in the mid-1970s. As a result, the term "pre-engineered metal buildings" became a misnomer. Today, most metal building systems are custom-designed by professional engineers and architects, to the requirements of the International Building Code.
Metal building systems design is highly significant for architects today, since design teams can work hand-in-glove with systems manufacturers to custom-design a building to conform to the architect's vision and building owner's needs. In addition, the standardization inherent in systems-based buildings makes design, manufacturing, delivery, and building erection possible in as little as two-thirds the normal time for conventional structures.
A case in point is the Paraclete XP SkyVenture facility in Raeford, North Carolina. The building houses a vertical wind tunnel, which was the largest of its kind when constructed in 2007. The wind tunnel is more than 16 feet in diameter at its narrowest point, and requires a 2,000 horsepower motor to produce wind speeds in excess of 165 miles per hour. The uniquely designed metal building includes six training rooms and multiple meeting spaces, and is located just a few miles from Fort Bragg, one of the largest United States Army installations in the world. It provides free-fall training for the JFK Special Warfare School attendees as well as the general public.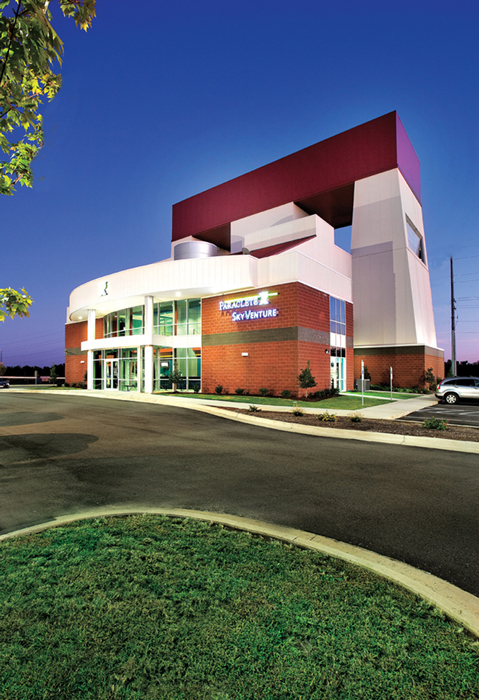 Photo courtesy of Paraclete XP
Companies are finding various uses for metal building systems, such as this unique design for Paraclete XP in North Carolina.
"We basically designed a perfect environment for training and built it around the largest, fastest, and most advanced wind tunnel in the world," says World Champion skydiver and operator of Paraclete XP SkyVenture Kirk Verner.
Design technology makes this energy-efficient vertical wind tunnel nearly invisible to the public. Banks of exotic, airfoil-shaped aluminum turning vanes are tucked into each corner of the tunnel. If you laid them end to end, they would extend almost three miles. Numerous other advances minimize power consumption and reduce sound output.
The structure also sets new standards in metal building design. It provided an economical solution that led to the opening of freefall facilities for sports skydivers all across the United States.
What types of design flexibility can architects incorporate in a metal building? Designers can select straight or tapered columns, solid or open web framing, variable or odd-sized bays or modules, single-slope or double-slope buildings, with centered or off-center ridges, in increments up to 1/16 of an inch. These systems can be integrated with a wide variety of wall materials, such as concrete masonry block, brick, tilt-up concrete, curtain wall, or metal panels. Flat conventional roof design has given way in popularity to a water-shedding design, in which a sloped roof is a key element in the overall image and function of the structure. Size can vary tremendously, from small office or retail centers of 5,000–10,000 square feet up to massive distribution, warehouse, or transportation hubs, some well over a million square feet in size.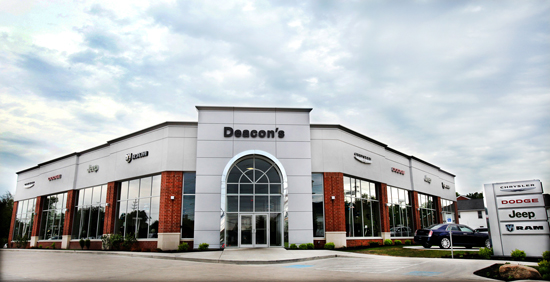 Photo courtesy of Allison Carey – Carey Construction Group LLC
Car and motorcycle dealerships across North America are primarily using metal building systems because of design flexibility and speed of delivery.
Deacon's Chrysler Jeep in Mayfield Village, Ohio, is a clear example of a flexible building design. Their 27,735-square-foot building features a red brick exterior with the addition of glass, aluminum panels, and precast concrete accents. A metal arch—a corporate branding symbol for Chrysler—is an eye-catching customization. "Working with metal building framing, roofing, and siding in conjunction with brick, masonry, precast concrete, glass, or other materials on the facades has allowed us to incorporate the benefits of the metal building into projects of many functions, styles, and appearances," says Architect Randy Smith with Davison Smith Certo Architects. "We were able to incorporate both the village's desire for a design that complemented the local aesthetics (by incorporating brick and referencing traditional details) while blending in the contemporary image and materials established by Chrysler's corporate standards."
The building was completed in three phases over a 20-month period in order to keep the dealership operations running. The first phase was an expansion of the lot onto the rezoned property and site improvements. The second phase included construction of the showroom and customer service areas. This work was completed around the old service department. Next, nine service bays were built, and a temporary wall separated the old and new service departments. This allowed for the old building to be torn down with minimal disruption around the fully functioning new building. All the construction at Deacon's was accomplished using metal building systems, including the office, showroom, and service areas.
Critical to the engineering design process is determining the environmental loads which the structure must be able to support—including dead loads, roof live loads, roof snow loads, wind loads, seismic loads, and auxiliary loads. The architect should consult local building code requirements. Metal building design engineers adhere to building code requirements which reference ASCE 7, "Minimum Design Loads for Buildings and Other Structures." In addition, the MBMA Metal Building Systems Manual contains examples of applying ASCE 7 loads to metal building systems.
While computer technology has streamlined metal building design, detailing, and engineering, real economies also come through advances in the fabrication of structural elements. Since all elements are factory fabricated, they are precut and pre-punched under precise factory conditions. As a result, quality is increased and waste is decreased. Building erection time and costs are more predictable, since all parts are manufactured and shipped to the site—typically within 6 to 8 weeks from the time an order is submitted.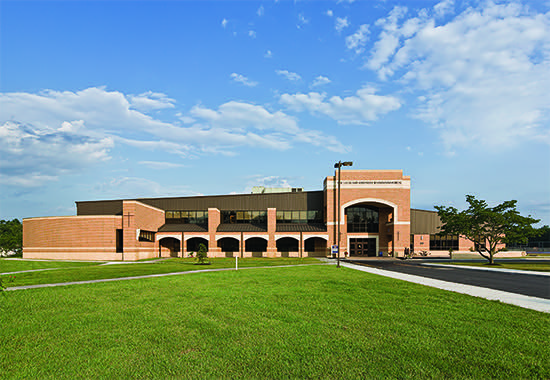 Photo courtesy of MBMA
A metal roof with a solar-reflective surface helps reduce air-conditioning loads for the St. Augustine Preparatory School in Richland, New Jersey.
The quick construction method worked well when timing was critical for the expansion of St. Augustine Preparatory School, Richland, New Jersey. The project timeline was just 14 months, a major challenge for Vineland-based Stanker & Galetto, the builder. Larry Merighi, AIA, a partner with Manders Merighi Portadin Farrell Architects, said: "You have to do your homework, but the beauty is in the simplicity and feasibility of the structural system. Most people walk in and say, 'We didn't know this was a metal building.' That's really neat."
With the metal building system, the school has new science labs, classrooms, athletic facilities, a dining hall, chapel, and offices. The clear span provided by the metal building offers plenty of space for the pool, dining hall, and gymnasium. A brick exterior was selected to match existing buildings. A metal roof with a solar-reflective surface helps reduce air-conditioning loads. Solar panels were installed on the roof and can supply 60 percent of the building's electricity needs.
Notice