How Windows and Doors Can Make a House Feel Good
Designing a custom home that promotes occupant well-being includes specification of windows and doors that provide natural light, views of the outdoors, natural ventilation, and comfort
Sponsored by Marvin

1 AIA LU/HSW; 1 IDCEC CEU/HSW; 0.1 IACET CEU*; 1 AIBD P-CE; AAA 1 Structured Learning Hour; This course can be self-reported to the AANB, as per their CE Guidelines; AAPEI 1 Structured Learning Hour; This course can be self-reported to the AIBC, as per their CE Guidelines.; MAA 1 Structured Learning Hour; This course can be self-reported to the NLAA.; This course can be self-reported to the NSAA; NWTAA 1 Structured Learning Hour; OAA 1 Learning Hour; SAA 1 Hour of Core Learning
Learning Objectives:
Discuss how natural light plays an important role in humans' sleep/wake cycles and overall health and well-being.
Define the importance of views to the health and well-being of building occupants.
Examine how natural ventilation sources promote health and well-being.
Understand different window and door factors that impact comfort in a person's living environment through thermal performance, acoustical control, and operational ease.
This course is part of the Custom Home Academy
The Importance of Natural Ventilation for Health and Well-being
Biophilic design is often focused on the sight of nature and the changing seasons. But biophilic design involves all the senses. When you are immersed in nature, what do you feel? What do you smell? What do you hear? What do you breathe? Natural ventilation via operable windows and doors in a custom home brings in these healthful sensory factors, as weather permits, for the benefit of the occupants.
Biophilic Design Health Statistics
Scientific study has proven, without any question, the benefits that natural air, sounds, and smells bring to modern humans. Here are a few samples:
Studies report up to 23 percent reduction in headache symptoms when subjects were provided outside air.16
There have been up to 69 percent reduction in asthma symptoms in students when schools upgraded to displacement ventilation to increase fresh air.17
Listening to nature sounds causes relaxation in people who begin in a state of stress.18
A virtual-reality forest including sound was found to improve stress recovery more than the same forest without sound.19
In an experiment in a fragrant garden, natural odors derived from blooming plants increased calmness, alertness, and mood.20
Design Ideas to Provide Natural Ventilation for Occupants
Casement-style windows are hinged on the side and can either swing inward or outward, depending on the desired style.
A venting picture window is a unique way to bring natural light into a room or highlight a beautifully expansive and unobstructed outdoor view. Thanks to the design, it can also be a source of fresh air. A venting picture window is designed with a hidden screen system, allowing it to open evenly on all sides for passive air exchange. Limited sash travel can enhance security by reducing the appearance of an open window from the exterior.
Push-out casement windows are an alternative to crank-out-style casement and awning windows. Quality push-out casements include a multi-point locking system that makes them easy to operate. This type of window offers the advantages of modern technology wrapped up in the traditional look of a push-out window.
Contemporary casement windows feature a flush exterior frame and sash as well as a narrow frame, suitable for projects looking to achieve a contemporary design. They are generally available in large sizes for massive views with streamlined sightlines.
An inswing casement window complements classic architectural styles. Inswing casements are particularly desirable where an outswing window would interfere with a patio, deck, or outdoor walkway. An inswing casement can open to 180 degrees so it is completely out of the way when open. A variation is a French inswing casement for a sweeping, wide view when open, with no center post to spoil the scenery.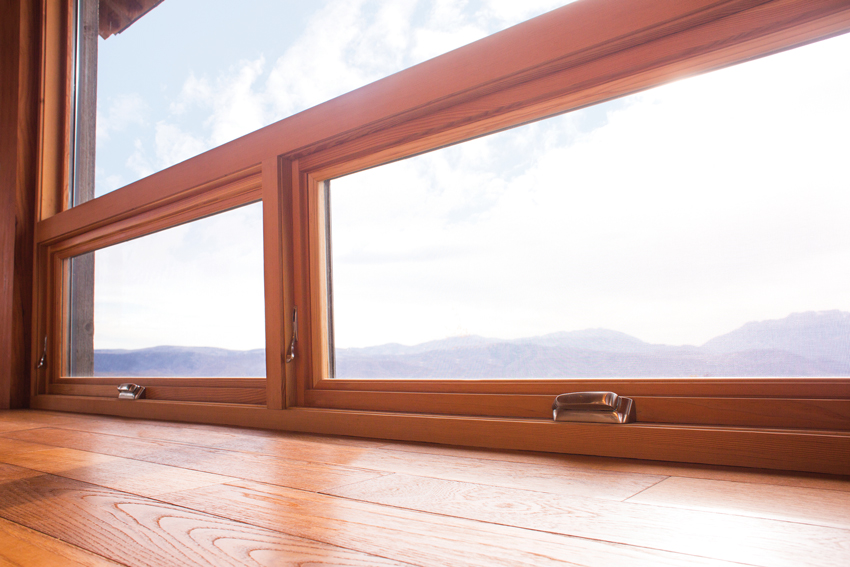 Photo courtesy of Marvin
Casement windows along the floor line provide opportunities for natural ventilation below the picture windows.
Originally published in Architectural Record
Originally published in May 2019
Notice