Bringing indoors and outdoors together through design and performance
Sponsored by LaCantina Doors
This test is no longer available for credit
Architects today who are looking to use this same design concept of connecting indoors and outdoors have more options and better choices than those who preceded us. In particular, designing with multi-panel sliding glass doors provides an opportunity to create a seamless connection between indoor and outdoor spaces while blending fully into the total building design. As a product, multi-slide glass doors are typically comprised of a number of individual sliding door panels that are guided on a head track above and ride on a floor sill below with bottom mounted rolling hardware. When open, they can either stack in one or more parking bays along the plane of the opening or recess into a pocket designed for that purpose. Similar to systems that use a series of panels that fold, the sliding operation also offers flexibility in terms of space requirements and configurations. Other notable features of sliding systems are discussed further as follows.
Typical Applications
Multi-slide glass doors are being used in a full range of building types and functional applications. Residential buildings are able to open up entire walls and connect main living areas with outdoor spaces. Multifamily developments use them to help create the feel and appeal of a larger living unit by extending to outdoor balcony and common spaces. Restaurant and retail buildings can cater to customers who prefer to relax in outdoor spaces while still being directly connected to the indoor facilities available. Resorts and hotels similarly can provide their guests with a convenient and inviting indoor/outdoor experience for individual rooms or for common lobby, restaurant, or function areas. Educational buildings that need to have the ability to expand a space to accommodate gatherings can use multi-slide glass doors that extend to adjacent outdoor areas. Offices that open to a central atrium or courtyard can use them to provide open access when desired or be closed off when needed. In short, their use is only limited by the imagination and creativity applied by the building designer.
Typical Sizes and Configurations
Multi-slide glass doors are generally used to create large openings in walls or to take the place of an exterior wall altogether. The size of the panels and the total door unit can vary and is usually custom fabricated to suit a particular building project. As a practical matter, the glass in an individual multi-slide panel is generally limited to 60 square feet in size with the caveat that the height is generally limited to 12 feet while the width is generally limited to 8 feet. The number of individual panels can vary to suit the overall opening size but there is generally a maximum of six panels that can be stacked up in each direction as a practical matter. Note that while these products are commonly used in door sizes, they can also be designed and used in shorter window sizes such that they function as multi-slide windows resting on a wall portion below and above them.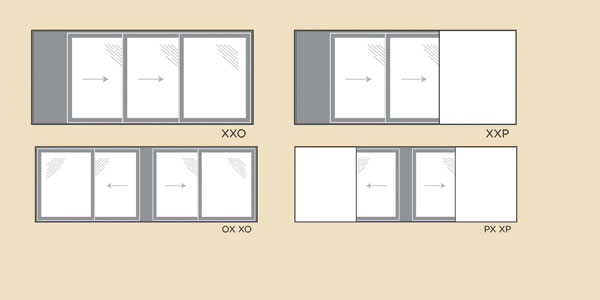 Image courtesy of LaCantina Doors
Multi-slide glass doors can be configured to stack to one side or two sides or can be designed to disappear into wall pockets.
The configuration of the panels can be designed so they all stack behind each other on one side of the opening or be split to stack on both sides of the opening. Either way, there are two basic options in terms of the way the sliding panels stack. The first is to keep one glass panel fixed or stationary and slide the adjacent panels to stack evenly behind the stationary one. When stacked, some manufactured designs appear as a single panel when viewed from the inside or outside. The other option is to conceal the sliding panels in a wall pocket. In this case the sliding panels disappear altogether, giving the appearance of a full opening in an otherwise solid wall area.
When laying out the multi-slide doors, keep in mind that they are not limited to a single wall plane. Manufacturers have developed methods to allow doors to meet at a corner location such that a post or other element is not needed. That means that when open, the corner virtually disappears, allowing a full visual and physical three-dimensional connection between outdoors and inside. When closed, the door panels come together to form either an inside or outside corner again.
Design Coordination
As noted, multi-slide glass doors can be incorporated into a wide range of building types in a number of ways. They can be fully integrated with the building construction to create a seamless and flush appearance so they seem to disappear altogether when open. In other cases, they can create a large feature in a façade by allowing for a distinctly defined opening. In short, they can be used to work with the overall building design to enhance or even define a particular aesthetic.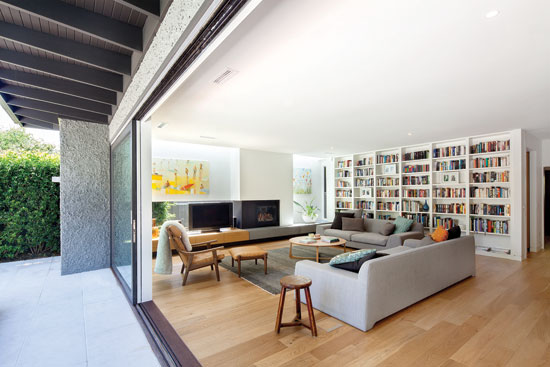 Image courtesy of LaCantina Doors
When the building is designed for it, natural daylight is a dominant design benefit from the use of multi-slide glass doors.
When it comes to coordinating the visual appearance of the multi-slide doors with the other doors in the building, it is appropriate to pursue a visual balance with all of the other doors. In that regard, architects often seek doors that can provide clean and even sight lines between different functioning doors to create a consistent daylight opening and complete overall design.
At the basic architectural design level, multi-slide door sizes and proportions can be chosen to match other doors in the building both in proportion or actual size. This can create the desired coordinated appearance at one level. Taking that a step further, it is also possible to select multi-slide doors with stile and rail sizes to match other doors in the building, particularly if all of the doors are sourced from the same manufacturer. This helps to create a complete matching door package with a consistent look that is more refined than having competing visual door components.
Performance Characteristics of Multi-Slide Glass Doors
Having established the clear design opportunities and advantages of multi-slide doors, let's turn our attention to the functional performance. Overall, any window or door product needs to use quality materials that are fabricated to provide a smooth and tight operation. In order to provide a good value to the owner, they must be durable enough to continue to operate well over the life of the building. And they must meet the thermal demands of the climate where they are installed in terms of heat transfer and air infiltration.
Multi-slide glass doors achieve all of these performance needs in a number of ways. Let's start by looking at the materials used to fabricate them. It is most common for the door panels to use aluminum frames surrounding the glass either with or without thermal breaks as may be needed. A unique design innovation based on a traditional wood clad door is an aluminum and wood combination system that is available from at least one manufacturer as well. This aluminum wood frame uses a low-maintenance aluminum exterior combined with a natural wood interior to enhance or blend with the interior design scheme of the building.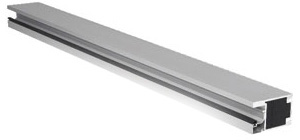 Aluminum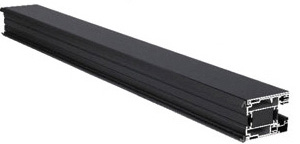 Aluminum Thermally Controlled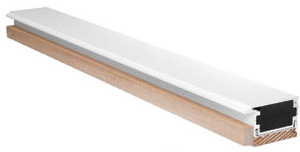 Aluminum Wood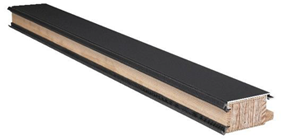 Contemporary Clad
The frame elements surrounding the glass on multi-slide glass doors are available in a range of aluminum profiles that can be thermally broken or not and can be treated with wood. The materials options from one manufacturer include all aluminum, aluminum thermally controlled, aluminum wood, and contemporary clad.
Images courtesy of LaCantina Doors
With any of these choices, the frame supports and holds the glass itself which can be selected from a typical range of single, double, or triple glazing options. Overall U-factors in the door panels can be achieved at or near the common fenestration target of 0.30 or better depending on specific glazing selections made for low-e or other coatings. The glazed door panels fit into a track running along the door head that the doors are guided along and are commonly made of extruded aluminum with thermal breaks as needed. The track depth will vary to suit the number of door panels used in the multi-slide door. The door sill is also extruded aluminum available in a variety of flush or raised profiles and designed to allow the door to rest and slide along it. The wheels that allow the door panels to slide are commonly made either from nylon for smoother, quieter operation in lighter-weight panels or from stainless steel for heavier-weight door panels. Altogether, the door panel assembly is intended to be more rigid, more durable, and longer lasting than conventional residential sliding glass doors with full customization of the overall door size.
Structural and Weathering Performance
Structural integrity is clearly needed in all window and door units to maintain proper fit and operation of the products under conditions of wind, rain, and other weather stresses. Structural Load Deflection testing is routinely carried out by manufacturers under ASTM E-330. This test is used for multi-slide doors as well with the results directly dependent on the size of the panels.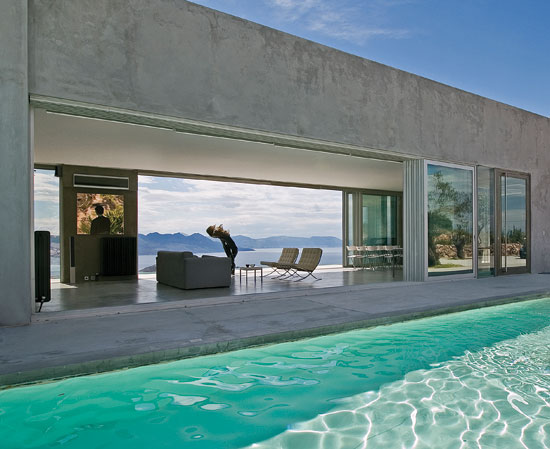 Image courtesy of LaCantina Doors
The performance of multi-slide glass doors is based on testing to simulate high wind and water pressure conditions to assure that they are appropriate for a variety of climate and weather conditions.
The American Architectural Manufacturers Association (AAMA) publishes the primary standard for commercial windows and doors in its document AAMA/WDMA/CSA 101/I.S.2/A440-08, "North American Fenestration Standard (NAFS)/Specification for windows, doors, and skylights." This standard defines four (4) different Product Performance Classes namely R, LC, CW, and AW. It also identifies the minimum Performance Grade (PG) that is required to satisfy the criteria of each class. The defining criteria is the minimum design pressure (DP) that a unit must resist such that class R must withstand 15 pounds per square foot (psf) of pressure, class LC 25 psf, class CW 30 psf, and class AW 40 psf.
In addition, each class must meet minimum water resistance test pressures ranging from 2.9 psf for Class R, 3.75 for Class LC, 4.50 for Class CW, and 8.0 for Class AW. Water penetration is tested by ASTM E-547 with the sill configuration routinely having a direct influence on the results. Clearly water entering through a closed multi-slide door wall would be disconcerting at least and damaging to the building at worst. Since such water penetration must not occur, water must either be sealed out completely or managed so that if it does penetrate any part of the system, it will drain away harmlessly. Multi-slide glass doors have been tested using these ratings and standards and have been found to meet overall DP ratings of up to 45 with additional structural up to 90 psf and no water leakage at up to 6.8 psf.
Originally published in Architectural Record
Originally published in June 2014
Notice