Bringing indoors and outdoors together through design and performance
Sponsored by LaCantina Doors
▶ Tracks and Sills: The configuration and make-up of the upper tracks are usually determined by the configuration of the multi-slide doors. The profile is matched to the door manufacturers system for hanging the door while the number of tracks will match the number of stacking panels in the multi-slide assembly. They are typically installed flush with the ceiling or head of the door opening but their height should be known and verified to determine the proper rough opening height. Similarly the sill needs to be coordinated and will match the manufacturers system and number of door panels. Sills are available in at least three different profiles and should be specified according to the project design needs. Flush sills are intended to be recessed into the floor such that they are level with the finished floor surface and can incorporate the same finish flooring between the sill tracks. Raised sills are intended to set up above the outside walking surface and may come in varying interior leg heights to create a greater degree of weather resistance. These raised sills can be made ADA compliant when needed by virtue of a ramped edge when there is more than ½ inch change in the sill height compared to the walking surface. Regardless of type, sills are typically thermally broken and should specified accordingly. The wheels that fit into the track and sill can also be specified between nylon plastic and stainless steel although large or heavy door panels will generally require stainless steel.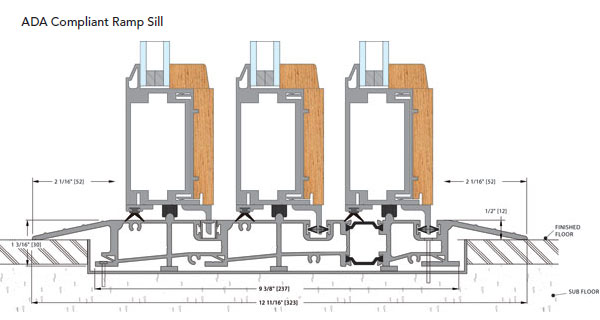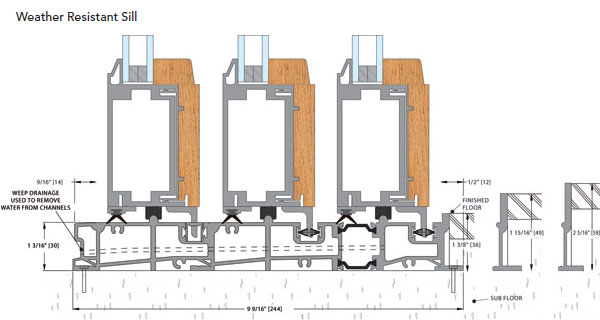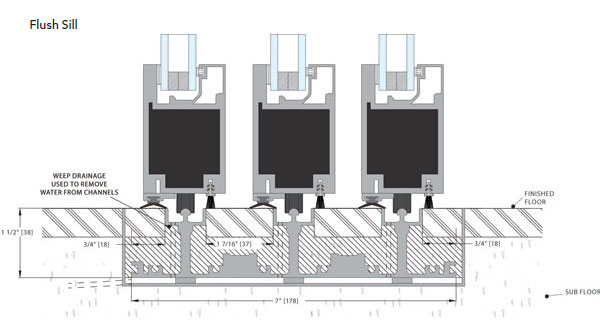 Images courtesy of LaCantina Doors
An ADA-compliant weather resistant sill is shown on the top compared to a standard weather resistant sill with variable interior legs in the center. On the bottom, a recessed, flush sill is shown with flooring between the sill tracks (also ADA compliant).
▶ Hardware and Locking: Hardware is often provided by the manufacturer of the multi-slide doors since it necessarily needs to be recessed so as not to interfere with the door operation. Recessed hand pulls are common on door panels and sliding locking mechanisms are generally used on the primary or end panel. The lock itself relies on recessed or concealed locking at either two or three points depending on the height of the panels. Some manufacturers offer a sliding locking mechanism with an exterior keyed lockset providing easier access when the door is locked while still maintaining greater security. Although there may not be many choices in hardware or locking mechanisms, there is a choice of hardware color that can be specified to match the rest of the project.
▶ Automatic controls: It is possible to specify doors that are moved manually or with an electric operation. In that case, the space required for the electric motion devices, wiring, and control pad must all be designed in and specified. Since this is something that will vary between products, it is best to work directly with a selected manufacturer to determine what is available and how to coordinate its installation. Similar to other automation devices, both wall mounted and handheld remote options may be available to open, close, lock, and unlock a multi-slide glass door. Some can even be linked to a smart phone or as part of a whole house automation system.
▶ Screens: In areas where insects are an issue, then adding screens to the opening is an option. There are two types available for large openings. A non pleated screen mesh and blind that is fabricated as an integral part of the door or a more economical alternative to specify is the pleated mesh screens that collapse and move out of the opening allowing for maximum open space. From an aesthetic standpoint, both the non-pleated and pleated screens remain concealed and out of view when not in use.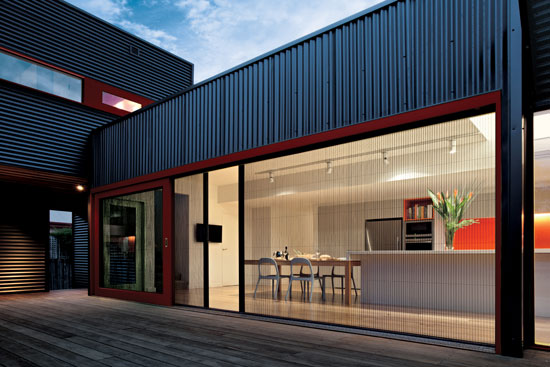 Photo courtesy of LaCantina Doors
Retractable pleated screens can be specified as an option when desired or needed.
Part 3 Installation
Installing multi-slide glass doors requires appropriate attention to detail to assure the desired outcome is achieved.
▶ Installation requirements: Sliding doors will require some attention on all sides of the opening, but the critical element here will be the installation of the track and the sill. Placement needs to align with the elements of the building that are intended to support the door and integrate with the finishes. The track length and location will depend on whether the door is a bi-parting design or a single sliding design and adequate clearances will be needed in either case. Once the track and sill are secured, then the doors can be set into place. If the sliding door is electrically operated, then the operator will need to be installed, the control pad located, and the electrical connections made.
▶ Cleaning and maintenance: Regardless of the door details, the final installation steps include final cleaning and testing. The door should operate smoothly and close securely in all cases. The seals should engage and prevent air leakage between inside and outside. From a maintenance standpoint, the doors should be routinely checked to be sure they continue to perform over time as when they were installed. If not, they should be repaired promptly by qualified personnel to prevent energy loss or weather penetration.
Conclusion
Multi-slide glass doors offer architects the ability to create flexible spaces that are able to seamlessly connect the outdoors with interior spaces, provide daylighting and natural ventilation, and capitalize on available views. Selecting glass door panels with thermally broken frames, low U-factor glazing, and complete edge seal systems can help the building capitalize on available passive solar energy while controlling unwanted heat loss. Because of their flexibility, range of options, and custom fabrication, multi-slide glass doors can be used in different building types as varied as single family detached residential units to commercial spaces to hospitality and education facilities. Working with manufacturers early on in the design process can help create buildings that are vibrant, sustainable, and durable over the long term. Overall, they are worthy of consideration on any project where clean lines and large open expanses of glazing are a part of the overall design of an elegant and quality building.
Peter J. Arsenault, FAIA, NCARB, LEED AP, practices architecture, consults on green and sustainable design, writes on technical topics, and presents nationwide on all of the above. www.linkedin.com/in/pjaarch

LaCantina Doors is the leader in designing and manufacturing products that create large open spaces. Offering the most innovative and comprehensive range of folding, sliding and swing systems available, LaCantina Doors utilizes the same signature narrow stile and rail profile across its product line for a complete and perfectly matching door package.
Designed and made in California, LaCantina Doors have contributed to award winning projects ranging from residential, retail, commercial, educational facilities, resorts and is the preferred choice when it comes to products that open spaces. Backed by an industry leading warranty, LaCantina Doors are available across the U.S. and Internationally. www.lacantinadoors.com
Originally published in Architectural Record
Notice