Landfill Treasures: Recycling Glass from Trash to Upscale Interior Surfaces
Recycled glass from landfills can be up-cycled into elegant surface materials to provide that "teachable moment" for your next sustainable project design.
This course is no longer active
Sponsored by Polycor Vetrazzo Inc.
Learning Objectives:
Explain sources of waste glass and the "up-cycling" process of using them to produce recycled glass surfaces.
Evaluate the sustainability of recycled glass surfaces by its source, content, manufacturing process, business practices and complete life cycle, as well as how it fits into a sustainable buildings.
Compare key performance criteria of recycled glass surfaces.
Describe real-life examples that utilize recycled glass surfaces to achieve maximum performance and sustainability.
Credits:
Although most architects are familiar with the use of recycled products rarely is there a discussion of the differences in recycled materials in products. Some manufacturers are now transforming materials taken from refuse and scrap into exciting new building materials like recycled glass surfaces. The up-cycling of glass waste from bottles, jars, architectural glass, traffic signals and beverage containers is just one way to celebrate and display sustainable initiatives by design. As Partner and Interior Director of Interior Design for sander architects, LLC of Venice California, Catherine Holliss states: "We love to work with recycled glass counter materials because they are not only green, they are gorgeous and practical. It also doesn't hurt that for our clients, that the pricing is comparable to other options and they will have an interesting story to tell their friends."  Glass counters, wall surfaces and fireplace surrounds made from recycled glass shards embedded in a cementitious surface tell a story about materials and sustainability while creating a durable indoor and outdoor surface. Some recycled glass counters  are certified by the NSF for food safety and can be used in commercial kitchens and in hospitals as well as for residential projects. 
Andy Ferguson, Outside Sales Manager at Scan-Top a California company that provides fabricating and installation services for recycled glass surfaces, comments that his clients fall in love with this product. They select their slabs for their projects knowing that they have rescued materials from the waste stream that create unique one-of-a-kind surfaces in their homes and businesses.
This article will review the properties and sustainability of recycled glass surfaces and how they are an example of a new green materials economy that completes the loop of waste generation. Recycling materials also creates new green jobs in local communities. According to a study completed by the U.S. National Park Service; Mote Marine Lab in Sarasota, Florida, a glass bottle can take over 1 million years to decompose in the environment. i According to the EPAii, recycling one glass bottle saves enough energy to power a 100-watt bulb for four hours, a computer for thirty minutes and a television for twenty minutes. Over a ton of natural resources are saved for every ton of glass recycled. Among the added benefits of up-cycling waste glass into a new product is that it allows designers to demonstrate their commitment to the triple bottom line of sustainability.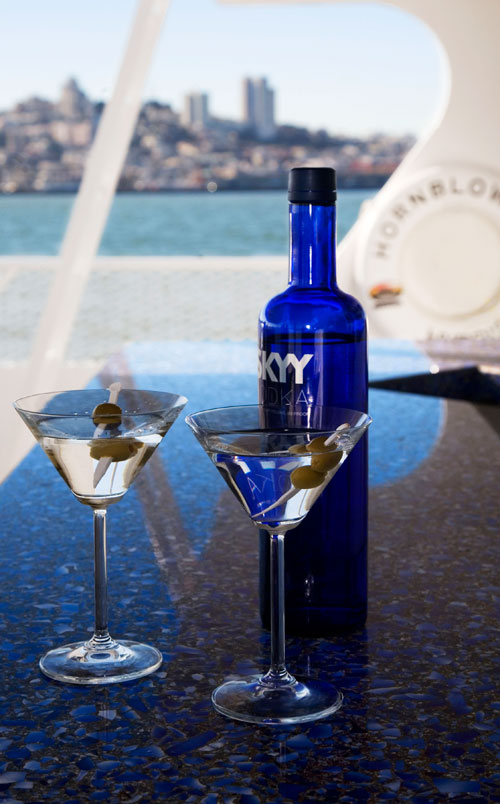 This elegant restaurant counter uses glass bottles from discards and seconds, closing the loop of material waste to add to the triple bottom line and best sustainable design practices.
Photo courtesy of Polycor Vetrazzo Inc.
Originally published in October 2011
Notice