Linear Drain System Specification 101 for Accessible Bathrooms and Wet Rooms
Streamlined shower design feature offers sophistication and sanitation
Sponsored by Infinity Drain
Outdoor Architectural Trench Drain Design and Applications
While outdoor drainage is the final topic discussed in this course, linear drains were actually introduced in architecture as outdoor drainage features, and then over time they were expanded for use in bathrooms. The main difference in the specification of outdoor and indoor linear drain systems is that the outdoor setting is less controlled by the designer and more likely affected by natural elements.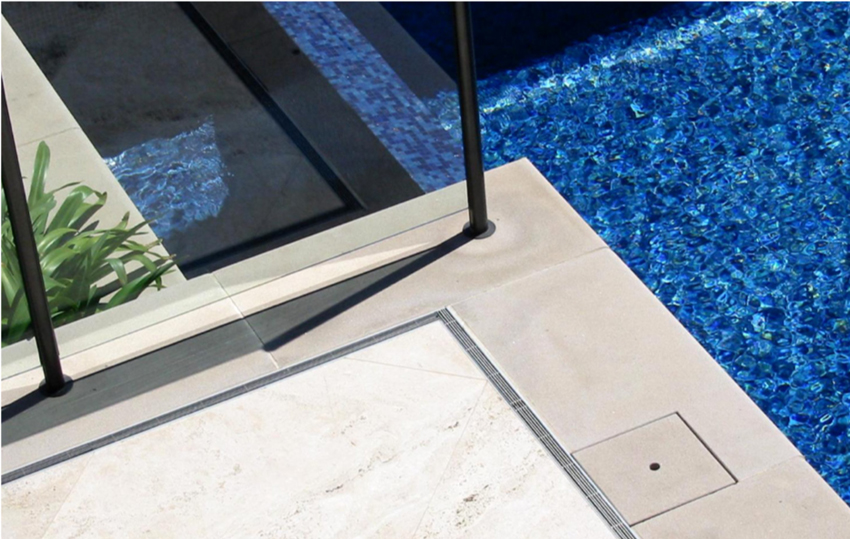 The original use of linear drains was in outdoor applications.
Landscape and hardscape drainage plans are typically calculated by an engineer using geographic and rainfall information for a given area and how many square feet of surface the drain will be accommodating. Popular locations for evacuating water in a landscape include along door tracks, between pavers, and in the garden with the use of French drains.
Balconies, terraces, and patios also benefit from linear drains to move water away from the structure and to capture runoff. These areas may or may not be waterproofed depending on what is below the raised area.
Pool decks are an obvious choice for a linear drain system and what probably comes to mind when linear drains are considered. Linear drains can aid in pool safety by capturing splashes from the pool or water generated from the deck being hosed down. They can also evacuate rainwater from the pool area. In all cases, linear drains help a surface to dry more quickly.
Incorporating a linear drain into the design of a wet deck or wet-edge pool creates a pond effect without the elevation needed for a true infinity-edge pool. In this case, the linear drain manufacturer would work directly with the pool contractor to fabricate the channel and grate to their specifications.
Specialty applications for outdoor linear drains include creating the look of an infinity pool in the pool surround as well as in outdoor showers.
Conclusion
While at one time the drainage system specified for showers may have been of little consequence, this has since changed with the growing popularity of linear drain systems. The stainless steel materials used for these systems holds up to corrosion and makes cleaning easier. Linear drain systems are typically associated with high-end architecture. However, they can be specified for more moderate projects, adding the high-end look for a reasonable cost. In all cases, the waterproofing method used will determine the type of linear drain system that can be used. It is incumbent on the architect, designer, or plumbing contractor to ensure that the waterproofing details and linear drain system are compatible.
Beyond high-end bathrooms, linear drain systems add form and function to wet rooms for maximum style and sanitation, as well as in ADA-compliant bathrooms and a wide variety of outdoor applications. With knowledge of linear drain systems, the savvy architect, designer, or plumbing contractor can add value to their projects.
Kathy Price-Robinson writes about building and design. Her remodeling series "Pardon Our Dust" ran 12 years in the Los Angeles Times. She specializes in buildings that are durable and resilient to climate disruptions, as well as products and designs that provide shade in hot climates. www.kathyprice.com
| | |
| --- | --- |
| | For more than a decade, Infinity Drain has established itself as a leader in design-centric decorative shower drains. Proudly made in the United States, its current product portfolio features the broadest selection of decorative choices and innovative installation options for both indoor and outdoor applications. www.infinitydrain.com |
Originally published in June 2020
Notice