Cool Roofing for Cool Climates
TPO and PVC membrane reflective roofs continue to prove their effectiveness in all climate zones, debunking myths that cool roofing is only suitable in warm environments
Sponsored by GAF
This test is no longer available for credit
Cool TPO/PVC Roofs vs. Dark EPDM Membranes
When it comes to selecting roofing materials, TPO and PVC roofs offer a number of durability, performance, and installation advantages over EPDM roofing materials.
"Apart from this advantage related to cooling, these rooftops are aesthetically beautiful, cleaner, mold resistant, easy to install, and maintenance free," states Notre Dame's Ashira.
In terms of the way in which TPO/PVC thermoplastic membranes are installed, the seams are hot-air welded and fused, whereas EPDM seams are glued with temperature-sensitive adhesive or Butyl tape. The net result is the thermoplastic membrane seam strength is more than four times stronger than that of thermoset membranes.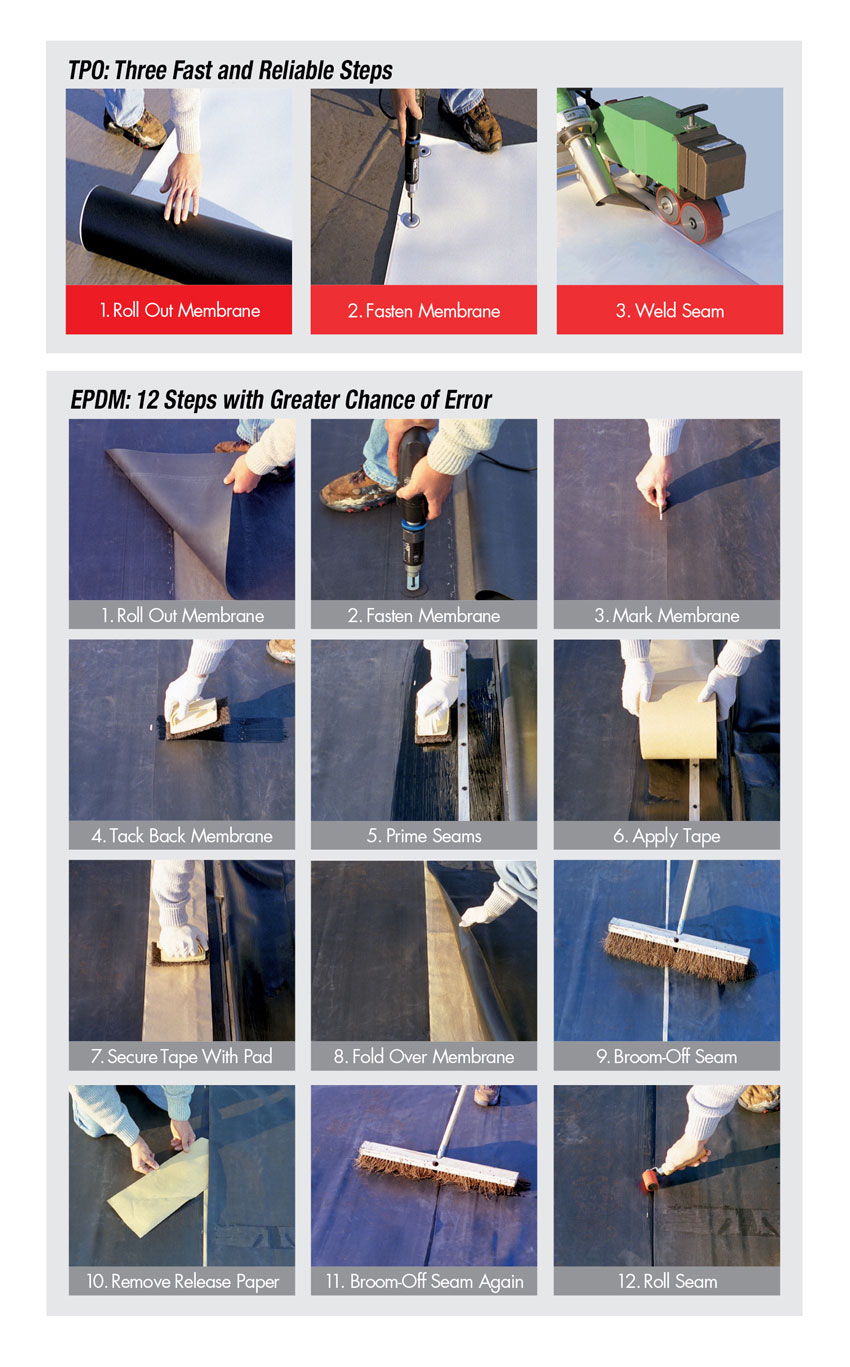 Images courtesy of Metal Construction Association and GAF
In three easy steps, a TPO membrane is rolled out, clamped, and welded.
"The heat welding process fuses the membrane joints together, creating a continuous seam and, therefore, one membrane," explains BRPH's Traylor. Alternatively, "EPDM roof membranes rely on tape and adhesives at the membrane joints."
"The welded seams are a huge advantage over the adhered seams of EPDM," confirms Tsoi Kobus' Defilippo.
In welding the TPO/PVC membranes, it's easy to pull apart the test welds and see if the welding is being done correctly, whereas EPDM adhesive welds cannot be checked until the installation has cured. Furthermore, all of the flashings and details are done with hand-applied adhesive, which can be a potential workmanship issue.
Another issue with EPDM is it's usually not reinforced, while TPO and PVC are always reinforced with a polyester fabric, making the roofs more dimensionally stable.
Yet another disadvantage with EPDM is the material tends to shrink over time, subsequently putting a lot of stress on the adhesive seams, sometimes causing the roof to fail with the seams opening up.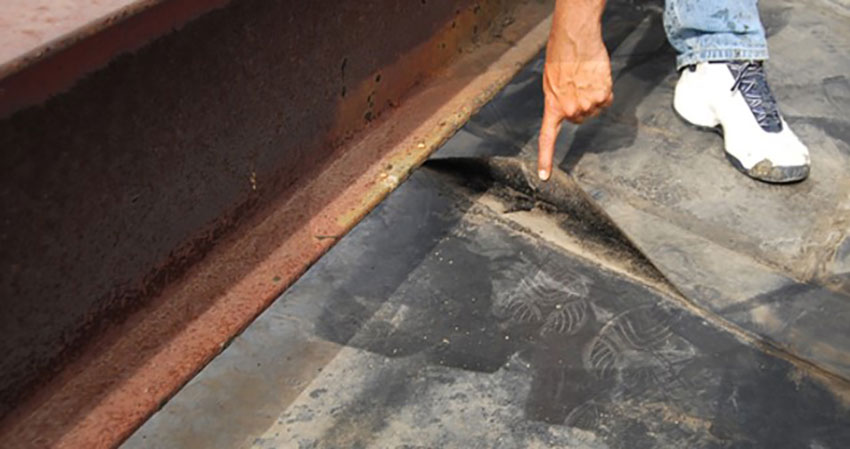 Photo courtesy of GAF
A less-robust seam as compared to TPO/PVC membranes, this photo depicts an EPDM seam failure.
"EPDM membranes rapidly deteriorate when different solvents and solutions leak onto the membrane, especially at the seams," adds Polhill.
Although EPDM is available with a cool white surface, this option comes at a premium cost and is rarely utilized. Furthermore, the white EPDM has significantly less UV and ozone resistance than standard EPDM, according to Taylor.
Another point brought up by Mark Gregory, general manager, RSS Roofing Services & Solutions, Orlando, Florida, is that because EDPM can't be ballasted, it is no longer a low-cost roof system to install, causing a noted market shift to TPO and PVC.
Looking at the Numbers
Just looking at market share, it is clear that cool roofing products continue to grow in popularity, even in cooler climates. In fact, SPRI reports that in the past 10 years, approximately 5.5 billion square feet of thermoplastic membranes were installed in ASHRAE climate zones 5 and higher, almost half of the total installed products in North America, with 2 billion square feet going into climate zones 6 and 7.
The fact is that building owners are increasingly choosing reflective roofing in all climate zones.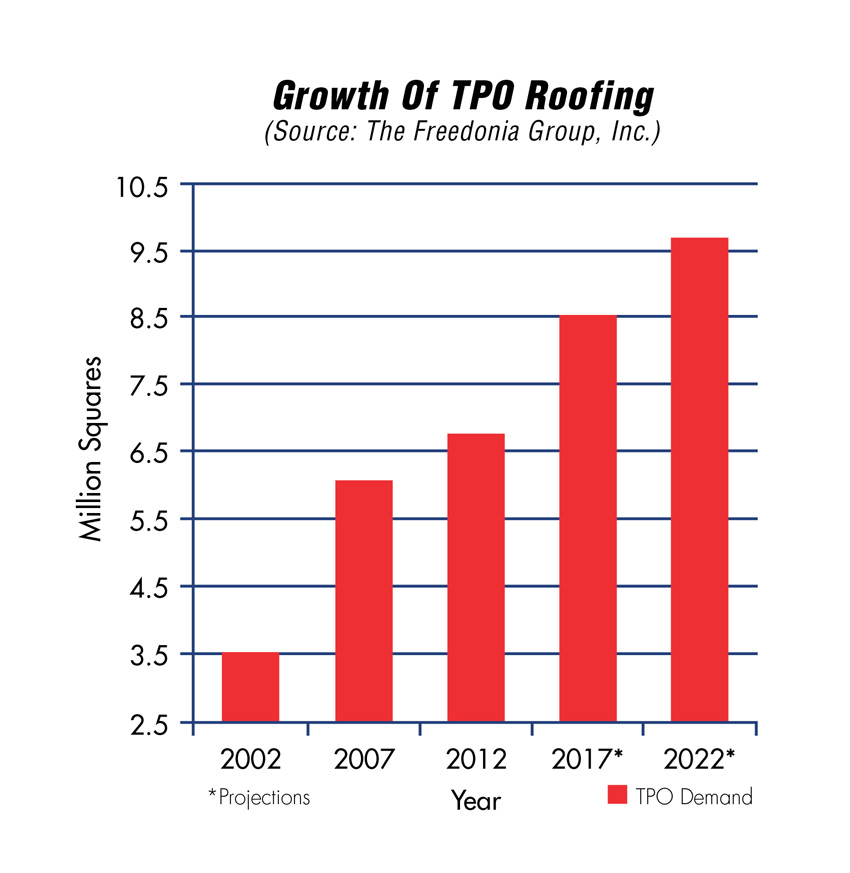 Image courtesy of The Freedonia Group
Highly durable, reflective TPO roofing membranes are quickly gaining market share in all climate zones.
"It's the lowest hanging fruit. You don't need a skilled labor force, and you don't have to wait for a roof to be retired," says Gaffin in reference to retrofitting New York City buildings with reflective coatings in the Columbia University blog. "So if you really talk about ways in which you brighten urban albedo, this is the fastest, cheapest way to do it."
Summing things up in a Roofing Contractor article titled "2014 State of the Industry Report: Low-Slope Trends," Graveline asks, "Why are we still debating the cold case of whether white roofs are effective in northern climates? There is no shortage of modeled and empirical evidence that white roof surfaces reduce building cooling energy consumption regardless of geography."
End Notes
1Sproul, Julian; PunWan, Man; Mandel, Benjamin H.; and Rosenfeld, Arthur H. "Economic comparison of white, green, and black flat roofs in the United States." Energy and Buildings. March 2014. Web. 10 August 2017. www.sciencedirect.com/science/article/pii/S0378778813007652.
2Gaffin, Stuart. "New York Roofs: Brighter, Whiter, Cleaner." State of the Planet. Earth Institute, Columbia University. 7 March 2012. Web. 10 August 2017 blogs.ei.columbia.edu/2012/03/07/new-york-roofs-brighter-whiter-cooler/.
3Thomas, Mike. "An Oral History: Heat Wave." Chicago magazine. 29 June 2015. Web. 10 August 2017. www.chicagomag.com/Chicago-Magazine/July-2015/1995-Chicago-heat-wave/.
4Konopacki, S. and Akbari, H. "Energy Savings and Demand Reduction from a Reflective Roof Membrane on a Large Retail Store in Austin." Lawrence Berkeley National Laboratory. June 2001. Web. 10 August 2017. www.vinylroofs.org/wp-content/uploads/2011/06/LBNL_study-1.pdf
5Guidelines for Selected Roofs. U.S. Department of Energy Building Technologies Program. July 2010. Web. 10 August 2017. www.nps.gov/tps/sustainability/greendocs/doe_coolroofguide-sm.pdf.
6Taha, Haider and Akbari, Hashem. "Cool Roofs as an Energy Conservation Measure for Federal Buildings." U.S. Department of Energy Federal Energy Management Program. April 2003. Web. 10 August 2017. pubarchive.lbl.gov/islandora/object/ir%3A120601/datastream/PDF/download/citation.pdf.
7Graveline, Stanley. "Still cool after all these years: White reflective roofs stand up to scientific scrutiny." Professional Roofing. October 2013. Web. 10 August 2017. www.professionalroofing.net/Articles/Still-cool-after-all-these-years--10-01-2013/2345.
8Fenner, Michael; DiPietro, Michael; and Graveline, Stanley. "Cool Roofs in Northern Climates." Building Enclosure. October 2014. Web. 10 August 2017. www.buildingenclosureonline.com/articles/84786-cool-roofs-in-northern-climates?v=preview.
9Cool Roof Energy Savings Tool. GAF. Web. 10 August 2017. cool.gaf.com.
10Mackey, Christopher W.; Lee, Xuhui; and Smith, Ronald B. "Remotely sensing the cooling effects of city scale efforts to reduce urban heat island." Building and Environment. March 2012. Web. 10 August 2017. www.sciencedirect.com/science/article/pii/S0360132311002472.
11Sharma, A.; Conry, B.; Fernando, H.J.S.; Hamlet, Alan F.; Hellmann, J.J.; and Chen, F. "Green and cool roofs to mitigate urban heat island effects in the Chicago metropolitan area: evaluation with a regional climate model." Environmental Research Letters. IOP Science. June 2016. Web. 10 August 2017. iopscience.iop.org/article/10.1088/1748-9326/11/6/064004/meta.
12Zimmerman, Greg. "Do Cool Roofs Fit in Cool Climates?" Building Operating Management. March 2004. Web. 10 August 2017. www.facilitiesnet.com/roofing/article/Do-Cool-Roofs-Fit-In-Cool-Climates-Facilities-Management-Roofing-Feature--1526.
13Dregger, Phil. "Cool Roofs Cause Condensation: Fact or Fiction?" Western Roofing. March 2013. Web. 10 August 2017. rci-online.org/wp-content/uploads/2013-03-dregger.pdf.
| | |
| --- | --- |
| | GAF is the leading roofing manufacturer in North America and part of the largest roofing and waterproofing business in the world. Products include roofing and waterproofing solutions for residential and commercial properties and for civil engineering applications. Its portfolio is supported by a national network of factory-certified contractors. www.gaf.com/aia |
Originally published in Architectural Record
Originally published in September 2017
Notice