Masonry Wall Systems Well Positioned to Meet Evolving Codes
New technology ups masonry's high-performance quotient
Sponsored by EchelonTM Masonry by Oldcastle
This test is no longer available for credit
Why Systems Make Sense
Many maintain that the best way to comply with the IEEC and other codes is a systems approach. To meet more ambitious energy targets, manufacturers have developed innovative masonry wall systems that are single solutions for thermal performance, water management, sound transmission, fire resistance and aesthetic benefits. Targeted to meeting AIA 2030 and DOE goals, these systems approaches are gaining traction in the construction industry. Further, newer systems usually have thinner and/or lighter units and often employ different anchoring techniques and CI, and have been engineered to control thermal transfer, reduce or eliminate thermal bridging, and offer air leakage and moisture control, all of which make sense from an energy-efficiency standpoint.
Systems can be tested and verified for many of these parameters. "The beauty of a wall system is that it has been designed to meet or exceed code, and can be relied upon to do so in a single efficient installation, rather than depend on a host of disparate components that may or may not work together to meet desired energy and performance targets," says Nader Assad, masonry group manager, research and development, Oldcastle. "Often, pre-engineered systems can take the headache out of the compliance process, while reducing design and installation time and cost, and boosting efficiency and overall building performance. They can be a valuable alternative to the traditional stud framing and cavity insulation."
Proper installation is vital to the effective functioning of any wall assembly, and installing wall assemblies with numerous elements can be time-consuming, costly, and prone to error. As a single-pass installation, these all-in-one products simplify the process, eliminating the need for adding insulation, moisture management, and finishing materials, saving associated labor costs and improving accuracy.
Masonry Foam Panel Systems
Masonry foam panel systems have the advantage of exceeding code and enabling compliance with increasingly stringent R-Value requirements, without having to add additional exterior insulation or build larger wall cavities.
Relatively new to the market, they consist of polystyrene foam panels, stainless steel screws, and specially designed stainless steel anchors that affix the masonry system solidly to the wood, steel, or concrete base wall of a building. Other elements include mortar. The type of mortar used is a key consideration and some manufacturers offer a preblended, proprietary mortar that complies with ASTM C270 and enhances pumpability, bond strength, flexibility, and dimensional stability.
To meet aesthetic goals, a variety of masonry units are available, including durable stone, clay, and concrete brick with others under development. Masonry units are friction fit in the foam, with different types of units having different foam panels. Press fit is only temporary until the mason finally points the mortar at the joints of the veneers. The veneers will be mechanically linked to the base wall through the anchors that are embedded in the mortar as per typical anchored masonry installation.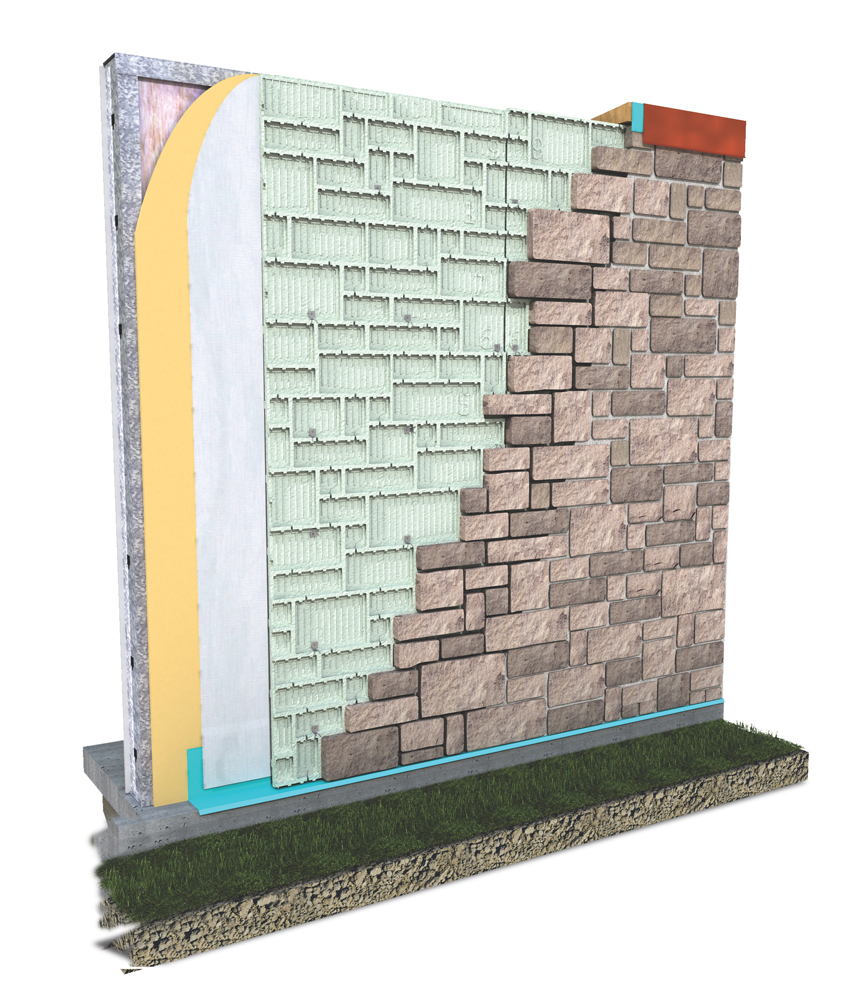 Photo courtesy of Oldcastle Architectural
Masonry veneer foam panel wall system
The foam itself is critical to the performance of the system. The engineered drainage channels on both sides of the insulation panel evacuate any water that may infiltrate the wall and protects the structure from damages over a lifetime of moisture exposure. Masonry units insert easily into the designed cells of the foam panels for quick installation, with stone, clay, and concrete brick options offering aesthetically pleasing designs.
Foam panels can provide high R-values, 9.2 steady state, and include CI. They also afford acoustical comfort with an STC rating of 61 on steel stud framing, which signifies that most sounds are inaudible, a superior soundproofing.
Foam systems have been proven to resist wind speeds up to 130 miles per hour (depending on building parameters) according to ASTM E330, with no lasting deformation. This characteristic virtually eliminates the risk of structural damage. Fire-resistance criteria, notably NFPA 285 and ASTM E119, assures that tested foam walls have successfully withstood 1 hour of exposure to temperatures of more than 1,700 degrees Fahrenheit. Foam panel systems may be used over any exterior fire-resistance-rated assembly without changing the assigned hourly rating up to 2 hours. Some of these systems may also be installed in seismic zones A to D. Regarding thermal requirements, foam panel systems can be installed on metal-frame or wood-frame buildings up to climate zone 6. Zones 7 and 8 may also be addressed by evaluating the building characteristics and installation details.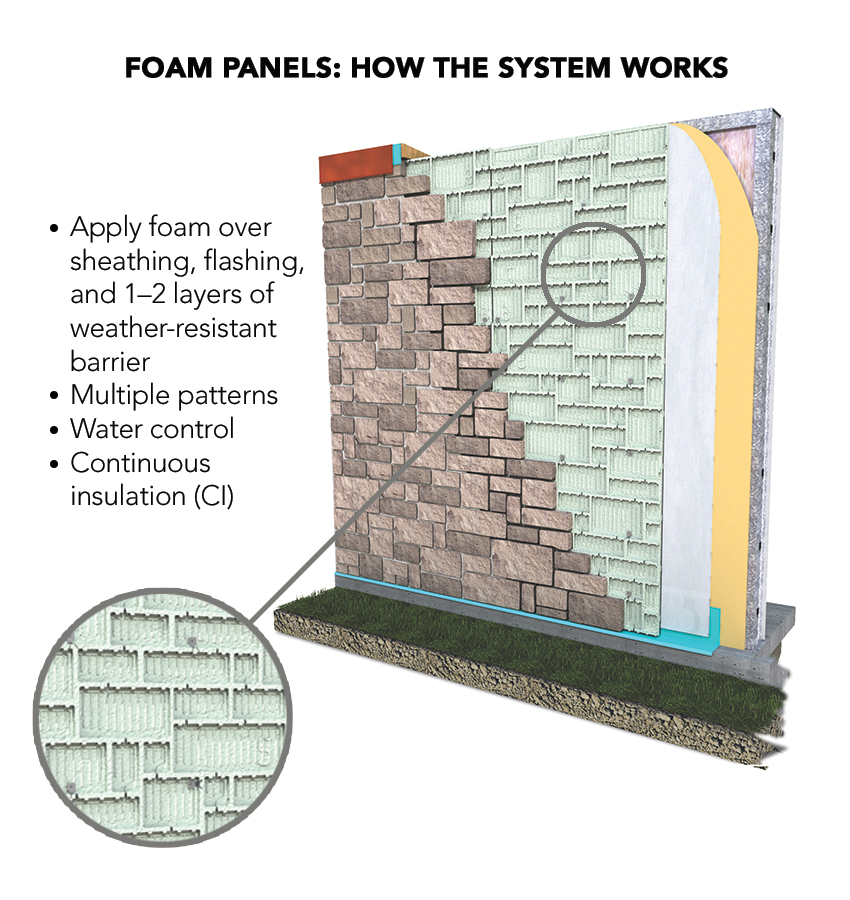 Photo courtesy of Oldcastle Architectural
Architects interested in specifying foam panel systems should make sure the product meets the above mentioned criteria. In fact, it is advisable to look to those manufacturers that have obtained third-party testing and evaluation of their products. An Evaluation Service Report (ESR) given by an accredited certification agency will provide a summary report of structural performance and durability of the system.
Originally published in Architectural Record
Originally published in November 2016
Notice