Cool Roofs for a Hot Planet
Today's cool roofing systems are a significant platform for urban building sustainability
Sponsored by Duro-Last®, Inc.
This test is no longer available for credit
Roofing Cost Calculator
Factors to consider when comparing the total life-cycle cost of a cool PVC membrane roof versus an alternative roofing system.
Installation
Roof product cost
Installation costs (labor and overhead)
Tear-off costs (if required)
Landfill costs

PVC roofs can be returned to the manufacturer and recycled after their useful life on a rooftop.
At least two PVC manufacturers have such programs.

Building disruption costs
Long-term Durability
Regular maintenance costs (over 20 years)
Roof replacement costs (if life expectancy is less than 20 years)
Repairs
Roof repair costs (estimated over 20 years)
Interior damage repairs (estimated over 20 years)
Energy Savings
Estimated energy savings (over 20 years)
Energy rebates/incentives
Warranty
Cost for 15-year warranty
Insulation and Radiant Barriers
Myth: Increased insulation and radiant barriers provide the same benefits as cool roofing.
Reality: While other measures may also cost-effectively save energy within a building, they do not provide the area wide cooling of cool roofs that helps reduce urban heat island effects. Studies show that insulation and cool roofing are important partners in a sustainable and high-performing roof system. Substituting one for the other will likely lead to sub-optimal outcomes.
Cool Vinyl Roofing and Sustainable Building Design
Vinyl may have a positive environmental profile when compared with other potential roofing materials. With metal, significant rock waste, tailings, and acid generation occurs from oxidation of sulfide materials during manufacture. The U.S. Environmental Protection Agency reported on this in a Technical Document titled: "Acid Mine Drainage Prediction."xiv
Galvanized metal roofing creates zinc discharge in storm water runoff. This was demonstrated in "A Survey of Zinc Concentrations in Industrial Stormwater Runoff" by the Washington State Department of Ecology.xv
Clay tile requires massive excavation impacts, creating clay pits and soil erosion. A report on the environmental impact of clay harvesting from the International Journal of Innovative Research and Development states that: "The effects generated from clay harvesting can be multiple, such as soil erosion, air and water pollution, geo-environmental disasters, loss of biodiversity, and ultimately loss of economic wealth."xvi
The issues with concrete are well-known. According to the EPA, "Cement plants are a significant source of sulfur dioxide, nitrogen oxide and carbon monoxide," which are associated with a number of health and environmental impacts, including ground-level ozone, acid rain, global warming, water quality deterioration, visual impairment, and other impacts. These impacts were listed in a paper titled: "Cement Manufacturing Enforcement Initiative."xvii
Slate quarrying can cause broad environmental damage. According to guidelines from the Missouri Dept. of Natural Resources, "Rock quarry and stone operations deal with many things that can affect the environment. Materials such as dust, contaminated storm water and used oil can harm the environment and people if they are not properly managed."xviii Also, the report states, "Quarrying and stone processing facilities generate dust, also called particulate matter, with diameter less than or equal to 10 micrometers. Regulators call this dust PM10. PM10 can cause lung damage."
One of the major sustainable benefits of PVC roofing is that it is inherently recyclable. Vinyl materials can be reprocessed and recycled repeatedly into useful products. More than one billion pounds of post-industrial and post-consumer vinyl is recycled annually in the United States, and that volume is growing.
PVC is the only roofing material proven to be recyclable on a large scale back into new roofing products. PVC roofing materials have been recycled in the United States and Europe for more than 20 years. Useful products such as commercial flooring, concrete expansion joints, and roofing walkpads are made from recycled vinyl.
Green Building Rating Systems
As the green movement grew, sustainability-minded architects and other stakeholders wondered how vinyl and PVC fit into the puzzle. The U.S. Green Building Council (USGBC) created a LEED Technical and Scientific Advisory Committee PVC Task Group that undertook a two-year study of PVC building products and determined that neither vinyl nor any competing material deserves to be eliminated. Regarding environmental impact, the final report states that: "The evidence indicates that a credit that rewards avoidance of PVC could steer decision makers toward using materials that are worse on most environmental impacts." xix
On human health risk, it states that: "Data on end-of-life emissions are highly uncertain and therefore there is a wide range of exposure possibilities."
In fact, PVC cool roofing systems can help architects reach their LEED goals. Some possible credit considerations for LEEDv4.1 BD+C: New Construction and LEED ID+C: Commercial Interiors associated with a PVC cool roofing system include: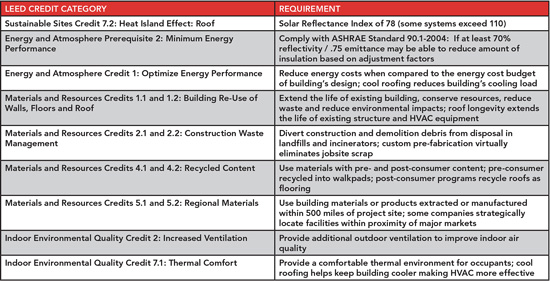 Some possible credit considerations for LEED O+M: Existing Buildings associated with a PVC cool roofing system include:

The Green Globes rating system includes a cool roof credit for roofs that have a minimum solar reflectance of 0.65 and a minimum thermal emittance of 0.90. One to 10 points are awarded based on the percent of the roof covered with cool roof material. A project can earn a total of 350 points in the Energy category, under a total of 1,000 points for the whole rating program. Further details on rating systems, codes, and standards are available on the website of the Cool Roof Rating Council.xx
How to Select a Cool Roof
There are some key questions you should ask when deciding on the best system for your needs. You may have other considerations unique to certain projects, but these are critical: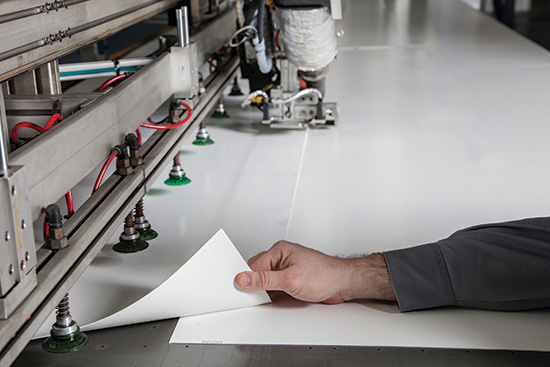 Photo courtesy of Duro-Last, Inc.
When a cool roofing system is being specified, the ability of a company to prefabricate the system in a factory-controlled setting should be a factor. These prefabricated systems install quicker on site and require less on-site labor.
Prefabrication: Can the membrane and roofing accessories for penetrations be prefabricated? One of the biggest issues in construction today is a shortage of skilled labor. To be a truly durable and thus "green" system, it must be installed correctly with a minimum of installation errors. The extent of customization/pre-manufacturing the supplier or manufacturer can offer should factor highly in your specification. Does the performance of the whole system exceed the sum of the individual components? Do the components work in harmony?
Membrane: What is the base material made of? And how is it made? As noted earlier in the article, some materials have a lower carbon footprint, last longer, and provide more benefits. Will temperature, moisture, and dirt affect integrity? What are the code considerations? What is the impact of the weight of the roofing? Are there structural concerns? What are the aesthetic issues?
Complete Systems: Are major components supplied by single or multiple suppliers? For the highest performance and lowest chance for error and incompatibility, a single supplier should supply all parts. This ties into a major movement in the increasingly complex world of building materials. Whereas past generations of architects, specifiers, engineers, contractors, and workers had a limited number of materials to deal with, new generations must contend with hundreds or thousands of materials and processes, some of which are not compatible. Systems manufactured or tested by a single supplier decrease that risk.
Flashing Methods: What manner, method, and materials are used for waterproofing and attachment method(s) used at transition points with deck sheets, stacks, curbs, parapets, etc.? The quality of manufacture and installation are essential here. This is where most roofing failures occur due to expansion/contraction, building movement, and so on. Ask if the flashings are prefabricated in a controlled factory setting, which is the preferred method. Or, are they fabricated in the field, where errors can be more likely? Are the flashings integrated with the system? And of utmost concern: Are the flashings included in the warranty?
Warranties: There is probably no other issue as controversial as warranty coverage. According to research, 77 percent of building owners say this is the most frequently unmet need (SPRI Research by Drucker Worldwide 2000). As the saying goes: "The large print giveth, the small print taketh away." For clues to the weaknesses of a system, look at the exclusions in the warranty. In particular, watch for fine print, which will suggest the weaknesses of the system. And what about extra costs? If there is no such thing as a free warranty, the question should be, "Why not?" Make sure the warranty can be transferred with ownership. Take note of exclusions. Some commercial roofing warranties specifically exclude ponding water on the roof, for instance. The length of time for the warranty should be realistic. If the company has only been in business for a few years or only manufactured roofing materials, offering a warranty of several decades should raise red flags of skepticism. If the material has been in existence for a long time, and the company has a long history and long track record, the warranty will have more meaning. Another consideration when researching warranty coverage is the manufacturer's care and maintenance guidelines. Be sure to request a copy and review it before making a purchase because some manufacturers require extensive care and maintenance for their warranties to remain valid.
Services Available: Finally, what services does the manufacturer or supplier offer the architect? Manufacturers work with the designers to provide the best solution for each roofing need. These services could also include code information, drawings, and documentation. Your goal is to serve your clients with most clarity and with least liability.
Originally published in Architectural Record
Originally published in December 2015
Notice