Wood Specialty Ceilings and Walls: Art, Science, and System
Sponsored by Armstrong Ceiling and Wall Solutions
Panel sizes: In general, the larger the panel, the more costly the ceiling will be. At the same time, very large panels are used to great effect in spaces such as the 4-foot-by-4-foot panels in areas of the La-Z-Boy Headquarters shown in Figure 3. Panels can come in a wide variety of sizes, with a general range of standard 24 by 24 inches to 48 by 96 inches (typically the maximum size). Because of the dimensional stability of wood, particularly veneered wood, panels can be significantly larger with less concern for pillowing or sagging. But large size can also affect installation; for example if the weight of panels requires safety cables and additional personnel, adding to cost. Where access is not required, it is sometimes easier to attach suspension directly to the back of larger panels. (See Installation.)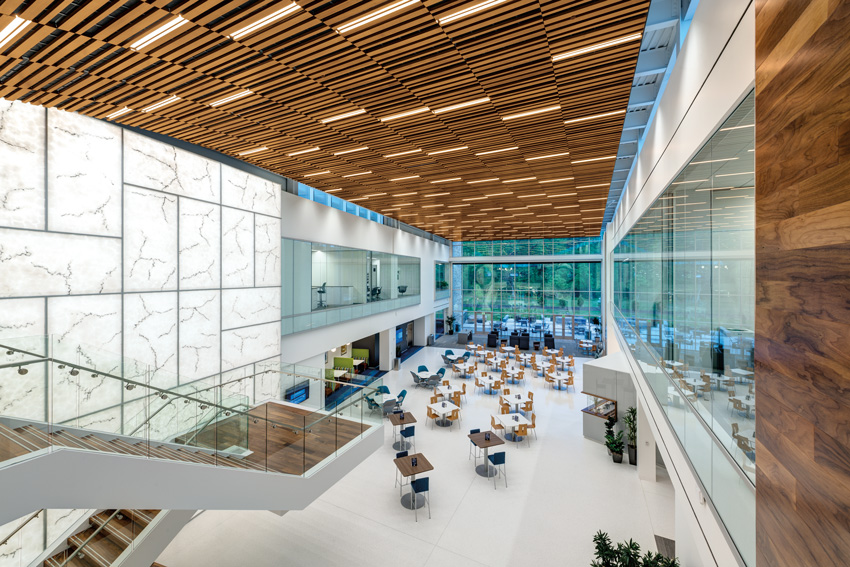 Project: La-Z-Boy Furniture World Headquarters
Location: Monroe, Michigan
Architect: The Collaborative Inc.

Figure 3: The grille look of the wood ceiling of the three-story atrium is inspired by the company's original wooden patio chair from 1928.
Shapes and forms: Throughout this course, you will see examples of the sizes, shapes, lines, and curves available with wood ceilings. A large manufacturer specializing in ceilings will have a broad portfolio of standard components in a variety of finishes, sizes, edge treatments, reveal profiles, and other options that can be mixed, matched, and combined. Even the simplest, easiest-to-install, standard flat panels can be varied by the sizes and shapes of the panels, the design of the suspension system, or by staggering or canting the panels. Curved elements can adjust to different heights and angles, and mounting hardware can be concealed for a clean look when the panels can be seen from above and below.
But the possibilities only begin there. Some of the elements available for wood ceilings include:
Linear components, flat, channeled or tapered, including panels, planks, slats, and grilles.
Curved edges on panels for a radius effect.
Canopies formed in convex and concave curves—hills and valleys—as well as s-curves, as individual elements, or installed to create waves or clouds.
Three-dimensional effects, such as facets, coffers, and open cells.
Installations can conceal the suspension entirely with a continuous monolithic surface or partially in clouds. The design of the Botanical Research Center shown in Figure 4 features panels of different sizes installed in a series of large clouds with a reveal every 10 feet and uses a completely integrated premanufactured access system, which is discussed in more detail below. A wood ceiling comprised of a series of clouds is also a prominent design element in the Chandler City Hall Council Chambers (Figure 5). The matching curved walls are canted slightly outward to add a sense of intimacy to a space designed to be a community gathering spot.
Ceiling planes installed at different angles or continuing down into walls.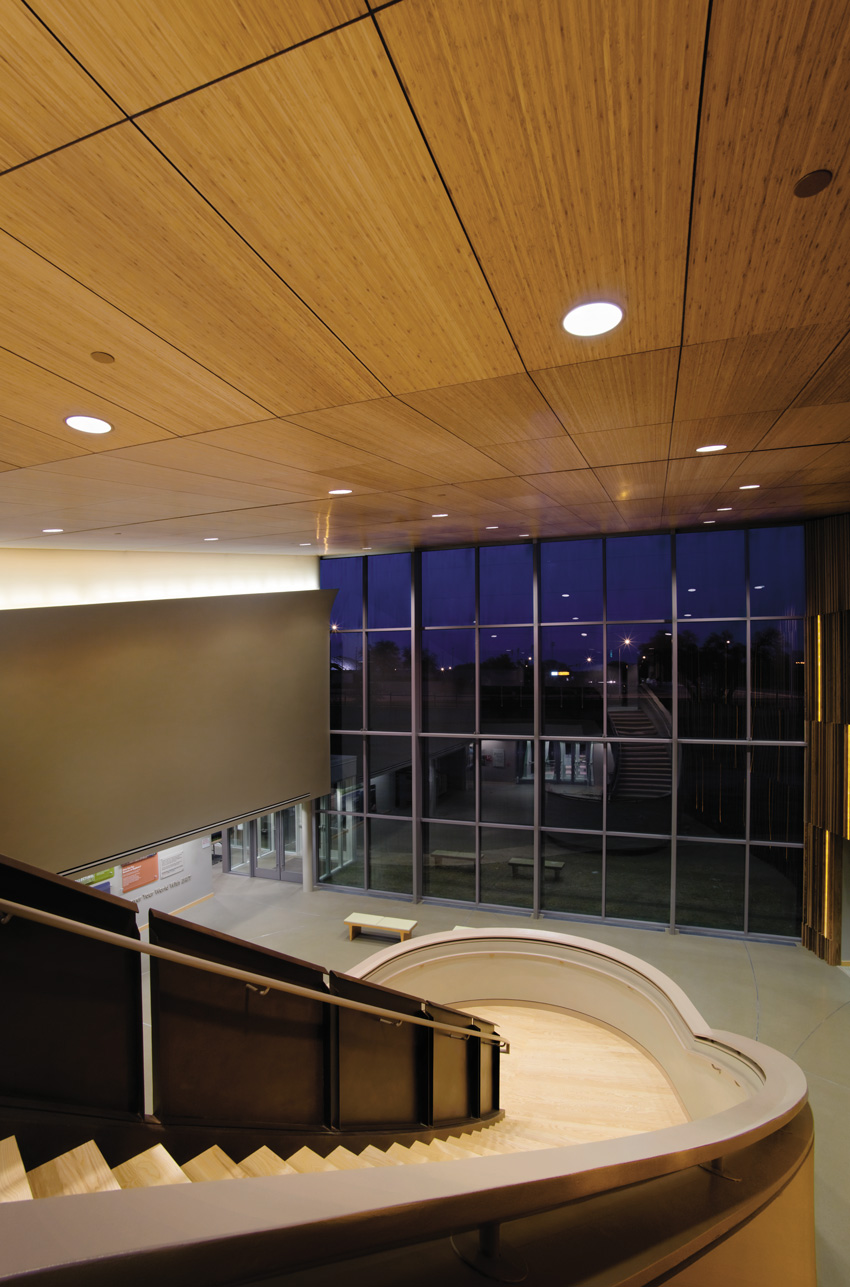 Project: The Botanical Research Institute of Texas
Location: Fort Worth, Texas
Architect: H3 hardy Collaboration Architecture and Corgan Associates

Figure 4: This is an example of many aspects of excellence in wood ceiling design, including beauty, acoustics, a preengineered integrated system for plenum accessibility, and LEED-NC Platinum sustainability.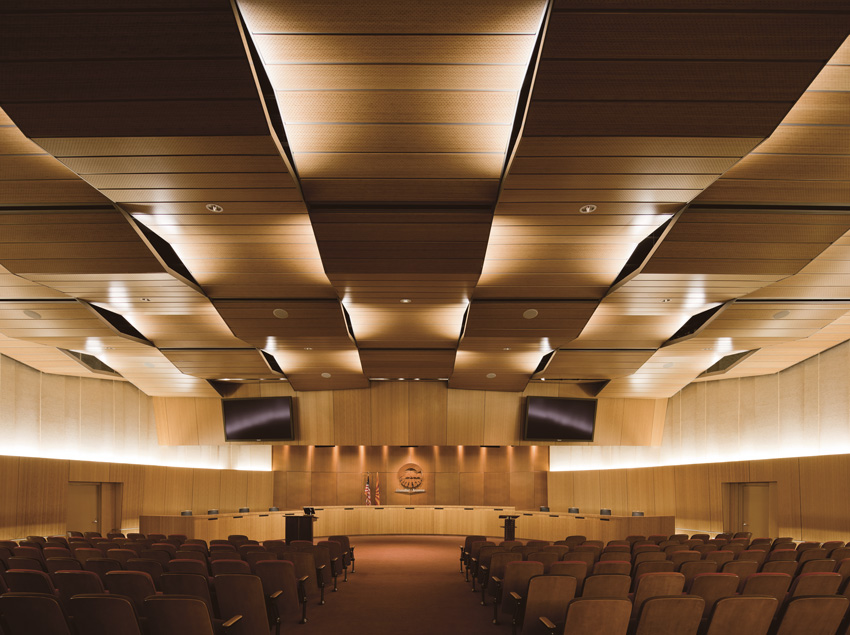 Project: Chandler City Hall Council Chambers
Location: Chandler, Arizona
Architect: SmithGroup

Figure 5: The dramatic saw-tooth wood ceiling is comprised of 1-foot-by-8-foot planks, perforated for sound absorption and installed in a series of clouds. Matching finishes are used in the custom curved 4-foot-by-8-foot wood walls.
In all of these ambitious designs, the aesthetic possibilities of the materials and shapes interact with performance. In the La-Z-Boy World Headquarters, wood panels in a linear grille form were selected to give a three-story atrium a sense of warmth and intimacy, and also for a very specific reason related to the company's products and history. The 6,000-square-foot wood ceiling's grille look recalls the very similar linear slats of the original La-Z-Boy wooden patio chair from 1928. The ceiling panels are a custom 4 feet by 4 feet, on a traditional grid system, but within each panel, the width of the slats varies, some 2 inches wide and some 33/4 inches wide. The variation gives the ceiling its unique look and also allows the incorporation of 4-inch-wide light fixtures in the gaps between slats.
In another gesture recalling the movement of the original La-Z-Boy chair, the ceiling curves down at the back of the atrium near the top of a dramatic staircase. The curved section of the ceiling was accomplished using panels with a flexible backer installed on a faceted grid system.
Acoustic performance is carefully calibrated in perforation patterns that are also essential to the visual effect in the UCSD Telemedicine & Medical Education Building (Figure 6 ). Nearly 28,000 square feet of custom wood ceilings and walls in a matching cherry finish are installed in the center's auditorium and computer learning center. The sloped, stepped ceiling has five different elevations from front to back.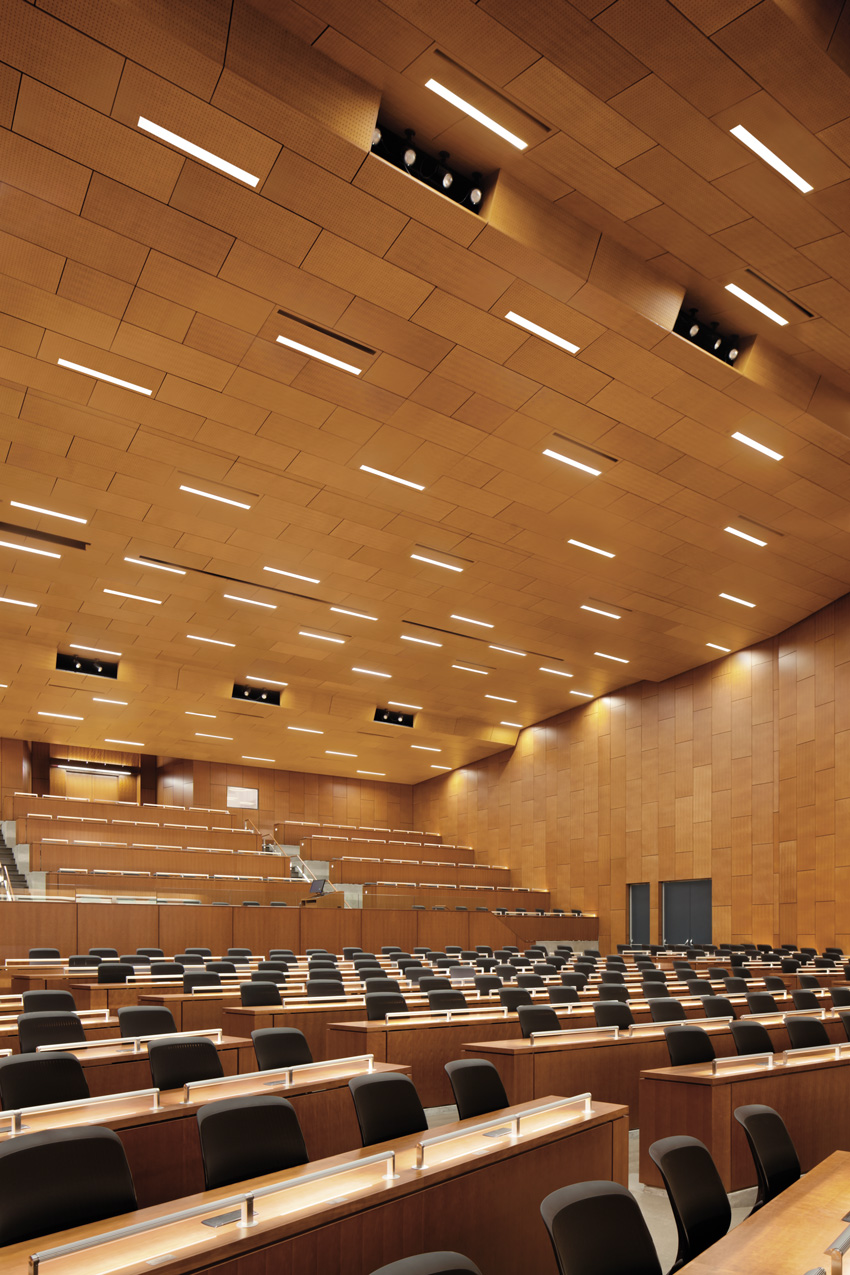 Project: University of California San Diego Telemedicine & Medical Education Building
Location: La Jolla, California
Architect: Skidmore Owings & Merrill

Figure 6: Nearly 28,000 square feet of custom wood ceilings and walls in a coordinating cherry finish impart a warm ambience to the auditorium and computer learning center. Panels incorporate custom perforation for acoustic performance and visual effect.
The majority of the panels are 2 feet by 5 feet in size, although 15 different sizes are part of the overall design. All panels incorporate custom perforation for carefully calibrated acoustic performance. In areas where sound reflection is desired, the perforations only go halfway through the panel. Where more sound absorption is required, the perforations go all the way through and are backed with a black acoustical fleece or infill panel.
The wall panels match the ceiling panels in size, finish, and perforation pattern, and the panel joints are staggered to create an interesting modular pattern. The rows of perforations, however, are in perfect alignment, panel to panel.
The following sections discuss in more detail important considerations for combining beauty, performance, and cost-effectiveness in wood ceilings and walls, focusing on:
Acoustics
Fire performance
Seismic performance
Accessibility to the plenum
Sustainable spaces, including LEED contribution
Installation type and process, and integration with other elements in the space, particularly the walls, and within the ceiling itself, such as, lighting, HVAC, and fire protection.
Notice