Breathe Easier: Architects cut harmful chemicals in designing environments for children.
Architectural Record
Learning Objectives:
Identify substances commonly found in building products that can have an adverse effect on human health.
Explain why children are particularly vulnerable to such substances.
Explain the difference between ingredient disclosure and product certification.
Describe methodologies for selecting and specifying healthy building products.
Credits:
This course can be self-reported to the AIBC, as per their CE Guidelines.
This course is approved as a Structured Course
This course can be self-reported to the AANB, as per their CE Guidelines
Approved for structured learning
Approved for Core Learning
This course can be self-reported to the NLAA
Course may qualify for Learning Hours with NWTAA
Course eligible for OAA Learning Hours
This course is approved as a core course
This course can be self-reported for Learning Units to the Architectural Institute of British Columbia
This test is no longer available for credit
View course on architecturalrecord.com »
Less than 20 percent of human disease is genetically determined; the rest is triggered by the environment we live in. Volatile organic compounds (VOCs), bisphenols and phthalates, highly fluorinated chemicals, flame retardants, antimicrobials: these are some of the problematic substances commonly found in building materials. In children, their health impact is amplified, with potentially lifelong consequences.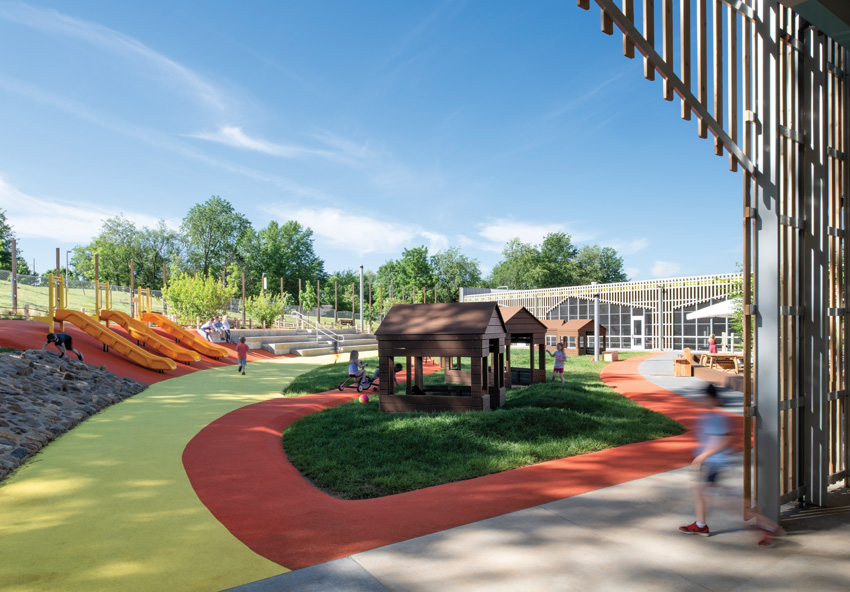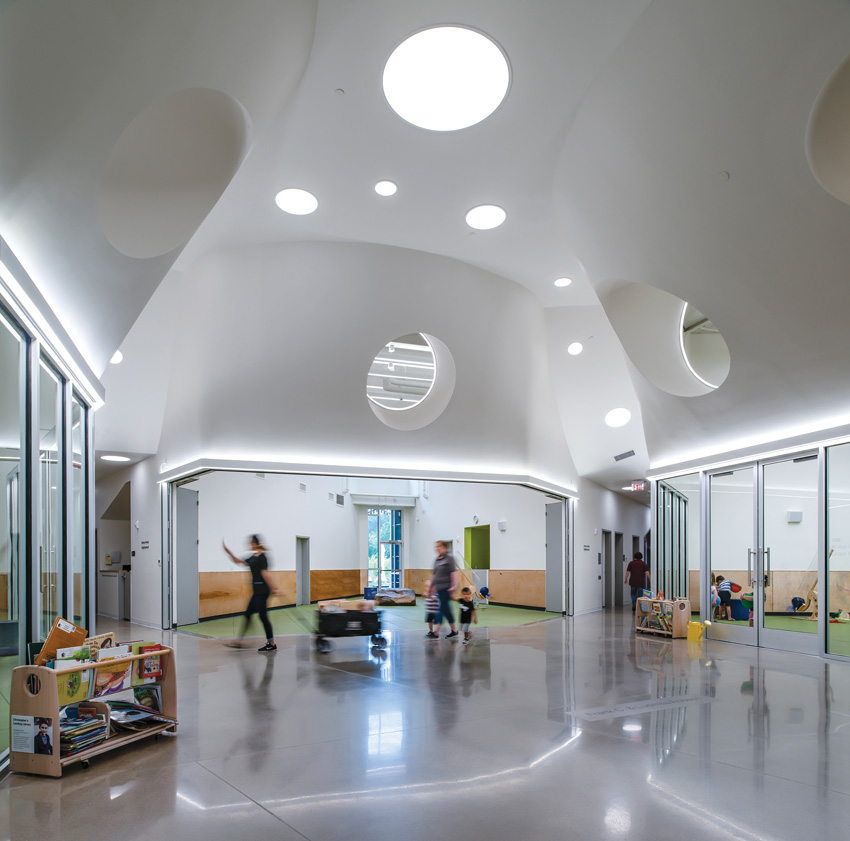 IMAGES: © AARON KIMBERLIN
LTL Architects configured the Helen R. Walton Children's Enrichment Center in Bentonville, Arkansas, so that its 21 classrooms are organized in wings that radiate from a central community room (above) and define outdoor play spaces (opposite).
"The lack of regulation in the chemical industry and in the material content of building products raises concern about construction practices," says Alison Mears, director of the Healthy Materials Lab at Parsons School of Design, "particularly when we focus on vulnerable groups like children." Childhood health conditions that have been linked to environmental toxins include respiratory illnesses such as asthma and pneumonia, behavioral problems such as attention deficit hyperactivity disorder and autism spectrum disorder, as well as flu and immunodeficiency disorders, obesity, and sudden infant death syndrome.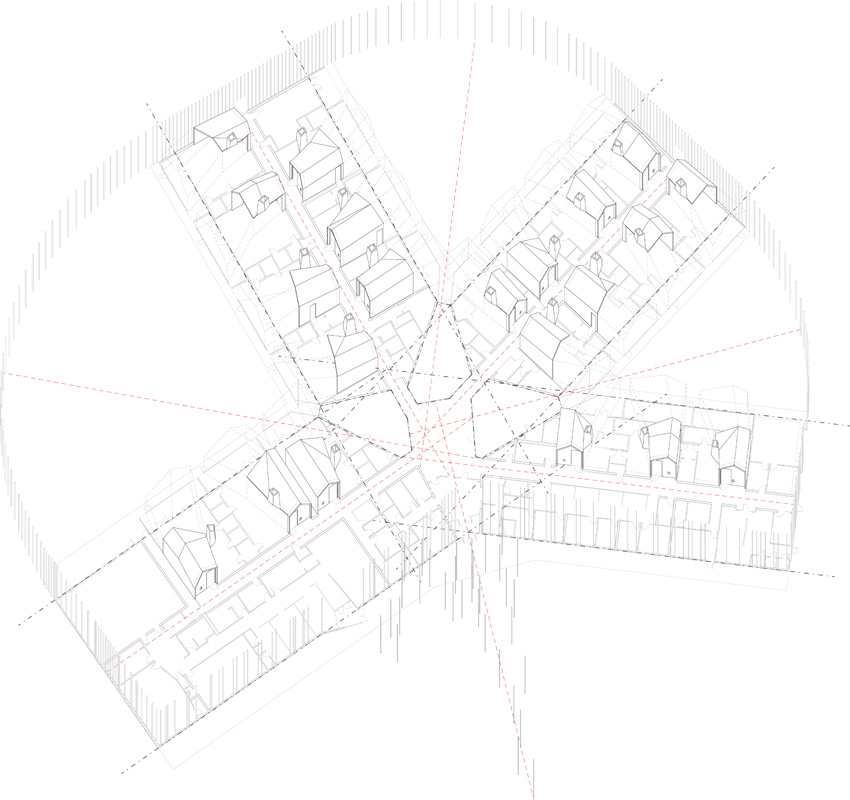 IMAGE: COURTESY LTL ARCHITECTS
Children are exposed to environmental toxins primarily in three ways. They inhale particles and dust, which tend to collect near floor level, where children spend much of their time. They ingest contaminants as they eat, drink, and put things in their mouths. And they absorb chemicals through their skin as they crawl and tumble through the world around them. With their immature metabolisms, a little toxicity goes a long way. An infant in its first year consumes two and a half times as many calories, drinks five times as much water, and breathes three times as much air per pound of body weight as an adult. Neurologically, 90 percent of lifetime development occurs by age 4. So nowhere are architects' efforts to exclude toxin-laden materials from the buildings they design more important than in environments for children.
A project that prioritizes materials for health is the Helen R. Walton Children's Enrichment Center in Bentonville, Arkansas. Accommodating 240 children between the ages of 6 weeks and 5 years, the 45,000-square-foot facility, completed in 2019, is intended as a national model. Designed by New York–based LTL Architects in collaboration with SCAPE Landscape Architects (also in New York), the project's first strategy in creating a healthy environment is to facilitate getting the kids outside. The single-story building's 21 classrooms are organized into four wings that radiate from a central community room. The wings define contiguous outdoor space, which in turn provides direct access to one of three playscapes designed to challenge the physical abilities of different ages. In addition to the developmental benefits of outdoor activity, says David Lewis, a principal at LTL, air quality is almost always better outside.
With connections to the outdoors established, the design team set about creating the healthiest interior environment possible within the project constraints. These included a construction budget of $238 per square foot and a requirement to use readily available products so the building could serve as a replicable model. Starting with schematic design, and with the help of an expert from the Healthy Materials Lab, LTL focused on excluding toxins linked to asthma, respiratory infections, and learning disorders, the health issues most commonly affecting kids in the region. This meant that the designers sought to avoid plastics and plasticizers, as well as VOC-emitting adhesives and finishes.
Plasticizers, such as phthalates (used as plastic softeners, fragrance binders, solvents, and fixatives) and bisphenols (used in the manufacture of hard, clear plastics and epoxy resins), are known endocrine disruptors that have also been linked to behavioral disorders. Phthalates can be found in polyvinyl chloride (PVC) products such as vinyl flooring, shower curtains, and toys, and also in glues, caulks, paints, carpet, and myriad other products, while bisphenols are common in polycarbonate plastics and in resins used to line metals, such as food cans and water pipes. VOCs are a prime cause of respiratory and other illnesses, and are common in plywood, particleboard, glues, fabrics, and foam insulation.
To identify preferable materials, designers relied on product certifications. They selected products that were certified at the Platinum or Gold level by Cradle to Cradle, a standard that promotes a circular economy; materials that have earned a Living Building Challenge (LBC) Declare Red List Free label, which means they don't contain any of a long list of worst-in-class chemicals; or those that have been certified GREENGUARD Gold or SCS Indoor Advantage, two programs that identify products with low VOC emissions. Examples of selected products include natural linoleum and rubber flooring, wool felt ceiling cladding, plywood and fiberboard without added formaldehyde, and mineral-based paints. To avoid inappropriate substitutions, the project's specifications highlight the difference between certification and disclosure: unlike certifications, ingredient declarations are not themselves a guarantee of a better product. "Transparency is good," Lewis says, "but it doesn't necessarily mean what's in there is good."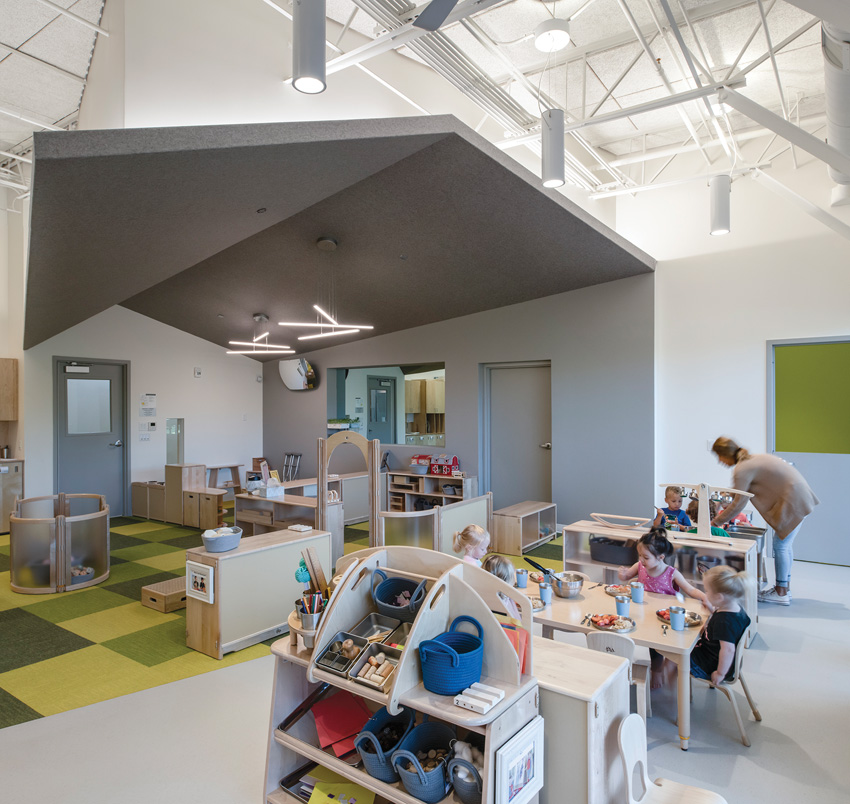 IMAGE: COURTESY ELEVEN OF ELEVEN
To avoid toxins linked to asthma, respiratory infections, and learning disorders, LTL selected products for the Children's Enrichment Center that included natural linoleum and rubber flooring and felt ceiling cladding.
Supporting the project's optimized spec, LTL and the Healthy Materials Lab prepared a set of supplements to help carry the health priority into construction, operations, and maintenance, as well as an infographic on selecting nontoxic classroom supplies for teaching staff. "So much is determined by the occupants," says Mears. "They are the long-term stewards of the health initiatives begun during planning, design, and construction." As a result of this outreach, says Lewis, the construction team, staff, and parents report that they are critically examining what they're doing in their own lives, and effecting change.
Originally published in January 2020
Notice