Breathe Easier: Architects cut harmful chemicals in designing environments for children.
Architectural Record
"Creating a healthy environment for the children is one of the major reasons they're trying to be one of the first Living Community Challenge projects," say Portland, Maine–based Kaplan Thompson Architects, who are leading a local four-firm team that includes Scott Simons Architects, Briburn, and landscape architects Richardson & Associates. The school uses recycled, reclaimed, and locally sourced materials that have been designed for durability, low maintenance, and minimal embodied energy. They are low-VOC and formaldehyde free, contain no substances identified as chemicals of concern by the U.S. Environmental Protection Agency, and are LBC Compliant ("LBC Compliant," as opposed to Red List Free, means a product may contain some Red List chemicals temporarily exempted until commercially viable alternatives are available). "Because we have to scrutinize the materials, we make things harder if we choose too many," says Jesse Thompson, a principal at Kaplan Thompson. So the project's limited palette includes polished concrete, eastern white pine certified by the Forest Stewardship Council (FSC), galvanized metal roofing, wood, felt wall panels, low-VOC wallboard, and, depending on budget, a slatted cedar ceiling or an LBC Red List–compliant acoustic tile.
Although the architects would have preferred wood-framed windows, the market in those that are Red List Compliant and FSC-certified is still immature in the region. Suppliers often didn't know, or couldn't say, what the gaskets and sealants were made of. Health certifications in progress weren't certain to be complete in time to meet the project's schedule, and the architect ended up specifying fiberglass and aluminum windows despite their higher embodied energy. "You do have to build the building," says Thompson.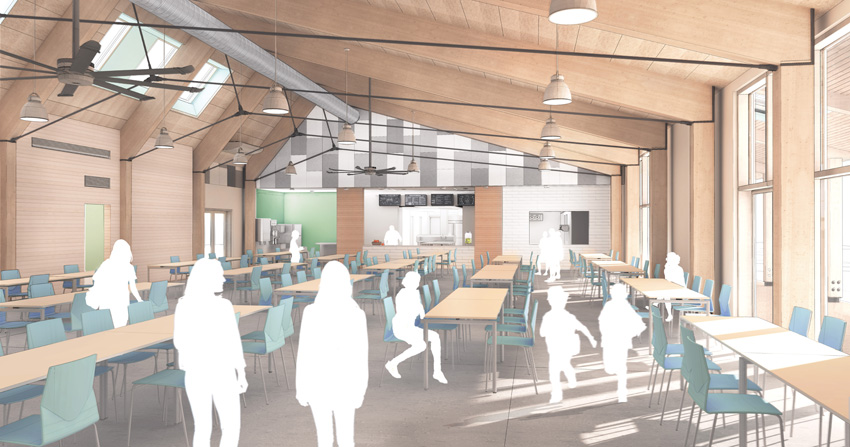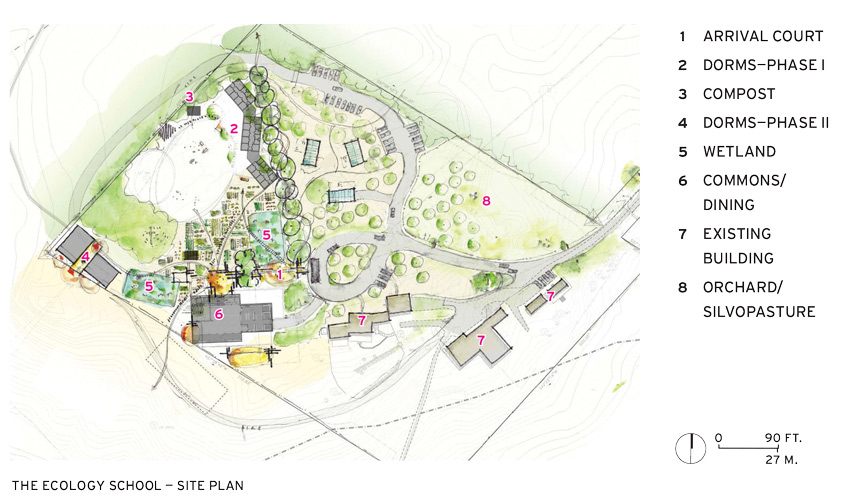 IMAGES: COURTESY SCOTT SIMONS ARCHITECTS (TOP); RICHARDSON & ASSOCIATES (BOTTOM)
A four-firm team of architects is designing the Ecology School at Riverbend Farm on a 105-acre site (bottom) along Maine's Saco River. It will include a 200-person dining hall and an all-electric non-combustion kitchen (top).
In a significant technical achievement, the Ecology School will provision a 200-person dining hall three times a day with a net zero kitchen that's all electric—eliminating gas burning inside. Combustion-free systems are an LBC requirement, but an exception exists for commercial kitchens. The Ecology School, however, opted to forgo the exception. "It's a milestone," says Thompson, "especially considering commercial kitchens have some of the most intensive energy use of any building type." Combustion is an example of oxidation, one of four main processes that can lead to toxic exposures. (The others are volatilization, or off-gassing; degradation, in which particles are released into dust, air, and water; and leaching, in which contaminants are released through dissolving.) So, in addition to shrinking the school's carbon footprint, the net zero combustion-free kitchen eliminates a potential source of air pollution in the spaces kids use.
While each of these projects—the Children's Enrichment Center, Vivvi, and the Ecology School—represents a significant achievement in reducing toxins in children's environments, their architects suggest that the aspiration needs to be pursued with a healthy dose of realism. "In a lot of cases, it's not black-and-white, do this and don't do that," says Lewis. "The science is complicated. You have to be observant and thoughtful, and accept that it's not possible to make the absolute perfect, 100 percent–guaranteed healthy project." However, it is possible—as these projects demonstrate—to significantly diminish hazards, helping to lay the foundations for lifelong health.
Supplemental Material
Six Classes 2017 Webcast 1/3 Introduction, Green Science Policy Institute
Katharine Logan is an architectural designer and a writer focusing on design, sustainability, and well-being.
| | |
| --- | --- |
| | Architectural Record is the #1 source for design news, architect continuing education, and info on sustainability, houses, projects, and architectural products. |
Originally published in January 2020
Notice