Zero-Energy Schools: How Innovative Concrete Systems are Making It Possible
Sponsored by Build with Strength, a coalition of the National Ready Mixed Concrete Association

1 AIA LU/HSW; 1 IDCEC CEU/HSW; 0.1 IACET CEU*; 1 AIBD P-CE; AAA 1 Structured Learning Hour; This course can be self-reported to the AANB, as per their CE Guidelines; AAPEI 1 Structured Learning Hour; This course can be self-reported to the AIBC, as per their CE Guidelines.; MAA 1 Structured Learning Hour; This course can be self-reported to the NLAA.; This course can be self-reported to the NSAA; NWTAA 1 Structured Learning Hour; OAA 1 Learning Hour; SAA 1 Hour of Core Learning
Learning Objectives:
Identify the principles and strategies behind zero-energy school design and construction.
Discuss how innovative concrete systems such as insulated concrete forms (ICFs) contribute to energy-efficient and resilient buildings that protect the health, safety, and welfare of students.
Assess how a combination of energy-efficiency strategies, high-performance building envelopes, and solar power is used to meet zero-energy criteria.
Describe the contribution that concrete makes to safe and productive schools by providing energy-efficient, quiet, and resilient structures.
This course is part of the Concrete Academy
Richardsville Elementary School, completed in 2010, is the nation's first zero-energy school. The 77,000-square-foot building combines drastic reduction in energy consumption with on-site photovoltaic panels that produce more energy than required to run the building. The building is so energy efficient that it returns energy back to the grid.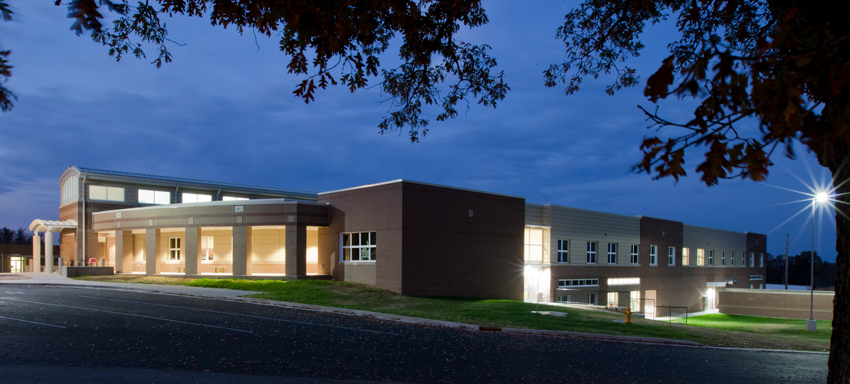 Photo courtesy of CMTA Inc.
Richardsville Elementary School in Warren County, Kentucky, is the nation's first zero-energy school.
"We are tremendously proud that since its opening in 2010, we have not paid a single utility bill on Richardsville Elementary School. The reason for this cost avoidance is that the building actually generates more electricity than it consumes. At the end of the school year, we usually get a check back from the utility company in excess of $30,000," says Jay Wilson, the director of safety and energy management for Warren County, Kentucky, Public Schools.
"The easiest way to increase a school district's budget is to reduce its energy consumption," explains Kenny Stanfield, a principal at Sherman Carter Barnhart Architects and an architect for Richardsville Elementary School, as well as dozens of other net-zero or near-net-zero schools located in Kentucky. "And the most cost-effective way to save energy is not to need it."
Stanfield, along with CMTA Inc. engineers, lowered the energy use intensity (EUI) for Richardsville Elementary School to 18.2 kBtu/ft2 compared to 73 kBtu/ft2 required by the energy code, a 75 percent reduction. Because the energy use was so low and the building construction cost was below budget, the school district absorbed the cost of adding a 349 kW photovoltaic array to provide enough energy to power the school and sell a small amount back to the electric utility.
According to Stanfield, the trend toward zero-energy schools, or net-zero energy or zero-net energy, comes down to three factors:
State-of-the-art design strategies and technologies to reduce energy consumption.
An innovative building system such as insulated concrete forms (ICFs) that can provide high R-value and low air infiltration at a low cost.
Affordable on-site solar energy.
There are several reasons why schools are ideal zero-energy candidates:
Schools typically have low energy demand. They operate only nine months out of the year with well-defined and limited operating hours.
Occupancy levels are predictable and controlled, and after-hour occupancy is limited.
Plug loads are low compared to other building types that might run a lot of appliances and computer equipment.
Schools are ideally suited for renewable energy, especially in the form of solar panels, since they are often limited to two stories and have a relatively large roof-area-to-volume ratio. This means that there is plenty of room to install solar panels. Most of the demand for energy comes during the day when the sun is available to generate electricity.
Schools are owner occupied, which means that there is an interest in minimizing operating costs, including the cost of utilities. School boards have bonding authority to fund long-term projects.
Schools can meet sustainability goals since zero-energy buildings reduce annual carbon emissions both through energy efficiency and the use of renewable energy.
A healthier, more comfortable indoor environment can help stimulate learning, reduce student absences, and lead to increased teacher retention, according to the Center for Green Schools.
Since many zero-energy schools are built using concrete construction with safe rooms and can generate their own power, zero-energy schools are disaster resilient; they can serve as a community shelter during and after a disaster.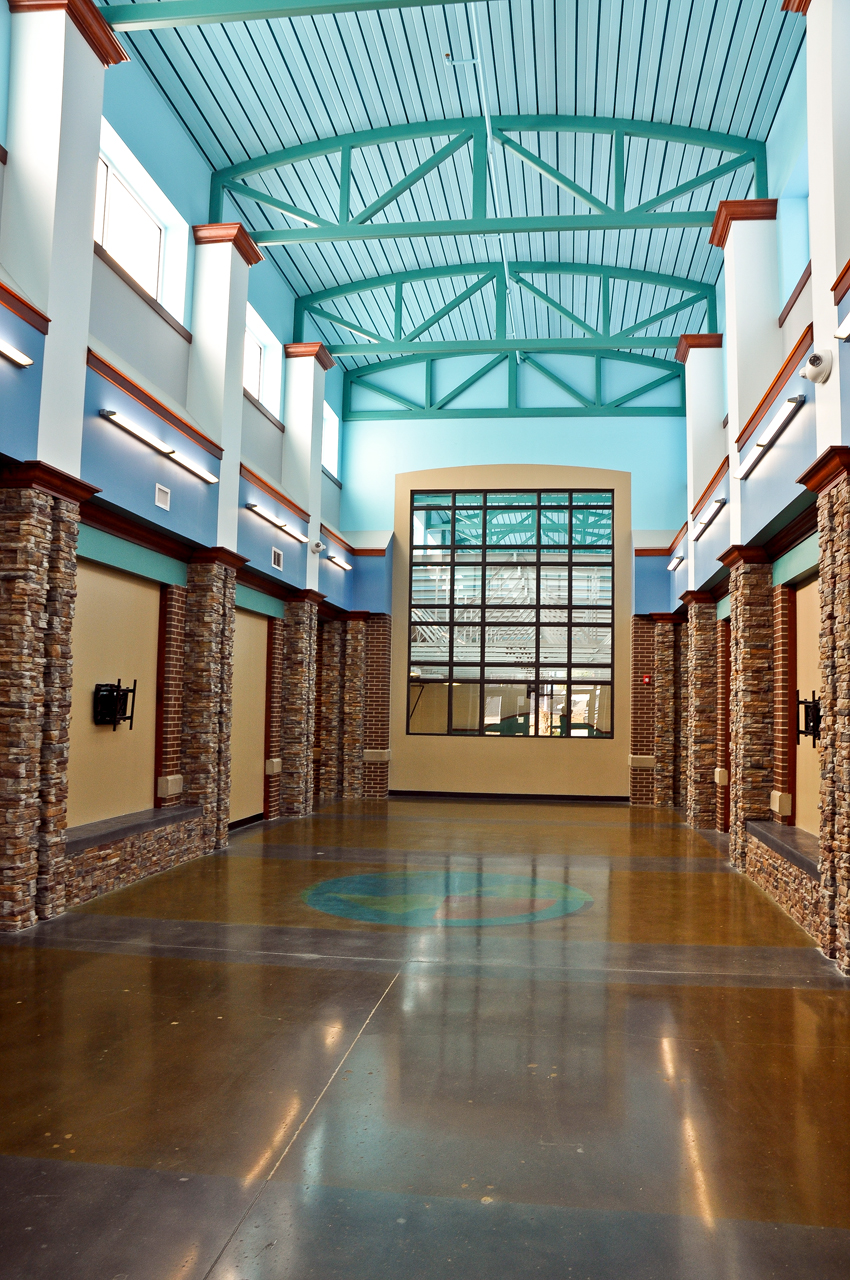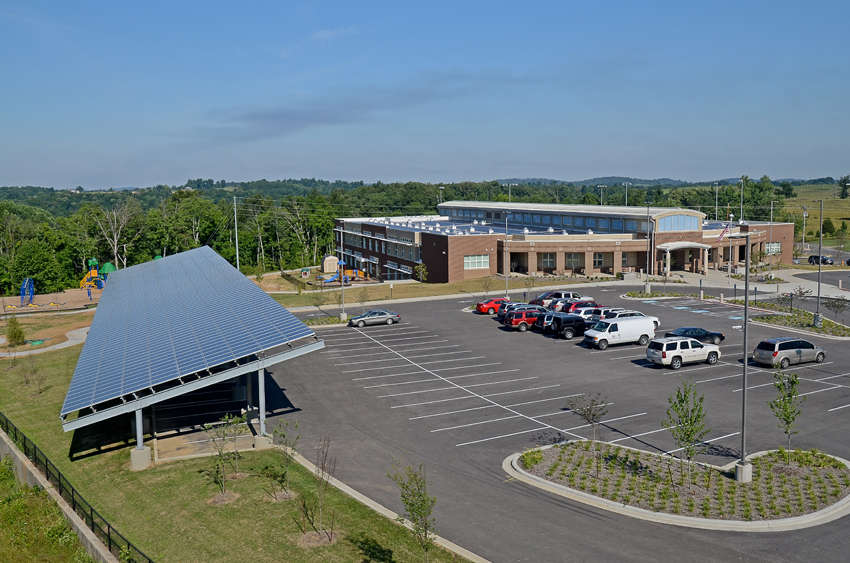 Photos courtesy of CMTA Inc.
Richardsville Elementary School is so energy efficient that it generates enough energy to sell back to the electric utility.
Originally published in May 2021
Notice