Automated Parking Systems Demystified
Answering the Who, What, When, Where, Why, and How Questions about this Innovative Technology
Sponsored by Westfalia Technologies, Inc.
Learning Objectives:
Discuss who operates an automated parking system (APS) for safety and welfare of users, and what features are built in for reliability and redundancy.
Describe where users go to park and pick up their cars for a contactless system in the time of COVID-19.
Learn how EV charging can be incorporated into an APS.
Explain why a developer should consider an APS for energy and operational savings and wise land use.
Review how an architect or developer can find a reputable APS vendor.
Credits:
This course can be self-reported to the AIBC, as per their CE Guidelines.
This course is approved as a Structured Course
This course can be self-reported to the AANB, as per their CE Guidelines
Approved for structured learning
Approved for Core Learning
This course can be self-reported to the NLAA
Course may qualify for Learning Hours with NWTAA
Course eligible for OAA Learning Hours
This course is approved as a core course
This course can be self-reported for Learning Units to the Architectural Institute of British Columbia
When architect Mike Rosen received a mandate to explore every potential cutting-edge, futuristic, energy-saving technology for a multifamily development in Lansdale, Pennsylvania, few would have predicted that one of the chosen technologies—an automated parking system (APS)—would end up making the project not only possible but also profitable.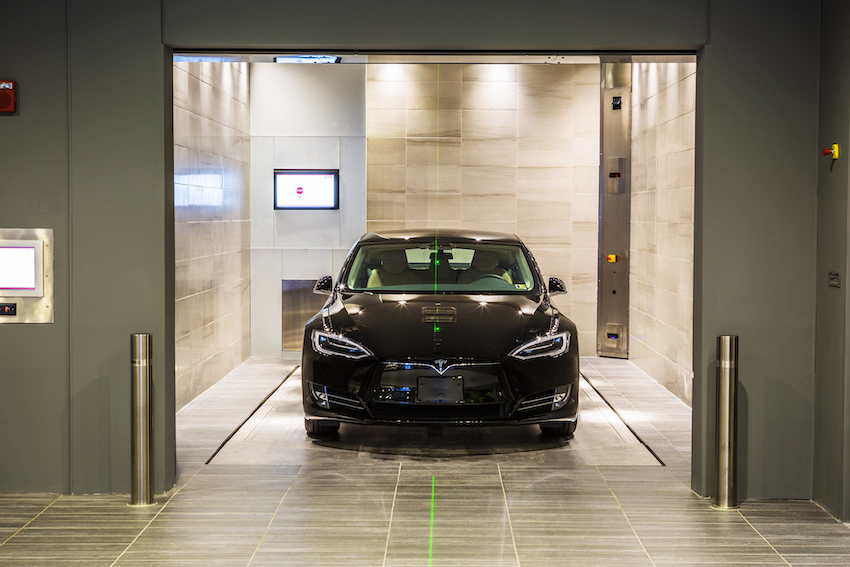 All images courtesy of Westfalia Technologies, Inc.
Automated parking systems (APSs) require less space per parking spot than conventional parking garages and can be the "make or break" factor in a proposed development.
"The APS made it pencil out," explains Rosen of Progressive AE, an architecture and planning firm headquartered in Grand Rapids, Michigan. "Without it, it would not have worked."
Automated parking garages are a futuristic-sounding parking solution designed for mixed-use, residential, and commercial applications. They utilize a combination of precisely designed machinery and sophisticated software to park cars in tight spaces without human intervention. Users find APSs to be very simple to adapt to, and they appreciate the elimination of the headaches associated with navigating a conventional parking garage.
For developers and architects, automated parking garages can change the entire balance sheet of a project.
In the Lansdale project, named Walnut Station, Rosen says that the reduced space required for with an APS ultimately eliminated the need for a second subterranean level of parking, which would have been costly because of a high water table.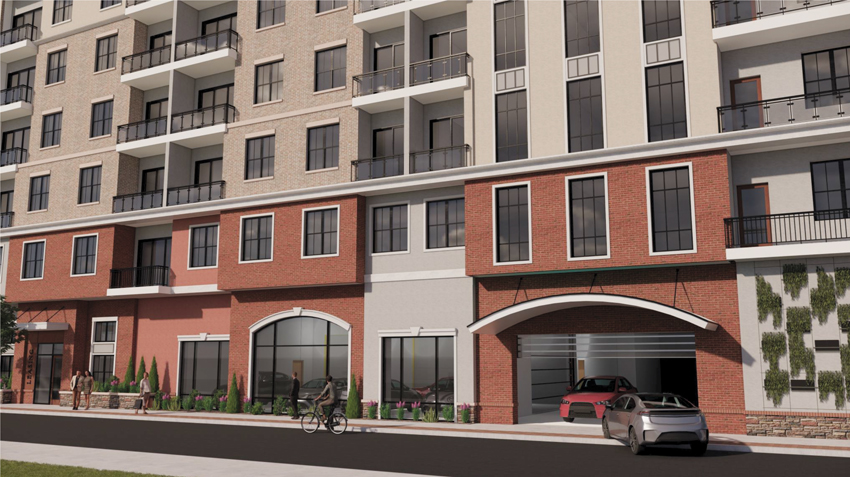 Renderings: Progressive AE
Shown is a rendering of the Walnut Station development in Lansdale, Pennsylvania, where the cost benefits of the APS made the project "pencil out," according to architect Mike Rosen.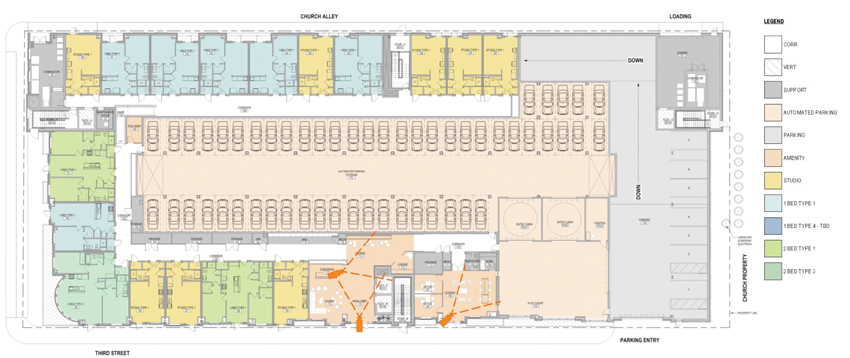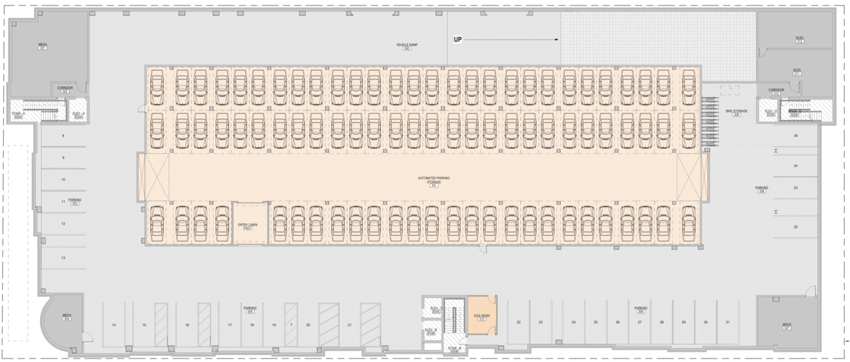 Plans for the Walnut Station project in Lansdale, Pennsylvania, show that the ground floor parking (top) and one lower level of parking (bottom) created enough parking spots so that a second subterranean level of parking could be eliminated.
"We estimated the cost at around $1.2 million per subterranean level," Rosen says. "Right off the top, we were able to shave $1.2 million off the construction costs by not building that second subterranean level. So the elimination of that level was a major factor in us choosing the APS."
The compact nature of the APS even allowed for more units.
"Because the automated parking takes less volume, on the ground level, we were able to pick up 17 live/work units, on grade and accessible to the street," Rosen continues. "So all of a sudden, real estate that was previously occupied by parking now looked like townhomes, which improved the streetscape. The City was very supportive of this concept. Who would not rather look at townhomes than parking?"
While automated parking technology seems futuristic, these systems are readily available right now, and they are being used both in the United States and all over the world. The need for superior parking solutions is critical to deliver ROI for parking lots where conventional parking space requirements cut into developable space, and where finding a way to provide parking in a smaller footprint can render an impossible project possible.
Although there are many APSs being built in the United States, they are more common in Dubai, China, and other countries. Automated parking sounds exotic to some in North America, but Americans have gotten accustomed to other robotic-like operations in daily life, including using automobiles rather than horse-drawn carriages, having clothes cleaned in automatic washing machines rather than being scrubbed on a waffle board, letting dishwashers sanitize dishes rather than washing them in the sink, and using a handheld device to change the TV channel rather than getting up to change it. Each of these technologies was surely balked at, and each became the norm. It is reasonable to expect automated parking will follow this same trajectory.
While interest in and specification of APSs is growing rapidly in North America, questions still remain about this unique aspect of architectural development. This article answers common questions surrounding the who, what, when, where, why, and how of APSs.
Before we launch into the most frequently asked questions about this innovative technology, let us review the equipment needed for these systems.
Required Equipment
A common question about automated parking revolves around what equipment and elements are required for the system. Let us first consider the requirements of conventional parking garages. They may seem simple, but there are actually numerous elements. There is the concrete deck, of course, and lines painted to delineate each space. But so much more is required: tall ceilings to accommodate the human stature, wide lanes for drivers to safely traverse the garage, wide spaces to accommodate opening of doors, bumpers to delineate where to stop, wide ramps for drivers to get from floor to floor, lighting for safety and security, exhaust systems, elevators, stairways, and so on.
An automated system does not require these elements, but it does have a different set of requirements. An APS generally requires, at the minimum:
A support structure for the vehicles and equipment within the APS;
A transfer area;
A turntable;
A vehicle lift;
A transfer car (t-car) with satellite;
software controls; and
An electric vehicle (EV) charging system.
We will now consider each of these requirements separately.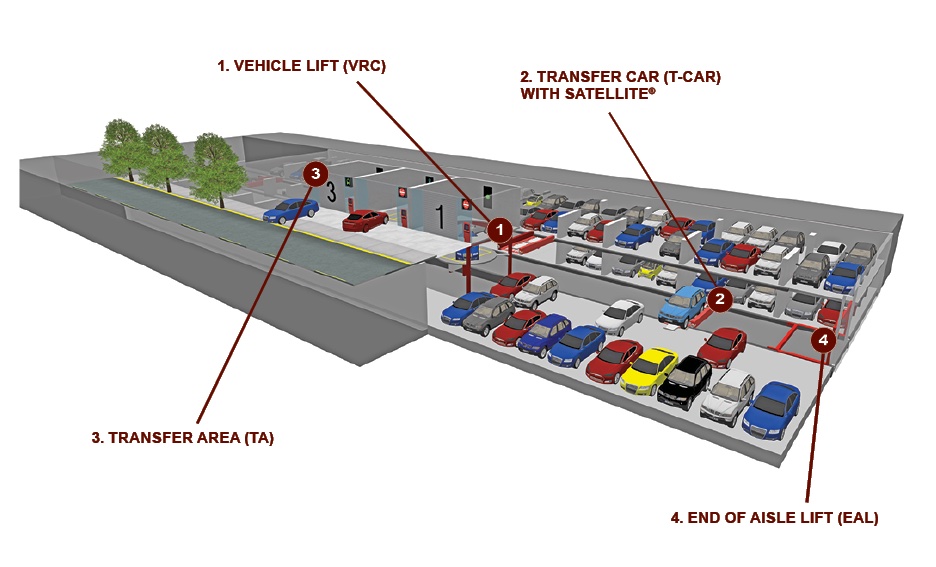 Originally published in December 2020
Notice