Solutions to Help Control Legionella
Different water treatment systems are effective at reducing the risk of Legionnaires' disease outbreaks
Sponsored by WATTS Water Technologies, Inc.
Learning Objectives:
Identify and recognize the conditions that contribute to the development and growth of legionella in buildings.
Investigate the importance and makeup of a water management program as identified in ASHRAE 188.
Assess the solutions available to address legionella in water systems, including those that rely on heat, chemicals, or other means.
Describe the pros and cons of different water quality solutions that can be effective at reducing legionella outbreaks.
Credits:
This course can be self-reported to the AIBC, as per their CE Guidelines.
As an IACET Accredited Provider, BNP Media offers IACET CEUs for its learning events that comply with the ANSI/IACET Continuing Education and Training Standard.
This course is approved as a Structured Course
This course can be self-reported to the AANB, as per their CE Guidelines
Approved for structured learning
Approved for Core Learning
This course can be self-reported to the NLAA
Course may qualify for Learning Hours with NWTAA
Course eligible for OAA Learning Hours
This course is approved as a core course
This course can be self-reported for Learning Units to the Architectural Institute of British Columbia
Legionella bacteria is a harmful pathogen which, if inhaled, can lead to a very severe form of pneumonia known as Legionnaire's Disease (LD). The legionella bacteria grows in water with moderate temperatures, which means any building with water systems is a potential breeding ground for the bacteria and an outbreak of LD. After years of research and development, the Centers for Disease Control (CDC) and the American Society of Heating, Refrigeration, and Air-Conditioning Engineers (ASHRAE) have developed protocols and standards to help avoid outbreaks using proper water management. That management requires that design professionals work with facility owners and create a specific water management plan for the facility. The successful implementation of that plan requires some specific water treatment solutions for reducing or eliminating the risk of an outbreak. There are a number of choices that can be made in this regard, and this course will review some of the main solutions available along with some of the pros and cons of each.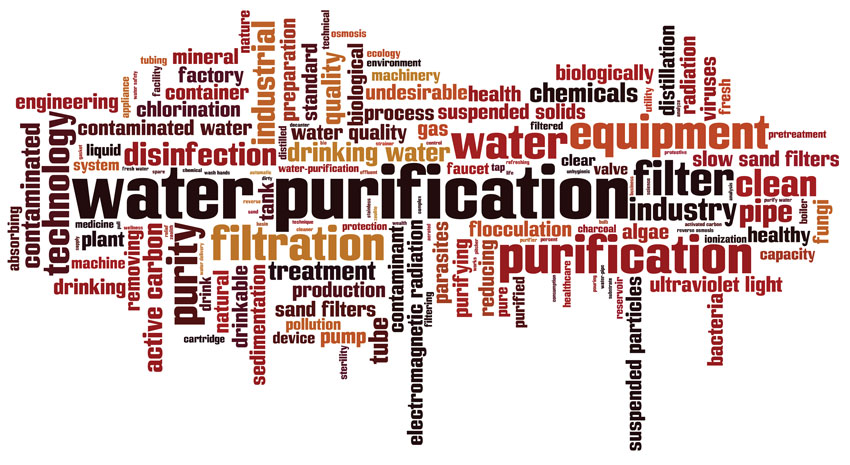 All images courtesy of Watts Water Technologies
Legionella Overview
Outbreaks of legionella bacteria can cause LD in any setting but is a particular concern in health-care facilities (hospitals, nursing homes, long-term care) and hospitality buildings (hotels, motels, resorts). The presence of the bacteria can be widespread since it can grow in any part of a water system in a building that is continually wet, such as tanks, piping, fixtures, or water features. In order to infect a person, the legionella bacteria needs to be part of water droplets that become airborne in a manner of aerosol generation. If that infected moisture reaches a person's nose or mouth where it is inhaled and settles in the lungs, then it can sicken the person with LD. Since transmission of the bacteria in the water systems to humans requires it to become airborne, it can occur from things like showerheads, cooling towers, bubbling hot tubs, HVAC units, and decorative fountains. However, the legionella bacteria can form and grow before it ever gets to those places, which is why LD outbreaks are generally linked to water in large or complex water systems, including those found in health-care facilities and hospitality settings.
When considering the impact of legionella, the CDC has been determined that LD is primarily a health risk for persons who are at least 50 years old, smokers, and those with underlying medical conditions, such as chronic lung disease or immunosuppression. Nonetheless, the disease can, in reality, affect anyone. According to the Mayo clinic and some other sources, many people exposed to legionella bacteria don't develop symptoms, but those who do may experience cough, fever, chills, shortness of breath, muscle aches, headaches, and diarrhea. In severe cases, it has also caused death. Treatment typically requires antibiotics, hospitalization, or other care. The CDC has been tracking the number of people who have been diagnosed with LD and have recorded anywhere between 8,000–18,000 cases annually since the year 2000. While the number of cases is disconcerting, even more so is the trend of growth in the number of outbreaks and infections. The CDC reports that in the United States from 2000–2009, the number of infections increased by a dramatic 217 percent. However, over the time span measured from 2000–2014, the increase has been an even more staggering 400 percent. Clearly this is a serious health concern, and one that comes with a significant price tag. The CDC tells us that the number of direct health-care dollars it costs in the United States to treat a single case of Legionnaire's disease is $34,000.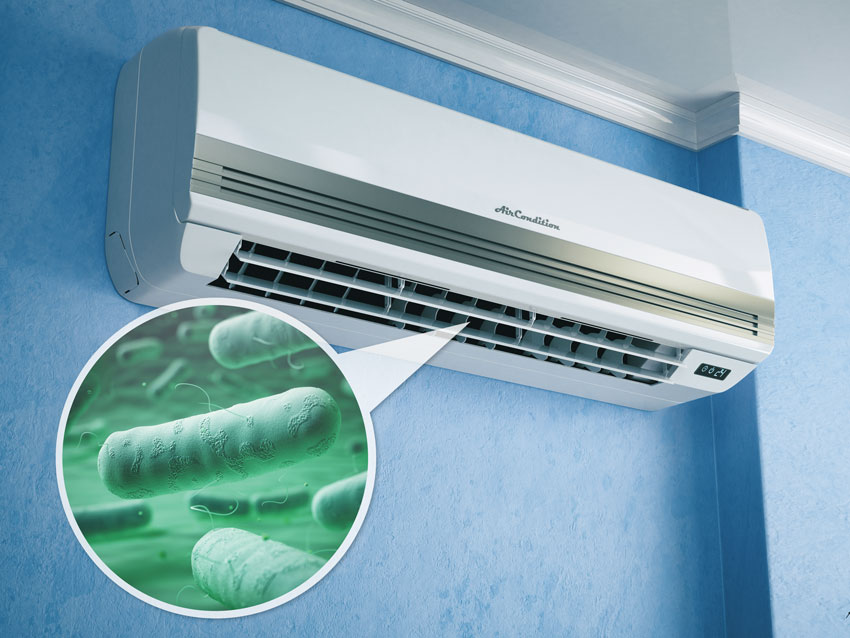 Legionella bacteria is transferred to people through air-borne moisture from plumbing fixtures or air-handling systems.
Legionella Control
Due to the seriousness of the disease and the linkage to water systems in buildings, ASHRAE has been at the forefront of investigating an effective means of controlling the conditions that will reduce LD outbreaks. Following some initial work in the early 2000s, it published in 2015 an updated ANSI/ASHRAE Standard 188: Legionellosis: Risk Management for Building Water Systems. This document has become the accepted standard for a comprehensive water management plan for buildings where legionella control is sought. Specifically, it has been recognized by the CDC and The Department of Health & Human Services (DHHS) Centers for Medicare and Medicaid Services (CMS) as the basis for programs that they administer. In fact, federal funding for many health-care facilities, particularly those that receive Medicare or Medicaid for payment, must show compliance with an ASHRAE 188 Water Management Program (WMP) or risk losing payments.
A full WMP under ASHRAE 188 is based on a seven-step process that includes defining a full program team, survey/documentation of water systems, analysis of water systems, determination of control measures, monitoring, confirmation, and documentation. In order to be effective, the WMP needs to be ongoing and continuous, not just a one-time exercise. As such, it can be integrated into other building operations policies and procedures, but it must be able to stand on its own as a complete plan. The whole process requires confirmation and appropriate documentation that the water management program is being carried out and all activity is recorded and documented.
The ASHRAE 188 standard is proving to be an effective resource for building operations teams that need real guidance on reducing the risk of LD outbreaks. As a standard, however, it is focused on the process of creating, implementing, and carrying out a full water management program. It does not provide specific solutions for addressing water systems or offer any design components. Rather, design professionals (engineers, architects, etc.) are required to provide expertise on identifying and analyzing all aspects of the water systems. Then they need to recommend specific control measure solutions appropriate to the particular building and water system at hand. For full effectiveness, those same design professionals should be involved with ongoing aspects of the WMP.
Part of the plan requires ongoing monitoring and water testing for legionella bacteria and the means to address how it may or may not be transported within a water system. If monitoring reveals a concern, then corrective action must be taken promptly to eliminate it from the system. That means a series of corrective measures must be in place ahead of time to solve the problem immediately. It also means that the normal day-to-day operation needs to allow for ongoing preventative treatments to occur as part of standard operating procedures. That is where attention to all of the plumbing components and choices about their application comes into play, often requiring specialized knowledge of things like expansion/storage water tanks, water treatment systems, mixing valves, drains, backflow valves, etc.
Follow the Water
A facility should consider implementing a multi-barrier approach from POE to POU for legionella risk mitigation. Throughout the premise plumbing system there are multiple locations and scenarios that should be considered. Let's take a look at how water travels through the system, where risk rises and solutions that can be implemented to reduce risk. We will take a closer look at each solution but here is a quick overview of the path and considerations at each point.
Water Utility
Most municipalities inject a disinfectant in the water supply. Most commonly, chlorine. Yes, that can help mitigate the risk of legionella but there are several reasons a facility shouldn't rely on it to mitigate their risk. Disinfectants and chemicals dissipate as they travel. One can assume that water will travel numerous miles before entering a building so dissipation has occurred and the disinfectant entering the building probably isn't at a level required to mitigate the risk of legionella. The amount of time and length of travel water experiences on the way to a building can also increase the water's age. As water increases the proliferation of bacteria growth can also increase. The disinfectant from the municipality will continue to dissipate as it travels through a building's premise plumbing system causing the effectiveness to decrease even more. Municipalities experience interruptions, often unplanned and unexpected. This can affect the quality of the water entering your building. Municipalities can often schedule an interruption or change in the disinfectant which will affect the water and they may or may not make the change known.
Maintenance Room
There are numerous choices a facilities team has to mitigate the risk of legionella in the maintenance room. When choosing equipment necessary for the building's function the team should consider if the equipment may have a positive or negative effect on legionella growth. The main methods used are temperature, UV, chemical dosing, copper silver and ultra filtration.
Industry agrees that controlling temperature of the water can greatly decrease legionella in a building's water system. The most accurate way to control the water's temperature is through a digital mixing system.
UV can be used in the water and minimizes legionella by rapidly disrupting bacteria DNA. It stops the ability for Legionella to multiply and grow.
The facilities team can choose to inject chemicals. This would be in addition to any disinfectants the local municipality may have added. The most common chemicals utilized are chlorine, chloramines and chlorine dioxide.
Copper silver effectively kills legionella by the bonding of positively charged ions with the negatively charged cell wall.
Filters are often used to remove sediment and bacteria from the water supply. Ultra filtration that are .2 micron or smaller can be used to filter legionella.
Scale reduction should be considered. Reducing scale does not directly reduce legionella but it can play a role in reducing the biofilm that is a food source and a hiding place for bacteria.
All solutions could be considered because each have pros and cons. What might be the most effective in one building might not be as effective in a different building. A multi-barrier approach utilizing multiple solutions should be implemented for the most effective water management plan for legionella reduction.
Premise Plumbing
Once water travels through the maintenance room solutions it enters the piping of the premise plumbing system. Several piping attributes and conditions can affect the growth of legionella and should be considered.
If your building is older then the age of the piping should be a consideration in your water management plan. As pipes age you may see corrosion, pinhole leaks, biofilm and scale buildup. All can increase or effect legionella growth.
Consider the piping material. In general, smooth piping doesn't harbor as much biofilm as rougher, more porous material. Researchers have studied biofilm growth on different types of materials, with variables that also include factors such as water flow and temperature. In one study, the following was found CPVC and stainless steel harbor the least bacteria.
Another facet is making sure that the pipe is sized correctly. Don't oversize! Oversized pipe not only affects flow (slowing it down and reducing helpful turbulence within the waterways), but also increases the surface area for germ-harboring biofilm growth.
Dead legs should be avoided when possible In existing buildings there isn't much that can be done about already-present piping dead legs; these low-flow/no-flow areas provide safe harbor/refuge areas for legionella and other pathogens. So, if there are dead legs within a building's piped infrastructure, solutions must be considered.
Another facet is making sure that the pipe is sized correctly. Don't oversize! Oversized pipe not only affects flow (slowing it down and reducing helpful turbulence within the waterways), but also increases the surface area for water stagnation and germ-harboring biofilm growth.
The last line of defense is at POU. Considerations include:
Hospitals should consider point of use filters as a final barrier in patient rooms and other risk areas Cost may inhibit some facilities from installing filters at all outlets but should consider utilizing them all the time in the high-risk areas and implement them immediately during an outbreak.
Sensor faucets have been shown to inhibit water flow which can increase the risk of legionella growth so if you have or are considering sensor faucets you should review the pros and cons.
Other items to consider is letting shower hoses hang down in between uses and flushing outlets between uses.
At the very end of the system, but first of mind is the patient. The patient should be front and center in the decision-making processes related to legionella risk mitigation. Remember that approximately one in ten who contract Legionnaires' will die. Survivors will also endure long term effects.
In light of everything discussed above, the means to treat water on an ongoing basis as well as in the case of a corrective measure for a discovered presence of legionella deserves some special attention.
Toward that end, we will review in the following sections four primary types of water treatment solutions, also mentioning some others, which can be considered in a water system design and as part of a full water management program.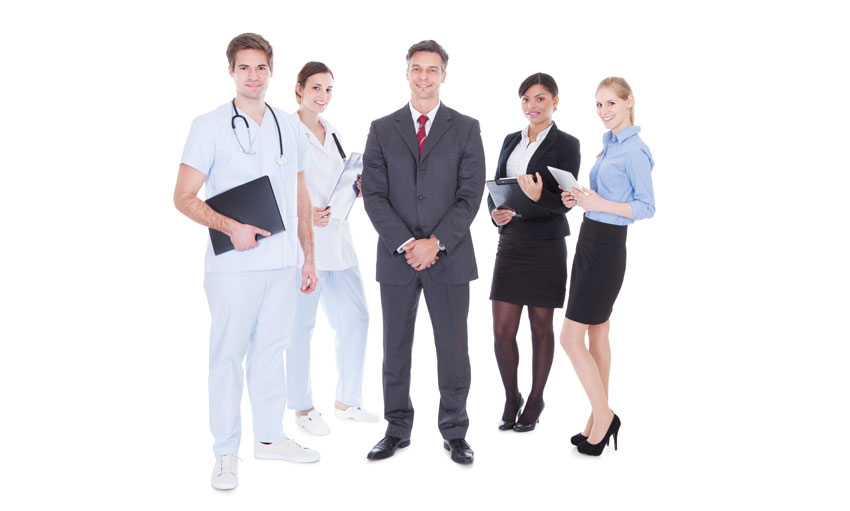 The key to a successful water management program under ASHRAE 188 is the formation of a dedicated team of the right people to be involved in carrying it out.
Originally published in Architectural Record
Originally published in December 2017
Notice