The Rise of Ceramics in Today's Post-Pandemic Society
With nano-treatments enhancing hygiene and digital advances supporting replications of virtually any material, ceramics are having their day
Sponsored by Tile of Spain
Learning Objectives:
Identify the main benefits of ceramic tiles including longevity, durability, sustainability, ease of maintenance, hygiene, beauty, and aesthetics.
Review the latest advances in ceramic tiles including digital printing technology producing authentic replicas of other materials, and the application of ceramics for easy-to-clean, hygienic counters and outdoor pavers.
Identify noteworthy ceramic trends in colors and styles, including more biophilic design-oriented color palettes.
Gain insights into value-added catalysts and nano-treatments improving the health and safety of ceramics.
Appreciate ceramics as an integral aspect of a building's operational system and the benefits of considering the material early in a project's design phase.
Credits:
This course can be self-reported to the AIBC, as per their CE Guidelines.
This course is approved as a Structured Course
This course can be self-reported to the AANB, as per their CE Guidelines
Approved for structured learning
Approved for Core Learning
This course can be self-reported to the NLAA
Course may qualify for Learning Hours with NWTAA
Course eligible for OAA Learning Hours
This course is approved as a core course
This course can be self-reported for Learning Units to the Architectural Institute of British Columbia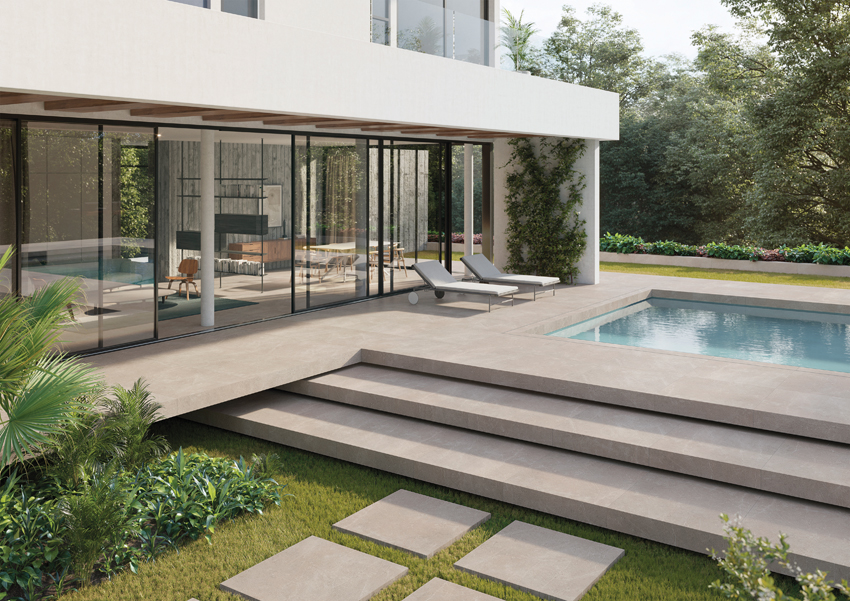 Photo courtesy of Tile of Spain
In addition to bathroom tiles, kitchen backsplashes, and indoor flooring applications, ceramics are gaining popularity as outdoor pavers and counters.
Durable, long-lasting, hygienic, and easy to maintain, ceramic has traditionally occupied a solid place in the cladding and flooring markets. But with the steady progression of digital inkjet printing allowing the realistic reproduction of just about any material, technologies supporting environmental and budget optimization in tandem, ceramics have been propelled to a prominent market position in recent years.
In 2020, San Francisco-based Grandview Research acknowledged ceramic tiles as dominating the North American building project market with 50.7 percent of the market share at a value of $20.36 billion and a projected compound annual growth rate of 5.3 percent until 2028.
"Ceramic tile lives in that coveted family of architectural materials that is versatile, high-performing, and extremely beautiful all at once. It's no wonder that ceramic tiles have been a staple and eye-catching building material since the beginning of time, and today, more than 2.75 billion square feet of ceramic is used in construction in the U.S. each year," reports Architizer in its "Architect's Guide to Ceramic Flooring."
"Traditional ceramic tile will stand the test of time, so we always specify it in spaces with the confidence that it will look great for years to come," adds Kelly Eyink, senior interior designer, M+A Architects, Columbus, Ohio.
Spanish architect Tomás Alonso, who runs his own studio in London, points out that designers and architects are always looking to strike a balance between function and aesthetics with building materials. He sees ceramics as filling this need with its performance qualities and as a creative medium that can be manipulated in countless ways to achieve different effects within a space.
"Durable, flexible, easy to clean, and germ free—which is very important today—ceramic tiles can be used to achieve many different kinds of moods and atmospheres, which is important when creating a space," he says. "Tiles are tactile and can be used in volumes, and three-dimensionally, for a deeper texture. With colors and glazes, there is a huge spectrum of design possibilities."
Essentially, ceramics can layer in a strong visual way while keeping things functional and pragmatic.
Expanding beyond its traditional niche as backsplashes, bathroom tiles, and interior flooring, ceramics are gaining popularity in new segments as countertop slabs and as slip-resistant 2cm exterior pavers.
"Gauged (extra-large) porcelain tile panels and slabs are increasingly being selected by designers and specifiers for both commercial and high-end residential projects," National Tile Contractors Association Executive Director Bart Bettiga recently told Tile magazine. "Often, they are selected where high performance is desired. The advanced manufacturing processes allow for the slabs to be installed with minimal grout widths, the ability to match and bookmark patterns, and with proper substrate preparation for retrofitting or installing directly over other surface materials."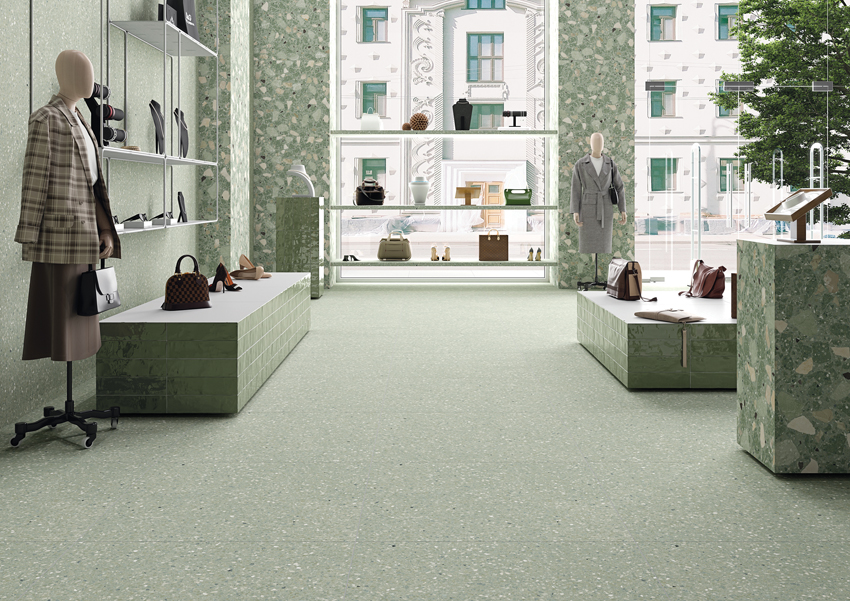 Photo courtesy of Tile of Spain
Ceramic tiles in the flooring, displays, and pedestals create an aesthetic, high-end look for this retail setting.
The Ideal Choice
With multiple sustainability and hygienic characteristics coupled with high-durability and resilience, ceramics are emerging as an ideal building material in today's post-pandemic world.
Made from only natural materials—clay, sand, feldspar, and flint—ceramics are a zero-VOC material with a very long life span, which makes its carbon footprint one of the lowest of all cladding materials when amortized over its useful life span, according to North Vancouver-based ceramic tile specialist Ryan Fasan.
Tile is inorganic, inert, and inherently inhibits the growth of mold and bacteria, which are big selling points today. "The holy grail for products and materials for most at the moment are things that promote a healthy, easy-to-sanitize environment, as well as doing the least possible harm to the environment," explains Fasan.
According to the tile industry informational resource WhyTile.com, ceramics are considered to have the lowest carbon footprint of any flooring material in North America, the lowest global warming potential, and the lowest fossil fuel resource depletion.
As a hypoallergenic material with no organic food source, ceramic tile does not retain dirt, fungi, or bacteria. The tiles can be cleaned easily with steam and water, and are scratch- and stain-resistant.
As explained in the primer "Kerapolis," prepared by the Castellón (Spain) Chamber of Commerce and the Spanish Association of Wall and Floor Tile Manufacturers, "ceramics are inert and immutable once fired in the kiln marrying silicates, minerals, and clays, fusing them into a new, homogeneous matrix that cannot be affected by either fire or flood."
The white paper also states that ceramics' impermeable nature means that they don't absorb or "off-gas" other chemicals in the space in which they are installed. On April 14, 2010, USGBC's green building certification system LEED issued an addendum for IEQ (Indoor Environmental Quality) Credit 4.3. It states, "Mineral-based finished flooring products such as tile, masonry, terrazzo, and cut stone without integral organic-based coatings and sealants qualify for credit without any IAQ testing requirements," acknowledging the fact that ceramics are effectively a net-zero contributor to indoor air pollution. Consequently, when paired with epoxy grouts, which is done in healthcare and culinary facilities, ceramic material is sanitary; the assembly's impervious surface allows it to be properly sterilized.
The long-lasting, durable, low-maintenance, and hygienic qualities of ceramics are appealing in and of themselves. The combination of these advantages with advanced digital techniques to accurately replicate any kind of material and style has really driven market demand for ceramics.
When digital technologies were first introduced, they were only successful in replicating the basic visuals of a material. Progressing from four to six color bars expanded the color range of these printers; today, progressive factories employ two to four additional bars of printheads to deliver effects like carving textures, luster effects, and even metallics. Current capabilities have advanced to the point where ceramics can duplicate not only the look─but even the tactile feel of natural stone, terracotta, cement, marble, wood, and more.
"Key technologies are allowing us to create beautifully realistic and raw, true-form materials," relates Fasan. "Surface texture and finish combined with color allow us to do this in incredible ways."
Digital printing processes can produce realistic color, detail, and veining capable of creating each ceramic tile with a unique look. The result is a product which is virtually indistinguishable from natural stone, for example. Consequently, this is lending a great competitive advantage over other materials.
"Large format tile is conducive to achieving the appearance of man-made materials without the weight and expense of dimensional stone or poured concrete," states Andrea Waldrop RID, IIDA, President, waldrop+nichols studio, Dallas, Texas.
"Aesthetically, we are particularly drawn to products that recreate the look of natural stones such as Carrara or Calacatta marble," she adds. "Both options provide a distinctive look for hospitality interiors, especially the guest bathroom."
The advancement of digital technologies is also enabling the recreation of in situ vintage ceramics where the glaze appears as though it's wearing away while delivering the performance characteristics of a brand new modern tile. In addition, digitally-deposited adhesives can fix particles of frit to recreate the worn classic glaze, if desired.
"I just love how ceramics are being reborn in the digital age with a reincorporation of our traditional glazes using our digitally applied inks to create something that is very relatable and historical yet new at the same time," reflects Fasan.
Interest in terrazzo has increased significantly and is being further propelled by the industry's ability to make ceramics appear as terrazzo.
"While spectacular, real terrazzo is known for being expensive and the installation process is time- and labor-intensive. Now we have the ability to print on tile in a realistic way, achieving the look of real marble or soapstone — but with a nonporous surface that's invulnerable to staining and chipping," says Eyink.
She adds that ceramics are an ideal alternative to any naturally-occurring materials, lending both cost and project timeline efficiency while not sacrificing aesthetics.
Part of this technological shift has enabled moving away from printing the colors and patterns on the surface to setting them deeper within the material so that they're ingrained within the ceramic tile. Both enamels and solids can be applied simultaneously, and features such as metallic, shine, or anti-slip effects can be included in the same, one-step application. This includes graphics and original art.
Of note, Michael Gwin, principal, AIA, LEED AP, Rothschild Doyno Collaborative, Pittsburgh, is seeing a lot of interest in incorporating original artwork and patterns into tiles. "This integrates local and unique craft, making the design solution more meaningful and reflective of the community's character. This is transforming a commodity product into a custom-crafted design solution.
Gwin is also seeing an increase in surface textures, larger graphic compositions on tiles, and 3-D printing thanks to these technological advancements.
With these digital capabilities, owners and architects are afforded the opportunity of selecting multiple "materials" for a space, and despite the varied visual appearance, with everything being ceramic, there is one installation, maintenance, and performance profile to be concerned with for the lifetime of the building. A room can transition from brick to marble to ceramic to wood seamlessly and yet remain 100 percent ceramic.
The design professional is liberated in designing the structure and substrate for one surface finish. For the builder or developer, it means budget and scheduling optimization as well as streamlining the bid process with one to two finish trades instead of multiples. The owner realizes the quality of life benefits of a single performance, maintenance, and replacement regimen for their entire space.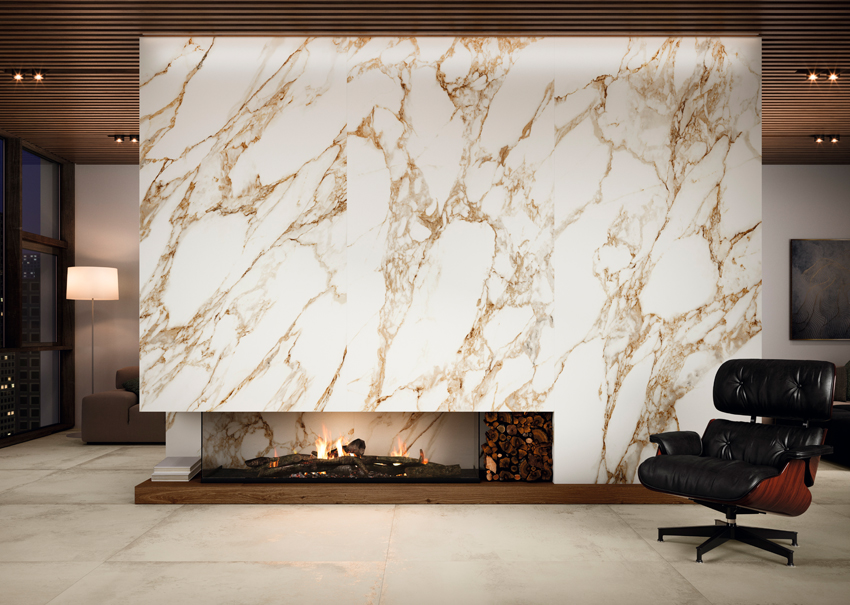 Photo courtesy of Tile of Spain
Replicating the natural veining in marble, digital printing and large format manufacturing produced this beautiful ceramic fireplace wall.
Originally published in Architectural Record
Originally published in November 2021
Notice