An Ecological Basis for Selecting Ceramic Tile
Evaluating ceramic tile for use in green building projects
This course is no longer active
Sponsored by Tile of Spain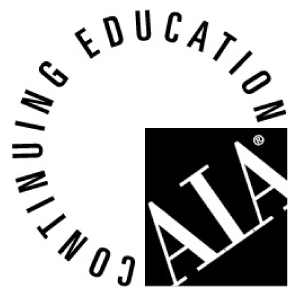 Continuing Education
Learning Objectives - After this course, you should be able to:
List the general environmental benefits of ceramic tile based on its technical performance.
Review the requirements in green building standards and describe how ceramic tile contributes to those needs.
Identify technical advances and innovations in the ceramic tile industry and ways to reduce consumption using ceramic tile.
Discuss ways to reduce resource consumption, chemical emissions including VOC s, and cleaning and maintenance needs based on the properties of tile.
Describe the modern development of ceramic tile in terms of building performance and construction benefits.
Credits:
Definitions of sustainable design and green building are hardly stagnant. Every year, as the architectural profession and industrial leaders learn more about building performance, environmental challenges, and the effects of our choices on people and the planet, we add to the body of knowledge on sustainability. In this way, our standards and definitions change accordingly, hopefully getting more "ecological."
While green building tends toward many novel solutions—building integrated photovoltaics (PV), for example—the recent evolution of green thinking is playing into the hands of architects who favor time-tested and even traditional building methods. This includes niche products—rammed-earth and straw bale construction leap to mind—but also classic materials and systems including natural ventilation, brick masonry, and ceramic tile. Even the traditional manufacturing centers, such as the tile-making operations clustered in Castellón near Valencia, Spain, showcase long-established methods for more efficient construction material production.
Yet there are other changes in green building that are shifting attention to long-standing construction methods and materials. The emphasis on a more comprehensive approach to the evaluation of materials, including life-cycle analysis (LCA), is just one trend, but perhaps the most significant. Related to this is a growing language among practitioners in understanding material durability and flexibility, also called functional resilience or simply resilience. A second is the emphasis on indoor environmental quality (IEQ), which tends to favor nontoxic and inert building products, which emit fewer volatile organic compounds (VOCs), as well as finishes that physically comfort or safeguard occupants. In addition, interest in the better ways to address ongoing repair and maintenance in the use phase of buildings, when most of the energy and environmental impact is felt, is a contributing factor to these revived approaches.
Interest in promulgating better standards and codes for green building is also helping expand the use of long-established and time-honored construction techniques.
One of the materials of particular focus today is ceramic tile, which is seeing a surge in green applications according to trade groups such as Tile of Spain. With surviving examples of its use in construction dating to column claddings in ancient Mesopotamia as early as 900 B.C., ceramic tile is certainly a deeply established, proven construction approach. New findings from the last decade or two, however, have added modern evidence of its vital benefits for green building.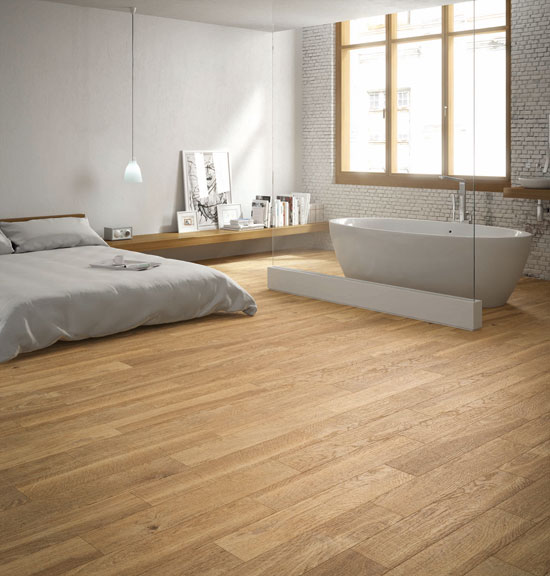 Modern ceramics easily create the look of wood in areas where natural woods might not fair the best, such as wet environments like bathrooms or kitchens.
Photo courtesy of Tile of Spain
Originally published in Architectural Record
Notice