Wood in Architecture: Education Design
A framework for the practice and process of using wood materials in creating exceptional learning environments
Sponsored by Think Wood
Learning Objectives:
Discuss how specs were developed and reasons why wood materials were used in the highlighted education building designs in terms of sustainability, energy efficiency, cost, aesthetics, and performance.
Describe ways in which wood can be used to create a sustainable learning environment that positively impacts the environment, maximizes occupant comfort and learning opportunities, and reduces long-term costs.
Examine the specific design/engineering processes, including detailing processes, incorporated into the featured wood construction case studies that ensure a safe and high-performance learning environment.
Identify challenges and solutions the design team and/or engineer encountered during the various phases of design and construction, making note of how each featured project is performing post-construction.
This course is part of the Wood Structures Academy
This webinar is part of the Wood Structures Academy
As a building material, wood's unique characteristics make it a stand-out for construction, remaining one of the most used materials in the design-build industry. Noted for qualities such as durability and structural performance, as well as its unrivaled elegance to enhance virtually any design, this renewable building resource is not only environmentally friendly but is a versatile choice to deliver high-performing, safe, comfortable spaces across a range of building types. This webinar will focus on the use of wood in education architectural design.
Our esteemed presenters, Tom Chung from Leers Weinzapfel Associates, and Mithun Architecture's JoAnn Wilcox and Rachel Himes, will unpack research findings and a series of case studies of preschool, K-12 school design, and college/university projects, exploring a range of topics to include why wood was selected; its role in supporting sustainability, energy efficiency and occupant comfort; solutions to ensure a safe, healthy environment ideal for learning; how the design and engineering process unfolded; how specs were developed; and how the structure is performing now. At the end of the presentations, attendees should feel comfortable undertaking a similar process themselves.
Tom Chung's presentation will include two projects: Adohi Hall and the Woodland Wonders Nature Preschool. Adohi Hall (completed 2019, LEED Silver) is the first large-scale mass timber residence hall and living learning setting and was the largest cross laminated timber (CLT) building in the United States at its completion in 2019. Leers Weinzapfel led a design collaborative including Modus Studio (Fayetteville, AR), Mackey Mitchell Architects (St. Louis), and OLIN (Philadelphia), in the realization of this new campus gateway project. The 202,027-square-foot Adohi Hall creates a new residential college with emphasis on a creative live-learn environment within a relaxed, informal, tree-lined landscape that re-conceptualizes university housing.
Located at the southern edge of the campus, the project comprises a vibrant new destination with retail dining, classrooms, maker-spaces, performance spaces, communal spaces, administrative offices, and faculty housing, along with a mix of semi-suites and pods totaling 708 beds, intended primarily for sophomore students. A series of interconnected buildings arranged in a sinuous, serpentine configuration set in a forested landscape provides a variety of communal outdoor spaces that offer a sustainable way of re-imagining campus housing in contrast to traditional housing on the campus quad. Other important sustainability initiatives include a significant reduction of the project's carbon footprint by incorporating advanced timber technologies, using cross laminated timber (CLT) panels and glulam beams and columns for the buildings' structure.
The Woodland Wonders Nature Preschool project (under construction) is nestled within the 120-acre tract of the Kreher Preserve and Nature Center in Auburn, Alabama. The new preschool facility promotes wonder and exploration of the natural world and cultivates a sense of stewardship toward our community and environment.
Imagined as an extension of the network of trails throughout the preserve, the preschool is organized along a central "learning trail" spine. Light-filled classroom spaces alternate with a series of open and covered porches that open out into the natural woodlands beyond. The butterfly roof structure and operable windows allow for ample daylight and natural ventilation in appropriate seasons to increase sustainable, lower energy operation of the building. Biophilic design principles reinforce the connection to nature, with exposed local yellow pine throughout, and direct outdoor views in all spaces. Consistent with the mission of the Kreher Nature Preserve, all stormwater will be managed naturally on site. Potable water use is significantly reduced through grey water management, with rainwater collected from the butterfly roofs and used for flushing toilets.
Constructed from timber harvested on-site, the preschool celebrates the potential of wood – aesthetically, economically, and environmentally. The preschool will incorporate cross laminated timber (CLT) produced in nearby Dothan, Alabama with loblolly pine from the site as a demonstration of this new, sustainable building product with great potential for Alabama's forestry-based industries. Exposed natural wood ceilings, walls, floors and open decks make sustainable forestry a tangible part of this outdoor-based school experience. The building will be supported on wood piles, avoiding the use of concrete and further minimizing the embodied carbon of the project.
Mithun Architecture's JoAnn Wilcox, Principal, AIA, LEED AP, and Rachel Himes will discuss research related to how mass timber can be used to help create healthy educational environments, focusing on two separate but connected projects: Building Better Schools Mass-Timber Research Paper, for which Rachel and JoAnn are co-authors, and a case study on the Center for Deaf and Hard of Hearing Youth Academic and Gym building project that is being designed around the kit-of parts developed through the research. Through research and design, these two corollary projects will explore ways to optimize cost-competitive mass timber strategies that improve learning environments by maximizing the physiological and psychological benefits of nature and biophilia in K-12 schools.
Rachel Himes will share research and findings from the R+D project, Building Better Schools, including how an iterative, interdisciplinary approach in evaluating optimization of mass-timber learning environments led to the conceptualization of a mass timber kit-of-parts; and co-author JoAnn Wilcox will share a project case study on the Center for Deaf and Hard of Hearing Youth, where a mass timber academic building, based on the kit-of-parts approach, is proving to be cost neutral with steel construction with the added benefit of biophilic material warmth that helps address major touch points between Deaf experiences and the built environment.
At the end of these dynamic presentations, there will be a brief question and answer session where webinar attendees can pose relevant questions to the presenters.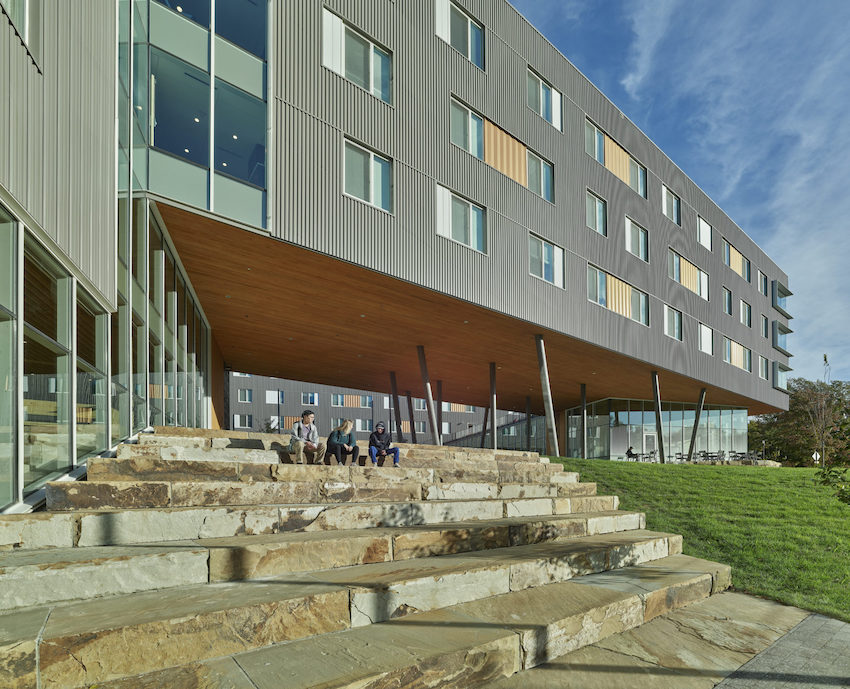 Photo courtesy of Leers Weinzapfel
Adohi Hall is the first large-scale mass timber residence hall and living learning setting and was largest cross laminated timber (CLT) building in the United States at its completion in 2019
Tom S. Chung, FAIA, LEED AP BD+C, Principal, Leers Weinzapfel Associates, is recognized for his creation of a nourishing public realm by pioneering sustainable Mass Timber Architecture, celebrating material and craft, and sharing his knowledge with current and future generation of architects.

Tom is a national leader with over 20 years with Leers Weinzapfel Associates. He has been a primary designer for a number of the firm's most prominent projects, including John W. Olver Design Building at UMass Amherst, Adohi Hall at the University of Arkansas, and Center for Engineering, Innovation and Sciences at Wentworth Institute of Technology. He has extensive experience in the practice and education of Mass Timber Design. He has worked closely with researchers, structural engineers and fabricators to gain mastery over this new technology. As a Korean born, naturalized American who was raised to value education and its opportunities for success, Tom is deeply committed to giving back through teaching and service. Within the office, he is a mentor and advisor to the next generation of young designers.

JoAnn Hindmarsh Wilcox, AIA, NCARB, LEED AP,, is a principal at Mithun. JoAnn's practice on design for life-long learning explores architecture's connection to regenerative social and ecological outcomes; and its power to uplift the next generation. Through robust community engagement and data-driven design, she weaves empathy and advocacy, and works to bring each voice to the table—creating equitable, high-performance environments rooted in social justice and sustainable well-being.

Rachel Himes, is a project designer and Senior Associate at Mithun with a focus on sustainable building design using innovative building technologies to achieve equitable and healthy communities. As a designer with a background in prefabrication, she has presented locally and nationally on platform-based mass timber construction methodologies, advocating for aspirational building design through prefabrication principles and sustainable building materials, like CLT, to reduce carbon footprint.
| | |
| --- | --- |
| | Think Wood provides commercial, multifamily and single-family home design and build resources to architects, developers, and contractors, including education, research, design tools, and innovative project profiles. |
Originally published in Architectural Record
Originally published in October 2022
Notice