Structural Wood Building Systems
Choosing the right material for a sustainable, safe, and resilient project
Sponsored by Think Wood
Learning Objectives:
Compare the key differences between light-frame and mass-timber structural systems, and explain how each can contribute to sustainable and resilient design.
Describe the applications for both light-frame and mass-timber structural systems and the classes of buildings where they are appropriate.
Identify performance benefits for each system, including fire safety, seismic stability, and wind resistance, as well as pertinent codes related to each.
Examine several case studies that feature light-frame and mass-timber projects, all of which incorporate environmentally sensitive design.
Credits:
This course can be self-reported to the AIBC, as per their CE Guidelines.
This course is approved as a Structured Course
This course can be self-reported to the AANB, as per their CE Guidelines
Approved for structured learning
Approved for Core Learning
This course can be self-reported to the NLAA
Course may qualify for Learning Hours with NWTAA
Course eligible for OAA Learning Hours
This course is approved as a core course
This course can be self-reported for Learning Units to the Architectural Institute of British Columbia
This test is no longer available for credit
Introduction to Light-Frame Structural Systems
Whether designing for light-frame or mass-timber structural systems, project teams that opt for wood can benefit from the material's versatility, sustainable supply chain, and benefits to occupants, as well as thermal, acoustic, seismic, and fire performance. Wood can also help to maximize value through gains made in square footage and building height.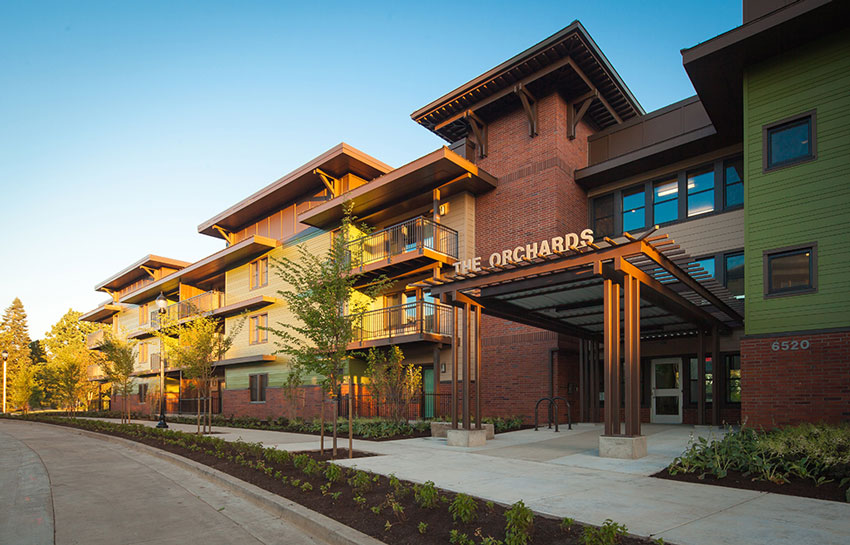 Photo courtesy of CBPhotography & Designs
Orchards at Orenco | Ankrom Moisan Architects
Light-frame wood construction has long been the go-to framing choice for low-rise and, increasingly, midrise residential and commercial buildings. Cost-effectiveness, material-use efficiency, ease of assembly, minimal environmental impact, and the ready availability of labor and materials make light-frame construction the most common type of wood construction in North America. Typically, nail-assembled light-frame construction uses a formulaic combination of dimensional lumber, I-joists, trusses, structural composite lumber, and plywood and oriented strand board (OSB) decking and sheathing for floors, walls, and roof decks.
While mass-timber structures are often built as components off-site and assembled at the project site, light-frame construction typically occurs entirely on-site. Increasingly, however, elements of light-frame buildings are fabricated off-site and assembled on the job. Off-site construction offers greater control over construction conditions and improved safety oversight for all material types, while requiring less skilled labor on-site and contributing to faster construction timelines.
Light-Frame Roofs and Floors
Typical light-frame roof and floor systems consist of repetitive framing members, such as rafters or trusses with wood structural panel decking. Framing components include solid sawn dimension lumber, I-joists, structural composite lumber, and parallel chord and pitched trusses. OSB and plywood are used interchangeably as decking material.
As part of the lateral resisting system, roofs and floors are designed as horizontal diaphragms and may require special considerations for high loads or irregularly shaped structures. Diaphragm design can also affect the structure's load distribution, so in making an assumption as to whether a diaphragm is flexible or rigid, it is important to analyze the lateral deflections.
Roofs shed water and act as part of the thermal building envelope. In many nonresidential applications, low-slope roofs are common and may need special attention to ensure building longevity. How the roof is insulated can often affect the building's thermal performance. Prescriptive paths within the energy codes prefer continuous insulation, but performance paths offer opportunities for other insulation techniques.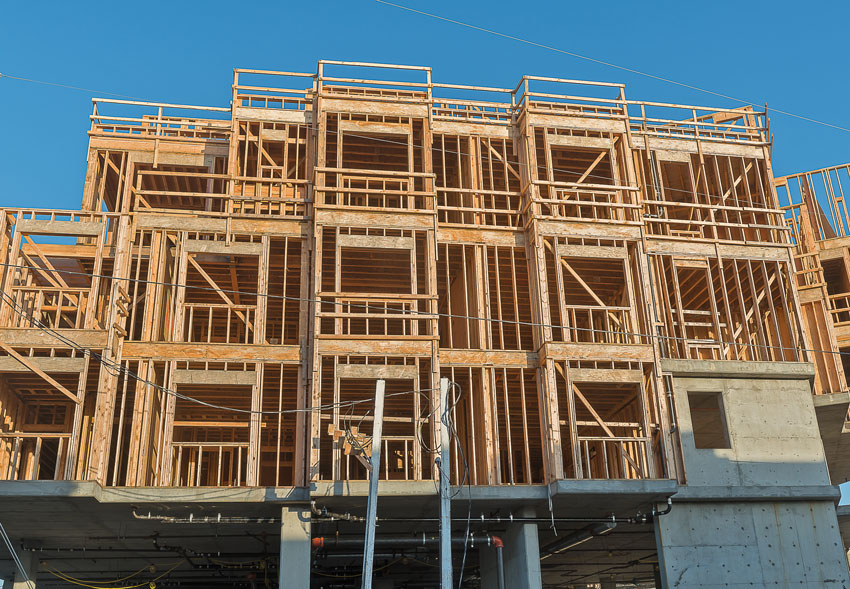 Photo courtesy of Think Wood
Typical light-frame roof and floor systems consist of repetitive framing members such as rafters or trusses with wood structural panel decking.
Light-Frame Walls
Typical light-frame walls consist of studs spaced at 12 to 24 inches on center (o.c.) with a double top plate and single bottom plate, and they are often sheathed with wood structural panels. Construction depends on the amount of load bearing on the wall, its height, and whether it is part of the lateral force-resisting system.
Walls higher than 12 feet are often designed as tall walls and may require additional engineering.
Shear walls refer to wall components that participate in the lateral resistance of the structure and can be designed a number of ways; methods include segmented, perforated, and force transfer around openings.
Approaches to Light-Frame Construction
There are several approaches to light-frame wood construction, and each is suited for a specific application, most often in the Type III (four to five stories) and Type V (two to three stories) categories. These approaches are distinguished by the wall-to-floor connection and include platform, balloon, semi-balloon, plank and beam, and truss framed.
Platform
In platform construction, the floors are framed separately, and the walls of the story beneath each new level bear the load. The rim board, which is typically made of structural composite lumber, transfers lateral and vertical loads. Framing members are typically spaced between 12 and 24 inches o.c. Due to its relative ease of building, platform framing is the most common form of light-frame construction for Type VA residential buildings.
Balloon
In balloon framing, vertical structural members extend from the foundation to the rafters, and framing members are spaced between 12 and 24 inches o.c. The wall extends two or more stories, and the floor is hung off a ledger connected to the wall. Balloon framing is often used in industrial and retail applications where a parapet is needed.
Semi-Balloon
Often used for multistory projects due to its fire-management abilities, semi-balloon framing sees floors suspended from the double top plates of the walls below them, with the walls stacked directly on the wall below. This approach limits shrinkage throughout the building, although it requires more hardware than other framing types. Framing members are typically spaced between 12 and 24 inches o.c. Semi-balloon framing is an alternative to platform framing for Type VA and Type IIIA buildings.
Plank and Beam
Historically used in heavy-timber buildings, plank-and-beam construction has since been adapted for light-frame projects. It uses larger wood members and spaces them more widely than does platform or balloon construction. This type of framing sees 2-inch subfloors or roofs on post-or pier-supported beams spaced up to 8 feet. Additional framing allows for interior and exterior cladding and finishes.
Truss Framed
Truss-framed light-frame construction employs engineered wood systems made up of roof and floor trusses as well as wall studs for additional strength. These assemblies are fabricated off-site, offering the additional advantages previously discussed. Truss-framed systems also boast greater resilience, making them particularly well-suited for areas that experience high winds. Spacing of 24 inches between frames is possible. A lack of headers, floor beams, and interior columns contributes to material and cost savings, maximizing value with gains in square footage and height.
Originally published in December 2018
Notice