Designing and Building for High-Density
Timber Case Studies that Accommodate a Shifting Nation
Sponsored by Think Wood
Learning Objectives:
Identify opportunities to increase housing density through trends like prefabricated construction, urban infills/overbuilds, and adaptive reuse.
Recognize the carbon benefits of engineered wood products.
Explain how designing and building with engineered wood products can impact speed of construction.
Summarize updates to the 2021 IBC that allow for taller wood construction.
This course is part of the Wood Structures Academy
This webinar is part of the Wood Structures Academy
The 2020 U.S. Census reported that less than 50% of the nation's 3,100+ counties experienced an increase in population, while 81% of metropolitan areas grew over the past 10 years. The latest statistics paint a picture of increasing urbanization across the country. Today, the U.S. has a shortage of 7.2 million affordable housing units and high density, multi-family housing is in record demand. To address this crisis and become less automobile- and carbon-dependent, the country must densify its metro areas so more people can afford to live in the communities where they work.
Increasingly, the AEC industry is responding to the housing crisis with innovations in timber construction. This webinar will explore timber case studies that have achieved fast, efficient, and low-carbon construction of affordable multi-family housing, increasing density through trends like prefab, urban infills and overbuilds, and adaptive reuse of existing buildings. The presentation will be followed by a moderated discussion.
Jeff Spiritos, of Spiritos Properties will present 2 Hamilton, a mixed use building in New Rochelle, New York, that leverages the structural capacity and assembly efficiencies of cross-laminated timber (CLT) panels and glue-laminated timber frames in constructing a vertical addition to the existing steel structure and masonry facade. Spiritos will also present Acme Lofts in New Haven, Connecticut, an overbuild on top of an existing 3.5-story, unreinforced masonry structure, which was made possible due to timber's light weight.
Jason Korb, of Korb Architects and Associates will present the Ascent, a 25-story residential building in downtown Milwaukee that is expected to be the tallest mass-timber tower in the world when it is completed in 2022. The presentation will be followed by a moderated discussion.
The presentations will be followed by a moderated discussion focused on how these innovative projects address several key issues.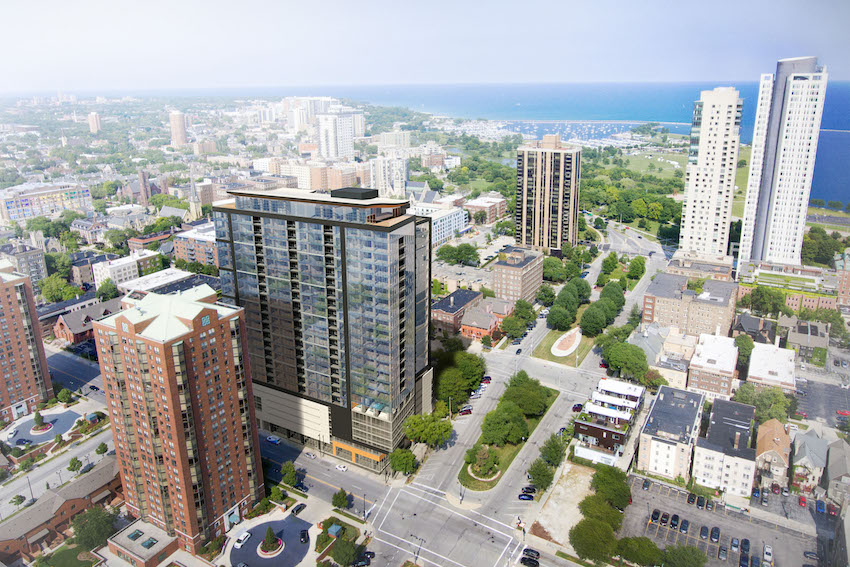 Photo courtesy of Korb Architecture
As principal architect and owner of Korb + Associates, Jason Korb and his firm are garnering world-wide attention for their ground breaking work in mass timber construction.

At the forefront of architectural and technical advances, Jason drives innovation in the Milwaukee area through the eyes of his clients. Predominantly these projects consist of multi-family, mixed use, and educational buildings but in addition, he specializes and brings on projects involving historical renovations. Most recently, Jason and the firm's next steps towards innovation and sustainability incorporate the use of mass timber to be the primary structural element. In order to grasp the capabilities of timber's benefits in larger structures, Jason recently traveled to Dubai to speak on the matter. He is currently licensed in 22 states.

Having two tall timber projects underway, Korb and Associates is challenging the conformity to steel and concrete structures that dominate the industry.




Spiritos Properties, LLC is a mass timber commercial and residential development and project management organization. Founded in January 2004 by Jeff Spiritos, the company participates in ground- up development projects in New York and the Northeast, both as principal and as a project management consultant.

Since 2015, the company has been solely dedicated to helping spur adoption of mass timber use and to building with mass timber structural systems. The firm was the developer partner for the East Coast winner of the US Tall Wood Building Competition in 2015 and 2016 for 475 West 18th, a 10-story condominium project in NYC. The project did not get built due to an inability to obtain approval from the NYC Fire Department, but the project established the viability of building mass timber buildings on the East Coast.

| | |
| --- | --- |
| | Think Wood provides commercial, multifamily and single-family home design and build resources to architects, developers, and contractors, including education, research, design tools, and innovative project profiles. |

Originally published in October 2021

Notice