Building Materials Matter
Life cycle view supports informed choices, contributes to sustainable design
Sponsored by Think Wood
Towards a Sustainable Future
Technical innovations and the availability of next-generation lumber and mass timber systems are at the heart of an emerging movement to reduce carbon footprint and other environmental impacts by considering wood for larger, taller structures.
Tall buildings are a vital part of urban settings as they make efficient use of limited space. In this regard, they promote urban density, which is thought to have beneficial sustainability aspects. Most notably, compact cities promote sustainable transportation methods such as walking.
Examples of mass timber buildings include (among others) a 10-story cross laminated timber (CLT) apartment in Australia, and eight- and nine-story CLT apartments in the United Kingdom Closer to home is the Wood Innovation & Design Centre (WIDC), a six-story mass timber project (plus mezzanine and penthouse) in British Columbia. For the moment, the WIDC is the tallest contemporary wood building in North America.
A recent LCA study showed that the environmental impact of the WIDC, compared to a similar baseline concrete building, was 10 percent less than the concrete building in six of seven categories. This LCA also indicated that a multi-story office building constructed with mass timber systems and laminated veneer lumber (LVL) curtain walls has an overall lower environmental impact than a similar building constructed of reinforced concrete structural systems with aluminum curtain wall structures.26
Recognizing the need to reduce their own carbon footprints, the steel and concrete industries are working to improve the efficiency of manufacturing and construction processes as well as the environmental and structural properties of their products.
According to the World Steel Association, for example, the steel industry has reduced its energy consumption per ton of steel produced by 50 percent over the last 40 years. However, Edwin Basson, director general of the association, says energy represents one of the key challenges for today's steel industry and is directly related to its environmental impact.
In terms of concrete, new technologies have led to reductions in direct CO2 emissions (e.g., through the use of alternative fuels) as well as indirect emissions from electricity use. Highlighting this achievement, companies in the global cement database increased cement production by 53 percent between 1990 and 2006, while absolute net emissions increased by only 35 percent.27 According to the Cement Sustainability Initiative, this trend cannot continue with existing technologies. Rather, a 'break-through technology' is needed for significant further improvement.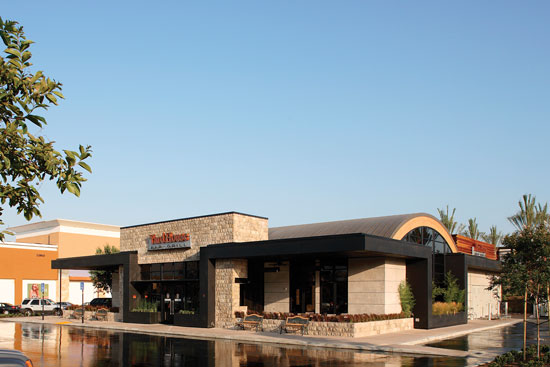 Photo courtesy of MBH Architects, photo Larry A. Falke
The U.S. commercial building stock is relatively old, with about half of all buildings constructed before 1980.25 As these buildings are eventually replaced, designers have an opportunity to reduce environmental impact by using wood both for structure and finishes. Designed by MBH Architects, the 6,500 square feet Yard House Bar and Grill in Chino Hills, California, includes a variety of wood products, including dimension lumber framing, solid Douglas fir truss posts, Douglas fir glulam beams, wood I-joists, and plywood sheathing.
Conclusion
With growing pressure to reduce the environmental impacts of buildings, architects and engineers are looking beyond operational performance to the role of structural materials.
Reasons to use wood to achieve a project's sustainability goals are in many ways intuitive. Wood grows naturally, is renewable, and has advantages from a carbon footprint perspective. It is also durable, adaptable, and can have positive impacts on a building's occupants. However, understanding a material's impacts at every stage of its life is essential—and LCA studies consistently show that wood has a favorable environmental profile compared to functionally equivalent products made from other materials.
It is worth reiterating that no one material is the best choice for every application. There are trade-offs associated with each, and each has benefits that could outweigh the others based on a project's design objectives.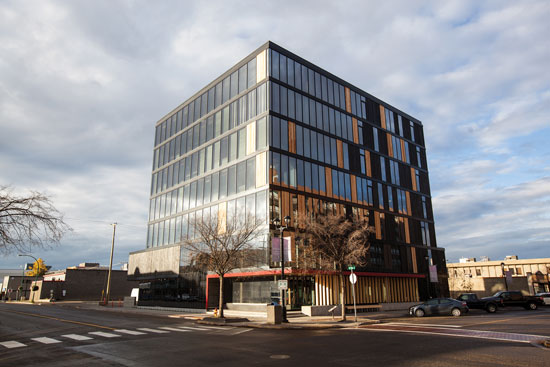 Photo courtesy of Michael Green Architecture, courtesy of naturallywood.com
Completed in 2014, the 96-foot-tall Wood Innovation & Design Centre in British Columbia is made from an innovative combination of glulam post-and-beam construction and built-up CLT floor panels. It includes six stories plus a penthouse and mezzanine.
Endnotes
Architecture 2030, http://architecture2030.org/buildings_problem_why/
Wooden building products in comparative LCA: A literature review – International Journal of Life Cycle Assessment, 12(7): 470-479, F. Werner, K. Richter, 2007
A Synthesis of Research on Wood Products and Greenhouse Gas Impacts, FPInnovations, 2010
http://www.athenasmi.org/our-software-data/impact-estimator/; http://woodworks.org/design-tools/online-calculators/
A Synthesis of Research on Wood Products and Greenhouse Gas Impacts, Sarthre, R. and J. O'Connor, 2010, FPInnovations
Environmental Life Cycle Inventory of Portland Cement Concrete, Portland Cement Association
The Cement Industry is the Most Energy Intensive of all Manufacturing Industries, Today In Energy, US Energy Information Administration
Design for Deconstruction, Chartwell School
FPInnovations, calculated using the Athena Impact Estimator for Buildings
A Synthesis of Research on Wood Products and Greenhouse Gas Impacts, Sarthre, R. and J. O'Connor, 2010, FPInnovations
International Council on Mining & Metals, via www.miningfacts.org
Utilization of Harvested Wood by the North American Forest Products Industry, 2012, Dovetail Partners Inc.
Guide for Designing Energy-Efficient Building Enclosures for Wood-Frame Multi-Unit Residential Buildings in Marine to Cold Climates in North America, 2013, FPInnovations
Wood and Human Health, Issue 1, FPInnovations; Wood as a Restorative Material in Healthcare Environments, FPInnovations, 2015
Calculated by Dovetail Partners using data from the US Forest Service and Natural Resources Canada
American Forests: A History of Resiliency and Recovery, Douglas W. McCleary, 1997, Forest History Society
The State of America's Forests, 2007, Society of American Foresters; State of the World's Forests, 2007, United Nations Food and Agriculture Organization
USDA Forest Service, Forests on the Edge project, http://www.fs.fed.us/projects/four-threats/#space
CEUs related to the fire protection of wood buildings, wind-resistant design and seismic design can be found at www.rethinkwood.com/CEU.
Survey on Actual Service Lives for North American Buildings, FPInnovations, Proceedings, 10th International Conference on Durability of Building Materials and Components
Understanding Steel Recovery and Recycling Rates and Limitations to Recycling, Dovetail Partners Inc., 2015
Based on data reported by the US Geological Survey (2014) and Canadian Steel Producers Association (2015)
Commercial Buildings Energy Consumption Survey
Wood Innovation and Design Centre Whole Building Life Cycle Assessment, FPInnovations
World Business Council for Sustainable Development, Cement Sustainability Initiative
| | |
| --- | --- |
| | Think Wood is a leading education provider on the advantages of using softwood lumber in commercial, community and multifamily building applications. We introduce innovators in the field to our community of architects, engineers, designers and developers. For support or resources, contact us at info@ThinkWood.com. |
Originally published in Architectural Record
Notice