Light and Truth: Greener Interiors with Glass Partitions
Innovative applications for modular glass partitions, room dividers and doors provide effective pathways to modern interior trends.
This course is no longer active
Sponsored by Space Plus, a Division of The Sliding Door Co.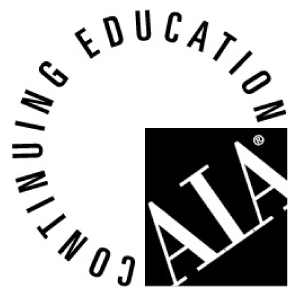 Continuing Education
Learning Objectives - After this course, you should be able to:
Discuss the general applications of glass interior partitions and glass sliding doors in contemporary architecture in functional terms.
Describe trends in sustainability and universal design that affect the selection of glass interior partitions and glass sliding doors.
List methods for specifying glass interior partitions and glass sliding doors for healthy building occupants and increased daylight and views.
Apply trends in green building, including new green codes and standards for interior furnishings and finishes, to the specification of glass interior partitions and sliding doors.
Credits:
The popularity of glass interior partitions, made of aluminum or other metal frames and glass panels, is borne out by their increasing use and availability – albeit in low-quality versions – at do-it-yourself stores. The higher-end, original sliding doors and movable framed-glass walls are familiar to all architects, seen in offices and other settings since the 1960s, when progressive organizations like the ad agency Sterling Cooper depicted in Mad Men used the decidedly modern, industrialized wall systems.
To quote the ad refrain from back in the day, they've come a long way, baby. Today, the glass partitions are seen not only in commercial office interiors but also in multi-unit residential projects such as condominiums and rental lofts, as well as hotel rooms and even along corridors in schoolrooms and laboratories. "The fact is, the products are extremely diverse, and can be used in virtually all types of settings," says Todd Schwartz, commercial sales manager at The Sliding Door Company.
The main reasons? Glass walls and glass sliding doors are seen as space-savers, maximizing the value of real estate. They can also improve the flexibility of open spaces, another significant benefit.
Even seemingly unrelated trends such as green building, flexible work styles and recent economic challenges have led to more use of glass sliding partitions in workplace design. "Green building favors modular, flexible interior systems as well as more exposure to windows and views," says Andrew Franz, AIA, an architect and principal of Andrew Franz Architect PLLC, New York City. "In office buildings, many companies that are growing or shifting focus don't necessarily want to throw everything out every time they move or restack the workplace. They want to take their investments with them."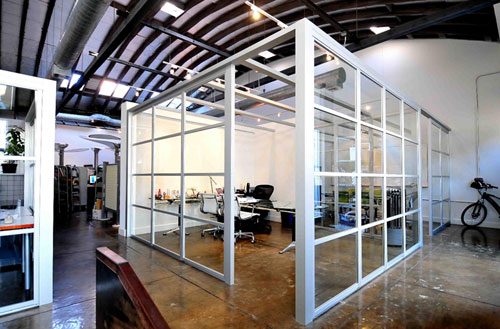 Modular interior partition systems can be used without doors to demarcate space and create privacy.
Notice