Maximizing Value with Interior Glass Door Solutions
Interior glass walls and doors gain traction in workplaces and multiunit studios and lofts
Sponsored by The Sliding Door Company
Learning Objectives:
Discuss the challenges created by open-plan designs and the need for a variety of workspaces, including private areas with good acoustics and visual privacy.
Review design strategies and case studies illustrating how interior glass walls and doors create aesthetic, daylit areas for private, focused work.
Highlight the health and wellness, productivity, and employee satisfaction benefits of daylighting and how glass systems promote this.
Describe noted co-working trends and the popularity of interior glass walls and partitions that offer a balance between open collaborative spaces and locked offices where needed.
Identify growing interest in glass walls and doors in studios and lofts, and how these systems make these units more rentable.
Credits:
This course can be self-reported to the AIBC, as per their CE Guidelines.
This course is approved as a Structured Course
This course can be self-reported to the AANB, as per their CE Guidelines
Approved for structured learning
Approved for Core Learning
This course can be self-reported to the NLAA
Course may qualify for Learning Hours with NWTAA
Course eligible for OAA Learning Hours
This course is approved as a core course
This course can be self-reported for Learning Units to the Architectural Institute of British Columbia
This test is no longer available for credit
Driven by a need for distraction-free areas, great daylighting and acoustics, and easily demountable and reconfigurable floor-plate solutions, interior glass partition designs are gaining traction in today's workplace settings. And in the multiunit/multifamily market, sliding glass doors are enabling owners to create additional spaces inside lofts and studios while also preserving daylighting within the living unit.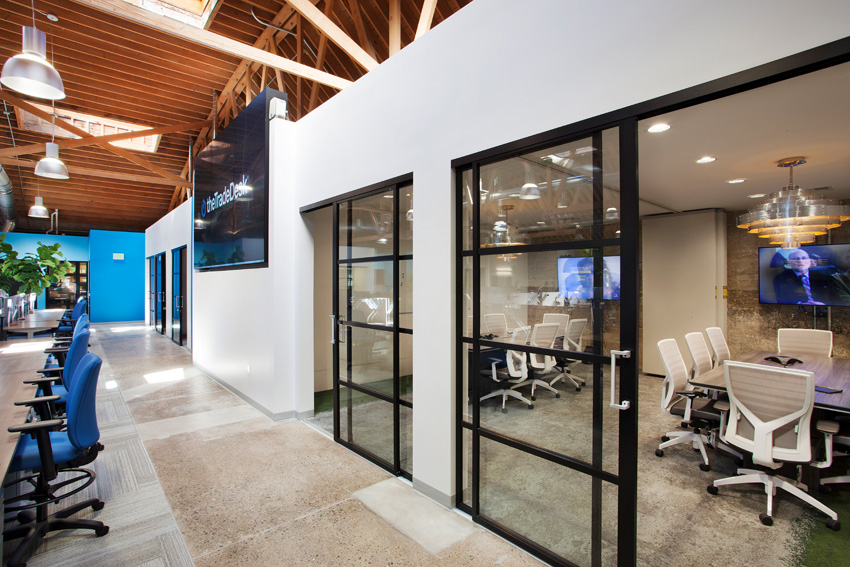 All photos courtesy of The Sliding Door Company
Glass partitions create private, enclosed workspaces while promoting daylighting, transparency, and flow.
Enhanced product features such as non-90-degree-angle glass partitions, track-free designs, and ADA-compliant hardware are making these solutions even more attractive to designers and owners.
Before delving into the specifics of glass door and wall solutions, it is helpful to understand the evolution of workplace designs trends and how the industry arrived at its current set of operational needs.
The Swinging Pendulum
As the world heralded in a new millennium, disappearing cubicles began making way for large open spaces aimed at optimizing corporate collaboration and teamwork. The idea was that physical proximity with employees all in one open space would promote a higher level of inspiration and sharing of ideas.
"The trend was to squeeze more people into a space with hopes that as people sit closer to one another, they will wind up speaking more often, collaborating better, and enjoying their shared workspace together," relates Jonathan Wasserstrum, founder and CEO, SquareFoot, New York.
The endeavor was a noble one, but unfortunately, the noise and distractions inherent in these settings seemed to backfire as productivity levels actually decreased.
In fact, a 2017 survey of 700 respondents by enterprise software strategist William Belk found that 58 percent of workers need more private spaces for problem solving, and 54 percent reported that their office environment is "too distracting."
"The biggest complaint we hear is the noise in open environments and the inability to concentrate," confirms Jonathan Glance, AIA, NCARB, partner, vice president, LGA Partners.
Another more comprehensive project by researchers at the University of Sydney who studied the University of California at Berkeley's Post-Occupancy Evaluation database of 42,764 observations collected from 303 office buildings found that enclosed private offices had the overall highest satisfaction rate, whereas open office plans had the lowest.
In discussing this study in a Forbes article, "Why Your Open Office Workspace Doesn't Work," David Burkus, best-selling author and keynote speaker writes, "The desire for more collaboration among employees was shared by all, but those in open office plans may not have found it to be worth all of the stress and distraction from the bombardment of noise."
In a similar vein, eye-opening results emerged from Harvard researchers who studied 150 employees in two Fortune 500 companies for several weeks before and after moving to a new open-plan office. The overall face-to-face time decreased by approximately 70 percent and email use increased by as much as 50 percent. The outcome was that the employees were actually collaborating 4 hours less per day in an environment that was created with the goal of fostering collaboration.
Elegantly spelling out the challenge of open office designs in a Chicago Tribune article titled "The Open Office Plan is a Disaster," office design expert Jeff Pochepan writes, "The office—once a place where your cubicle seemed semi-shielded and dedicated to your needs, a place where you could even hang a 'Do Not Disturb' sign or at least signal that being at your desk meant head-down work mode—has morphed into something resembling a buffet at dinner time, where first dibs determine whether you will secure a relatively quiet workspace or be resigned to another morning of wearing headphones at the communal work bench to get anything done."
He adds that completely open offices also present a business privacy issue as phone calls, emails, and screens can all be observed, and in the worst case, even sabotaged if one has a highly competitive team.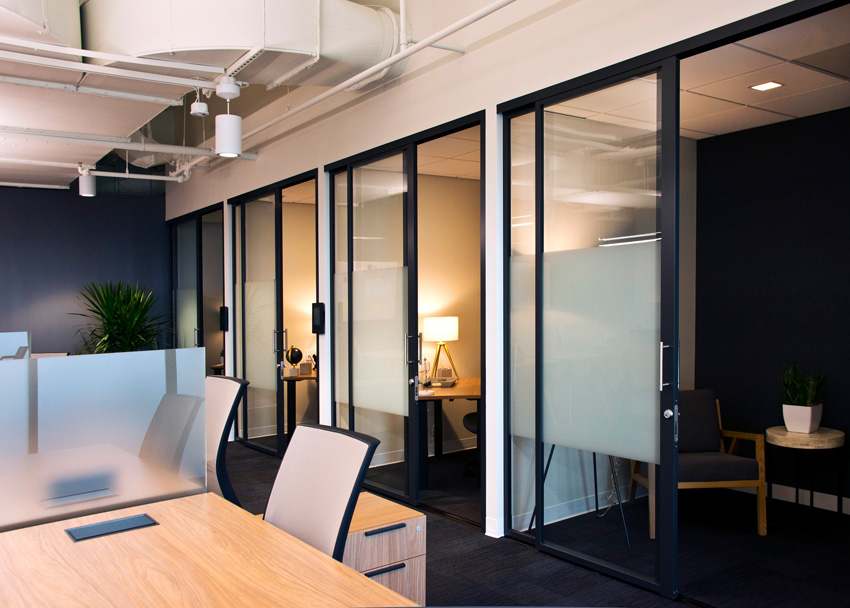 At Serendipity Labs, glass partitions and room dividers help break out the co-working space into a mix of open, collaborative areas and more private zones.
These challenges have sent the pendulum back the other way, with today's workforce seeking a balance of open, shared spaces and quiet, private areas for concentration work. Inherent in these designs—and the current workplace culture—is giving employees the freedom of where to work based upon the task at hand.
"The evolution from the cubicles of the 1970s and 80s through the dark interior spaces of the 90s to the co-working environments of the past decade illustrates an increasing emphasis on providing diverse environments within the workplace," relates Joshua Zinder, AIA, LEED AP, managing partner, JZA+D, Princeton, New Jersey. "The cafe, the lounge, the conference room, the office, even the sofa—in the mobile era, our work moves with us. Variety of environments and amenities is 'king.'"
Echoing a similar sentiment, Jesse James, senior project manager, Stantec, Chicago, says, "Our days are filled with times of energy and collaboration, heads-down reports, meetings, sit-down work, social events to promote community—it all varies hour by hour. The spaces we build need to reflect that and allow employees to choose their environment."
Practically speaking, when a handful of people in an open layout need to discuss something, it can be very distracting for others. Consequently, having options for smaller spaces to gather for impromptu collaboration is ideal, says Beth Ann Christiansen, senior project interior designer, HOK, New York.
"Variety is the spice of life, and so too is variety the key to a successful workspace," adds Brent Zeigler, AIA, IIDA, president, director of design, Dyer Brown, Boston. "A space that supports a mix of heads-down work areas and collaboration spaces will always be the most successful." A current interesting example is DMAC Architecture's new office in Chicago. In gutting the space down to the shell, areas with ceilings shorter than 8 feet were discovered. Embracing these newly
discovered "surprise" areas, the architects captured them as "in-between" spaces, which are now used as private lofts where employees can take private calls, rehearse presentations, or work on designs.
"I love the idea of creating these unprogrammed spaces—unnamed, unassigned, and ready to write their own history by those who occupy them," relates DMAC Architecture Founder and Principal Dwayne MacEwen.
Originally published in Architectural Record
Originally published in January 2020
Notice