American Hardwoods Enhance Healthy, Healing Spaces
Meeting the exacting requirements of aesthetics, sustainability, durability
This course is no longer active
Advertorial course provided by The Hardwood Council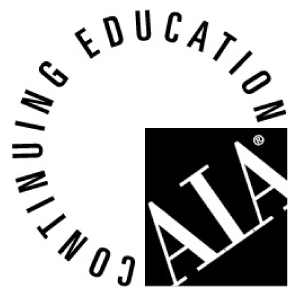 Continuing Education
Learning Objectives - After this course, you should be able to:
Discuss the latest research on the use of natural materials in healing environments.
Identify the performance characteristics and qualities of American hardwoods in healthy spaces.
Evaluate the occupant-centered design considerations in specifying hardwoods.
Analyze considerations for hardwood care and non-toxic cleaning in health care settings.
Credits:
Hardwood floors, cabinets, furniture and trim have brought warmth and beauty to the built environment for centuries. With more than 20 species offering aesthetics, durability and ease of maintenance, American hardwoods are an important component of green, occupant-centered design and architecture. They are specified and used effectively in buildings where sustainability, life-cycle costing and enhancing occupants' health and well-being are design priorities.
Health care settings in particular, from retirement and assisted living facilities to acute care hospitals, are turning to hardwoods to "warm up" their interiors. Thanks to low-volatile organic compound (VOC) wood finishes and non-toxic cleaning products, hardwoods are used in public and patient areas to create a stress-reducing, home-like environment that promotes healing while standing up to the health care sector's rigorous requirements for durability, indoor environmental quality and infection control.
American hardwoods not only meet health care's unique challenges, they also are part of the green building movement gathering steam in commercial, institutional and residential settings. They contribute to project cost-effectiveness and sustainability, environmental quality and user satisfaction-all while bringing a sense of hospitality and visual richness to the built environment.
American Hardwoods Defined
Hardwoods are deciduous trees that have broad leaves, produce a fruit or nut and generally go dormant in the winter. American forests grow hundreds of varieties of hardwood trees that thrive in this country's temperate climates. In fact, the U.S. has the world's most diverse temperate hardwood forests, with more variety in such hardwood species as oak, ash, alder, maple, cherry, hickory and poplar. The most prevalent hardwood species in the U.S. is oak: together, red and white oak represent 52 percent of all hardwood trees growing in the U.S. forests.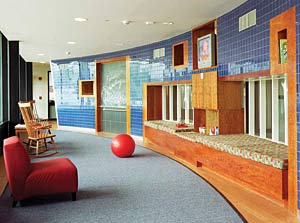 Patrick H. Dollard Discovery Health Center
Harris, N.Y.
Designed by Guenther 5 Architects in New York, the Dollard Discovery Health Center is one of two LEED-certified health care facilities in the United States. Locally harvested cherry was specified throughout the hospital, including this pediatric waiting area.
Photograph © 2006 David S. Allee
As temperate species, American hardwoods have growing seasons that produce the growth rings that result in the varied grain patterns when sawn. In contrast, tropical species' appearance is more uniform and patternless precisely because they do not have distinct growing seasons.
Originally published in Architectural Record.
Notice