Integrated Multifamily Design Concepts
Sponsored by TAMLYN
Learning Objectives:
Examine multifamily housing trends in each project area and how these properties help meet demands.
Describe features that contribute to the sustainability of Mosso Apartments.
Describe two approaches used by the Frost Terrace project to integrate multifamily housing into the surrounding communities and businesses.
Discuss how multifamily projects can support the health and well-being of residents and neighbors.
Credits:
This course can be self-reported to the AIBC, as per their CE Guidelines.
This course is approved as a Structured Course
This course can be self-reported to the AANB, as per their CE Guidelines
Approved for structured learning
Approved for Core Learning
This course can be self-reported to the NLAA
Course may qualify for Learning Hours with NWTAA
Course eligible for OAA Learning Hours
This course is approved as a core course
This course can be self-reported for Learning Units to the Architectural Institute of British Columbia
This webinar is part of the Multifamily-Housing Academy
This webinar will explore design practices, strategies, and materials used to create cohesive multifamily housing projects and will profile three distinctive mixed-use projects:
Frost Terrace, a transit-oriented, 100% affordable family community located in Cambridge, Massachusetts, and a collaboration among Bruner/Cott, Capstone Communities and Hope Real Estate Enterprises.
Mosso Apartments, a mixed-use development in San Francisco's South of Market (SoMa) neighborhood, designed by SmithGroup.
The presenters will discuss the design constraints and challenges along with the opportunities distinctive to the neighborhoods and urban context specific to each project. The presentations will be followed by a moderated discussion in which the panelists will discuss how their projects address a range of issues, from community planning goals, affordability, access to shopping and transportation, open space, sustainability, and health and well-being.
Jason Forney, FAIA, of Bruner/Cott will present on Frost Terrace, a collaborative project to transform and expand an existing run-down 19th-century home into new housing.
Bill Higgins, FAIA and Reynaldo Royo, AIA, NCARB, CDT, Assoc. DBIA, of SmithGroup will present on Mosso Apartments, a mixed-use development aimed at San Francisco's up-and coming tech workers.
The presentations will be followed by a moderated discussion focused on how these innovative custom home projects address several key issues, including:
Neighborhood/Context: How does the design honor the history and character of the neighborhood while enhancing opportunities for residents? How does this project contribute to the goals and needs identified by community planners?
Sustainability: What aspects of sustainability does your project address? (energy efficiency, responsible material sourcing, water conservation and reuse, renewable energy generation, etc.) What regulatory barriers, if any, had to be overcome to implement these strategies?
Health and Well-being: How do both features in the individual units and the project's overall aesthetic, design, and programming promote the health and well-being of both residents and others who live, work, and play in the neighborhood? What concerns relating to COVID-19 does your project anticipate and accommodate?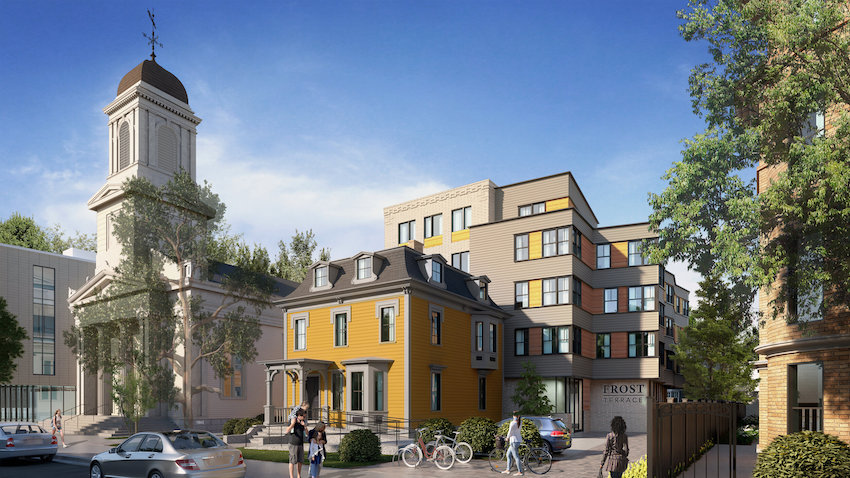 Photo courtesy of Bruner/Cott
Jason Forney, Partner + Principal Jason Forney, FAIA, LEED AP has been at Bruner/Cott since 2002, rising to Principal, and more recently, Partner. A Fellow of the American Institute of Architects, he is committed to the firm's legacy of boldly reimagining historical buildings and equally dedicated to expanding its commitment to contemporary, sustainable architecture.

Jason has led a number of seminal projects. He was Principal in Charge of the AIA COTE Top 10 Award/Living Building-Certified R.W. Kern Center at Hampshire College and design leader on MASS MoCA phases two and three, including Building 6, recognized as a Building of the Year by Architect's Newspaper. His current initiatives include multiple Boston housing projects as well as the renaissance of the city's famed Huntington Theatre.

Architectural Record, Metropolis, and The New York Times and other outlets have published Jason's work. He speaks regularly at the AIA Conference on Architecture and area architecture schools and co-chairs the AIA's Higher Education Subcommittee.

Bill Higgins, FAIA is a highly-regarded expert in the master planning and design of mixed-use and multi-family developments in the United States and Asia. Long before LEED entered the lexicon as an energy standard, Bill was already working on energy-conscious projects at the forefront of the industry and around the world. His design solutions – rich in daylighting, natural ventilation and solar shading solutions, among other innovations – have helped clients reduce energy budgets while also earning award-winning accolades from organizations worldwide.

Reynaldo Royo, AIA, NCARB, CDT, Assoc. DBIA is highly-experience in the planning and building of a wide range of projects, with an expertise in residential developments and high-rise buildings. His work on complex projects across industries has refined his leadership abilities and skill sets across all phases of project delivery, from conceptual design through closeout. An accomplished leader and team builder, he is skilled at shaping projects that address client goals while refining workflow processes to reliably deliver a polished finished product.
| | |
| --- | --- |
| | TAMLYN is a family-owned company with 50 years in the building products industry and has placed a great deal of recent focus on building science, especially moisture management. This direction led to the development of their TamlynWrap® line, Drainable with its 1.5mm bonded filament creating an enhanced WRB, and RainScreen 6.3 (1/4") and 10.1 (3/8"). TamlynWrap® RainScreen is a multi-layer water management system, intended for use over existing WRB or coated sheathing, of cavity spaces that are non-compressible and act as a furring matrix to promote enhanced drainage and drying, paired with improved installation efficiency. |
Originally published in June 2021
Notice