Designing Breathable Interiors: Enhancing Health and Wellness Through Indoor Air Quality
Addressing the impacts of indoor air quality (IAQ) on occupants' well-being and the creative ways in which design can reduce risk.
Sponsored by ROCKFON
Learning Objectives:
Identify specific systems, materials and finishes incorporated into the highlighted projects relative to increasing interior air quality.
Discuss ways in which interior air quality affects the health, safety and well-being of building occupants, as described in the project descriptions presented.
Describe strategies to improve ventilation and filtration in buildings, and how best practices to enhance and manage indoor air quality is an important part of operating a LEED building, particularly within the framework of the COVID-19 pandemic.
Explain how current interior design trends are influenced by the growing need for better interior air quality in a range of project types.
This course is part of the Health and Well-Being Academy
This webinar is part of the Health and Well-Being Academy
Indoor air quality (IAQ) is a key component for healthy building design and overall occupant health and comfort. Given the overwhelming amount of time we, as a society, spend indoors, architects, designers, and builders need to account for indoor air quality to minimize the threat of building-related illness, including fatigue, irritation and headaches as well as severe ailments related to chemical exposure.
This webinar will examine several projects, as noted below, where indoor air quality is prioritized through every phase of the design process, with discussions including VOC content and emissions, following an indoor air quality (IAQ) plan, and the multiple ways that designing for proper ventilation and breathability can make the indoor space a healthier and safer place to live, work and play. This presentation will help you gain valuable insight into the design processes and materials used, and to learn about the many and varying ways to promote airflow while maintaining aesthetic and performance goals.
Among the featured presentations will be a look at how stone wool and interior finish choices can positively impact indoor air quality, and ultimately occupant well-being. Specific projects to be discussed include:
Henley Hall: Institute for Energy Efficiency, a new LEED Platinum laboratory building at the University of California, Santa Barbara. The building's innovative ventilated facade protects the building from the sun's harsh glaze while encouraging natural airflow and passive cooling, dissolving the boundary between inside and out.
DPR Sacramento Zero Net Energy Office, Sacramento, California. The DPR Construction Sacramento Office project reimagines two existing vacant buildings to create a sustainable 35,000 sf work environment that fosters collaboration and connects employees to both nature and the surrounding community. The project was designed to perform as a Net Zero Energy, LEED, and WELL Building Certified. Energy and daylight analysis informed the shape of the building, daylight strategies and methods of sun control. The exposed wood from cross-laminated timber construction gives a sense of biophilia. Solatubes on the roof diffuse light and bring in antiglare natural light to the space. Operable windows and large sliding glass walls provide natural ventilation and the ability to bring the outdoors into the open collaboration zone and achieve Net Zero.
Ally Financial Regional Headquarters, Detroit, Michigan. Located in the heart of downtown, the Ally Detroit Center is a consolidation of five southeast Michigan offices into one regional headquarters. The design represents Ally's evolving culture and celebrates the city's parallel resurgence. To showcase this narrative and inspire suburban employees to explore the city, each of the nine floors is designated as a unique Detroit neighborhood and emphasizes collaboration, community, and identity. With ceilings removed and structural elements exposed, the ductwork, series fan powered VAV boxes, and linear diffusers display the organization of thermal zones. The elimination of the ceilings required special attention to the noise generated by the existing central air handling unit, fan powered VAV boxes, and air inlets and outlets. Sophisticated controls throughout the office space monitor the CO2 level and adjust the primary air supply to VAV boxes. Direct digital controls integrate the ventilation and electric reheat coils together in the fan powered VAV box to maintain the temperature and internal space airborne contaminants.
Auto Manufacturer Design Center, Detroit, Michigan. The new state-of-the-art design center will wrap around an existing building and viewing courtyard. A new flexible, collaboration-based work environment is provided to house all the brand production studios. The studios will be inwardly focused to create a strong relationship with the existing viewing courtyard and to maintain visual security for the confidential designs that are being developed inside. A state-of-the-art LED luminous ceiling and a displacement ventilation/radiant floor system create an optimal environment for teams designing the mobility solutions of the future.
The presentations will be followed by a moderated discussion focused on how these innovative projects and strategies address several key issues in planning and design.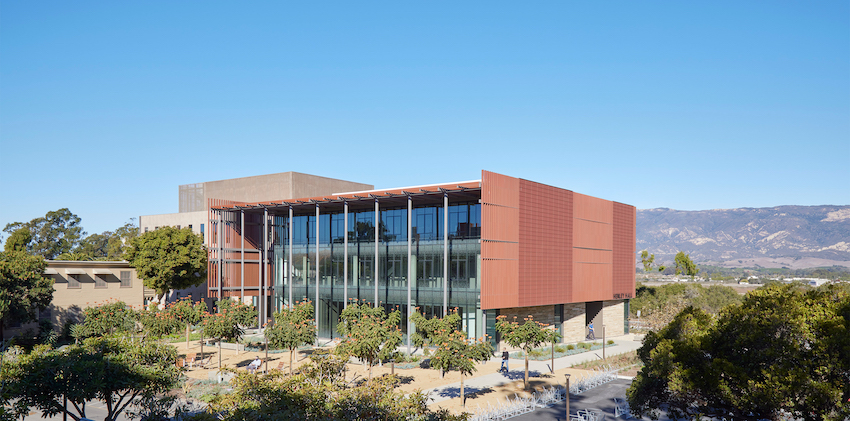 Photo © Bruce Damonte
Classrooms and collaboration spaces open to a three-story atrium in Henley Hall.
| | |
| --- | --- |
| | Patrick Morgan AIA, KieranTimberlake has nearly a decade of architectural experience, Patrick most recently served as Project Architect for Henley Hall, a new LEED Platinum laboratory building at the University of California, Santa Barbara. Patrick has entered multiple international design competitions, winning the 2014 Building Trust International Moved to Care competition. He teaches Construction and Building Systems Integration at the University of Pennsylvania. Patrick will present KieranTimberlake's unique Henley Hall project. |
| | George Athens, is vice president, workplace studio leader for SmithGroup. George's entrepreneurial drive, combined with his years of experience in the building industry, has led him to challenging and exciting ventures around the globe. George continues to explore how rapidly advancing technologies are reshaping what we design, how we design, and the opportunities inherent in these advances. His career has been built on a set of professional endeavors that blend architecture, building services engineering, and information technology. With this, George approaches each new venture through a wide lens, incorporating insights gained from each. As a business leader with a commitment to building an inclusive open dialog with team members and clients, George has strengthened, built, and guided companies in existing practice areas and led them into new ones. Embracing innovation, he strives for new approaches to business practices by assembling, mentoring, and encouraging forward-thinking project teams. |
| | Nancy Kohout, is principal, mechanical engineering discipline lead for SmithGroup. Nancy's role at SmithGroup is to manage engineers and to lead design for mechanical systems for health, learning (higher education), science and technology, and workplace buildings. She has extensive experience in engineering design and project management. Nancy's projects have included senior housing and healthcare clinics, laboratories, office spaces, higher education, hotels, spas, K-12 schools, libraries, retail, and residential and commercial high-rise buildings. Other areas of expertise are: LEED sustainable design, geothermal system design, and building commissioning. |
| | Diana Hart, is the manager of business development and architectural development for Rockfon in North America. She brings over 25 years of experience in acoustical ceilings and is passionate about the impact ceilings can have in education, healthcare, and office spaces. She is a strong advocate for occupant well-being, from good acoustics that can dramatically improve healing, productivity, and learning, to using safe products with no chemicals and fire safety. Diana travels across the country meeting with architects, designers, facilities and end-users discussing the benefits of Rockfon and stone wool ceilings. |
| | |
| --- | --- |
| | Rockfon provides customers with a complete ceiling system offering, combining stone wool ceiling panels with suspension grid systems, metal ceiling solutions, and now wood ceilings. Our products help create beautiful, comfortable spaces. Easy to install and durable, they protect people from noise and the spread of fire while making a constructive contribution toward a sustainable future. |
Originally published in May 2022
Notice