Renovating for a Greener, More Accessible Future
Case Studies of Product Solutions
This course is no longer active
Sponsored by Bradley Corporation, ClimateMaster, Inc., EFCO, a Pella Company, NanaWall Systems, Pella Commercial, TOTO, and U.S. Concrete, Inc.
Learning Objectives:
Discuss "socially sustainable design" and how it is defined.
List techniques and technologies for green building and adaptive, universal and/or accessible design.
Provide examples of specific products or materials that enhance the sustainability and accessibility of building designs.
Describe building standards, codes and principles that may contribute to socially sustainable design, including a pilot LEED credit.
Credits:
An unexpected symposium at the 2010 Build Boston conference addressed a topic that few of the event's attendees had learned much about before: socially sustainable design. The term, and the symposium raised some eyebrows at the time — "What's social sustainability?" many asked.
Yet, the series of workshops and events led by Valerie Fletcher, executive director of Boston's Institute for Human Centered Design (IHCD), proved a watershed moment, introducing a sweeping and valuable mindset to a growing audience — and a growing body of renovation work. Topics covered included enhanced pedestrian design, facilities that accommodate children with autism and dual-sensory impairments, and ways to make the city's Quincy Market area more accessible to people with disabilities. Clearly, inclusive design is at the heart of social sustainability — and it is driving more of today's renovation and new construction projects.
"The biggest takeaway from the workshops was that many architects still treat these criteria as limitations rather than opportunities," wrote Flavia Gnecco, a user-experience designer at Novartis Institutes for BioMedical Research, Cambridge, Mass., who attended the symposium. By using a collaborative approach with clients or potential end-users, she says, "designers can avoid jumping into sketching from assumptions and concentrate on finding innovative solutions that gracefully satisfy multiple needs at one time."
Architects should use inclusive design principles — also known as adaptive, universal and accessible design — says IHCD's Fletcher, not merely out of selflessness but also out of a market-based rationale. "Human diversity of age and ability has never been greater and is expected to increase steadily over the next 40 years," she says. Today about 35 million U.S. citizens are over the age of 65, and about 78 million baby boomers will increase the number. An astounding 54.5 million have a disability, according to statistics compiled by the IHCD.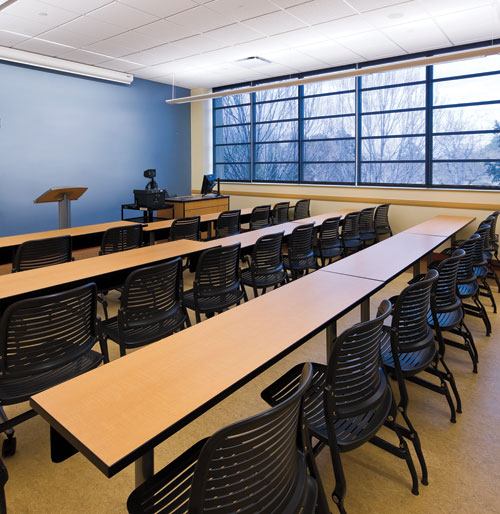 Sustainable window products are a valuable part of the design of facilities such as Mitchell Hall at the University of New Mexico.
Photo courtesy of Pella Commercial
Originally published in Architectural Record
Notice