Building Technologies Update for Multifamily Housing
New products and systems help produce greener and better-performing buildings with enhanced design options
This course is no longer active
Sponsored by CertainTeed Gypsum, Oldcastle® Architectural, Pella EFCO Commercial Solutions, and Tamlyn
Learning Objectives:
Identify and recognize the trends in the multifamily residential market that are driving consumer preferences and owner action toward green building practices.
Investigate the design potential and innovative opportunities to create high-performing building envelopes in multifamily buildings.
Assess the functional contributions of innovative products and systems that can improve indoor environmental quality and energy efficiency.
Determine the opportunities for integrating home automation components that can enhance comfort, energy use, and convenience.
Credits:
Multifamily construction and renovation projects continue to garner a lot of attention whether they are rental apartments or purchased condominium units. The reasons for this attention seem to be driven by a number of different social, economic, and practicality-based decisions that buoy their continued popularity. Many urban areas are growing in population, creating denser development that combines commercial uses with residential choices in the same building or block. Changing demographics can mean that multifamily housing with all-inclusive maintenance and amenities appear better suited to changing lifestyles and personal budgets. Interest in greener living is causing some people to look at smaller living spaces with less driving or commuting time compared to life in a suburban-sprawl, car-centered environment. And there remains a fair bit of business interest in multifamily real estate from both U.S. and foreign investors. Regardless of the motivation, it becomes incumbent on architects to design multifamily buildings that can respond to the needs and consumer preferences of those spurring the activity. It is equally important to create buildings that use the best and most appropriate building technology to achieve a well-constructed, durable, and efficient end result. Doing so involves an understanding of the availability and workings of building products and systems that can not only meet those criteria, but also contribute to a well-designed, greener, higher-performing building.
Greening of Multifamily Housing
In 2013, an independent study1 was conducted by the firm of Strata Research to "better understand renter purchasing criteria and the importance of sustainability-related apartment features to the overall purchase decision. In order to achieve this, Strata Research was commissioned to test renters' awareness and importance of various environmentally friendly features, as well as determine their willingness to pay an extra premium if these features were included." Their findings were quite significant. First, out of their sample of over 1,000 interviewed renters from across the United States, they found that 77 percent believe it is important that their apartment is green. The factors driving this response included cost efficiency (33 percent), protecting the environment (26 percent), and doing their part (25 percent). Further, 65 percent stated that energy efficiency is important and 57 percent value an apartment with environmentally friendly features. In fact this is important enough to renters that 72 percent said that they are willing to trade off an important apartment feature (such as extra storage space or high ceilings) for green features.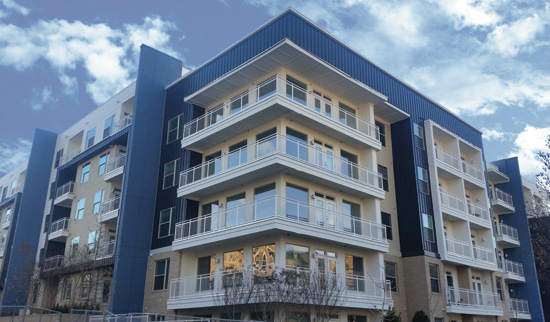 Photo courtesy of Tamlyn
Multifamily housing projects can take advantage of many different and innovative building component solutions. The Steel Works in Atlanta, Georgia utilizes a creative cladding scheme.
Some of this consumer green awareness and preference certainly comes from the general media and interest in sustainable lifestyles. It likely also comes from developers and property owners who have been promoting green buildings for the marketing appeal, the added earnings potential, and, we would hope, the commitment to also do the "right thing." But it also certainly comes from the growing availability of programs that promote green multifamily housing. The LEED program of the U.S. Green Building Council2 has certainly been embraced by the multifamily housing market with prominent displays of the LEED logo and information on many new and renovated buildings. Recently, ENERGY STAR added multifamily housing3 to their categories of buildings that can be reviewed using their popular Target Finder and Portfolio Manager programs to benchmark a building's energy performance against similar buildings in the same geographic area. Adding to the interest by developers and owners is the recent availability of lower interest rates from Fannie Mae4, the national mortgage organization, for multifamily properties with a green building certification, such as LEED or ENERGY STAR.
All of these preferences and actions converge on the design of a new or renovated multifamily housing project since design professionals need to be aware of these drivers to best serve developer clients and end users. But how does this all really play out in a project? It often comes down to a series of design decisions made all along the way related to the building enclosure, the interior, and the integration of innovative technical advances. These decisions will affect the sustainable nature of the building since they will affect different green categories such as energy efficiency, acoustics, indoor air quality, durability, and material choices. In this light, we will review a variety of new or updated building components and services that can help with making some of the best design decisions in multifamily housing projects.
Originally published in Architectural Record
Notice