Research, creativity, and functionality intersect to meet the needs of the client and building occupants
Sponsored by ARCHITECTURAL GRILLE, Construction Specialties, Doug Mockett & Company, Infinity Drain, Inpro, NanaWall Systems, and XtremeInterior Architectural Solutions
Learning Objectives:
Identify the ways that innovation in interior design products and systems can impact aesthetics and the overall design of a space.
Assess the functional performance aspects of walls, doors, and other surfaces as they relate to durability and sustainability.
Explain the importance of proper substrate preparation and installation techniques to enhance functionality and longevity.
Determine ways to incorporate principles presented into buildings as shown in the project example case studies.
Credits:
This course can be self-reported to the AIBC, as per their CE Guidelines.
As an IACET Accredited Provider, BNP Media offers IACET CEUs for its learning events that comply with the ANSI/IACET Continuing Education and Training Standard.
This course is approved as a Structured Course
This course can be self-reported to the AANB, as per their CE Guidelines
Approved for structured learning
Approved for Core Learning
This course can be self-reported to the NLAA
Course may qualify for Learning Hours with NWTAA
Course eligible for OAA Learning Hours
This course is approved as a core course
This course can be self-reported for Learning Units to the Architectural Institute of British Columbia
This test is no longer available for credit
Most people would agree that the first impression of a building comes from the exterior, but usually it's the interior that generates a lasting impression. The interior is typically where clients and building occupants spend their time, interact with others, and carry out the activities of living, working, or playing. It's no wonder then that this is where the design community finds a lot of opportunity to be creative, innovative, and unique. Fueling innovation is research being conducted on everything from human impacts of openness and natural light to perceptions about color and texture. Functional concerns also come into play, centered on the ability of a space to accommodate the needs of the people occupying it and the long-term ability of it to perform as intended. All of these aspects of creativity, functionality, and human needs intersect during the process of designing building interiors. Recognizing this, manufacturers of interior building products have been equally creative and responsive to the needs of designers by continuing to offer new and updated products, materials, and systems. Sometimes these are totally new products, while other times they are known and proven, just used in different and creative ways. In this course, we will delve into some of the products that are contributing to the latest interior design trends and helping design professionals move things forward.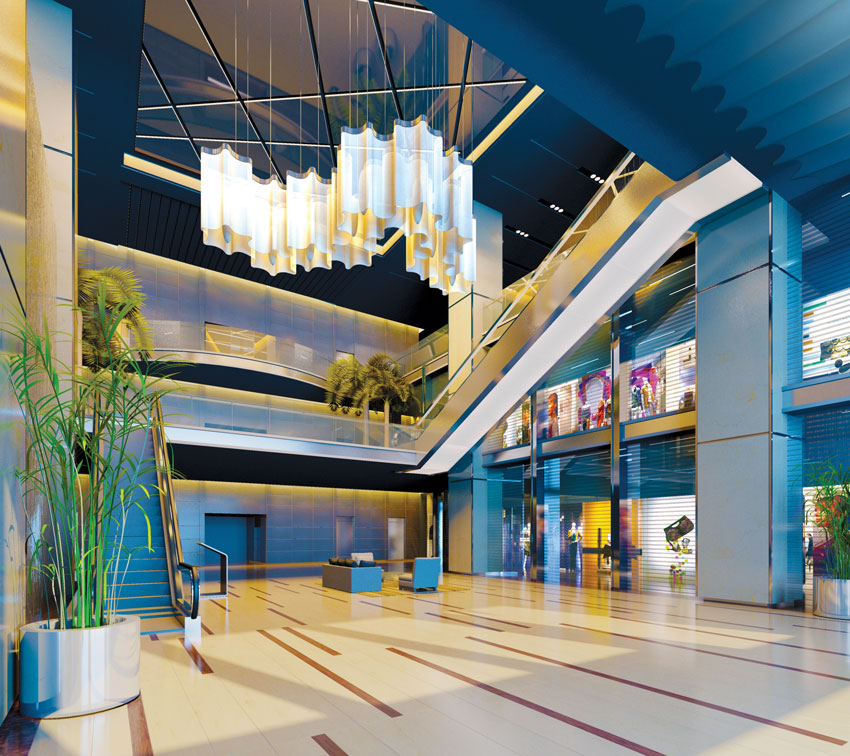 Image courtesy of TAMLYN
Interior spaces in buildings are influenced by trends, materials, products, user preferences, and designer creativity—all of which promote innovation for interior design.
Innovative Wall Surfacing
Among the first surfaces that people experience in an interior space are the walls. They can be as simple and understated as white painted gypsum board or as elaborate and detailed as a designer's imagination allows. All the while, they need to be easy to maintain and clean over the life of the building. With this in mind, many interior designs lean toward a simpler, more elegant wall surface solution with a clean, modern look and minimalistic details. Others select certain walls to feature with added detailing and trim to create a total appearance. Achieving any of these looks typically involves panels of some sort, such as gypsum board or other rigid materials with reveals or trim around the edges. That trim can be metal, wood, or other suitable choices to frame and accentuate a wall surface while protecting and aligning the panels.
One increasingly popular method of dealing with finish panels on wall surfaces is to use manufactured trim pieces made of aluminum. Products are readily available that are designed to be used with 5/8-inch-thick drywall or in conjunction with wrapped surface finishes, such as fabric or vinyl wall coverings. They are available in a variety of traditional, contemporary, and modern looks to create subdued or emphatic three-dimensional appearances. Since aluminum is highly durable, recyclable, lightweight, and noncombustible, it is a popular and logical choice for many building products, including interior trim of this type. Its strength helps provide some wall protection when used for corners and other areas that need some reinforcement. In that sense, it is a good example of a well-known material that can be used in innovative ways for interior designs.
In addition to standard products, custom profiles can be made to not only accommodate particular styles but also to hold other materials, such as glass, tile, or panels in a variety of thicknesses. Some manufacturers offer customized service and designs to architects and will readily meet to discuss design ideas and solutions. This service is not only centered on aesthetic issues but also on technical and performance issues of the trim related to its ability to hold up over time. The results can be profiles that are project specific or part of a mass production selection, such as aluminum extrusions of simple reveals and transitions to improve and enhance drywall surfaces. It can also include new shapes and forms that introduce the appearance of fine crafted metal integrated with drywall and panelized surfaces. Part of the beauty of aluminum extrusions is that they are very economical, meaning that they can more easily be incorporated into projects.
The unique design possibilities of this trim approach can create clean lines, shadow lines, or reveals that make a wall surface stand out as part of an interior space. It is also readily possible to create rounded corners, smooth transitions, or other shapes that enhance the overall design of the space in ways that wouldn't be possible with traditional wall surfacing techniques. Economical aluminum trims are available in a primed finish for painting in the field or prefinished in common anodized aluminum colors, such as clear, champagne, bronze, and black. Wayne Braun, an interior designer with the firm PDR in Houston, has worked with manufacturers on designs of this type and created some very successful interiors in the process. He notes, "The manufacturer has introduced the appearance of fine metal craft integrated with drywall and panelized surfaces at a fraction of the cost of having custom metalwork designed, detailed, and fabricated for a project." Needless to say, it is easy to see why his firm is able to continue to innovate with this wall surface and trim approach.
Designers like Braun have also found that to be fully successful, a design needs to address all of the conditions and details of wall surfaces. That includes the wall base, corners, top edge, and any openings or variations. In that regard, they find that working with a single manufacturer who can provide all of the needed trim pieces in a coordinated system is a big key to success. Maybe just as importantly, being able to work out the details using a consistent and proven system means that innovation is possible without taking on undue design risk.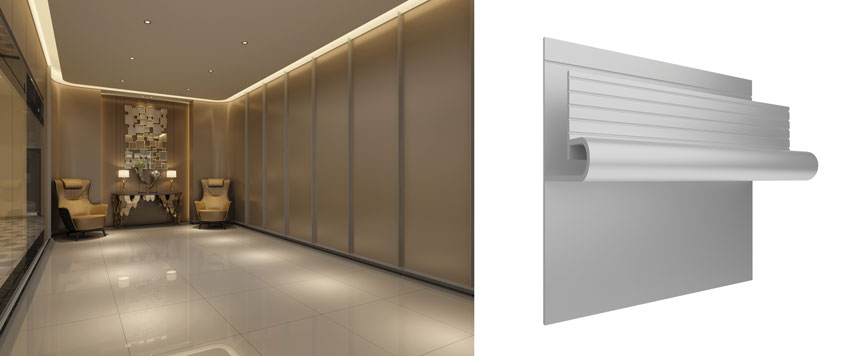 Images courtesy of TAMLYN
Aluminum trim systems can create simple but stunning profiles for innovative wall surfaces. As shown here, they can provide base or corner protection or produce a simplified installation for vertical or horizontal drywall designs.
Originally published in Architectural Record
Originally published in June 2017
Notice