Daylight and Electric Illumination
Full Spectrum: Designers leverage technology to work with, as well as emulate, the light of the sun.
Architectural Record
Learning Objectives:
Explain why energy efficiency is less of a motivator for daylighting than it once was.
Discuss studies that link daylighting to improved occupant health and productivity.
Discuss the role of light in regulating circadian rhythms.
Explain how tunable-white LEDs can replicate or augment some of the qualities of sunlight.
Credits:
This course can be self-reported to the AIBC, as per their CE Guidelines.
This course is approved as a Structured Course
This course can be self-reported to the AANB, as per their CE Guidelines
Approved for structured learning
Approved for Core Learning
This course can be self-reported to the NLAA.
Course may qualify for Learning Hours with NWTAA
Course eligible for OAA Learning Hours
This course is approved as a core course
This course can be self-reported for Learning Units to the Architectural Institute of British Columbia
This test is no longer available for credit
View course on architecturalrecord.com »
Not so LONG AGO, one of the most compelling reasons for daylighting a space was energy savings. Since the 1970s, lighting has been one of the largest users of electricity in buildings. But advances in lighting technology, namely the rapid improvement of LEDs, which are longer-lasting and more efficient than more traditional sources, are changing the discussion. Lighting's energy consumption has been on the decline, representing 17 percent of electricity end use in commercial buildings in 2012, according to the U.S. Energy Information Association, down from 38 percent in 2003. Electric illumination's slice of the energy pie should fall even more as LEDs develop further and their controls become both more sophisticated and more user-friendly.

PHOTOGRAPHY: © IMAGENSUBLIMINAL (LEFT); ROBERT DEITCHLER (RIGHT)
Delos chose 860 Washington Street, in Lower Manhattan, for its headquarters, in part because of the daylight and views the building's floor-to-ceiling glass curtain wall affords. The electric lighting scheme uses tunable-white LED luminaires that adjust via a programmed time clock to enhance occupants' circadian rhythms.
Of course, there are other arguments for designing around daylight. Architects have intuitively understood its ability to elevate the experience of their interiors. Now an increasing body of science, accumulated over decades, has quantified daylighting's beneficial effects. One still frequently cited 1999 study examined schools in three U.S. districts and found significantly improved performance among students occupying daylit classrooms. Since then, research has demonstrated higher sales figures in skylit big-box stores, as well as better outcomes for patients in hospital rooms with daylight, including shortened stays, reduced need for pain medication, and quicker post-op recovery.
Design teams and their clients are showing renewed interest in such health and productivity benefits. One chief factor is the expansion of the green building movement to encompass occupant well-being in addition to energy efficiency, says Chad Groshart, lighting-design lead in the New Haven office of Atelier Ten, an environmental design consultant: "The focus is no longer only on how the meter is spinning."
One attribute of daylight that architects are keen to harness is its ability to help regulate our biological clocks, or circadian rhythms. Its spectral distribution and intensity affect a host of interrelated physiological and psychological functions including mood, alertness, and hormone levels. Designers are also eager to use electric light to improve these functions, a possibility enabled by the advent of tunable-white LEDs, which have color temperatures that can range from very warm to very cool. But experts warn that there is still debate about the optimum color, timing, and duration of exposure in such electric illumination. "Circadian lighting design is more of a lengthy experiment rather than an authoritative design standard," says Brian Stacy, Arup's lighting lead for the Americas. Groshart echoes this view: "Sunlight is the best circadian light," he says, advising that project teams seeking to help regulate occupants' internal rhythms should first focus on strategies for achieving the best quality daylight, including the orientation, form, and fenestration of the architecture.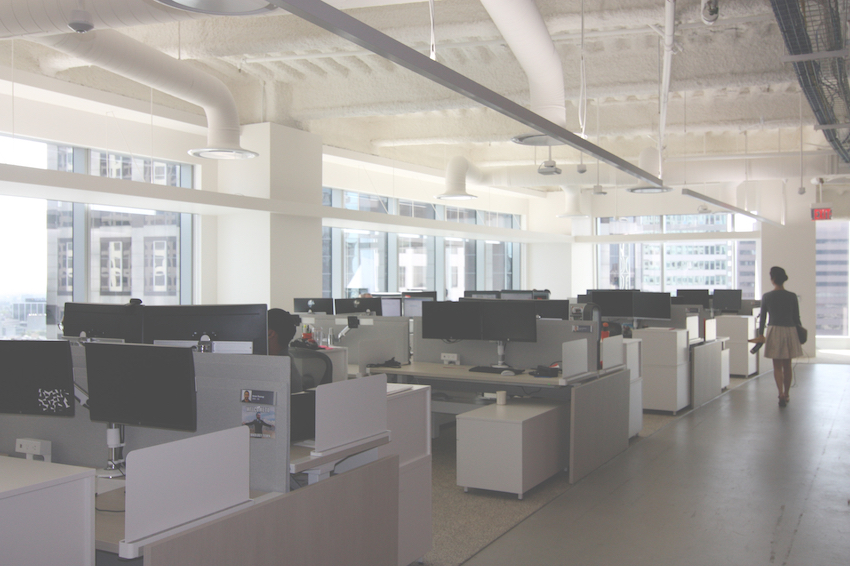 IMAGES: COURTESY ARUP
Arup's new Los Angeles offices integrate daylight and electric illumination by means of an interior light shelf. The device shields the interior from glare and directs sunlight to the ceiling, thereby getting daylight farther into the interior. It incorporates tunable-white LEDs for times when natural light is not sufficient.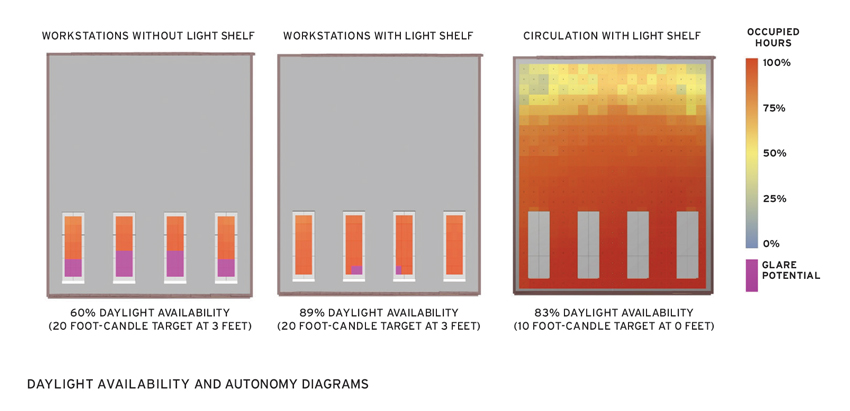 Studies of the daylight conditions at the workstations (above, left and middle) and at circulation spaces near the core (above, right) guided the design of the light shelf for Arup's new offices.
Such factors can be readily manipulated when designing a new building, but tenant fit-out projects or the renovation of existing buildings naturally require a different approach. An example is one of Groshart's own projects, the New York headquarters for Delos, the wellness real-estate and technology company best known for creating the WELL Building Standard (the rating system is now administered by Green Business Certification Inc.). Delos moved into its space on the fourth and fifth floors of 860 Washington Street, a new 10-story structure by James Carpenter Design Associates and Adamson Associates Architects in the city's Meatpacking District in late 2017. The organization picked the building in large part for its floor-to-ceiling glass curtain wall on three of its four facades, since both daylight and views are important aspects of WELL. This skin affords ample daylight and views of the adjacent High Line park and the rest of the neighborhood. (The offices have been certified WELL Platinum, have earned Living Building Challenge "petal" status, and are on track for a LEED Gold or Platinum rating.)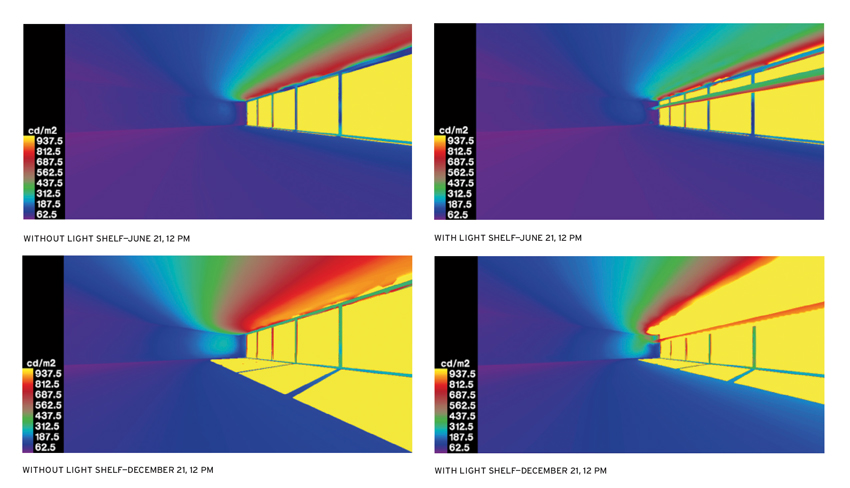 IMAGES: COURTESY ARUP
The light shelf in Arup's new offices reduces the amount of direct sunlight, lessening the incidence of glare while increasing luminance at the ceiling plane.
The project's architect, Gensler, with Atelier Ten as lighting designer, developed the 19,000-square-foot office with a variety of environments, including "free address" workstations, a café, and meeting and focus rooms, all organized around a central stair featuring a digital artwork that is activated as occupants ascend or descend. At least 75 percent of the space is within 25 feet of a window, representing a daylighting asset, but also a challenge due to the potential for glare and the developer's prohibition against adding exterior shading devices or altering the glass with frits or films. Instead, the problem was addressed with perforated roller shades and careful placement of computer screens in relation to the curtain wall.
The electric-illumination scheme is designed to supplement available daylight and emulate some of its qualities. The tunable-white LED luminaires throughout the office are controlled via an astronomical clock, changing their correlated color temperature (a metric that defines the color appearance of an LED and is measured in degrees Kelvin) throughout the day. Meanwhile, photo sensors dim the LEDs' intensity, depending on the amount of available sunlight. The wireless system allows for tightly defined zones as well as the ability for manual override in meeting and training rooms, so that employees can adapt the lighting to specific tasks and preferences.
The Delos team is evaluating the effectiveness of the space's WELL features, including this tunable lighting system, with its own staff as test subjects. It is using a variety of means, such as periodic surveys and cognitive studies. Once the data have been analyzed, the company plans to release the results, according to Janna Wandzilak, a Delos vice president and a manager of the construction project.
When planning its new offices on the 18th through 20th floors in the Wilshire Grand, in downtown Los Angeles, Arup had to contend with constraints similar to those faced by Delos. This recently completed 73-story mixed-use tower, designed by AC Martin, rises to a sail-shaped pinnacle. The engineering firm could not alter the building envelope, and its tenant agreement required that a particular type of roller shade be used for sun control. But the firm wanted to make the most of available sunlight, projecting it as far as possible into the floor plate. Arup also wanted to avoid glare in order to minimize the time the shades would be drawn, obstructing views of the city.
In order to achieve these goals, the project team, which included Bestor Architecture and SmithGroup, with Arup in charge of lighting and engineering, developed an interior light shelf at the building's long, slightly bowed south facade. The device, made of drywall, is suspended from the ceiling approximately 8 feet above the finished floor, with each shelf spanning more than 27 feet between columns. Four feet deep and 5 inches thick, to accommodate the required roller blind, the light shelf shields the workstations from direct sunlight while bouncing it to the exposed structural deck above, which has been sprayed with white acoustical insulation to achieve a light-reflectance value of 85 percent. The strategy "allows us to transform the ceiling plane into a luminaire," says Liberty MacDougall, an Arup senior lighting consultant.
Originally published in Architectural Record
Originally published in May 2019
Notice