Sounds Good! Architects designing open offices tackle the common annoyance of workplace noise.
Sponsored by Armstrong Ceilings and Wall Solutions
Learning Objectives:
Outline open office spatial layout strategies that can mitigate workplace noise, thereby improving occupant productivity and well-being.
Describe "passive" technologies, including surface treatments and construction details, for sound blocking and absorption.
Explain the principles behind "active" acoustic technologies, such as sound masking.
Explain the fundamentals of sound and define acoustical technical terms relevant to open office design.
Discuss methods for evaluating the level of speech privacy, noise reduction, and overall acoustic quality a particular design or spatial configuration will provide.
Credits:
This course can be self-reported to the AIBC, as per their CE Guidelines.
This course is approved as a Structured Course
This course can be self-reported to the AANB, as per their CE Guidelines
Approved for structured learning
Approved for Core Learning
This course can be self-reported to the NLAA
Course may qualify for Learning Hours with NWTAA
Course eligible for OAA Learning Hours
This course is approved as a core course
This course can be self-reported for Learning Units to the Architectural Institute of British Columbia
View course on architecturalrecord.com »
The rattling of an air diffuser, the pinging of an elevator, the laughter of colleagues gathered around the water cooler, the conversa­tions of neighbors overheard loud and clear: such distractions in the workplace are so irksome that acoustics consistently rank as the No. 1 or 2 complaint on employee surveys, with poorly designed open offices largely to blame. "It's not easy to deal with noise," says Bill LaPatra, a partner with the Seattle-based architecture firm Mithun. Unlike thermal discomfort, the other top-ranked workplace complaint, "You can't just put on a sweater" to fix it, he says.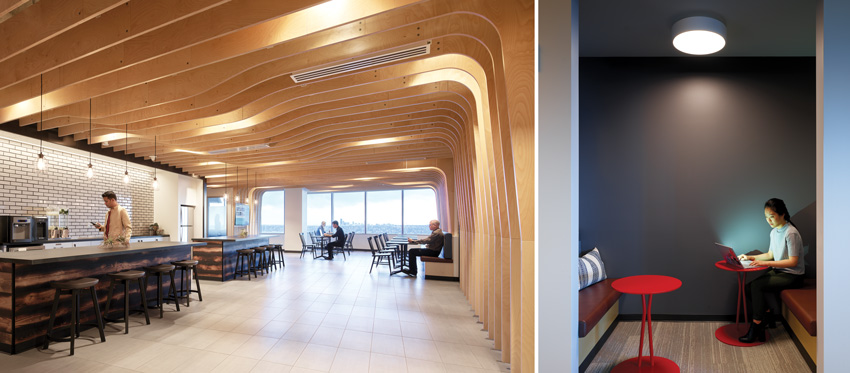 PHOTOGRAPHY: © KEVIN SCOTT
BEYOND THE CUBICLE
Instead of trying to stop workplace noise, Mithun's renovation of Microsoft's marketing offices in Bellevue, Washington, provides several types of environments, including kitchens (left) and collaboration nooks (right), so that employees can select a spot with the physical layout and acoustical properties best suited to the task at hand.
Many architects, along with employers, are grabbing this issue by the ears—especially in the tech industry, where productivity is a direct function of engineers' ability to focus, and sector growth keeps workplace design on the leading edge. The cycle of build, occupy, test, and repeat is exceedingly short for the most quickly growing tech companies, says Stuart Colby, a principal at Portland, Oregon–based SERA Architects, and acoustic design is a significant aspect of those iterations.
One example is Microsoft Corporation, which made the transition to open offices about five years ago. Since then, providing employees with acoustic comfort has become something of an obsession for Brenda Ball, the company's Americas workplace strategist. "If you'd told me 20 years ago that I'd be this dialed in on acoustics, I would have been surprised," she says, but with multiple factors in this high-pressure industry fragmenting employees' attention, "it's more important than ever to get acoustics right."
So when Microsoft renovated its marketing offices in Bellevue, Washington, acoustics were a top priority. The limited-scope "refresh," designed by Mithun and completed in 2017, comprises 139,000 square feet on seven floors in a downtown high-rise, with the graphics, textures, and colors of each floor intended to evoke one of the company's seven U.S. operating regions. On the level designed to recall the Midwest/Great Lakes region, for example, the social hub uses charred wood and a bricklike tile for a gritty, urban feel, with wavy-edged wood ribbing overhead inspired by steel bridge structures; in the Pacific hub, perforated metal sails, blond wood, aqua chairs, and a food-truck-effect canopy over the bar create a very different tone.
While each floor's aesthetic is unique, the acoustic strategy is consistent and is based on "modes of behavior," says acoustic consultant Basel Jurdy, a principal with the local office of Stantec. He identifies three types of activity, each with a corresponding quality of attention: administrative, characterized by light focus that can accommodate colleagues' stopping by; focused, requiring concentration without interruption; and re-energizing, when a round of intense work is completed and it's time to recharge, either by socializing with coworkers or unwinding alone.
Each floor of Microsoft's new space offers a choice of environments tailored to each mode. Besides the shared open office, there are small nooks and soft-seating areas for informal collaboration, as well as enclosed meeting rooms and two-person conversation rooms for high-focus activities, with even smaller rooms for making phone calls, and a social hub where employees can take a break. To encourage people to use the environment most appropriate to their acoustic needs, ancillary spaces are located conveniently close to the shared open office area. "Instead of trying to stop the sound of voices in the open workspace," says LaPatra, "we provide a variety of acoustically different zones."
Meeting rooms are designed with particular attention to the acoustics of digital conferencing so that crucial presentations aren't undermined by muffled or garbled sound. To prevent acoustic reflections that might not be noticed by people in the room but can be picked up by microphones, fabric-wrapped semi-rigid fiberglass boards cover three-quarters or more of the ceiling, with additional sound absorption from carpeted floors and acoustic treatments on one or—ideally—two walls. Meeting and phone rooms are isolated from adjacent spaces with walls comprising three layers of drywall on fiberglass-insulation-stuffed stud framing. And because occupants of the small phone rooms are inevitably speaking close to the walls, the risk of booming is eliminated with acoustic panels.
Getting the design right is necessary but not sufficient for success. It's equally essential that contractors maintain acoustic seals and inspect for holes before walls are closed in. Otherwise, says Ball, "you spend money to provide a highly performing space, and with one leak the money goes out the window."
The Microsoft renovation—which Ball says is generating a lot of positive feedback—illustrates how much can be achieved acoustically with spatial and surface interventions' targeting specific areas for maximum benefit. A more thoroughgoing revamp of 300,000 square feet in three two-story buildings in Mountain View, California, allowed SERA, the architect for the project, to make some big moves. The renovation, initially designed for a another tech client with a strong commitment to good acoustics, was taken over by LinkedIn during construction and completed in 2017; it engaged site, building envelope, mechanical systems, and structure, as well as the configuration and finishing of the interiors.
The first move was to transform a central parking lot into a landscaped meadow criss-crossed with boardwalks. The transformation connects the buildings, provides a place of respite for workers—whether visiting the meadow or just glancing out a window—and removes vehicle noise and movement from the campus's center. The peaceful space that now resides between the buildings is a huge resource, says Colby. To animate this new park, and to pull noise-generating program elements away from focused-work zones, cafés and fitness facilities are located at building corners, with access from inside and out.
The campus's existing ribbon windows, tinted almost black, transmit less than 15 percent of visible light. However, replacing them with clearer glass would have entailed re-engineering to meet new energy code requirements. So, within the buildings' enor­mous floor plates (the largest is 386 feet across), the architect introduced skylit atria. Because people are naturally drawn to daylit spaces, areas adjacent to the new openings are zoned for group activity, with such potentially noisy elements as kitchens and game rooms positioned away from more-focused-work areas.
Open workspaces are divided into 50- to 70-person neighborhoods separated by 66-inch-tall partitions. (Such high panels are generally not a good acoustic choice for enclosing individual and small-group workspaces, as people tend to confuse visual for acoustic privacy and speak more loudly than when they can see their neighbors. But for separating large groups, where there is no illusion of privacy, this isn't an issue.) Neighborhoods were further subdivided into teams of about 16, using lower furnishing partitions such as felt panels and sliding whiteboards. As at Microsoft, conveniently located ancillary spaces provide acoustic flexibility and choice. At any given time, every employee has at least one spot, in addition to an assigned desk, where he or she could choose to work.
Informing the design for the project, acoustician Ethan Salter, a principal consultant with San Francisco–based Charles M. Salter Associates, used several computer-based methods to predict speech privacy, including the Privacy Index (an ASTM-defined metric—based on the percentage of words spoken that may be understood by people nearby—for determining whether a space provides a "normal," "confidential," or "secure" level of privacy). Each method evaluated some common factors: noise level, sound isolation between spaces, room finishes, and background-noise levels.
Originally published in Architectural Record
Originally published in September 2018
Notice